From left: Scott Parkinson, Stef Tovar, David Parkes, Jed Feder and Bri Sudia in TimeLine Theatre Company's "Oslo." (Photo by Brett Beiner Photography)
The back channels were working overtime with one exceptionally determined woman as the crucial catalyst. And it didn't hurt that the Johnny Walker Black began to flow, or that the waffles with raspberries and cream turned out to be a universal hit.
To be sure, the long-fueled levels of skepticism and distrust were palpable, as were the anger and resentment. But there also were rare moments of connection fostered by a modus operandi that was, to say the least, unconventional and well outside the standard mode of diplomacy, especially given the fact that the opposing parties refused to meet face-to-face or recognize each other's existence. Of course it was inevitable that there would be a few leaks, but the pernicious influence of Twitter and Facebook did not yet exist, and any needed damage control was deftly handled.
Welcome to "Oslo," J.T. Rogers' superbly crafted, whip-smart, at times fancifully (and farcically) imagined 2017 Tony Award-winning play that captures the efforts of a Norwegian husband-and-wife team to forge a peace process between the Israeli government and the PLO (Palestine Liberation Organization) over a period of many months in 1993.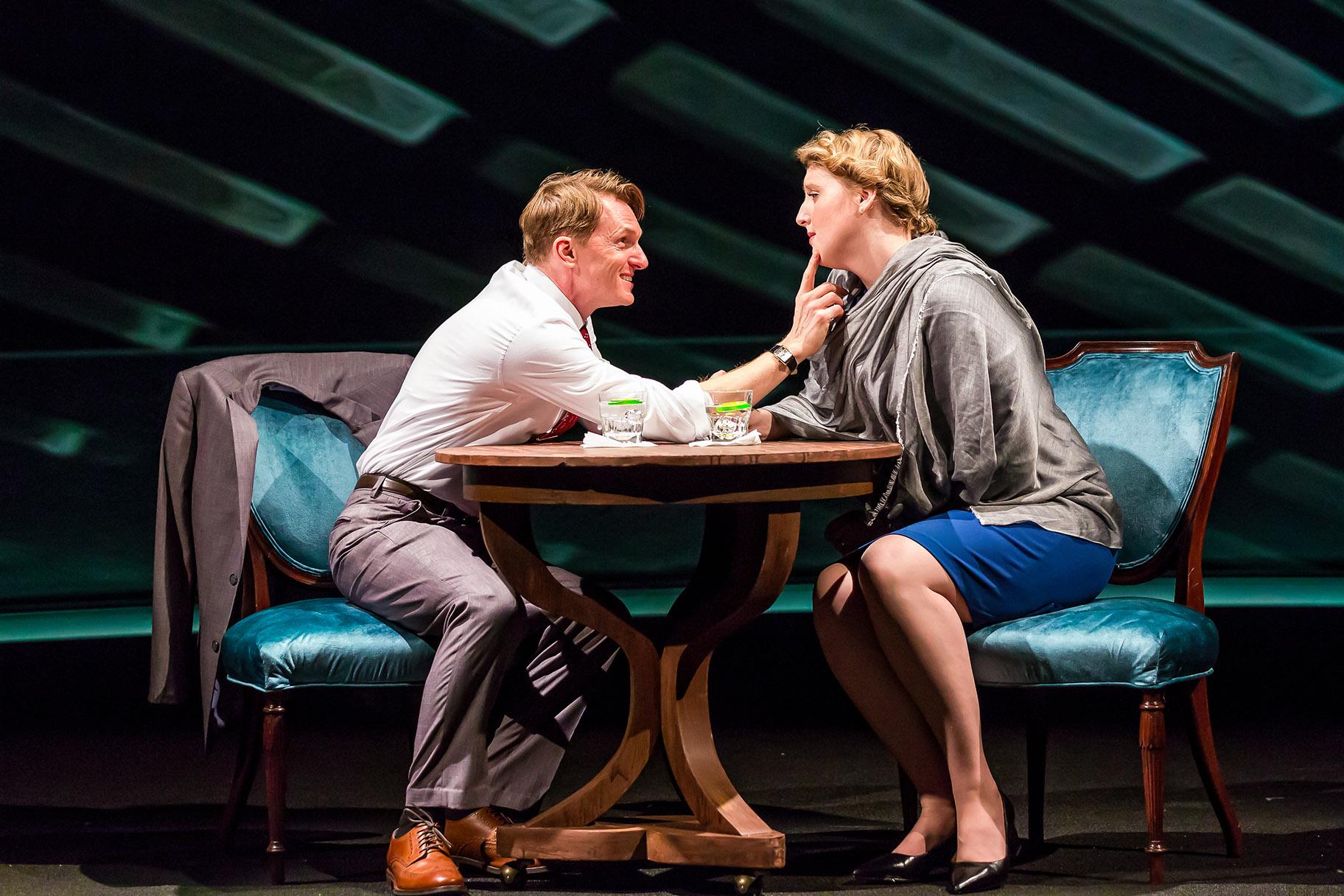 Scott Parkinson and Bri Sudia in "Oslo." (Photo by Brett Beiner Photography)
The process would result in the signing of the Oslo peace accords, with a landmark handshake between Israeli Prime Minister Yitzhak Rabin and PLO leader Yasser Arafat (overseen by President Bill Clinton on the White House lawn), and captured in an iconic photograph. A year later, in another photo op, Rabin and Arafat, along with Israeli Minister of Foreign Affairs Shimon Peres, were presented with the 1994 Nobel Peace Prize in Oslo.
Of course we all know how it turned out, both at that historic moment in time (which appeared to mark an important "first step"), and more crucially in the ensuing decades, when it turned out to be a total failure. But among its many virtues, "Oslo," now receiving its Chicago premiere in a rip-roaring production by TimeLine Theatre Company (in residence at the Broadway Playhouse, which is ideally suited for this grand-scale effort) still manages to generate a high level of suspense. And Rogers, along with director Nick Bowling and his virtuosic TimeLine cast, conjure a gallery of real-life characters whose agendas and personalities are ideal fodder for the theater.
Neither Rabin nor Arafat appear on stage, nor were they at the sessions held at an elegant mansion outside Oslo. Rather, the driving forces in the play are Mona Juul (Bri Sudia, who somehow manages to surpass all of her previous electrifying performances), an official in the Norwegian Foreign Ministry who became the principal facilitator of the talks, as well as a master of the charm offensive, and her husband, Terje Rod-Larsen (Scott Parkinson, in splendid form), a rather egotistical social scientist who formulated what he dubbed "a process" of personal interaction for the undertaking. (The couple's marriage has its own deftly played tensions and negotiations.)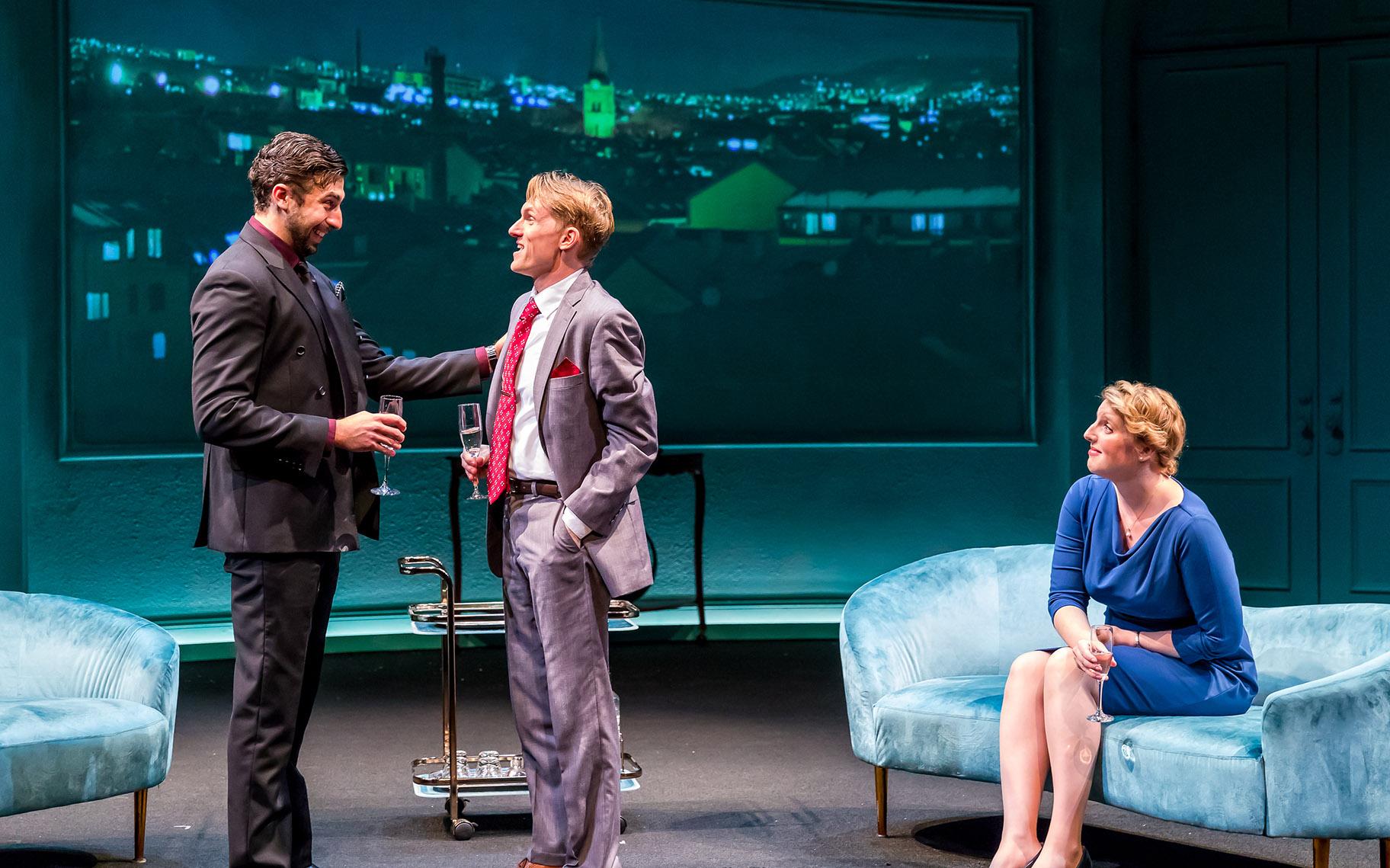 From left: Jed Feder, Scott Parkinson and Bri Sudia in "Oslo." (Photo by Brett Beiner Photography)
Representing the Israeli side (more or less covertly) is Yossi Beilin (Stef Tovar), deputy minister of foreign affairs under Peres, who initially sent in two academics – economics professor Yair Hirschfeld (Ron E. Rains, who also plays Peres), and historian/journalist Ron Pundak (Bernard Balbot) – who are not taken seriously. Representing the PLO are Finance Minister Ahmed Qurie (Anish Jethmalani), and the fierce ideologue, Hassan Asfour (Amro Salama), both fervent supporters of Arafat, and both expertly played here.
Taking over for the powerless Israeli academics is Uri Savir (Jed Feder in a terrific turn as the fiery deputy general of Israel's Foreign Ministry, who at one point does a priceless impersonation of Arafat). Ferociously scrutinizing every word and punctuation mark in the accord (including matters of garbage collection and taxation) is Israel's barracuda-like lawyer, Joel Singer (played at a high flame by Tom Hickey). And suggesting the wariness of Norwegian politician Johan Jorgen Holst and his wife, Marianne, are David Parkes and Juliet Hart, with Hart deliciously doubling as the Swedish cook who doles out temper-taming waffles.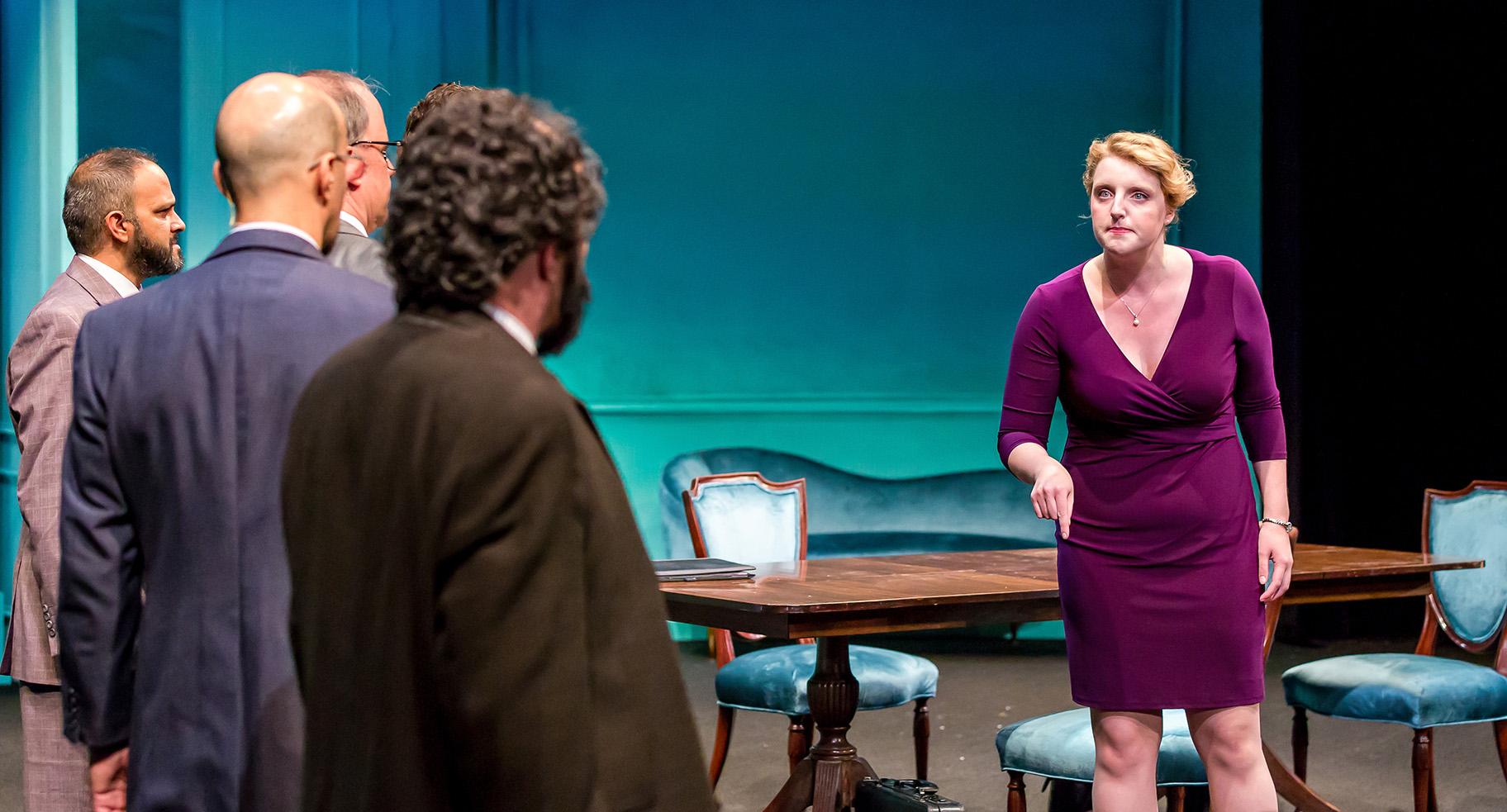 From left: Anish Jethmalani, Amro Salama, Tom Hickey, Ron E. Rains and Bria Sudia in "Oslo." (Photo by Brett Beiner Photography)
But just as Juul did in real life, Sudia runs the show here with her razor-sharp wit, boundless energy, and no-nonsense way of wielding power and, when necessary, using her feminine wiles in the shrewdest way.
Rogers' chronicle of the Oslo meetings is by no means a documentary, but it is at once brainy, full of life and infused with a good deal of poetic license. And director Nick Bowling has superbly negotiated the "process" every step of the way (with help from dialect designer Eva Breneman, Jeffrey D. Kmiec's set and Mike Tutaj's projections). The sharply etched three-hour show moves like the wind.
The Oslo Accords quite quickly turned to dust. And now, nearly three decades later, many of the major players involved are dead even as the same issues remain very much alive. The irony is that while the "process" ultimately failed in real life, it soars in its theatrical existence.
Note: An excellent guide to the "back story" of the play is inserted into every playbill for "Oslo."
The TimeLine Theatre Company production of "Oslo" runs through Oct. 20 at the Broadway Playhouse, 175 E. Chestnut St. For tickets ($35-$95) call (800) 775-2000 or visit broadwayinchicago.com. Running time is 2 hours and 50 minutes with one intermission.
Follow Hedy Weiss on Twitter: @HedyWeissCritic
---
In 'Every Brilliant Thing,' A List Becomes a Reminder of Why Life is Worth Living
Two Early 20th Century British Classics Adapted for the Stage
An Advice Columnist Taps into the Pain, Poetry and 'Tiny Beautiful Things' of Life
---