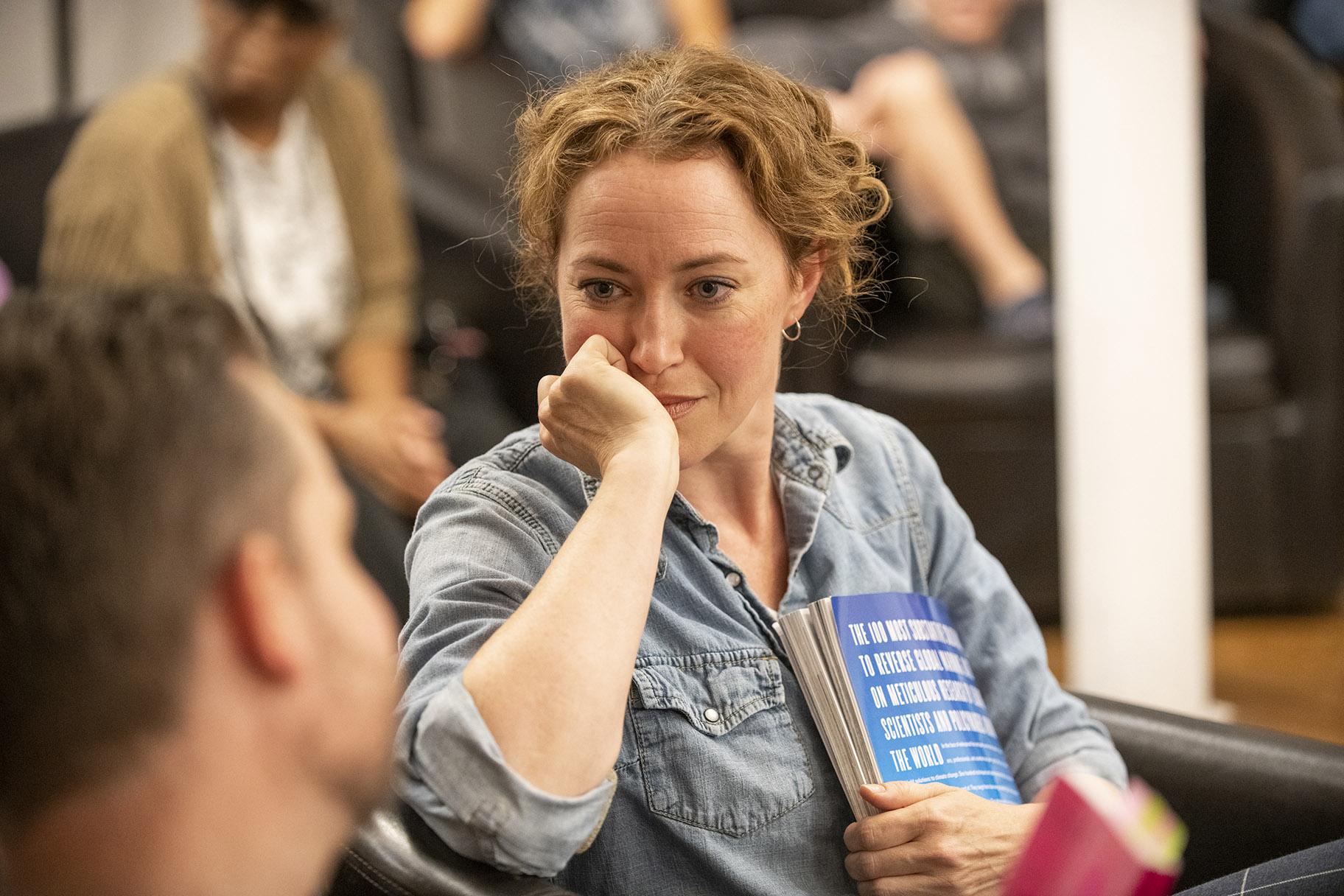 Rebecca Spence in "Every Brilliant Thing." (Photo credit: Michael Brosilow)
To start, here are a few things you should know before reading any further about the Windy City Playhouse production of "Every Brilliant Thing":
1. As demonstrated in a variety of ways in its productions of "Noises Off," "The Recommendation" and the long-running "Southern Gothic," Windy City has proven itself to be a master of "immersive theater," a theatrical form that heightens the interplay between actors and audience, and cleverly removes "the fourth wall," that traditional "boundary" between performer and spectator. "Every Brilliant Thing" is its latest marvel.
2. Ingeniously conceived by English playwright Duncan Macmillan, and cleverly directed by Jessica Fisch, the show features a not-to-be-missed tour de force solo turn by Rebecca Spence, a captivating actress of extraordinary skill, charm and improvisational brilliance.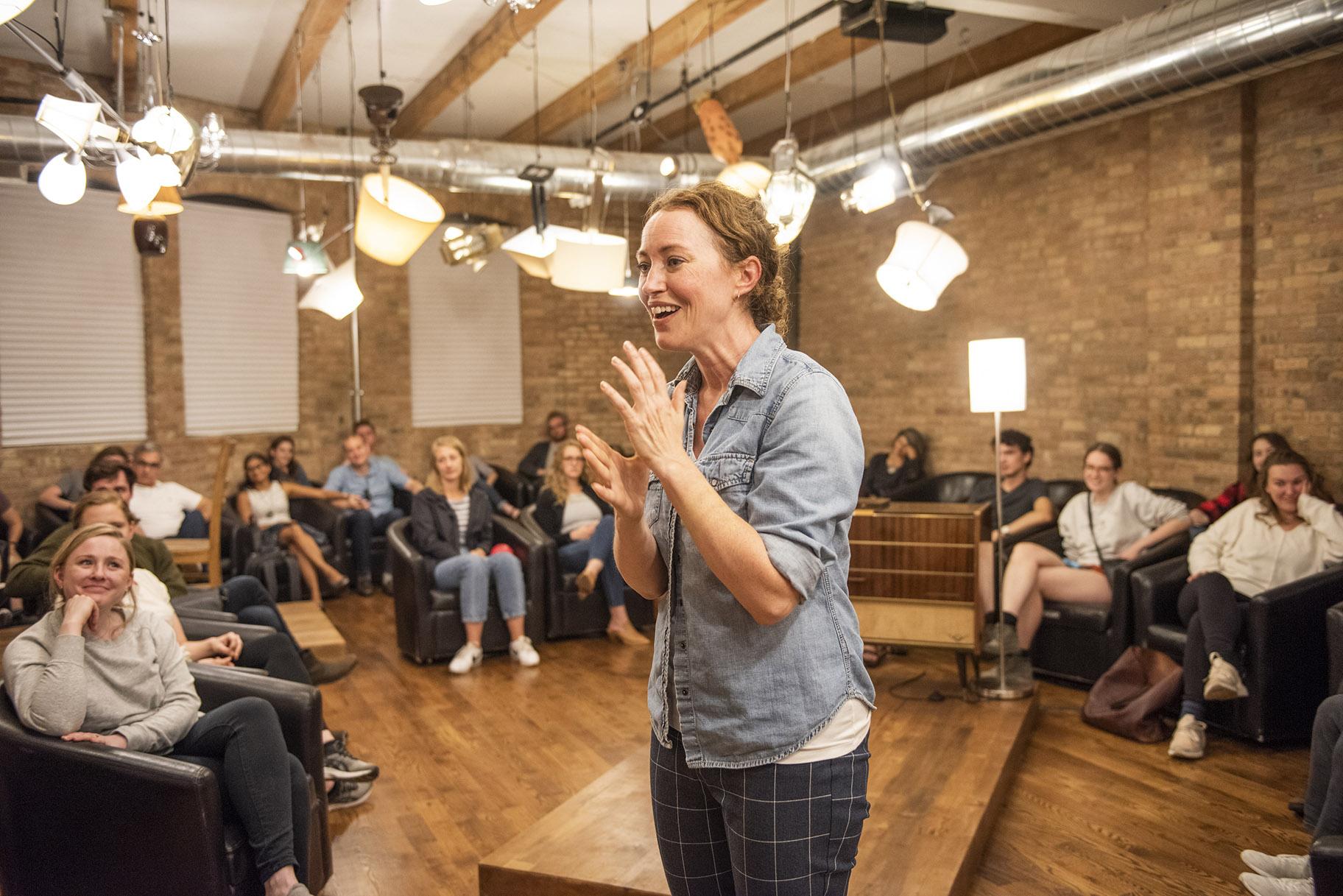 Rebecca Spence with audience members in "Every Brilliant Thing." (Photo credit: Michael Brosilow)
3. The performance I saw on opening night and am reviewing here will never be fully replicated. For while the script will remain essentially the same, the composition of the audience (about 50 people seated in cushy black leather armchairs placed in a loose oval configuration), as well as each participant's particular personality and response to Spence (and hers to them) will surely differ. The one certainty is that Spence will continue to demonstrate a mind-boggling ability to keep Macmillan's story emotionally alive and on track, to ideally orchestrate its overall flow, and to engage in some remarkable "on-the-spot casting" as she winningly calls on many different audience members to play a slew of essential characters. The engagement of each audience member will be unpredictable. But Spence will undoubtedly hold fast to the character she plays so winningly – an only child who, beginning in 1984, when she was seven, and then at sporadic moments as she moves on into her 30s – kept a list "of all the brilliant things in the world."
As a kid those things included ice cream, roller coasters, the color yellow, chocolate and more. Later it included things like "the smell of old books" and "dancing in private." But from the start what propelled the list-making was a combination of loneliness and sadness whose catalyst was the depression and suicide attempts of her mother, and the stoic, emotionally distant response of her father who, after his wife's initial hospitalization, told his daughter simply that her mother "had done something stupid" and "finds it hard to be happy." He would than retreat to his study and play records ranging from Ray Charles and Miles Davis to Louis Armstrong.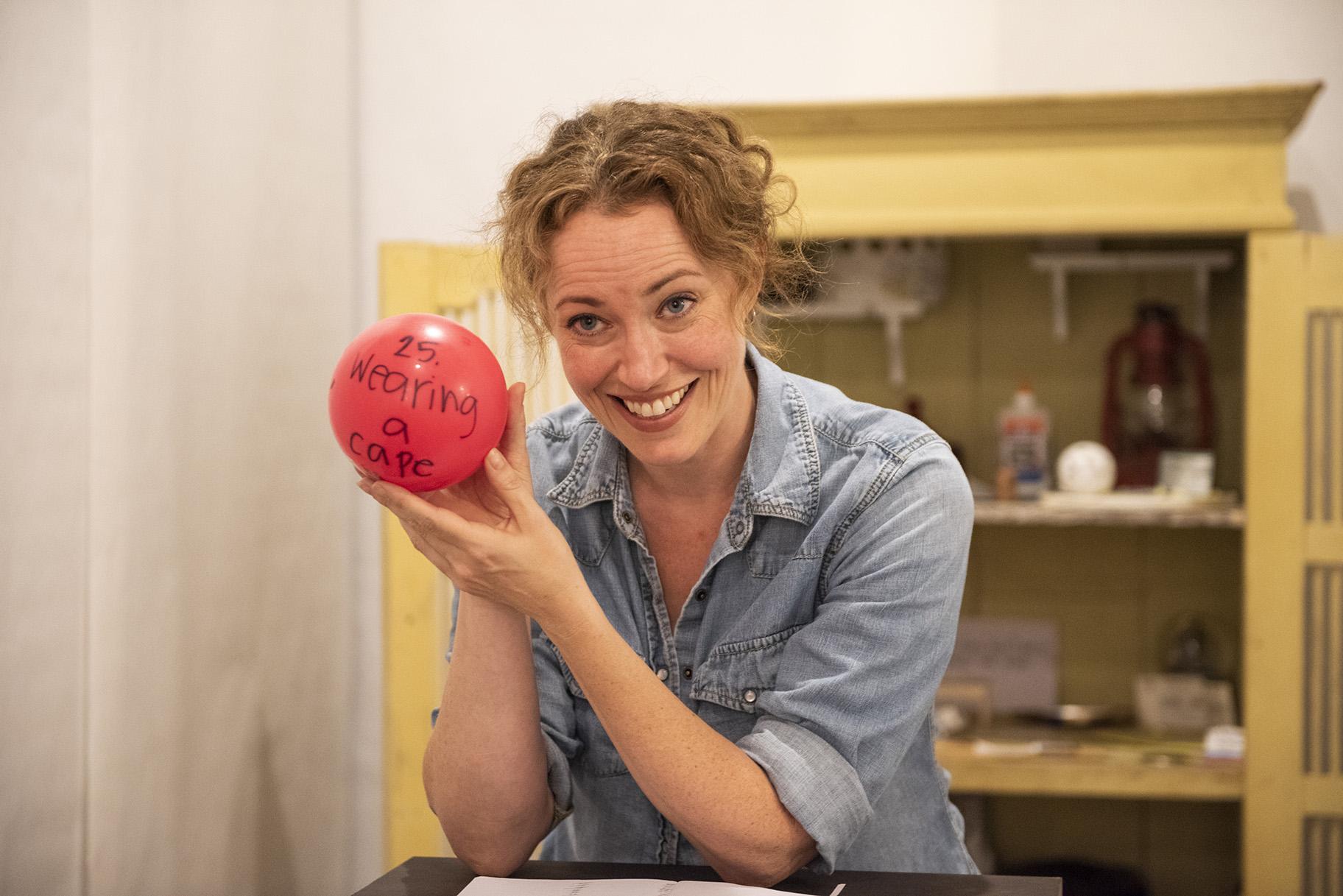 Rebecca Spence holds up a red balloon in "Every Brilliant Thing." (Photo credit: Michael Brosilow)
The Narrator (as the character is referred to on the program), does try to reach out for help at certain moments. As a child she calls on a teacher who takes off a sock, turns it into a sock-puppet persona (named Lambchop by the audience member selected to play the role on opening night), and creates a safe space in which she can talk about her unhappiness. Later, in a literature class at college, she interacts with a teacher in a blackly comic riff on Goethe's novel, "The Sorrows of Young Werther," whose theme of youthful suicide resulted in an epidemic of "copycat acts" when it was published.
Eventually there is a college romance with a guy named Sam, who the Narrator spots in the library and only very slowly works up the courage to talk to. He proposes (Spence tapped a perfect Sam who even got down on his knee to propose), they marry (and her dad makes an ideal toast), and things appear to be ideal for quite a while, until they aren't.
The list-making compulsion ceases from time to time, but not forever. For as this production suggests, even when one's life seems to have hit bottom – and pain and despair threaten to become all-consuming – there are a million brilliant things to remind you of why it is worth staying alive.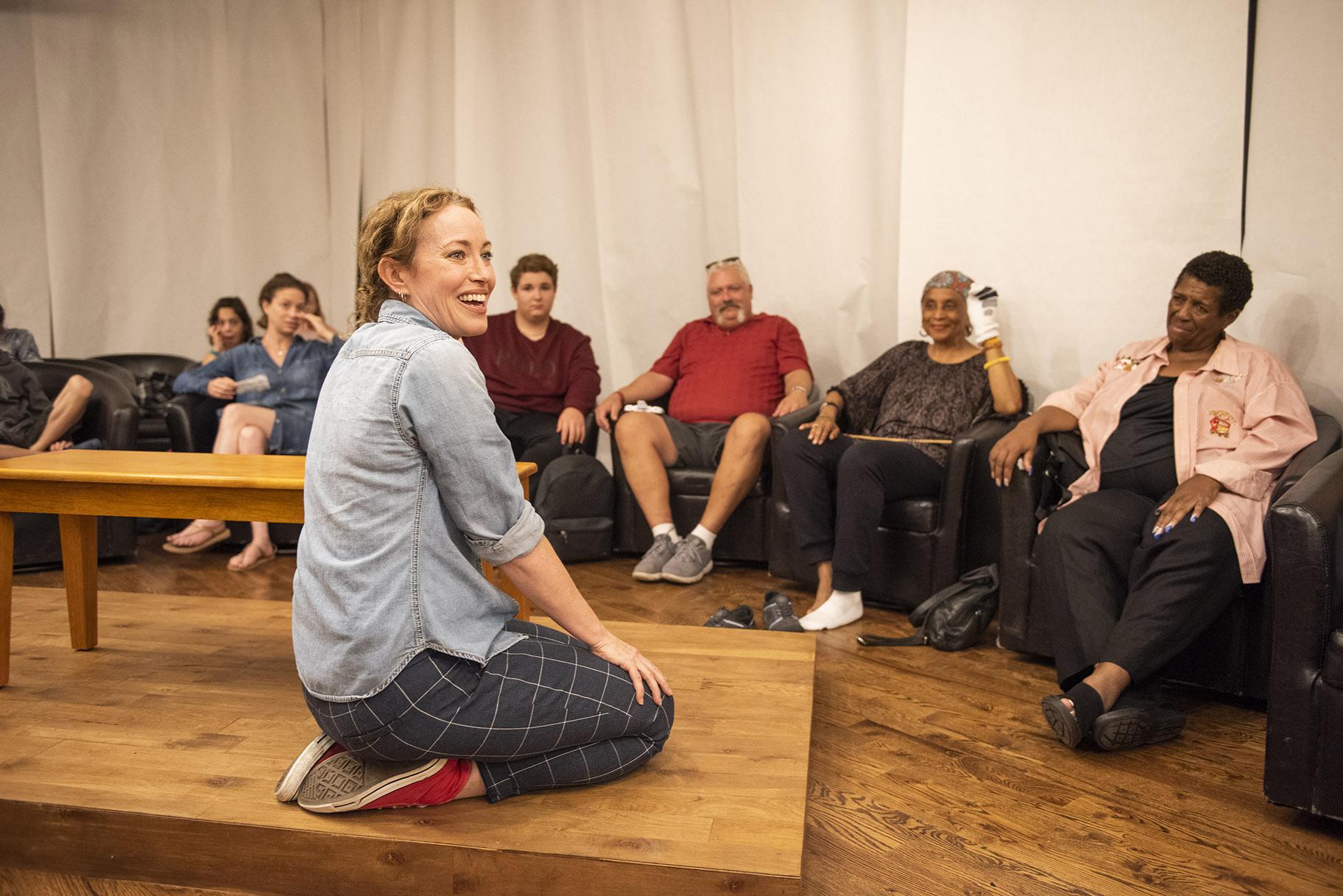 Rebecca Spence sits on a tabletop with audience members in "Every Brilliant Thing." (Photo credit: Michael Brosilow)
Windy City artistic director Amy Rubenstein said she relentlessly pursued the rights to this play for two years. I don't know if she had Spence in mind from the start, but the role fits her like a sock puppet glove. And by the time you leave the theater it's a good bet she will have you crafting your own list of brilliant things.
"Every Brilliant Thing" runs through Dec. 8 at Windy City Playhouse South (The Loft), 2229 S. Michigan Ave. For tickets ($55-$75) call (773) 891-8985 or visit WindyCityPlayhouse.com. Running time is 85 minutes with no intermission.
Follow Hedy Weiss on Twitter: @HedyWeissCritic
---
5 Fall Theater Recommendations from Hedy Weiss
Two Early 20th Century British Classics Adapted for the Stage
An Advice Columnist Taps into the Pain, Poetry and 'Tiny Beautiful Things' of Life
---