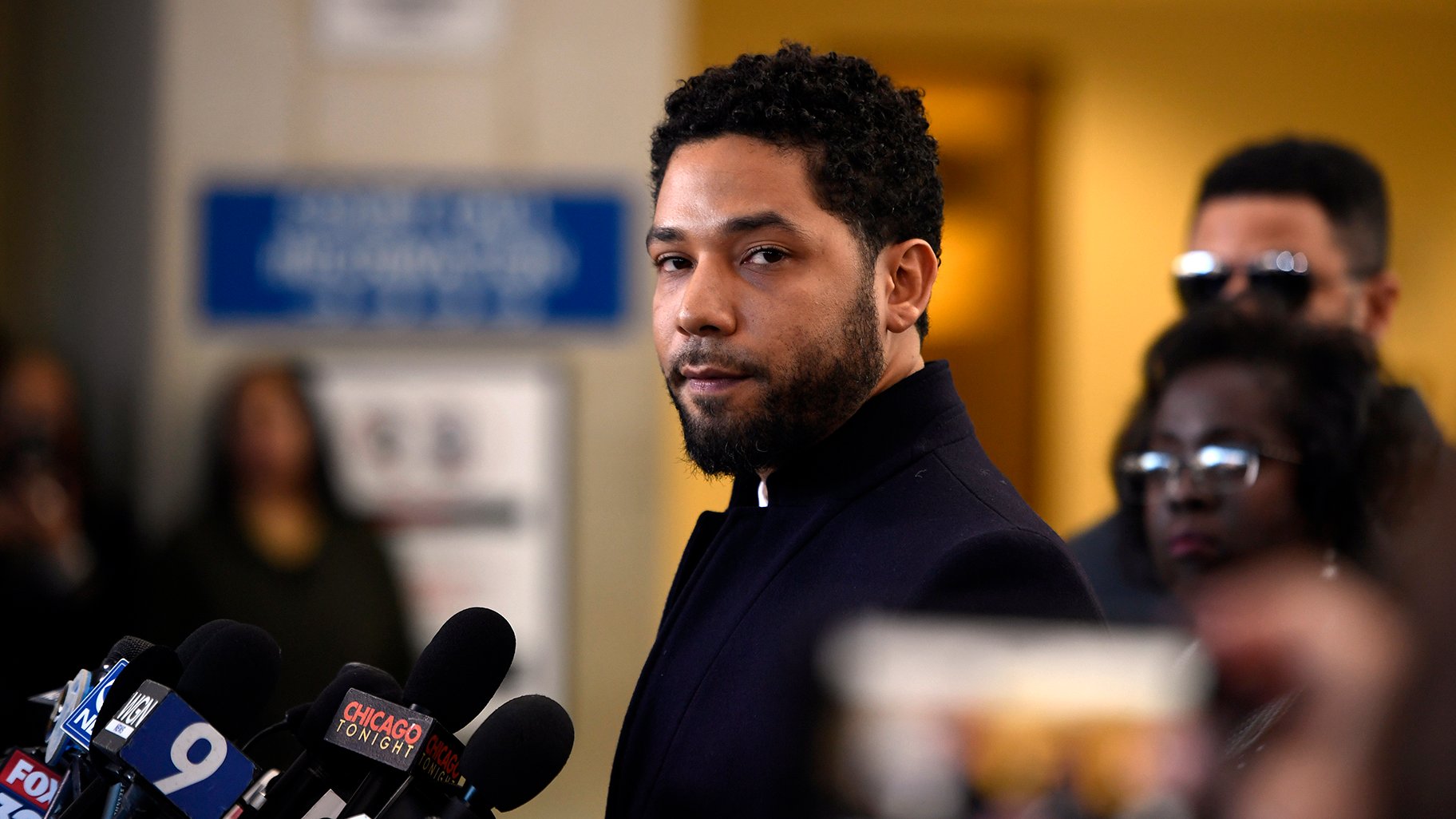 Actor Jussie Smollett talks to the media before leaving Cook County Court after his charges were dropped, Tuesday, March 26, 2019. (AP Photo / Paul Beaty)
When he filed an allegedly false police report claiming to be the victim of a racist and homophobic attack in January, actor Jussie Smollett had no idea he'd be triggering an investigation that would involve more than 1,800 hours of police overtime and incur a cost of $130,000.
That's according to a new filing the former "Empire" star's attorneys made in federal court this week as they seek the dismissal of a lawsuit filed by the city of Chicago seeking reimbursement for those overtime costs.
Smollett's attorneys claim that simply filing a police report – whether accurate or not – does not "necessitate a sprawling investigation," nor does it typically "result in an investigation as extensive as the one the (Chicago Police Department) chose to undertake in this case."
By submitting that report, they claim, all Smollett did was "enable" Chicago police and Cook County prosecutors to "decide whether and how to investigate."
"This unprecedented civil case was filed simply because former Chicago Mayor Rahm Emanuel disagreed with the Cook County State's Attorney's decision to dismiss the false police report charges against Mr. Smollett," Smollett's civil attorney William Quinlan wrote in a filing Tuesday. "Yet the City's claims and purported damages are a vindictive effort to prosecute charges that the State's Attorney pursued and then chose to drop."
Smollett claimed to police he'd been attacked near his Streeterville apartment early on the morning of Jan. 29, 2019 by two men who yelled racist and homophobic slurs at him. After investigating that allegation over the course of weeks, CPD detectives determined Smollett had orchestrated the incident himself.
They believe he paid off two brothers to carry out the "attack" in an effort to help boost his public profile.
In March, Smollett was indicted on 16 felony counts of disorderly conduct for filing a false police report, but the Cook County State's Attorney's Office – in a largely controversial move – eventually dismissed those charges.
That same month, the city's Law Department demanded Smollett pay back the $130,000 the police department expended on overtime as it investigated his claims, saying that if he refused, he could face a civil suit or prosecution for violating Chicago's municipal code.
But the actor refused to pay before a seven-day deadline expired in April, prompting the city to move forward with a lawsuit. Officials say the civil complaint "pursues the full measure of damages allowed under the false statements ordinance."
The city says its claims in the lawsuit are straightforward: Smollett falsely told officers he was the victim of a hate crime, which in turn caused the police department to investigate.
"Indeed, the entire purpose of submitting a police report is to cause police to investigate the report," city Law Department attorney Renai Rodney wrote this week in response to Smollett's filing. "The CPD investigation and commensurate costs were therefore the natural and foreseeable result of Defendant's claim that he was the victim of a heinous hate crime."
Smollett has maintained his innocence throughout the investigation. A federal judge is expected to rule on his dismissal request in October.
Beyond the civil case, Smollett also faces the possibility of new criminal charges. Cook County Judge Michael Toomin last month appointed veteran litigator Dan Webb as special prosecutor in charge of reviewing the actor's case.
Webb has begun his own investigation but has put no timetable forth for any charging decisions.
Contact Matt Masterson: @ByMattMasterson | (773) 509-5431 | [email protected]
---
Related stories:
Chicago Sues 'Empire' Actor Jussie Smollett
Judge to Rule on Tossing Suit Against Jussie Smollett in October
Judge Orders Special Prosecutor to Examine Smollett Probe
Chicago Releases 911 Calls from Smollett Incident in January
Read: Chicago Police Release First Wave of Jussie Smollett Documents
---