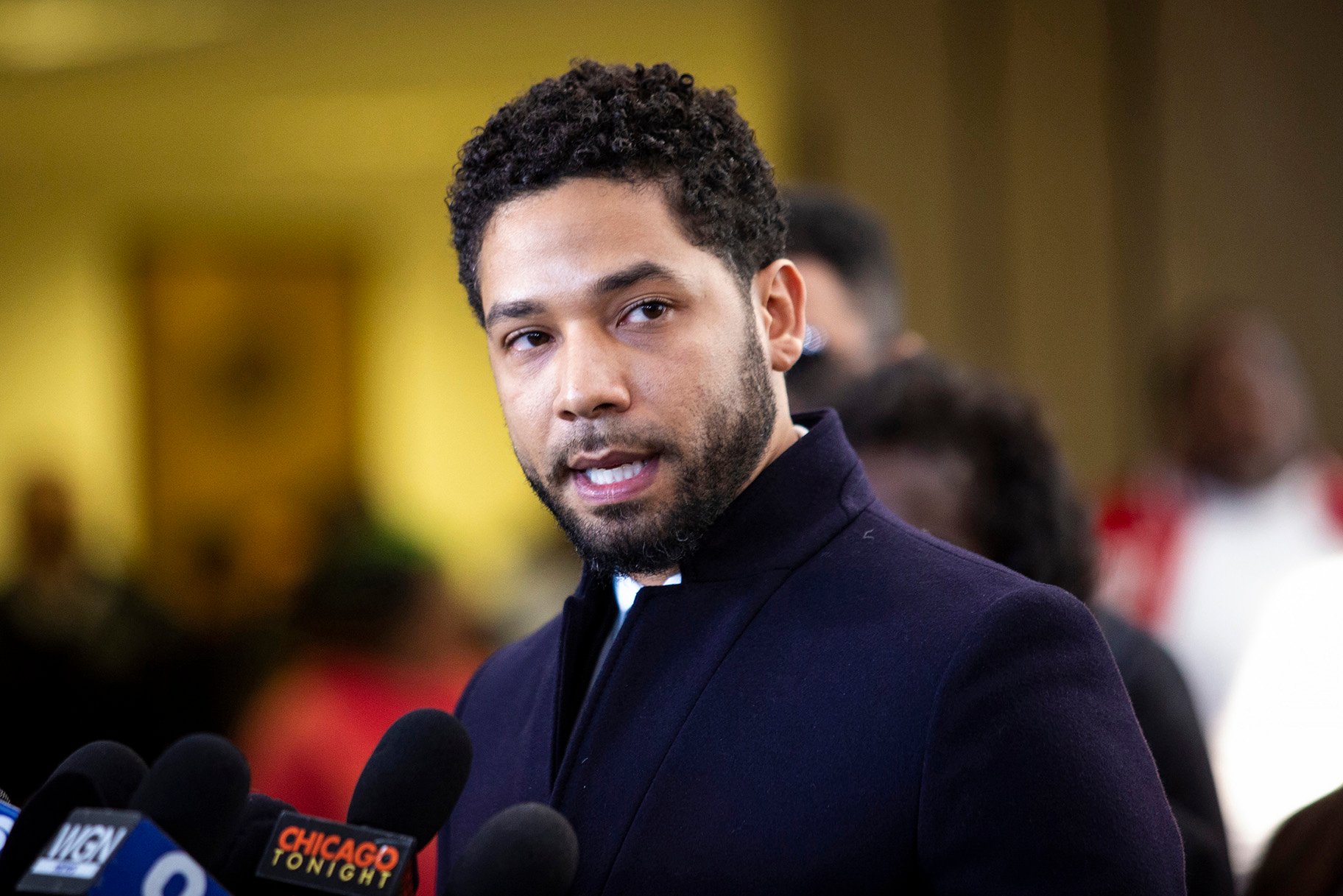 Actor Jussie Smollett leaves the Leighton Criminal Courthouse in Chicago on Tuesday March 26, 2019, after prosecutors dropped all charges against him. (Ashlee Rezin / Chicago Sun-Times via AP)
Jussie Smollett has already forfeited $10,000 to the city of Chicago following the hoax attack he allegedly orchestrated on himself. But if Mayor Rahm Emanuel has his way, that bill may grow even larger.
Emanuel said city officials have tabulated the cost of the investigation into Smollett's allegations and will ask the "Empire" star to pay that back to the city – a total the city estimates to be $130,000.
"The police are assembling the cost, they'll do that and then the corporation counsel of the city of Chicago will communicate that to Jussie Smollett and his legal team," Emanuel said during a press event Thursday morning.
"When he does pay the city back on just purely what the taxpayers have fronted, in that memo section he can write 'I'm sorry and I'm accountable for what I've done.'"
A police department spokesman did not respond to a request for comment Thursday morning.
Smollett, 36, initially told police he'd been beaten by two men who were yelling racist and homophobic slurs at him in the early morning hours of Jan. 29 in the Streeterville neighborhood on Chicago's Near North Side. He also told investigators the attackers had told him he was in "MAGA country" in an apparent reference to President Donald Trump's "Make America Great Again" campaign slogan.
Police eventually determined Smollett had paid two brothers to stage the attack in an effort to raise his own public profile. Earlier this month, a grand jury indicted him on 16 additional counts of disorderly conduct for filing a false police report, all stemming from the alleged hoax attack.
But those were all tossed out in a surprise move by the Cook County State's Attorney's office at an emergency hearing Tuesday morning. Prosecutors instead entered into an "alternative prosecution" in which the charges were dismissed after Smollett completed 16 hours of community service and forfeited the $10,000 bond he had posted following his initial charge.
Smollett has maintained his innocence.
Cook County State's Attorney Kim Foxx – who recused herself from the case before charges were filed – and First Assistant State's Attorney Joseph Magats have said this type of resolution is common for first-time offenders facing a low-level felony.
But that hasn't quelled the outrage from those calling for an investigation into Foxx herself or her office's handling of this case. Emanuel this week called the move a "whitewash of justice," adding on Thursday that Smollett has not shown "any sense of contrition and remorse." He also said the $10,000 Smollett has already forfeited is nowhere close to covering the cost of the investigation.
In response, Smollett's attorneys say Emanuel and Chicago Police Superintendent Eddie Johnson owe their client an apology "for dragging an innocent man's character through the mud."
"Jussie has paid enough," his legal team said in a statement. 
Trump weighed in on the case Thursday morning, saying the FBI and Department of Justice will review the dismissal of charges, which he called "an embarrassment to our nation."
FBI & DOJ to review the outrageous Jussie Smollett case in Chicago. It is an embarrassment to our Nation!

— Donald J. Trump (@realDonaldTrump) March 28, 2019
---
The mayor threw blame for the situation back on Trump, saying the only reason Smollett believed he could carry out a fake hate crime was because of the "toxic environment" the president created, adding that Trump should sit this one out.
"My recommendation is the president (should) go to opening day baseball," Emanuel said, "sit on the sideline, stay out of this."
The Associated Press contribued to this report.
Contact Matt Masterson: @ByMattMasterson | [email protected] | (773) 509-5431
---
Related stories:
Osundairo Brothers' Former Attorney Speaks Out
Surprising Outcome in Smollett Case Provokes Anger from Mayor, Police Superintendent
Prosecutors Drop All Charges Against Jussie Smollett
Chicago Police Union Wants Federal Probe in Smollett Case
Brothers in Smollett Case Say They Have 'Tremendous Regret'
Anita Alvarez to Kim Foxx: 'Do Your Job'
---