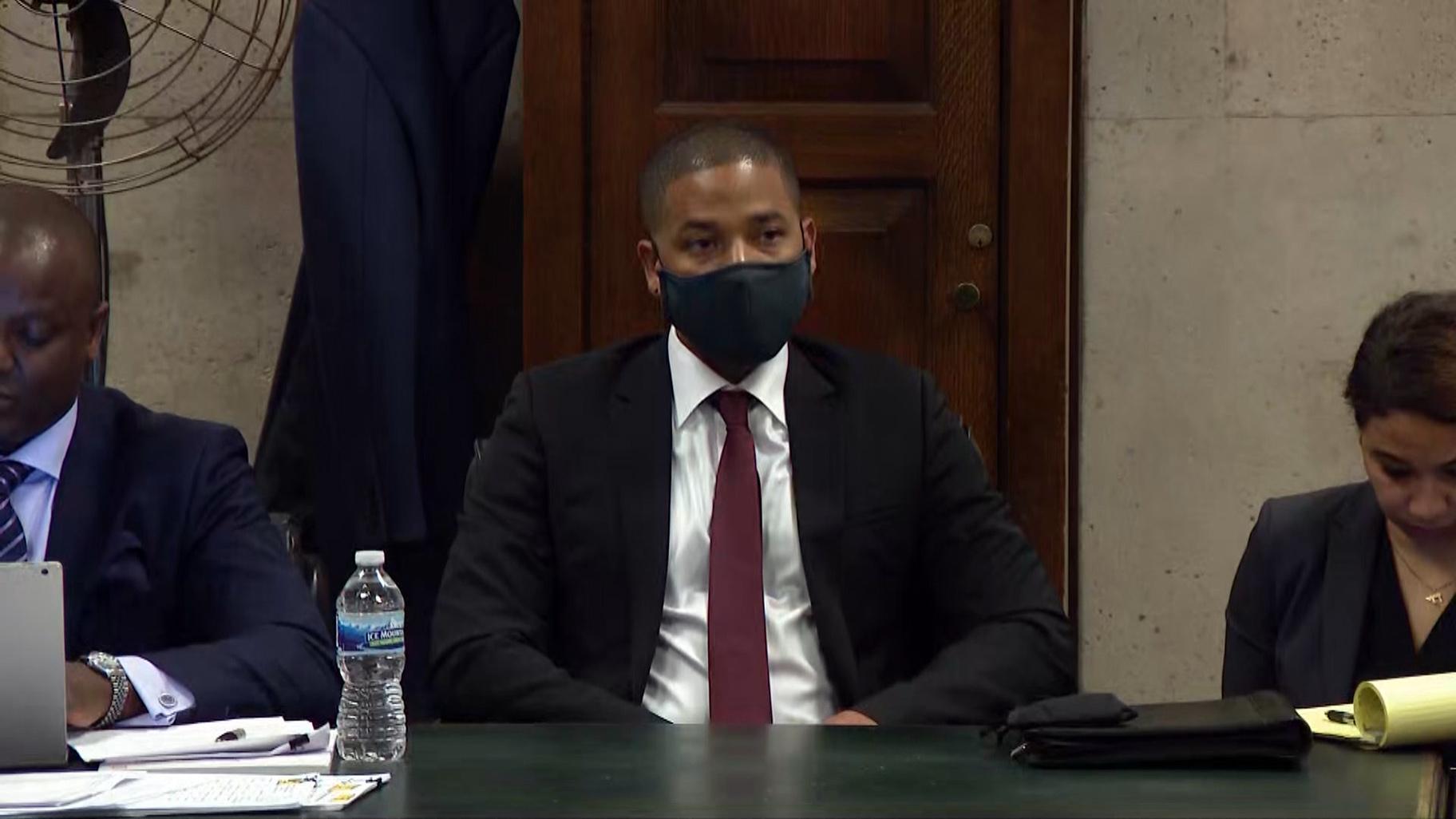 Jussie Smollett attends his sentencing hearing on March 10, 2022. (WTTW News)
Attorneys for Jussie Smollett are seeking to get the former "Empire" star out of the Cook County  Jail on bond, as his family claims he's being held in a "psych ward" to begin his five-month jail stay.
Smollett's attorneys have asked an Illinois appellate court to let him out of jail while his legal team appeals his conviction on five felony counts of disorderly conduct, stemming from the hoax hate attack he orchestrated in 2019.
"For good cause shown, judicial economy and efficient administration of justice, it is in the best interest of the parties for this reviewing court to stay the enforcement of the incarceration of Mr. Smollett, to waive the appeal bond, or in the alternative enter a time for Mr. Smollett to pay a just and reasonable bond," defense attorney Nenye Uche wrote in an emergency motion.
According to a Smollett spokesperson, the appellate court has given Special Prosecutor Dan Webb and his team five days to respond to that motion. In his motion, Uche again argued that the sentence should be stayed because of the "double jeopardy (Smollett) faced in his 2019 case."
Uche has repeatedly argued that Smollett should not have gone to trial last year after Cook County prosecutors dismissed the initial indictment against him in a deal that saw Smollett agree to forfeit his $10,000 bond and complete community service.
Webb and his team were appointed to reinvestigate the case months later and brought renewed charges against the actor in 2020. Smollett went to trial on those charges late last year, and a jury found him guilty on five of six disorderly conduct charges for lying to Chicago police about the hoax attack.
He has remained in the Cook County Jail since last Thursday, when Judge James Linn sentenced the actor to 30 months of probation, the first 150 days of which were to be served in the jail.
Smollett had an outburst in court after that sentence was read, shouting at Linn that he was both innocent and not suicidal as he was led away to the jail. The actor's family now says he has been placed in a "psych ward" within the jail, while paperwork on his cell states that he is "at risk of self-harm."
Smollett's family maintained he "would never hurt himself," according to the spokesperson. The family also become the target of "vicious threats" on social media, Uche said in the motion, "which no doubt reflects the hatred and wish for physical harm towards Smollett that he may experience during incarceration."
His attorneys have also highlighted the dangers of COVID-19 to jail detainees and claim he could face "extraordinary damage" to his mental health if he is held alone in protective custody. According to the Cook County sheriff's office, just 15 of the jail's 6,000-plus detainees are currently positive for COVID-19.
If the request to stay his sentence is not granted, Uche said Smollett could face "irreparable harm" by serving out the full 150 days in jail before his appeal process can be completed.
The sheriff's office said Smollett is being held in a location "frequently utilized for individuals requiring a high level of supervision and care for mental health needs," but also added that "Mr. Smollett is not currently on suicide watch."
"This housing may also be utilized solely for security reasons due to the enhanced monitoring that can occur in this setting," the office said in a statement, "and it would be inaccurate and irresponsible to make any assumption about his mental or medical condition based on where he is currently housed."
Contact Matt Masterson: @ByMattMasterson | [email protected] | (773) 509-5431
---