At 4 1/2 years in the making, and running a good 680 pages in length, Mark Larson's new book, "Ensemble: An Oral History of Chicago Theater" (Agate Midway, $35), is a weighty tome.
And so it should be, for it chronicles the development of a unique artistic movement that has grown exponentially over a 60-year period, and, in the process, has defied many of the usual parameters. It does so through the voices of more than 300 actors, directors, designers, writers, choreographers and producers – some who have become famous, some who are known widely only in the city to which they are forever devoted, some who are still forging their careers, and some who have died during the course of the book's long gestation period.
The official launch for the book took place earlier this week at the Jane Addams Hull House on South Halsted, a venue that could not have been more loaded with significance. For it was at Hull House – established in 1889 by Addams and Ellen Gates Starr as a settlement house designed to provide social, educational and cultural services to the city's poor and working class residents, and to recently arrived immigrants – that noncommercial Chicago theater got its start. And in 1912 it gave birth to this country's Little Theater Movement, presenting the Chicago premieres of plays by the likes of George Bernard Shaw, Henrik Ibsen and John Galsworthy.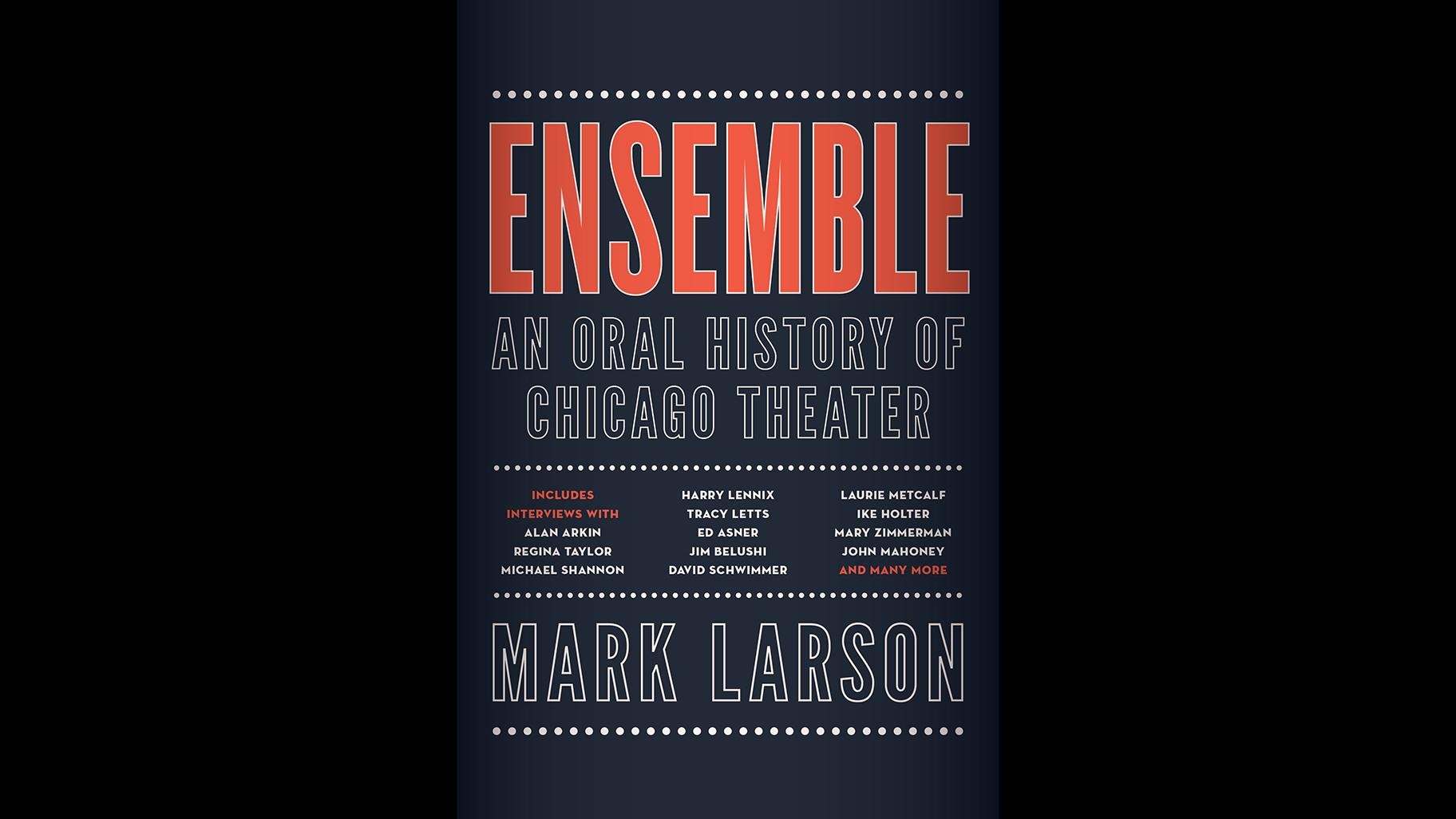 Click image to read an excerpt from the book.
Larson's encyclopedic book, which builds on the technique of oral history championed by Studs Terkel, the Chicago icon and passionate theatergoer, begins four decades later with the founding, in 1953, of the Playwrights Theatre Club. As he describes it, "there was a convergence of nascent talent at the University of Chicago that changed everything." And among that group was a young director, Paul Sills, a "restless and determined producer," David Shepherd, the teacher Viola Spolin, and, quite soon, such fledgling talents as Mike Nichols, Elaine May, Barbara Harris, Joyce Piven, Ed Asner, Fritz Weaver and the then 17-year-old Sheldon Patinkin.
Fast forward to 2019, when there are about 250 companies on the Chicago scene. And while some of the great, pioneering ensembles of earlier decades have "left the stage" (from the Candlelight Dinner Playhouse to Wisom Bridge, the Organic, Body Politic, Next, Famous Door, and Remains), there are many long-time survivors (the Goodman, The Second City, Steppenwolf, Court, Northlight, Victory Gardens, Black Ensemble, Writers, Lookingglass, Porchlight Music Theatre, to name just a few). And the list of the newer arrivals goes on and on, reflecting the changes in the city, the country and the art form itself.
Yet it is the essential spirit of each and every one of those companies, and the countless artists who have continued to move through them, that is of the essence.
At the Hull House event, Tim Evans (executive director of Northlight Theatre, who early on was part of both Steppenwolf and the St. Nicholas Theatre), introduced Larson, his friend of many decades, and eloquently homed in on that spirit.
"Mark's book suggests how innocent we were," said Evans. "It's not that we wanted to change the world (although we did to a degree). It's that because we all felt we were outsiders and misfits we wanted to find a community of our own. In the early days Chicago theater was 'the island of lost boys and girls.' And on our way to finding ourselves we found a community – an ensemble of artists, and enablers, and friends, and mentors. And we became a tribe – a family."
Evans also quoted Jeff Ortmann (executive director of the long gone Wisdom Bridge), who said about the early days of the Off Loop movement: "We were given the keys to the Land of Oz. We were taught that anything was possible … you could be anything you wanted to be. We all had a lot of chutzpah, and we were dumb enough not to know that certain things weren't really possible."
And yet they were.
Evans went on to describe Chicago theater as "a love story, with all the passion, affection, heartbreak, struggle, failure and triumph of any powerful love story." And he aptly described Larson's book as "a compelling, authentic and emotional narrative told by those who lived it, those who changed the face of modern day Chicago, and those who changed the face of American theater."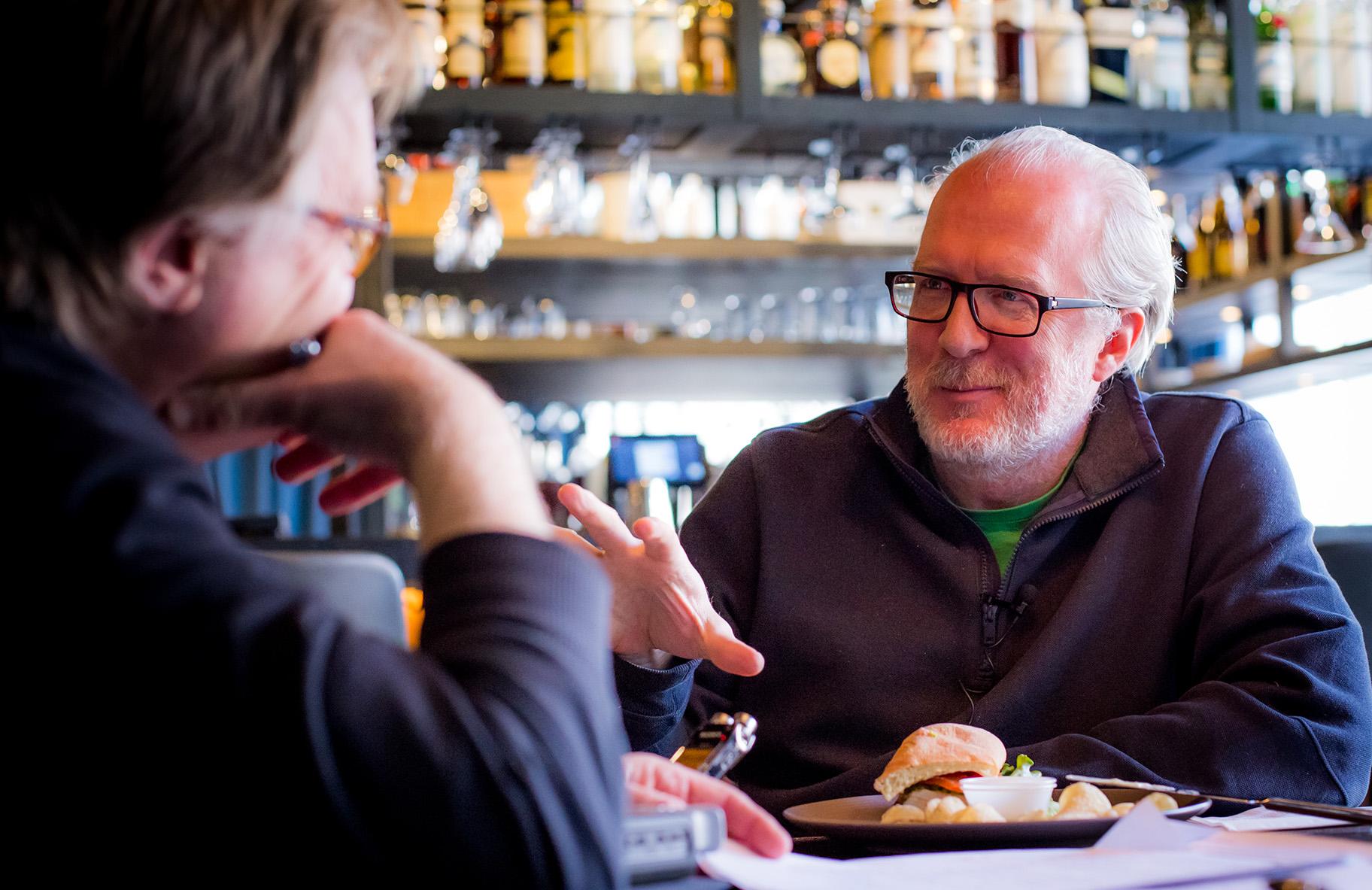 Author Mark Larson with Tracy Letts. (Credit: Sarah Elizabeth Larson)
Larson himself paid homage to the pioneers, both "then" and "now." And while the names of interviewees on the cover of the book may be widely known (Alan Arkin, Tracy Letts, Michael Shannon, Laurie Metcalf, John Mahoney, Mary Zimmerman, Harry Lennix, Julia Louis-Dreyfus and others), it is a quote from the wonderful actress Kate Fry (who should be famous) that most beguiled me.
Describing the experience of working at Writers Theatre when it was housed in the small back room of a Glencoe bookstore (it has since, of course, moved to a grand new home designed by "star-chitect" Jeanne Gang), Fry told Larson: "It was almost like you weren't really sure that what you were doing was really happening … It was so small, and there wasn't a marquee or a bustling theater district with a bar. You felt like you were in a pretend town."
Mark Larson speaks at Hull House on Monday, Aug. 12, 2019. (Photo by Hedy Weiss)
In addition to his fervent remarks to those gathered at Hull House on Monday evening, Larson thanked many people, including his wife, Mary (quipping that no one should have to endure the long process of living with a man who was working on a book for so many years), and his transcriber, who, among many other things, had to check whether each of the companies in question used the name "theater" or "theatre." (A truly grueling task.)
He also admitted that he is not so naive as to believe that the growth of Chicago theater and its ensemble ethos has been without its share of friction.
"Of course there has been friction," said Larson. "But without friction we do not move."
And move the Chicago theater scene most certainly does. In fact, by the time you finish reading "Ensemble" it's a good bet that a whole new slate of companies will be ready for their close-ups. Larson might even want to begin setting up interviews for additional chapters that might appear in the book's next edition.
Note: Throughout the next few months a number of upcoming events are scheduled in connection with the publication of "Ensemble." For details visit agatepublishing.com.
Follow Hedy Weiss on Twitter: @HedyWeissCritic
---
At Teatro Zinzanni, Life is an Old-World Cabaret, Circus, Comedy and Restaurant
In 'Come From Away,' Discovering the Kindness of Strangers at a Traumatic Moment
At Black Ensemble, a Sensational Dance-A-Thon Set to the Beat of Funk
---