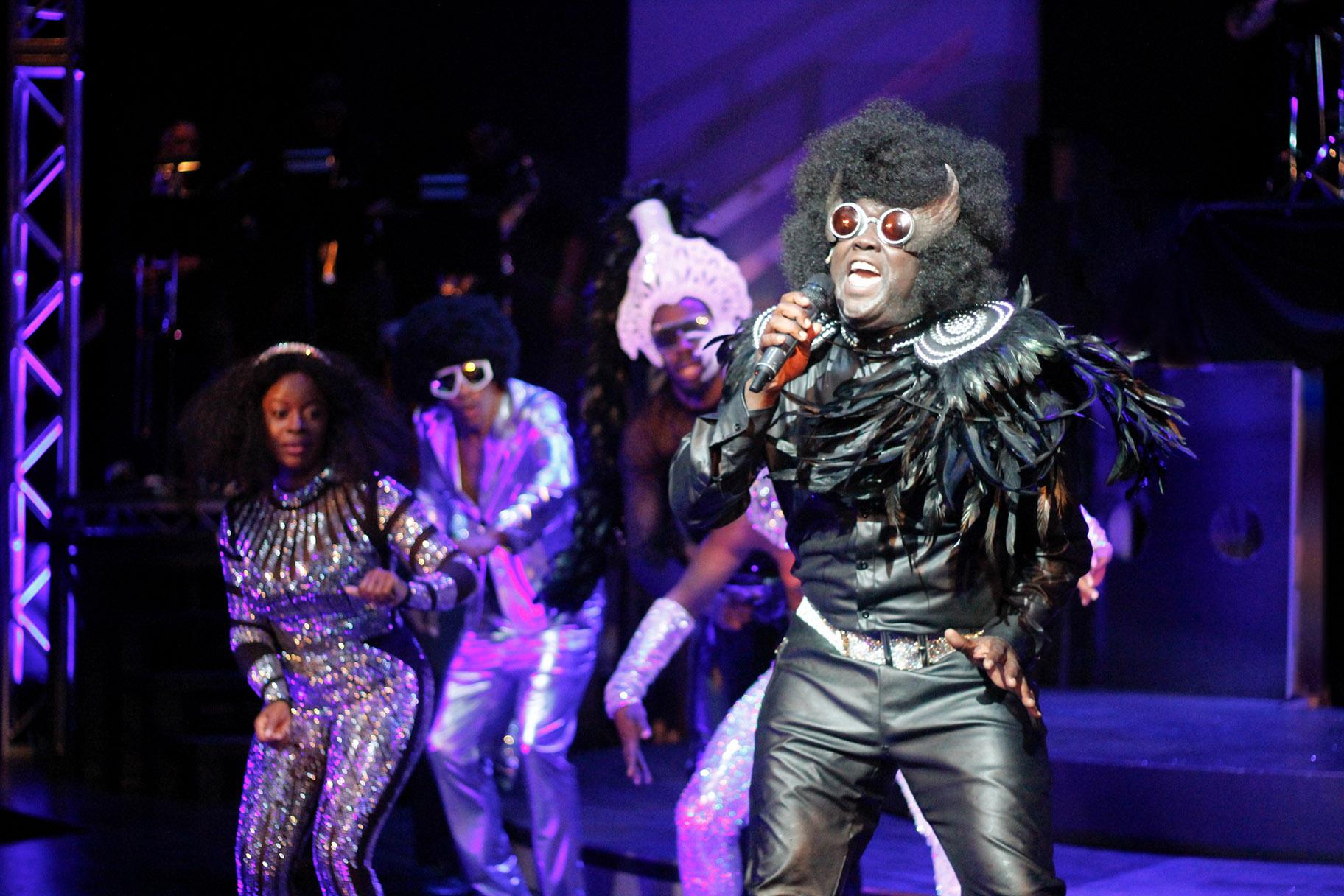 From left: Thera Wright, Vincent Jordan, Stewart Romeo and Dwight Neal in "You Can't Fake the Funk (A Journey Through Funk Music)," at Black Ensemble Theater. (Photo credit: Alan Davis)
Fashion alert: Now is the time to start digging around in the furthest reaches of your closet (think circa late 1960s and '70s) in order to retrieve those flashy platform shoes and fringed vests you once wore while dancing to the music of such era-defining funk masters as James Brown, Sly and the Family Stone, Chaka Khan, Earth Wind & Fire, Isaac Hayes, Curtis Mayfield, Rick James, Bootsy Collins, George Clinton and many others.
Then, once you've exhumed the "costumes," you are advised to head on over to the Black Ensemble Theater where "You Can't Fake the Funk." What you will find there is an irresistible celebration of the dance-driven music that grabbed hold of the rhythmic groove of a bass line, mixed the soul, jazz, and rhythm and blues sound already deeply ingrained in the African American tradition, and captured the frenetic energy and social change of its time.
To get right to the point (and to borrow a few song titles in the process): This show – which is unquestionably one of the company's most irresistible, highly polished, dance-fueled productions of recent seasons – will take you higher, set you on fire, and infuse you with a Superfly energy. And along with the funky emphasis on the downbeat comes an upbeat sensation of pure nostalgic fun devised by writer-director Daryl D. Brooks, choreographer Christopher Chase Carter, music director Robert Reddrick, Rueben Echoles, a maestro of flash-and-fabulous funk couture, and a cast of volcanic actor-singer-dancers who bring a slew of superstars winningly back to life. You really can't fake that kind of funk.
The fast-paced show – with Dwight Neal serving as Dr. Funk, the droll, swashbuckling emcee – unspools in chronological order, with very little talk other than brief introductions of the songwriters and performers, and a few words about the city of their origin and what they contributed to the funk style – the music that became "One Nation Under a Groove." (Apologies to George Clinton.)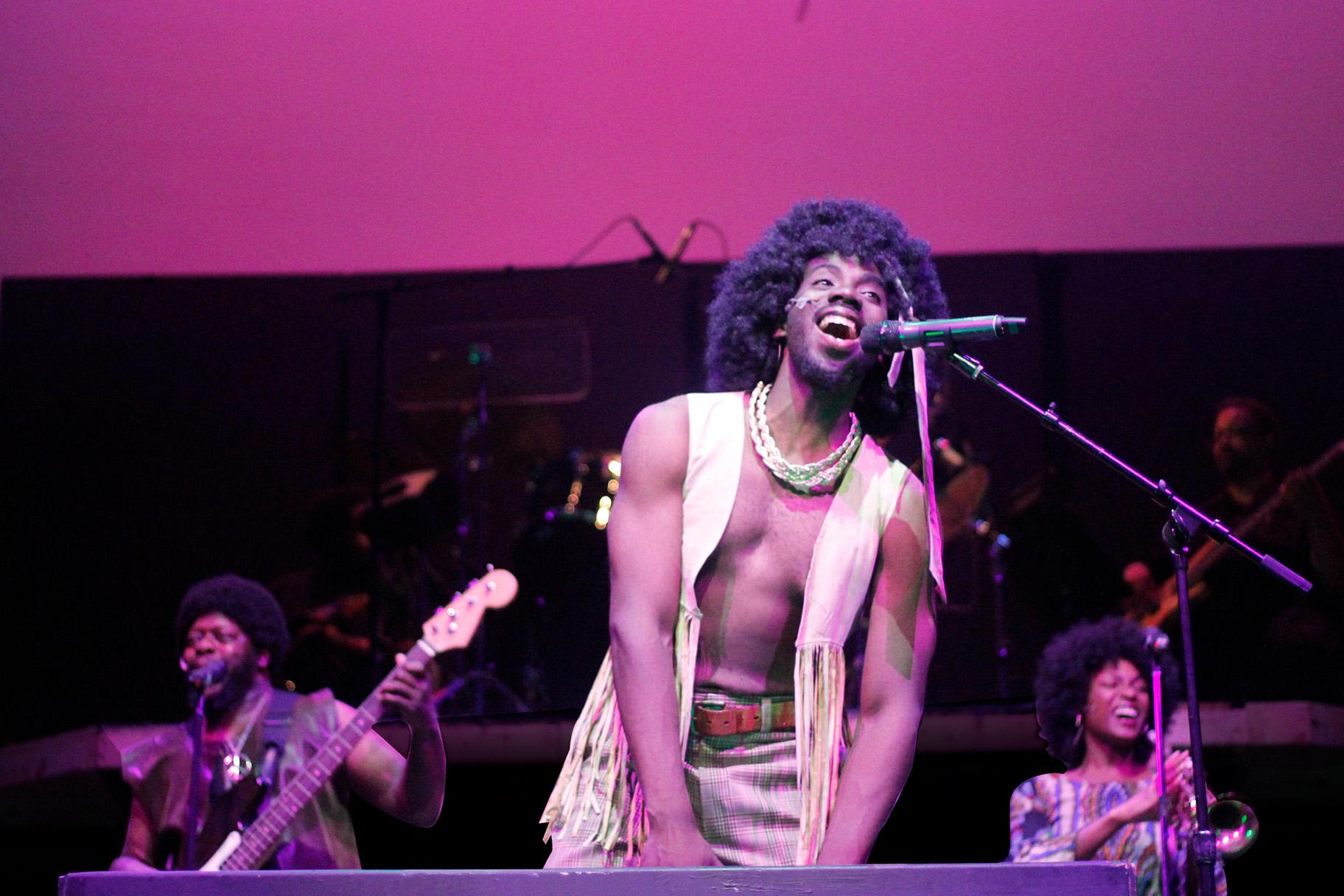 David Simmons, Stewart Romeo and Jayla Williams Craig in "You Can't Fake the Funk." (Photo credit: Alan Davis)
First up, not surprisingly, is the pioneering James Brown (Lemond Hayes, in plaid pants, makes a sleek musical rebel as he moves through "Please, Please, Please" and "Cold Sweat" and jumps into full splits). Then it's on to the San Francisco-bred band, Sly and the Family Stone and their irresistible classics ("I Want to Take You Higher," "Soul Clappin'" and "Dance to the Music"), with Stewart Romeo and the ensemble generating big excitement.
Taking funk into an edgier place than the long dominant Motown sound was the sometimes fractious Ohio Player band led by Sugarfoot Bonner (a fine turn by Vincent Jordan), whose hits, including "Fire," "Skin Tight" and "Love Rollercoaster," all get rousing performances. And then there is Rufus and that "Queen of Funk," Chicago-bred Chaka Khan (Thera Wright), singing Stevie Wonder's "Tell Me Something Good."
The story of The Commodores, who met at Tuskegee University, is well told (including mention of a wife who got cheated out of credit for her lyrics), with the always formidable David Simmons leading the group in "Brick House," written by William King, Lionel Richie and others. And the show's first act comes to a roaring close with the electro-funk dance engine, "You Dropped the Bomb on Me" (with Michael Adkins as the dynamo leader of The Gap Band), followed by a sensational set of Earth, Wind & Fire hits including "Let's Groove," "That's The Way of the World" and "September." All are set in blissful perpetual motion by Carter, with the playfully sexy dancer-singer Jayla Williams Craig working her magic.
The second act begins at the movies, with a toast to two major black action hits – the 1971 film "Shaft" (with David Simmons portraying Isaac Hayes), and the 1972 "Superfly" (with Blake Hawthorne as Curtis Mayfield). And then it's on to a sizzling "Car Wash" (featuring Craig); the Dazz Band hit "Let It Whip" (with Brandon Lavell); the songs of the quirkily brilliant Rick James (Adkins is brilliant here), including "You and I," "Busting Out" and "Super Freak"; and Craig leading the Mary Jane Girls in James' "In My House." There's also a wildly exuberant toast to Bootsie Collins and George Clinton with "I'd Rather Be With You." And for a fully Funkadelic finale there is "Disco to Go," "We Want the Funk," "Atomic Dog" and "Flashlight."
Deserving of special applause is Echoles whose fabulous array of white patent leather shoes, glittery boots, stylish suits, capes, velour unitards and elaborate wigs and headpieces is a show all by itself. And the set design by Bek Lambrecht and Denise Karczewski adds to the production's sense of perpetual motion with a rotating disc.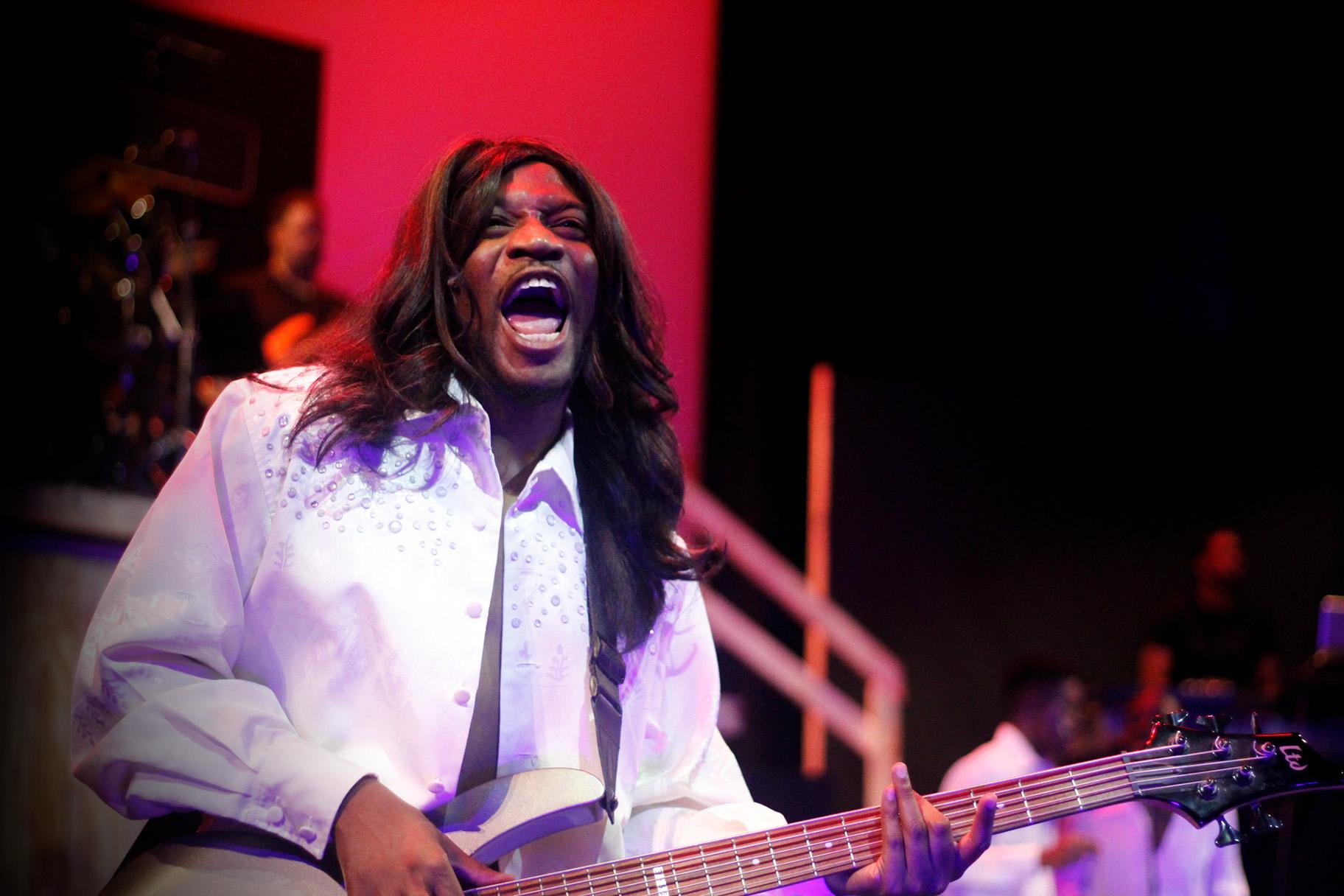 Brandon Lavell in "You Can't Fake the Funk." (Photo credit: Alan Davis)
Last, but by no means least, there is Reddrick (on drums), and his invariably superb musicians (Adam Sherrod, Mark Miller, Dudley Owens, Gary Baker, Marvin Davis and Royce Harrington), who grab hold of the pure funk beat and never let it go. In fact, they assure that you will be dancing in your seat (and the aisles).
"You Can't Fake the Funk" runs through Sept. 22 at the Black Ensemble Theatre, 4450 N. Clark St. For tickets ($45-$65), call (773) 769-4451 or visit blackensembletheater.org. Running time is two hours and 10 minutes with one intermission.
Note: While "You Can't Fake the Funk" lights up Black Ensemble's home stage, the company's production from earlier this season, "Women of Soul" (also written and directed by Daryl Brooks), will be staged as part of the 2019 National Black Theatre Festival in Winston-Salem, North Carolina, with performances running July 31-Aug. 3.
And mark your calendar for this event closer to home: Chester Gregory, whose breakout performance at the Black Ensemble back in 2000 in "The Jackie Wilson Story" helped catapult him into a Broadway career, will perform his one-man show, "Higher and Higher: A Feel-Good Rock 'n' Soul Shindig," on Aug. 25 (at 1 p.m. and 5 p.m.) at the Marriott Theatre in Lincolnshire. For tickets call (847) 634-0200.
Follow Hedy Weiss on Twitter: @HedyWeissCritic
---
Ravinia Festival Pulls Out All the Stops in Celebration of Leonard Bernstein
In 'Ghost Quartet,' a Maze of Stories Brought to Life With Haunting Music
American Blues Theater Reveals Luminous Glow of 'The Spitfire Grill'
---