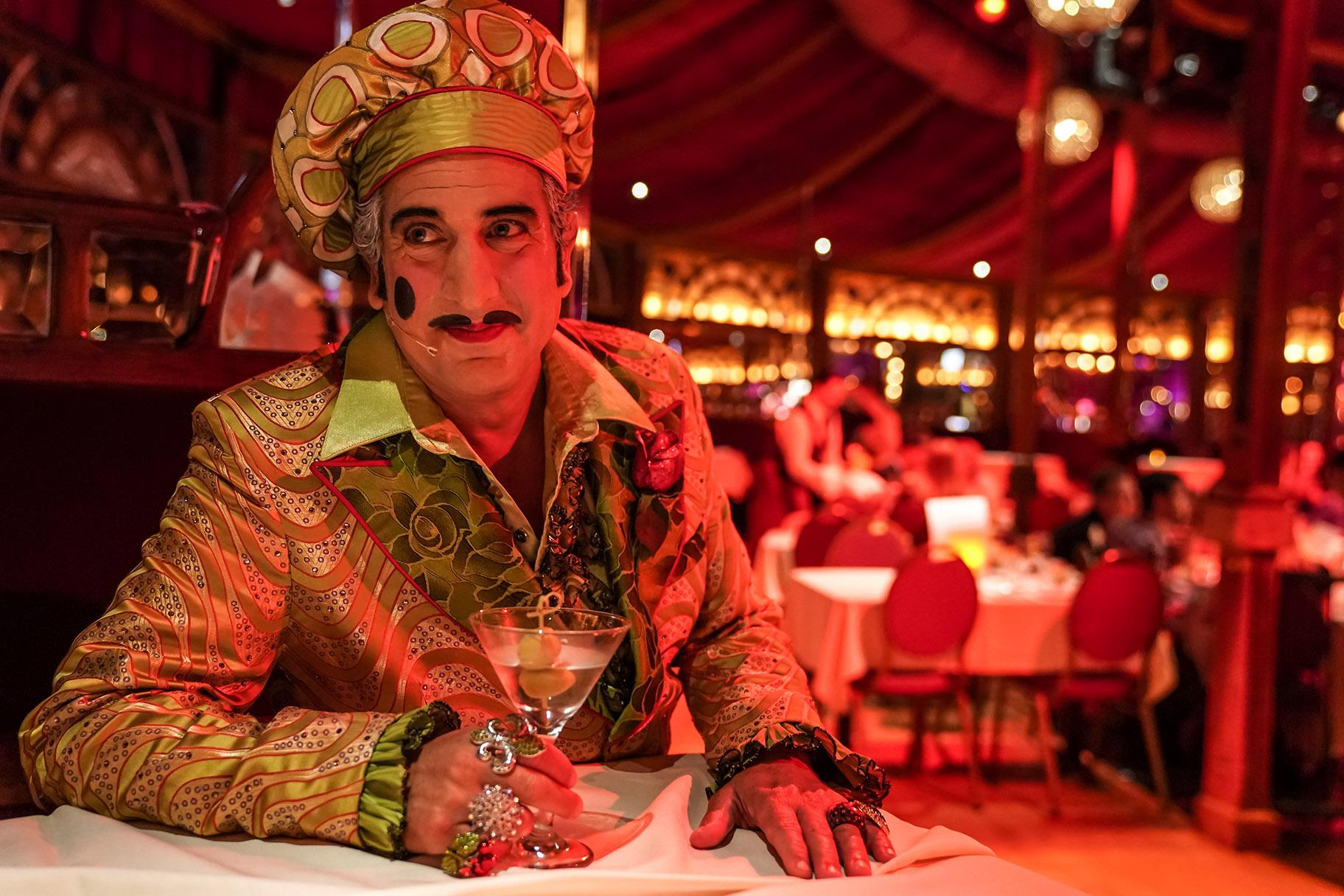 Frank Ferrante (Photo by Alan Alabastro)
Ride an elevator up to the 14th floor of the Cambria Hotel Chicago Loop – a newly renovated 1926 building located directly above the Nederlander Theatre – and you will find yourself at the entrance to Teatro ZinZanni, Chicago's newest entertainment extravaganza.
Now, step into the artfully designed Spiegeltent ZaZou – a 330-seat circular tent-like theater space decked out with mirrors, stained glass panels, velvet drapes, elaborate chandeliers and glittery bar stations – and you will instantly feel as if you've been blown back into the world of 1920s Paris, Berlin or Budapest. (The "mirror tent" was brought here from Berlin and reconstructed on site.) And that is just the start of what will be a three-plus hour madcap escapade called "Love, Chaos & Dinner" – a high energy combination of cabaret, comedy and circus (think intimate version of Cirque du Soleil), plus a four-course dinner (or brunch) – all backed by a dynamite band.
Part retro-European nightlife adventure, with a touch of Las Vegas floor-show vibe, the show ranges from pure zaniness to bravura spectacle. And since quite a few sequences depend on the audience members chosen to participate in several antic episodes there is some free-form improv at work at every performance, too.
Serving as Cesar, the devilish master of ceremonies, is Frank Ferrante, a brilliant dandy (think mock-Mastroianni meets Groucho or Robin Williams in lavish costumes by Christine Joly de Lotbiniere), with a painted mustache, a flair for flamboyant outfits, a knife-sharp wit, and an uncanny gift for split-second comic commentary (as, for example, when he caught me in the act of taking notes). He also possesses an impeccable nose for who to target for audience participation as demonstrated by the three guys he chose for what turned into a sensational dance competition, and the woman he called on who was so pregnant she might easily have gone into labor before dessert was served.
Rizo as Madame ZinZanni with a guest (Photo by Alan Alabastro)
Ferrante's female counterpart is cabaret star Amelia Zirin Brown (or "Rizo"), a sexy blonde who can belt out a pop song with the best of them and, on the night I saw the show, performed such a seductive number on the good-looking guy seated at one of the tables that his attractive blonde date (perhaps wife) will probably never recover. Nor will he. (The show is not for kids.)
Giving Rizo more than a run for her money is Chicago-bred opera singer Kelly Britt, whose soaring soprano is ideally showcased in her superb performances of "Glitter and Be Gay," from Leonard Bernstein's "Candide," and an aria from Puccini's "La Boheme."
And then there are the aerialists who perform "this close" to the audience. They include the Duo Rose (Samuel and Sylvia), whose pas de deux is a masterpiece of balletic grace and strength, with Sylvia's long-legged body capable of dazzling contortions. Every bit as wondrous is the solo aerial hoop performance by the beautiful Elena Gatilova, a former World Champion rhythmic gymnast from Ukraine, who spends much of the show in a remarkable disguise (not to be revealed here) that also suggests she is quite the actress.
The human jugglers – the Anastasini Brothers – whip off a series of amazing feats of skill and trust that are beyond terrifying. Their act, performed inches from the audience, and with no safety mat or spotters, will have your palms sweating. Tossing countless juggling pins into high-flying rotation is Gamal David Garcia.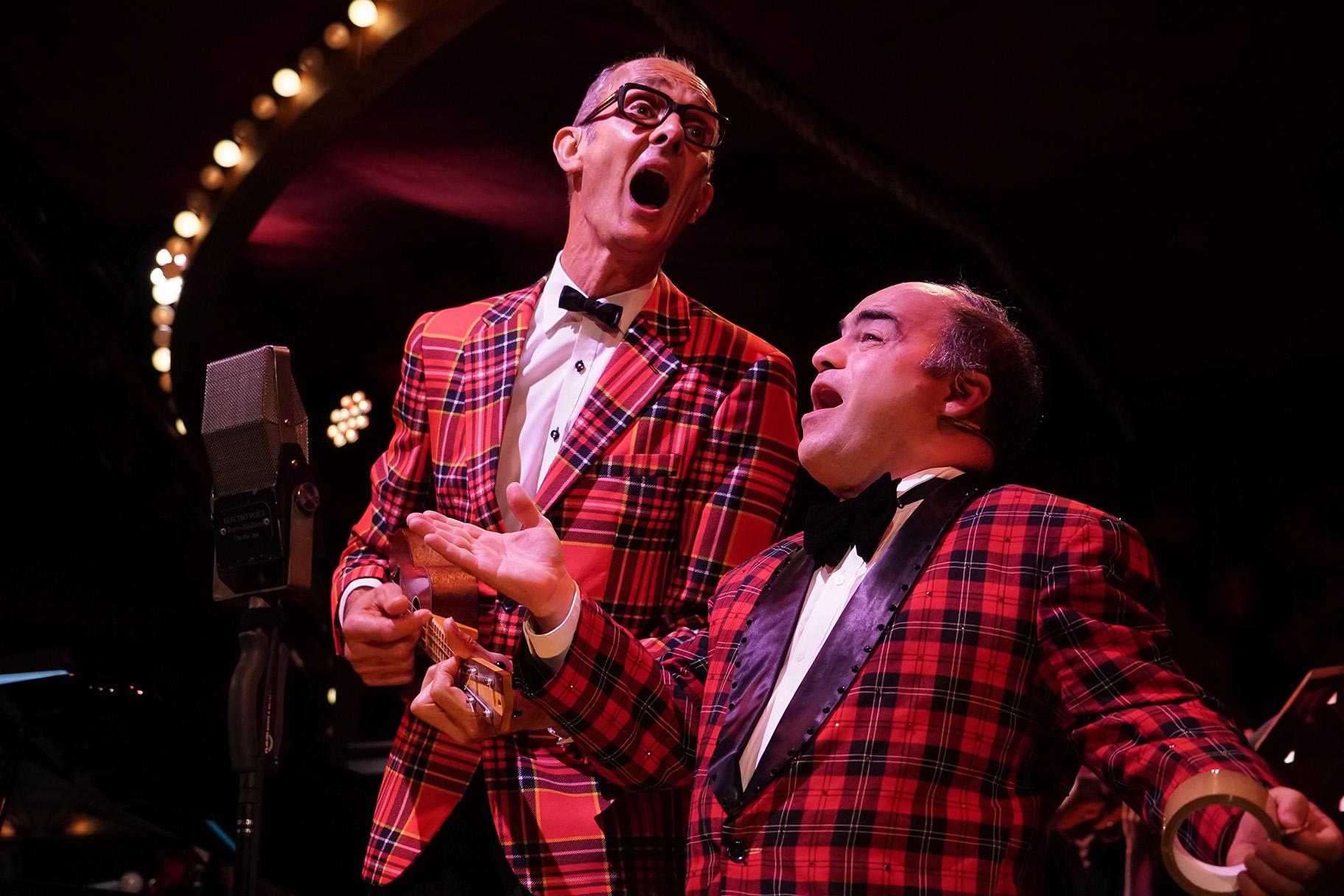 Tim Tyler and Joe De Paul (Photo by Alan Alabastro)
Of course with a show like this you also must send in the clowns. And they could not be zanier or more "outre," with the tall, impossibly thin and goofy Tim Tyler ("Mr P.P.") juggling ping pong balls in his mouth (don't ask), and the short, stout Joe De Paul bringing the house down with his antic film version of King Kong (in which stalks of celery are among the props). The two also join forces as Catholic priests whose antics with communion wafers are, let's just say, not standard practice.
Directing what could be a logistical nightmare – but one that nevertheless unfolds with clockwork-like inspired insanity – is Norm Langill who founded Teatro ZinZanni in Seattle in 1998, and now has companies of the production there and in San Francisco as well as Chicago. In addition to the performers, he and co-director and choreographer Dreya Weber have carefully integrated the costumed servers into the action. And here's the rub: They clearly have been urged to suggest ordering extra items (appetizers and bread, as well as everything from sparkling water and coffee to alcohol), that come at an additional cost to the basic dinner included in the ticket price. Their first (less than welcoming) interaction with patrons are the words "I will need your credit card imprint." And the information about "extras" (including an $8 per person cover charge) is not spelled out clearly at all.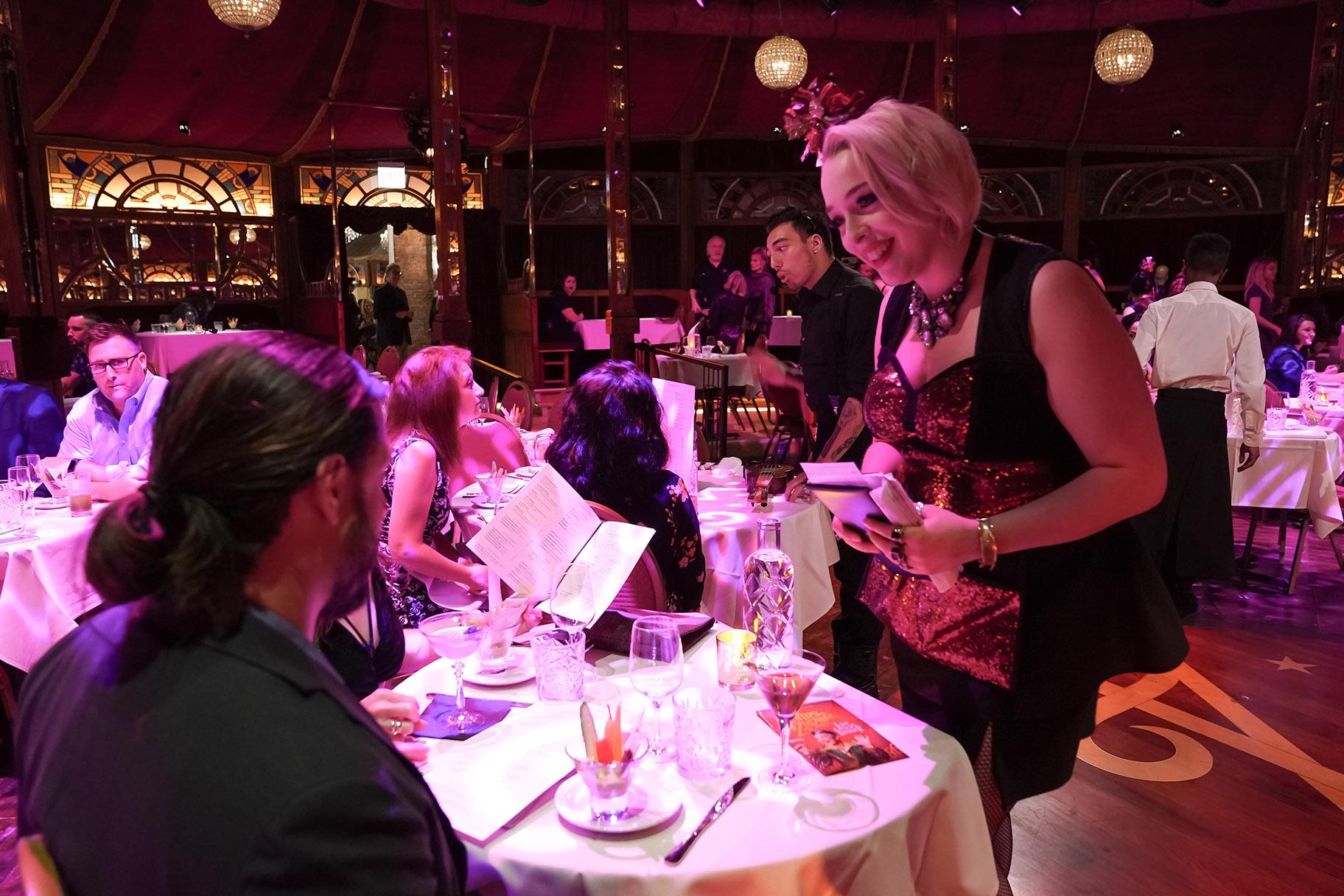 Teatro ZinZanni service staff (Photo by Alan Alabastro)
The food, the work of Chicago caterer Debbie Sharpe ("The Goddess"), is excellent, and includes a little veggie appetizer, fresh salad, choice of five dinner entrees and a small vanilla cheesecake dessert.
Last but by no means least is the music, with expert work by musical director Hans Teuber, and band leader and pianist Russ Long and his musicians, including Jose Martinez (on drums), John Elmquist (bass), Eric Schneider (woodwinds) and Olya Prohorover (violin).
Before it's all over there is a dizzying parade set to Jacques Brel's "Carousel," and Ferrante rides in on a chariot in a perfectly campy version of Ben-Hur. So be prepared to eat, drink and be merry, and enjoy the calculated chaos.
Teatro ZinZanni's "Love, Chaos & Dinner" runs through Sept. 29 on the 14th floor of the Cambria Hotel, 32 W. Randolph St. For tickets ($99-$189, including a four-course meal, plus an $8 per person service charge and additional charges for drinks and starters), visit zinzanni.com/chicago.
Note: Teatro ZinZanni's Frank Ferrante will be the special guest for Broadway in Chicago's Summer Concert, its free showcase of current and upcoming shows that will be performed on the stage of the Pritzker Pavilion in Millennium Park at 6:15 p.m. Monday, Aug. 12. (The reserved seating section opens to the public at 5:15 p.m.)
Follow Hedy Weiss on Twitter: @HedyWeissCritic
---
Related stories:
Teatro ZinZanni Brings Vegas-Style Vaudeville Show to Chicago Loop
In 'Come From Away,' Discovering the Kindness of Strangers at a Traumatic Moment
At Black Ensemble, a Sensational Dance-A-Thon Set to the Beat of Funk
---