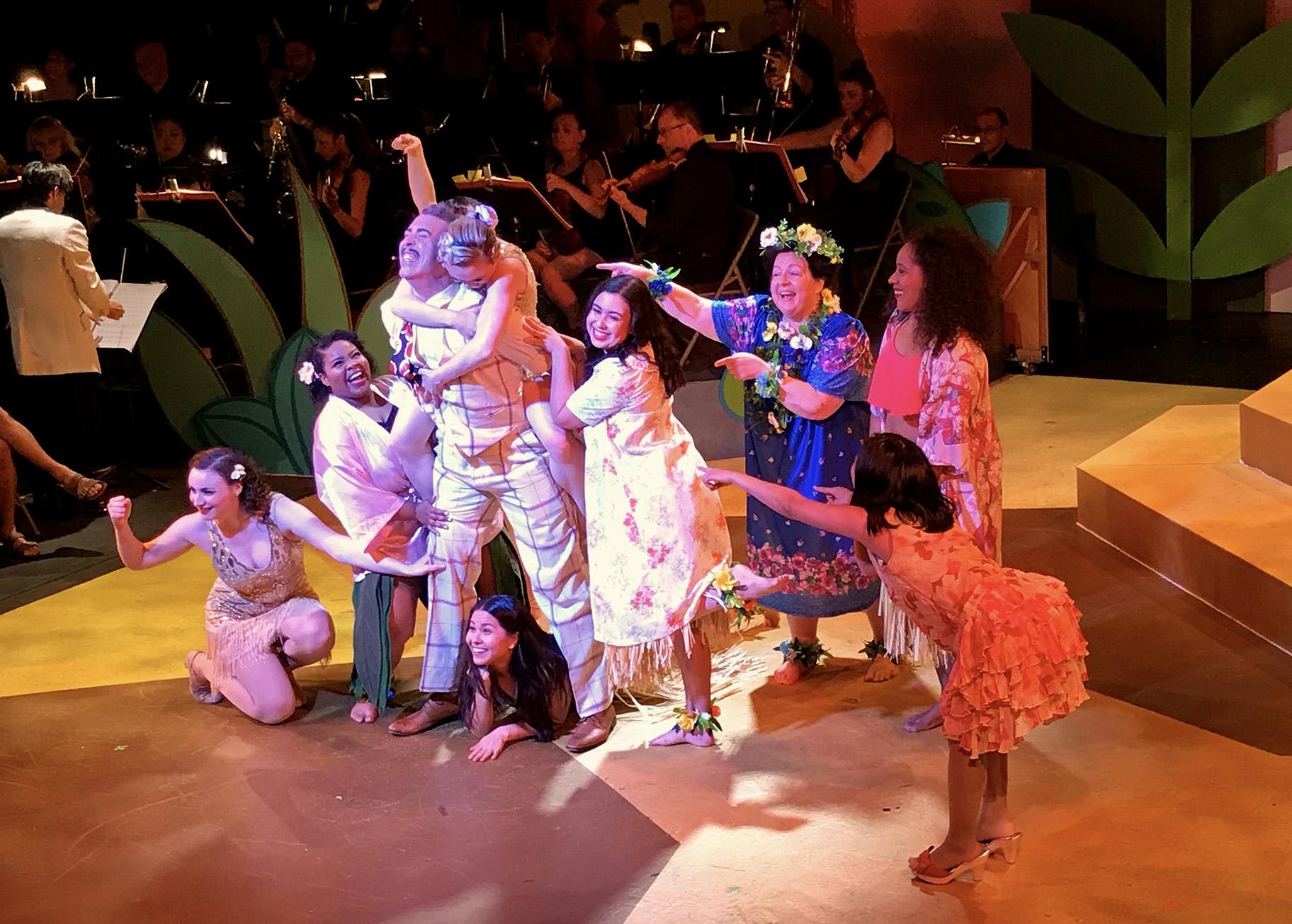 From left: Sarah Ruth Mikulski, Cydney Washington, William Roberts, Clara Imon Pedtke, Elena Avila, Rose Guccione, Ysaye McKeever and Angela Yu in "The Flower of Hawaii." (Courtesy of Folks Operetta)
Since its founding in 2006, Chicago's Folks Operetta company has been on a unique mission: to preserve and revive Viennese and American operettas – that early 20th century art form often viewed as the bridge between European grand opera and the Broadway musical.
As it happens, many (though by no means all) of the composers and lyricists who created those operettas were Jewish. And with the rise of the Third Reich in the 1930s, they were labeled "degenerate," and either forced into exile, or, if unable to flee, were imprisoned or sent to their death.
"The Flower of Hawaii," the latest (and characteristically lavish) Folks Operetta production – now receiving its American premiere – is the work of composer Paul Abraham and librettists Fritz Lohner-Beda and Alfred Grunwald. Abraham and Lohner-Beda were both Jewish, and this 1931 show (which has been translated into English), is now the second operetta in the company's Reclaimed Voices Series, a project devoted to spotlighting the neglected works of those whose lives and careers were either upended or wiped out by the Nazi onslaught.
A zany, often farcical romantic comedy injected with strong political overtones about American imperialism, "The Flower of Hawaii" runs the musical gamut, from the quasi-operatic to waltzes, Charlestons, jazzy vaudeville-style song-and-dance numbers, and hulas set to the sound of the ukelele all part of the mix. And, as usual, producer/translator Gerald Frantzen, conductor/musical director Anthony Barrese (leading an impressive 16-piece onstage orchestra), and their creative team have spared no expense in reviving this vintage novelty. In the process, they and director/editor Amy Hutchison and her team of choreographers (August Tye, David Acevedo, Reesie Davis, Ysaye McKeever and Ryan Trent Oldham) also have managed to assemble a cast of 24 clarion-voiced performers game enough to try their hand at a demanding (if decidedly dated) style that too often elicits over-acting.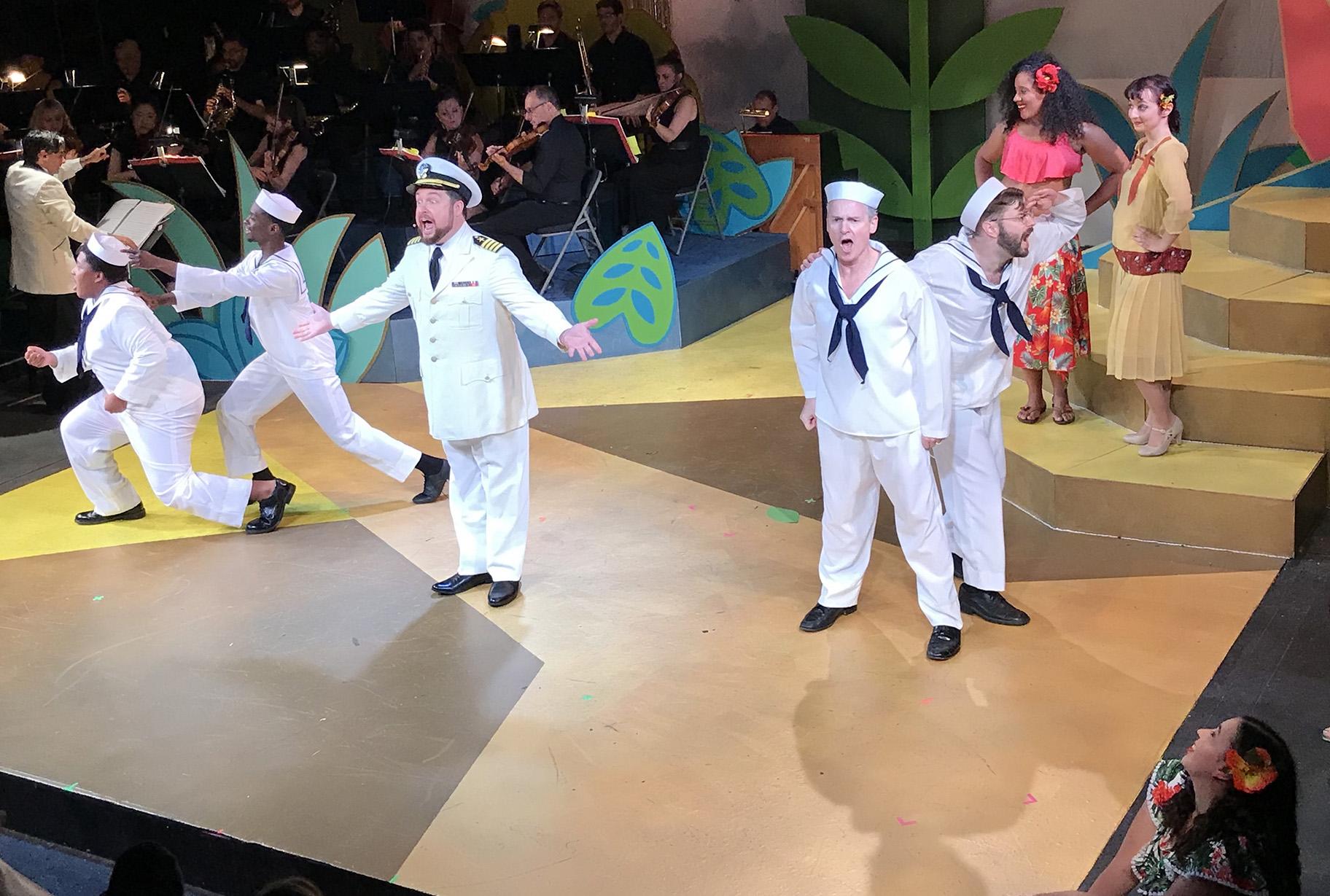 From left: Benjamin Burney, Ivory Leonard IV, Nick Pulikowski, Gerald Frantzen, Benjamin Kawsky, Ysaye McKeever and Athena Kopulos. (Courtesy of Folks Operetta)
Very loosely based on the life of the worldly Princess Ka'iulani, whose reign (from 1891-1893) was cut short when her monarchy was undermined by American attempts to annex Hawaii, the operetta's librettists moved the story to the 1920s, enabling Abraham to infuse the work with jazz and other popular music of the time.
The show opens as a Hollywood movie is being filmed on one of the islands. Meanwhile, all that cinematic activity gets tangled up in something of a story-within-a-story involving the return from Europe of an exiled Hawaiian princess who is disguised as a French singer. A Hawaiian prince who has loved the princess since childhood also has returned home after roaming the world, and hopes to marry her and restore the kingdom. But while at sea, the princess fell for U.S. naval officer Captain Stone, so things get triangularly complicated, to say the least. So do the politics on the island as an American governor tries to stop a rebellion and prevent the restoration of the monarchy.
Along the way a slew of other liaisons get underway (or are hoped for), involving a popular American performer, the governor's henchman and a Hollywood starlet. (The libretto, credited to Frantzen and Hersh Glagov, could definitely use some serious pruning.)
Throughout, the singing is impressive, with Rodell Rosel (whose credits include Lyric Opera of Chicago, with upcoming dates at the Metropolitan Opera and London's Royal Opera House, Covent Garden) a standout for both his lustrous tenor and expertly understated acting. Marisa Bucheit's bell-clear coloratura soprano is ideally complemented by her stylish beauty in the role of Princess Laia/Suzanne. And Nick Pulikowski (a regular member of the Chicago Symphony Orchestra Chorus) uses his rich tenor to fine dramatic effect as Captain Stone, a man willing to sacrifice his freedom for the princess.
Oldham, a sensational dancer-singer with fine comic style, lights up the stage as the girl-crazy young vaudevillian, Jimmy Fox. So does Teaira Burge, as Bessie Worthington, the sassy starlet and man-magnet who knows just how to flirt (and dance), but never commit. There also are zesty turns by William Roberts and Angela Yu, lovely hula dancing by assistant Hawaiian dance choreographer McKeever, and notable work by dancer Ivory Leonard IV.
Patti Roeder's fabulous period costumes (from flapper-era dresses to grass skirts) easily rival anything you might see on a major opera house stage in terms of color, craftsmanship and detail. And Eleanor Kahn's whimsical set – a giant garden of brightly hued and stylized Hawaiian flora – is the ideal backdrop. The sound design also is excellent throughout.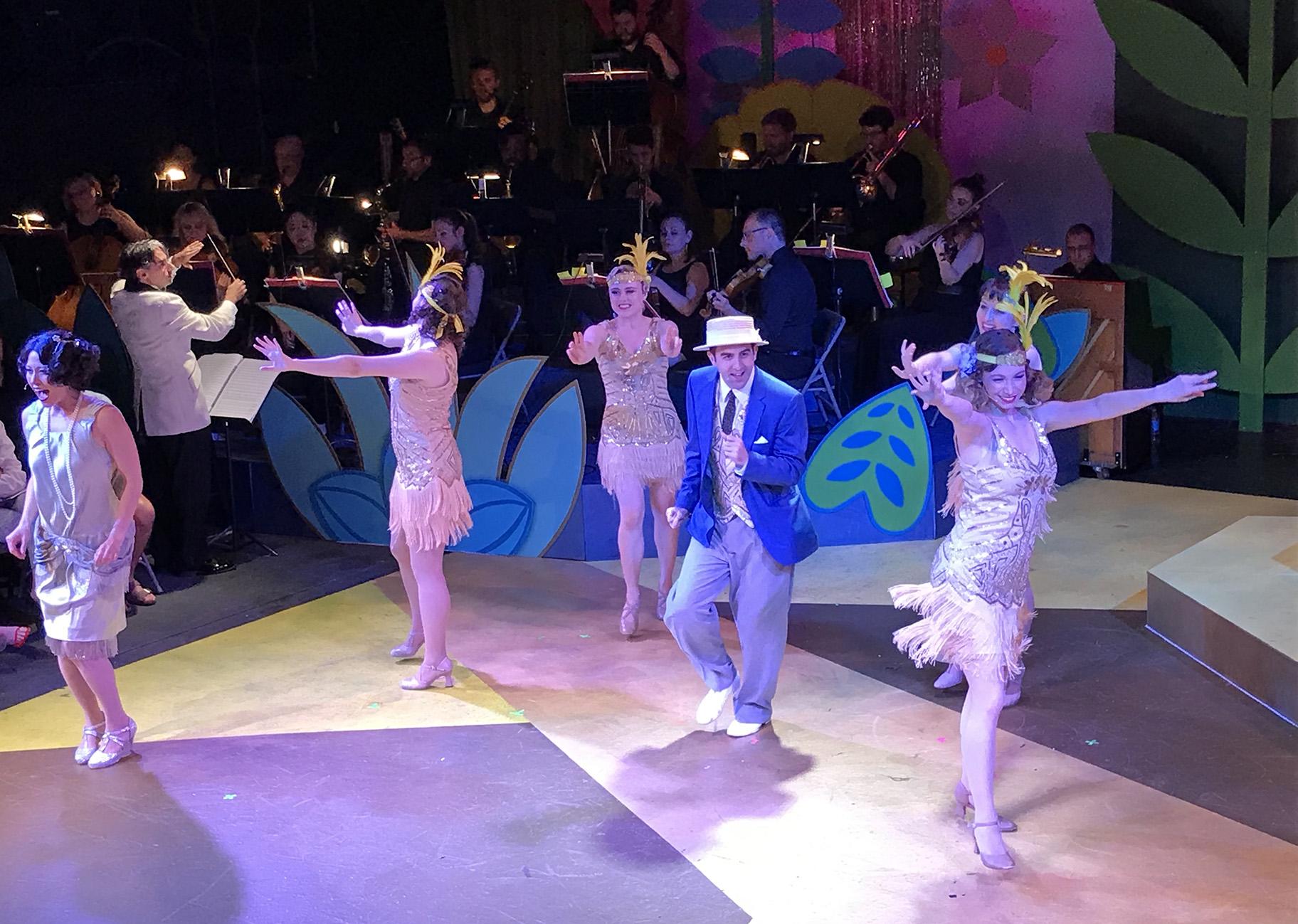 From left: Marisa Buchheit, Sarah Ruth Mikulski, Jordan Beyeler, Ryan Trent Oldham, Athena Kopulos, Teaira Burge, with Anthony Barrese conducting the orchestra. (Courtesy of Folks Operetta)
For all it's polish and ambition I can't say the show has turned me into a fan of the operetta style. But "The Flower of Hawaii" is unquestionably an artifact of musical theater interest, and this might just be the only chance you will ever have to experience it.
"The Flower of Hawaii" runs through July 14 at Stage 773, 1225 W. Belmont Ave. For tickets ($30-$40) call (773) 327-5252 or visit FolksOperetta.org. Running time is 2 hours and 45 minutes with one intermission.
Note: On July 11 at 7:30 p.m., Folks Operetta will present a special program, "Operetta in Exile: The Music Silenced by the Third Reich," at Frank Lloyd Wright's Unity Temple, 875 Lake St. in Oak Park. The performance will tell the stories of persecuted and exiled artists through letters, images and the songs of Leo Ascher, Emmerich Kalman, Jean Gilbert, Paul Abraham, Robert Stolz, Frank Lehar and Leon Jessel. For tickets visit www.UTRF.org.
Follow Hedy Weiss on Twitter: @HedyWeissCritic
---
Yes, There is Still a Formidable Audience for Classical Music
In 'Hedwig,' Divided Cold War-Era Germany Gives Birth to Even More Divided Identity
In Knockout Musical 'Six,' King Henry VIII's Wives Have Their #MeToo Moment
---