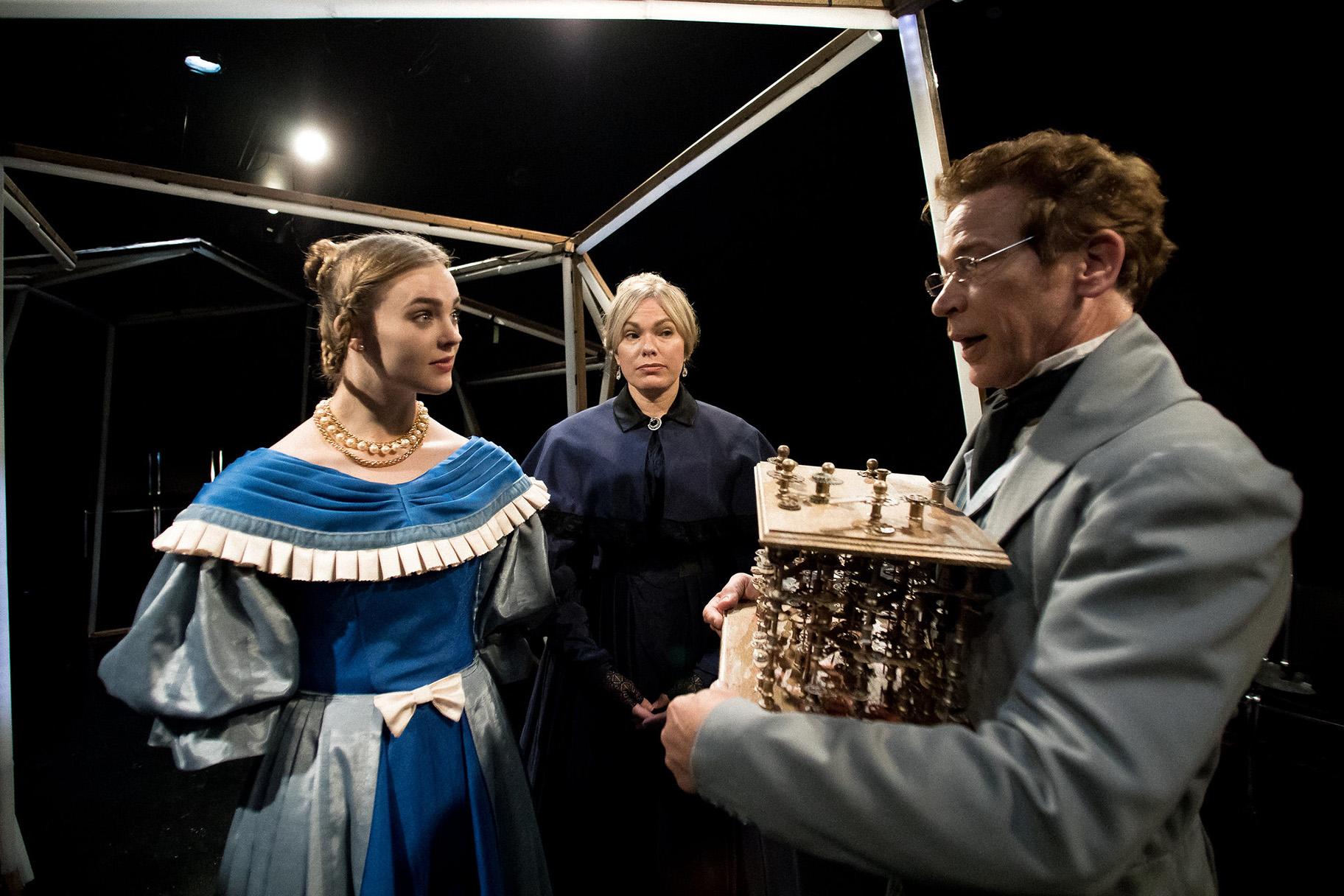 From left: Brookelyn Hebert, Carolyn Kruse and John Mossman in "Ada and the Engine" at The Artistic Home Theatre. (Photo by Joe Mazza, Brave Lux Photography)
First, a bit of history.
Her father, Lord Byron, the notorious Romantic poet, left home four months after her birth, and died in 1824, at the age of 36, while fighting in the Greek War of Independence.
Her mother, Lady Annabella Byron, terrified that her daughter (Byron's only legitimate child) would replicate her father's scandalous bohemian nature, focused her education on mathematics as a means of dissuading her from decadent artistic pursuits while also keeping her respectable enough for marriage to a man of wealth and high rank.
Those are the circumstances of the Victorian world into which Ada Byron Lovelace (1815-1852) was born. But from early on she sought to defy expectations and fight for freedom. And a crucial turning point came while she was still in her teens and already quite the mathematical whiz.
In 1833, at a party where she was supposed to meet a potential husband, Ada, already a force to reckon with, met Charles Babbage, the British mathematician who was a friend of her tutor, Mary Somerville, and who was more than two decades her senior.
Babbage had already devised the model for his Analytical Machine, which could calculate vast sums with great speed and accuracy, and he was seeking further government funding to underwrite its construction. Ada not only immediately understood Babbage's work, but recognized its astounding potential to revolutionize many things on a universal scale that was far beyond basic calculation.
Babbage was initially somewhat condescending towards this young, female brainiac, but the two began an intense intellectual correspondence that also generated more than a little (unconsummated) sexual heat. Then, after agreeing to marry the wealthy but wholly traditional (and jealousy-filled) Lord Lovelace, and giving birth to their three children, Ada went on to translate a prestigious paper about Babbage's machine written by an Italian mathematician. Adding copious notes and corrections of her own to the work, she also formulated what has come to be considered the first computer program – an algorithm that could be carried out by Babbage's machine in ways more far-reaching than he himself had conceived.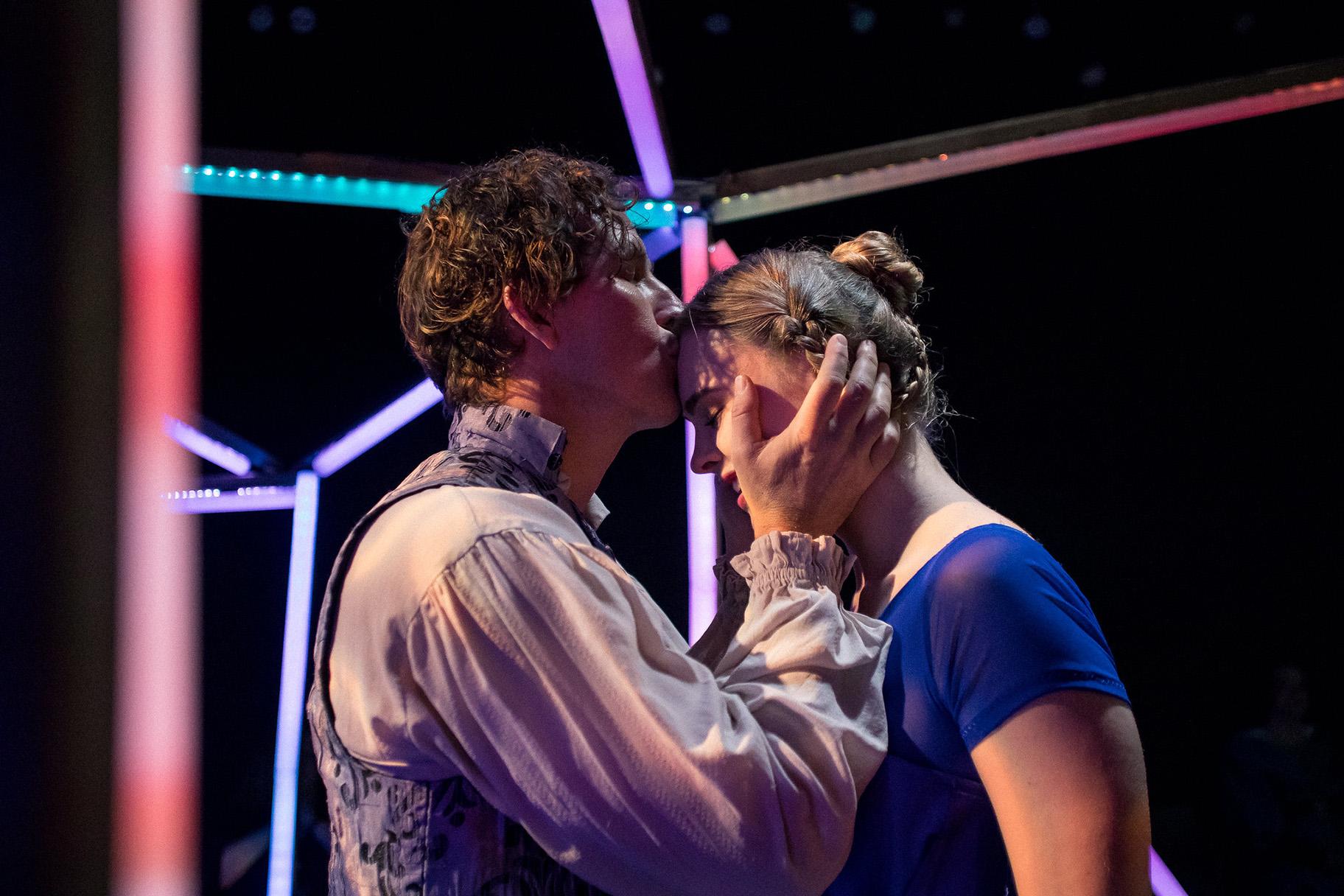 John LaFlamboy and Brookelyn Hebert (Photo by Joe Mazza, Brave Lux Photography)
This is the fascinating, emotionally feverish, meeting-of-minds story that Lauren Gunderson spins in her intense and impressively accessible play, "Ada and the Engine," now receiving a vividly realized Chicago premiere production by The Artistic Home (the long-lived company that received the 2019 Non-Equity Jeff Award for best production of a play for "Requiem for a Heavyweight").
Gunderson (one of this country's most widely produced playwrights), has not written a documentary, but rather, a wonderfully imagined riff on the Ada Lovelace story that suggests both "the poetics of science" and the ways in which women have for so long been excluded from the world of science and math (a theme explored earlier this season in Court Theatre's production of "Photograph 51," about Rosalind Franklin). And nowhere is the discrimination more ferociously laid bare than in the searing falling out scene in which Babbage attempts to use Lovelace's name, instead of his own, to protest his lack of government support.
Directed with heat and clarity by Monica Payne, the in-the-round production unfolds in an ingenious modern environment of sharply angled neon tubes devised by Eleanor Kahn and Cat Wilson, with handsome period costumes by Zachery Wagner. And this juxtaposition of eras cleverly suggests the insightful past, present and future envisioned by Lovelace (as does the play's haunting final scene that should not be disclosed here).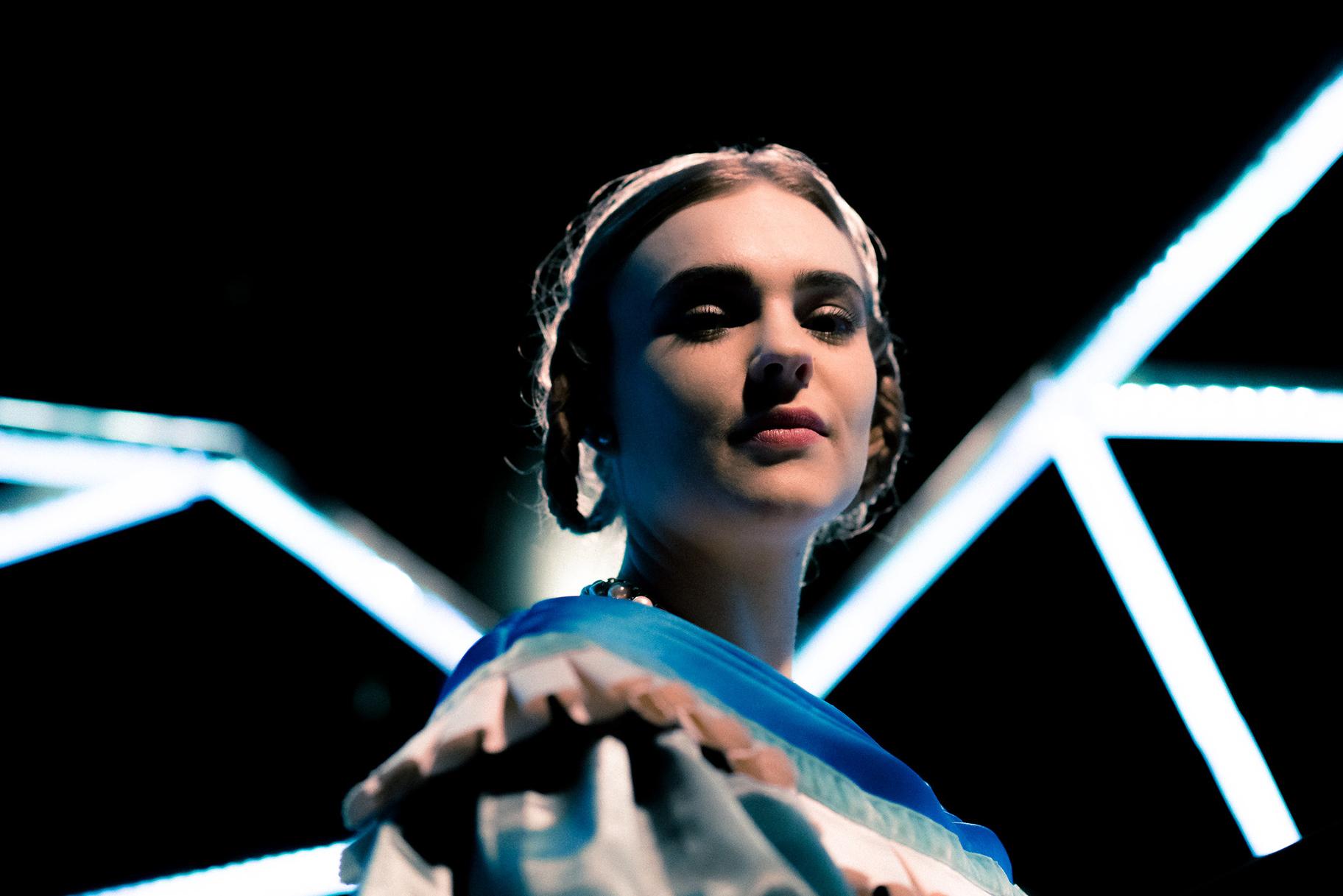 Brookelyn Hebert (Photo by Joe Mazza, Brave Lux Photography)
The cast of six actors is superb, with Brookelyn Hebert full of fire and pain as Ada, a woman both bound by her time and far ahead of it, and John Mossman precisely charismatic, arrogant and self-destructive enough as Babbage. The two also ideally suggest the sparks of intellect, ambition and desire that drove these two willful people both together and apart.
Carolyn Kruse suggests the controlling nature of Ada's socially conscious and resentful mother, Lady Annabella Byron. Rich Holton is ideal as Lord Lovelace, the husband incapable of dealing with his brilliant wife. Laura Coleman is Ada's formidable mentor. And yes, Lord Byron – just as debauched and slyly seductive as you might imagine – also arrives on stage, with John LaFlamboy the ideal man for the job.
"Ada and the Engine" runs through Aug. 4 at The Artistic Home Theatre, 1376 W. Grand Ave. For tickets ($34) call (866) 811-4111 or visit www.theartistichome.org. Running time is two hours with one intermission.
One final note: Back in 2010 Chicago playwright and actor Jon Steinhagen wrote "The Analytical Engine," an amusing comic riff on the Ada Lovelace story (produced by the now defunct Circle Theatre in Oak Park). It imagined a woman who saw the potential of Babbage's machine as a matchmaking device. Just wanted to give some credit where credit is due.
Follow Hedy Weiss on Twitter: @HedyWeissCritic
---
Preserving Musical History With a Rarely Revived Operetta
In 'Hedwig,' Divided Cold War-Era Germany Gives Birth to Even More Divided Identity
Rarely Produced British Play a Bitter Reminder of Veterans' Fates
---