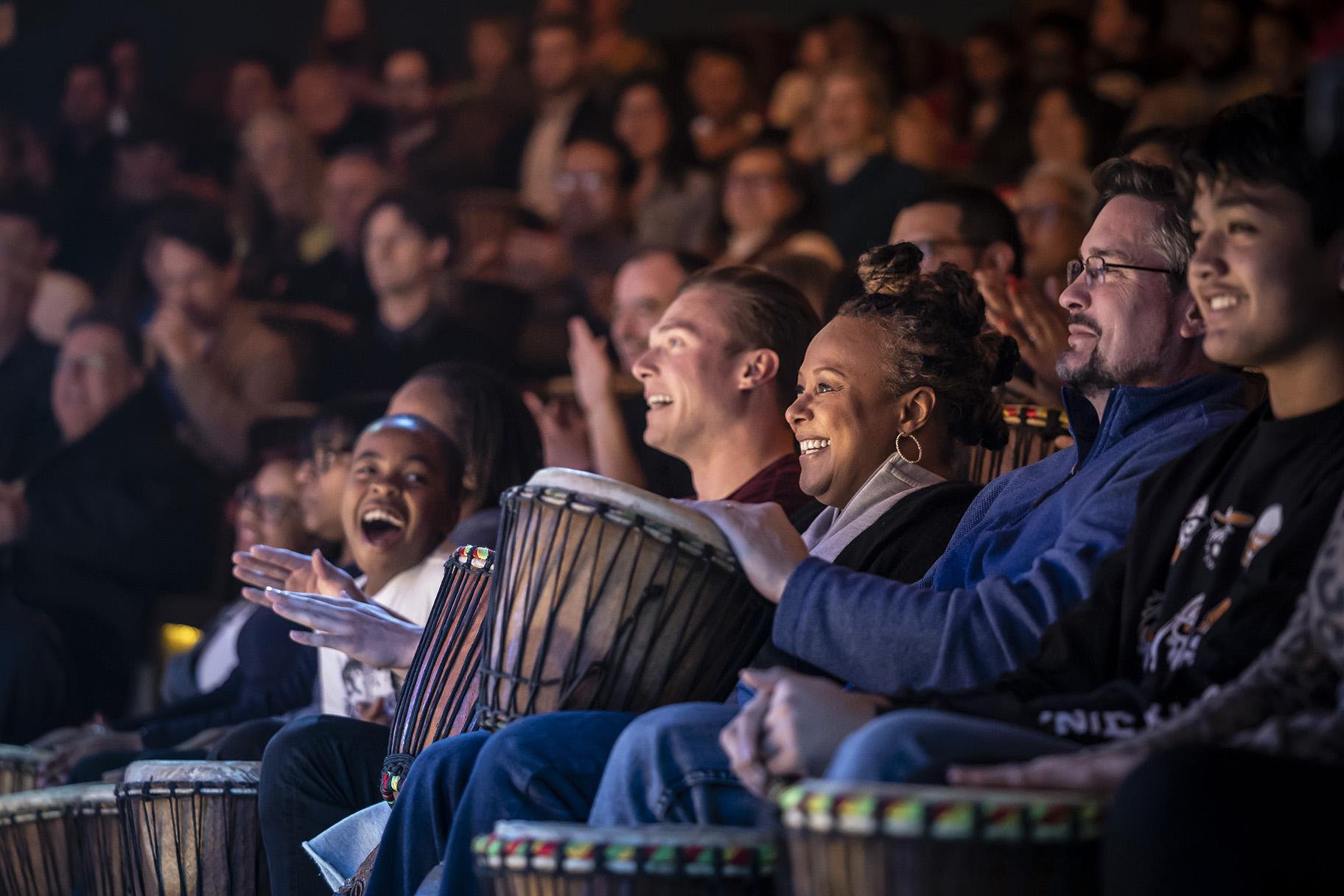 "Djembe!" front-row audience. (Credit: Liz Lauren)
Prepare to head home from "Djembe!" – the irresistibly engaging interactive music show now at the Apollo Theater – with callouses on the palms of your hands and a giant grin on your face.
Whether you're a kid at heart, or have kids at home who are ready to be introduced to the fine art of listening, concepts of rhythm and coordination, and the subtler aspects of communication inherent in drumming (and all music), this U. S. debut – originally created by Doug Manuel, a British artist and social entrepreneur with a passion for Africa, and co-written by Manuel and director West Hyler – is guaranteed to alter your mood and regulate your heartbeat in the most beneficial ways.
And while you probably don't own a djembe – the weighty, hardwood, rope-tuned, rawhide-covered, goblet-shaped drum that originated in West Africa – each and every member of the 450-seat Apollo Theater audience will find one on his or her seat, "on loan" and fully ready to be played throughout the show's joy-filled 90 minutes.
The performers gathered onstage for "Djembe!" (pronounced "JEM-bey") are led by Fode Lavia Camara, a Guinean master drummer and folklorist; Ben Hope, an actor-musician who starred in the Broadway production of "Once"; and Rashada Dawan, the altogether sensational Chicago singer-actress-dancer who left an indelible impression last season in the Firebrand Theater production of "Caroline, or Change," and who here reveals totally different aspects of her talent and personality.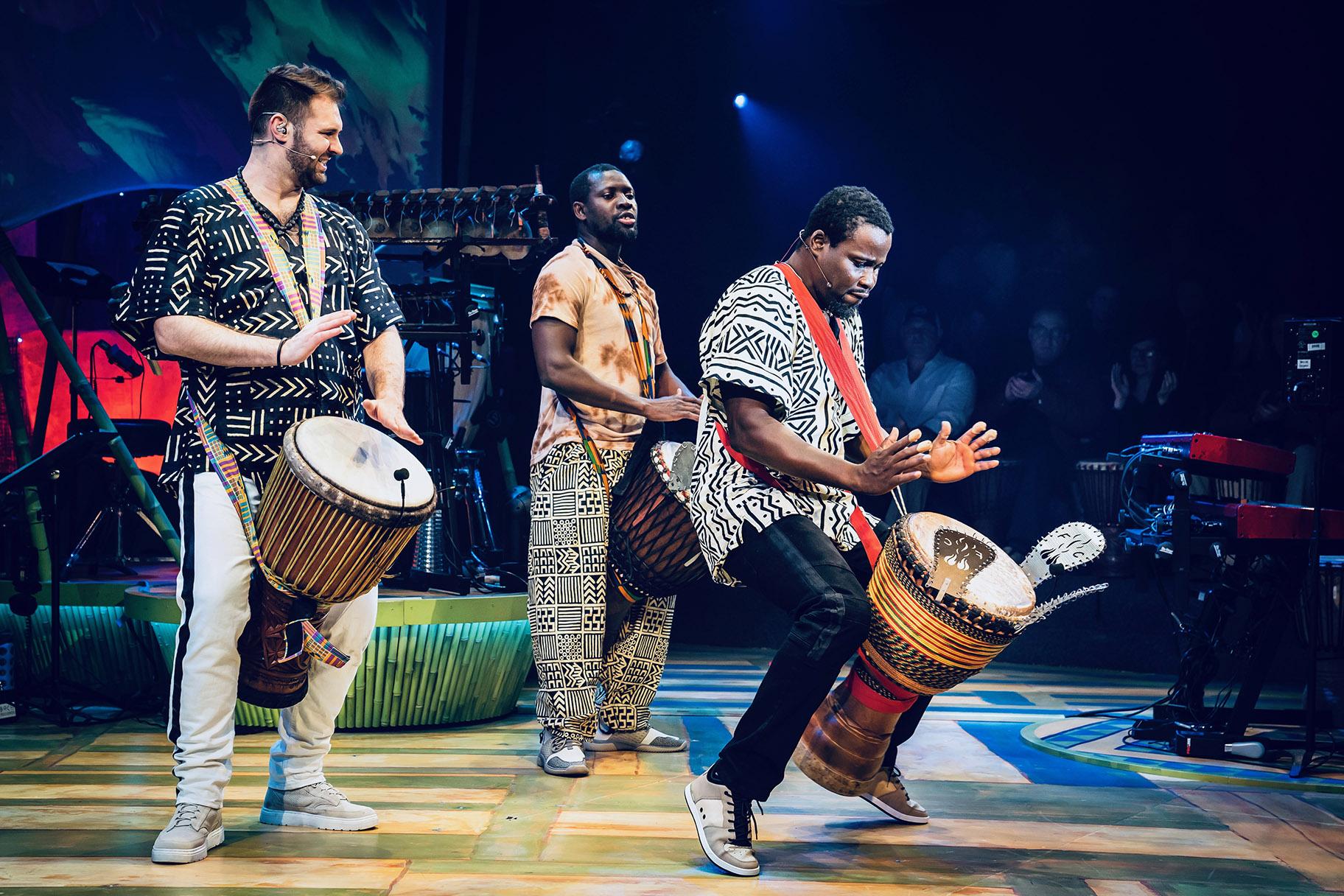 "Djembe!" (Credit: Liz Lauren)
Joining them in a dynamic, airtight band are Abou Sylla (on djembe and balafon, a West African xylophone with hollow gourd resonators); music director and keyboardist Patrick Donley; Evan Salvacion Levine (bass); Jeffrey M. Swanson (guitar); and Clif Wallace (percussion).
As "Djembe" reminds its audience, before there was the drum there was the human heartbeat, so we are all born as creatures of rhythm. It is the essential sign of life. But the arc of the show is designed to serve as a capsule history of one particular drum, as well as the various rhythmic styles that have evolved through the ages – from earliest times in Africa, through to the age of slavery in both Latin America and the United States (where drumming was forbidden because it was viewed as a subversive form of communication), to 20th century innovations in the form of ragtime, swing, jazz, rock and pop music. (If I have one quibble with the show it is its brief nod to the now trendy but gratuitous practice of casually dissing the musical talents of great European composers in the process of describing other innovations.)
The show includes a very basic lesson in how to play the djembe – how to lift it off the floor and place it between your legs, how to get high and low sounds from its skin, and how to vary rhythms and speeds while interspersing the beating of rhythms with claps, finger snaps and, most crucially, moments of silence.
Along the way it suggests the Brazilian influence, plays a medley of songs that traces the shifting rhythms from classical to bebop (from Scott Joplin's "The Entertainer," to "Sing, Sing, Sing," "Don't Mean a Thing," "So What" and "Jamaica Funk"), and heats things up further with a "Pop Medley" that includes "Ain't That a Shame," "Could You Be Loved," "We Are Family," "Kiss" and "Happy."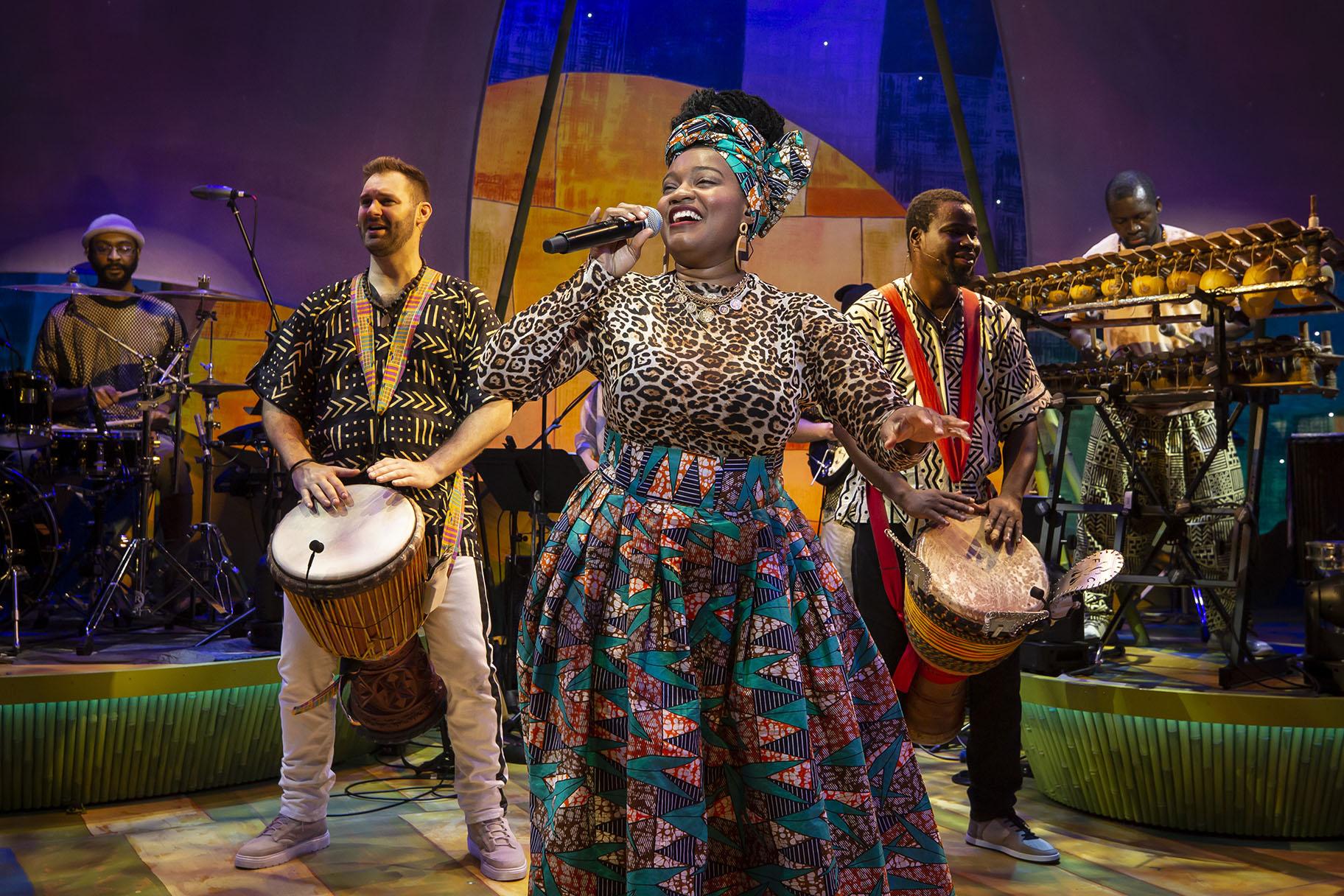 "Djembe!" (Credit: Liz Lauren)
While the musicians are superb in their rhythmic passion, it is Dawan's glorious, genre-spanning voice, ebullient dancing, wonderfully sassy spirit and three costume changes (cheers for designer Montana Levi Blanco) from contemporary Afro-traditional, to shimmering black sheath, to colorful Calypso-modern blouse and pants, that easily steals the show and infuses it with a warm yet sassy peace-and-love vibe. Pure star quality.
Adding color to the scene is Todd Rosenthal's set, with its handcrafted lanterns and screens for projected lyrics and other messages; Zach Blane's lighting; Rasean Davonte Johnson's projections and, best of all, Ray Nardelli's flawless sound design.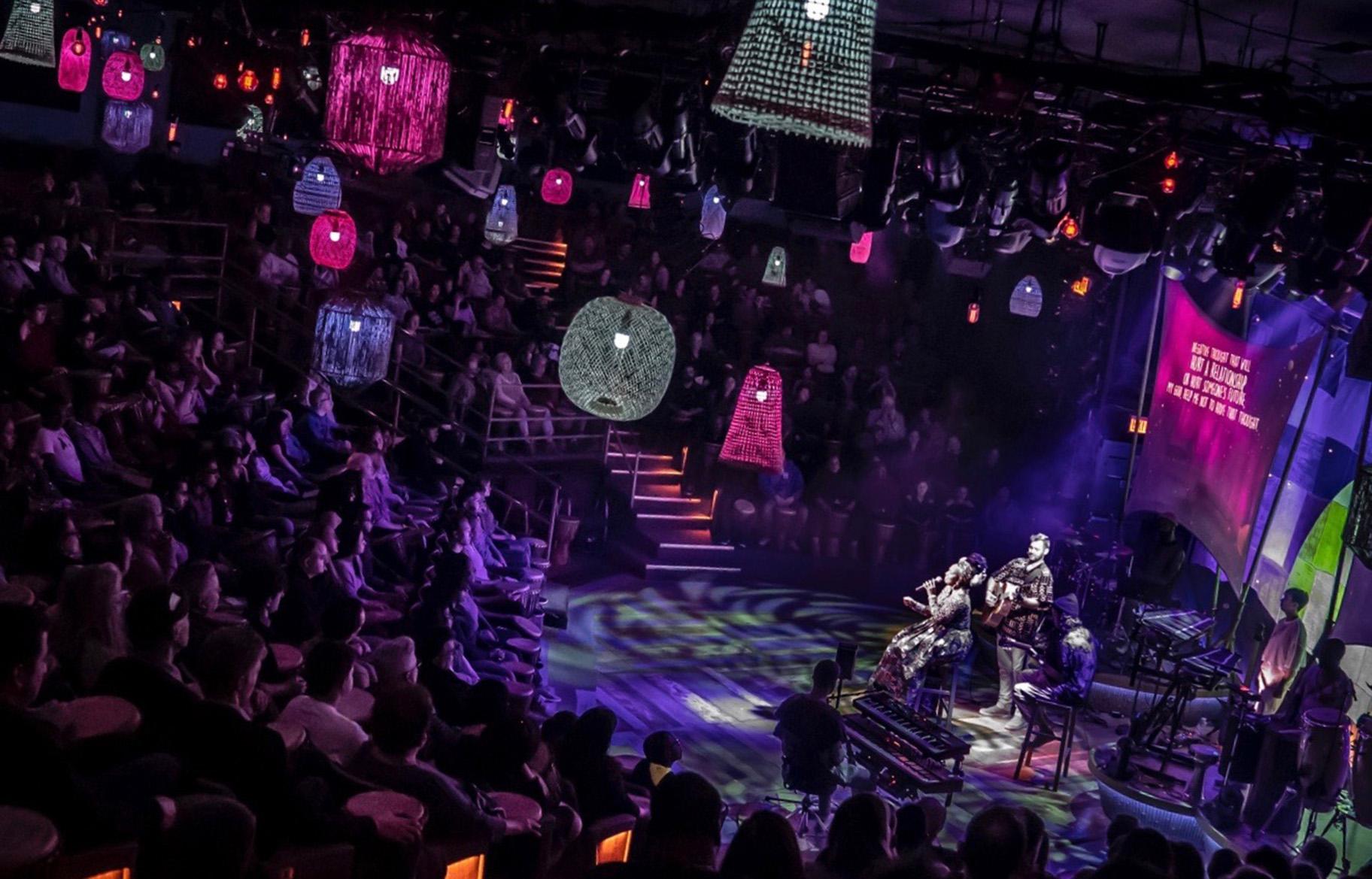 "Djembe!" (Credit: Liz Lauren)
In many ways "Djembe!" feels like something of a contemporary riff on Leonard Bernstein's "Young People's Concerts" of the 1960s. And I left the theater wishing not only that every kid in this city could experience the show, but that it might even serve as the template for a series. Just imagine related productions that would supply audiences (or classrooms) with violins, trumpets, guitars or a slew of digital pianos, all in the service of exploring musical history, expression and the most basic elements of technique. (According to a spokesperson for the production, the aim is to get Chicago public school students to see the show. So now, let's see a foundation or corporation set those drums beating even louder with a cash infusion.)
"Djembe!" runs through June 9 at the Apollo Theater, 2540 N. Lincoln Ave. For tickets ($39-$53) call (773) 935-6100 or visit www.djembetheshow.com. Running time is 90 minutes with no intermission.
One final note: Parking near the Apollo Theater can be a bit of a hassle (and pricey), so either plan to arrive early to find a metered spot, or opt for public transportation.
Follow Hedy Weiss on Twitter: @HedyWeissCritic
---
ABT's 'Whipped Cream' Designed to Feed Ballet Audience's Sweet Tooth
Softhearted Detective Delves into Life of Boy Who Was 'Too Much'
Chicago Theater: 5 Shows to See in April
In Search of Shelter and Security in 'Landladies'
---