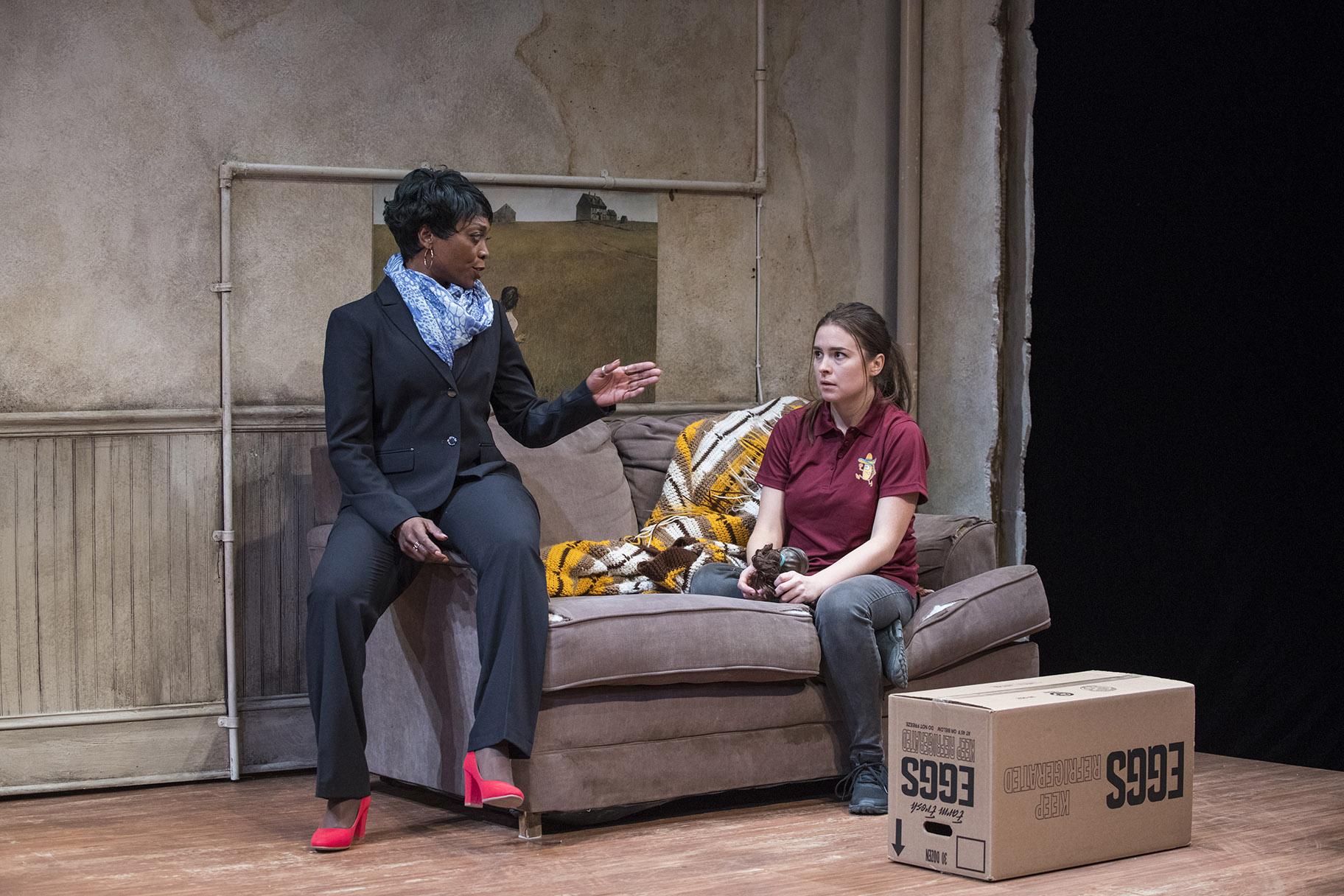 Shanesia Davis, left, and Leah Karpel in Sharyn Rothstein's "Landladies" at Northlight Theatre. (Photo credit: Michael Brosilow)
The most obvious moral of the story in Sharyn Rothstein's "Landladies" – the edgy new play now receiving a tense and compelling world premiere production at Northlight Theatre under the taut direction of Jess McLeod – is this: "Neither a landlady nor a tenant be." (Apologies to Shakespeare.) But that is far too simplistic a description of this compact, emotionally heated work that deals with the most primal human needs – for shelter, security, a sense of self-worth and love.
The essence of the situation is apparent from the moment you enter the theater and see Arnel Sancianco's latest ingenious set – a depressing, slum-like apartment with a gaping hole in the floor that opens into the ceiling of the tenant below, a total absence of basic appliances, rotten water pipes, a duct-tape-patched couch that might easily harbor bedbugs, and a print of a famous Andrew Wyeth painting that is all about yearning. (The room will later cleverly shift into a more upscale environment.)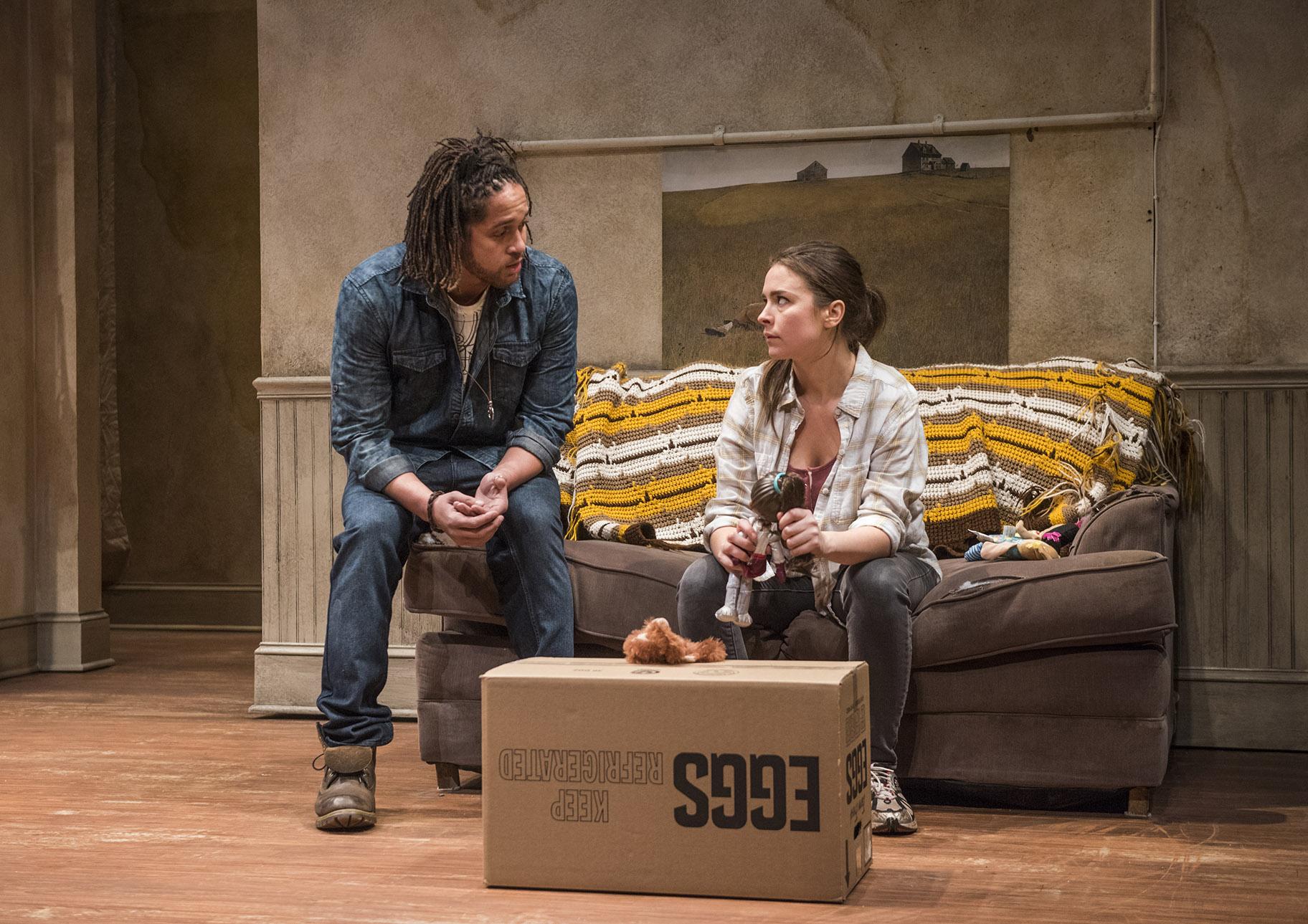 Julian Parker and Leah Karpel (Photo credit: Michael Brosilow)
Enter Christine (Leah Karpel, who captures both the self-awareness and vulnerability of her character), a young woman trapped in a minimum-wage job in a taco joint, and Marti (the ever electric Shanesia Davis), a chicly dressed, no-nonsense landlady who owns the building, and has no interest in renting to tenants who might cause problems with late payments, boyfriends, calls to the police and all the rest.
Christine has a somewhat checkered past, including an eviction on her record. A single mother with a daughter in preschool, she also has an on-again, off-again boyfriend, Poet (the mesmerizing Julian Parker, who occasionally resorts to mumbling), a seductive, frequently homeless guy with an alcohol problem and other issues.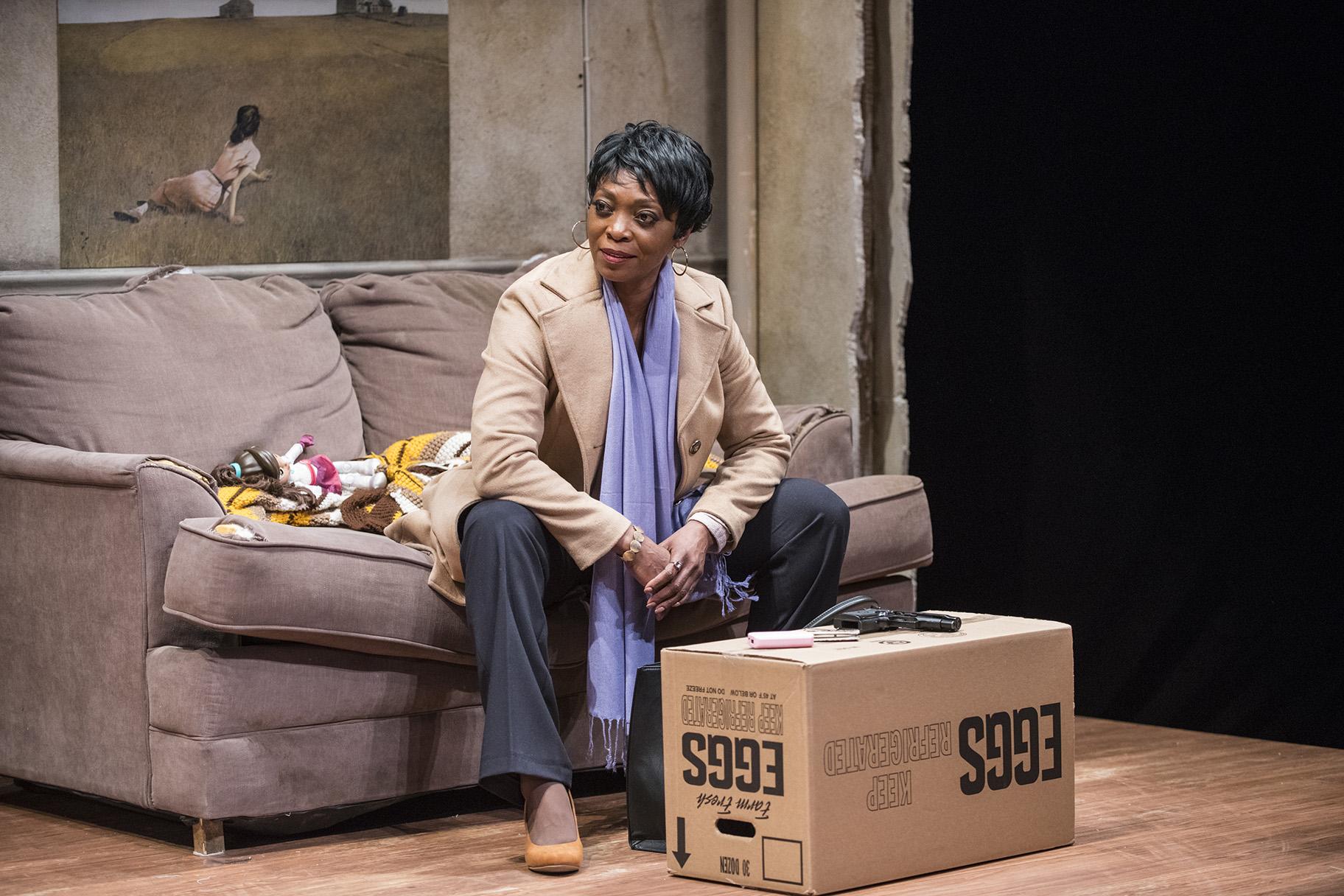 Shanesia Davis (Photo credit: Michael Brosilow)
Partly out of compassion, and partly because she wants the rent money, Marti agrees to let Christine move in, although she lays down the law. And perhaps seeing a bit of her younger self in the self-doubting Christine she even becomes something of a mentor to her, buying toys for her daughter, and encouraging her to enroll in classes that might lead to a potentially lucrative job in real estate business. (Marti's motives are not, as it turns out, entirely altruistic, and she very shrewdly manipulates Christine to her own advantage by boosting her self-confidence.)
But aside from pennilessness and single parenthood, the biggest problem in Christine's life is Poet, who she can't fully separate herself from, even though she knows it is essential for her to do so. He is trouble. And Marti senses this from the start, perhaps because earlier in her own life she had "been there and done that."
And here is one of the more intriguing elements in all this: While Christine is white, and both Marti and Poet are black, Rothstein makes no overt mention of race at all. Yet it is a subtle undercurrent in all that goes on, with the animosity between Marti and Poet especially contentious.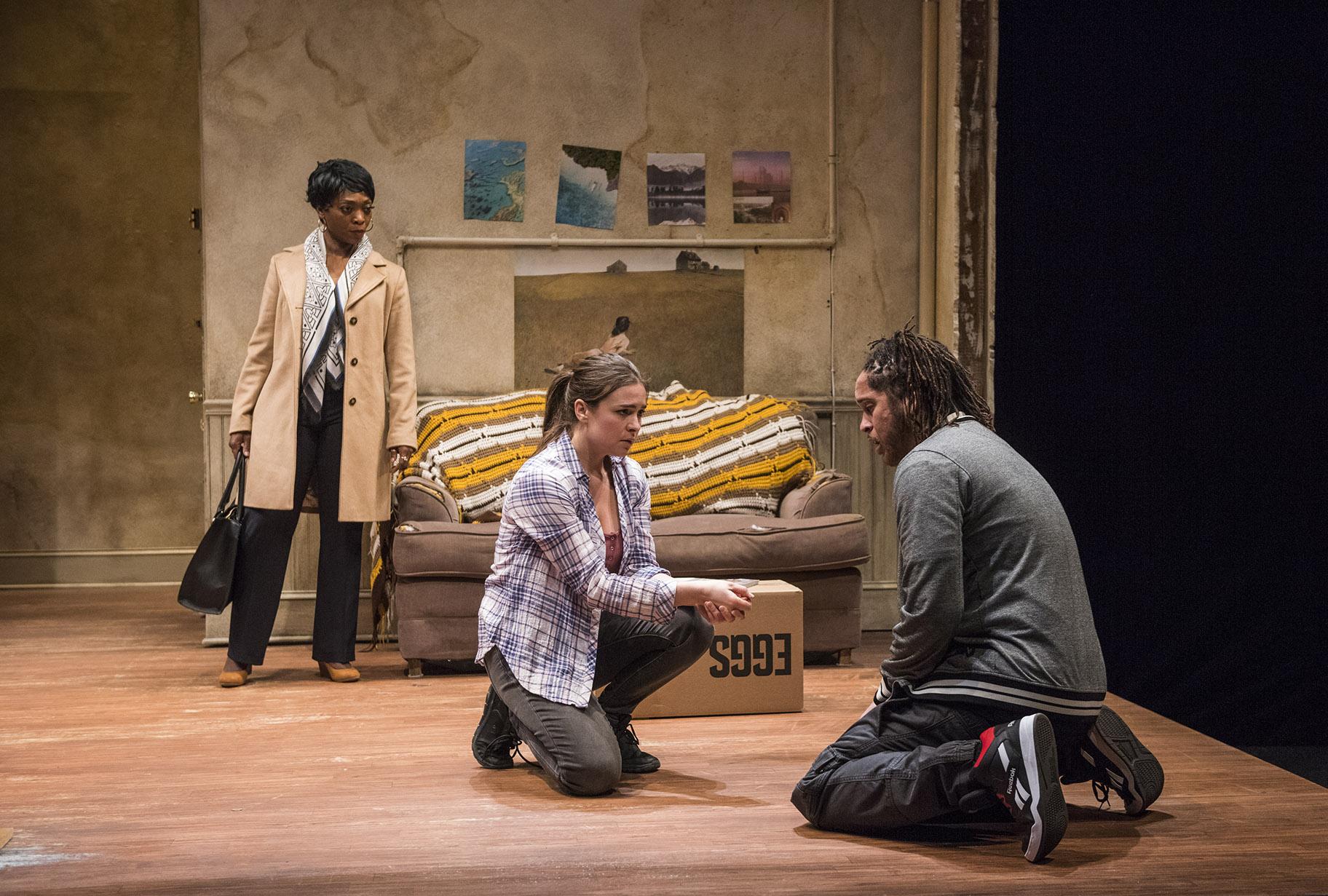 From left: Shanesia Davis, Leah Karpel and Julian Parker (Photo credit: Michael Brosilow)
In a program note for the play, Rothstein writes that the impetus behind "Landladies" was her reading of Matthew Desmond's Pulitzer Prize-winning book, "Evicted," which "exposes the cruelty and injustice that forces one in eight Americans into eviction at some point in their lives." And the crucial importance of having a roof over one's head is at the very core of this play.
(One final note: The production includes a very brief but notable cameo by a tiny actress named, yes, Grace Kelly.)
"Landladies" runs through April 20 at Northlight Theatre, 9501 Skokie Blvd., Skokie. For tickets ($30-$88) call (847) 673-6300 or visit northlight.org. Running time is 90 minutes with no intermission.
---
Note: Northlight's 2019-2020 season has just been announced. It will include "Mother if the Maid" (Sept. 12-Oct. 20), Jane Anderson's riff on Joan of Arc and her mother, featuring Kate Fry; the world premiere of "The Wickhams: Christmas at Pemberly"(Nov. 7-Dec. 15), Lauren Gunderson and Margot Melcon's look at the "downstairs" characters of housekeeper, footman and maid inspired by Jane Austen's "Pride and Prejudice"; the world premiere of "How a Boy Falls" (Jan. 23-March 1, 2020), Steven Dietz's psychological thriller about wealthy parents of a young son and their au pair; "Intimate Apparel" (March 12-April 19, 2020), Lynn Nottage's poignant tale of the life of a black seamstress in 1905 New York; and "Songs for Nobodies" (May 7-June 14, 2020), Joanna Murray-Smith's one-woman show that mixes song and story as it looks at the work of divas Judy Garland, Patsy Cline, Billie Holiday, Edith Piaf and Maria Callas – to be performed by Chicago's own diva, Bethany Thomas.
Follow Hedy Weiss on Twitter: @HedyWeissCritic
---
'Little Shop' Grows Deep Roots at Mercury Theater
'Anastasia' a Big Budget Mess of a Musical That Makes History
Court's Soul-Baring Revival of 'For Colored Girls' Finds New Power in Classic Work
---