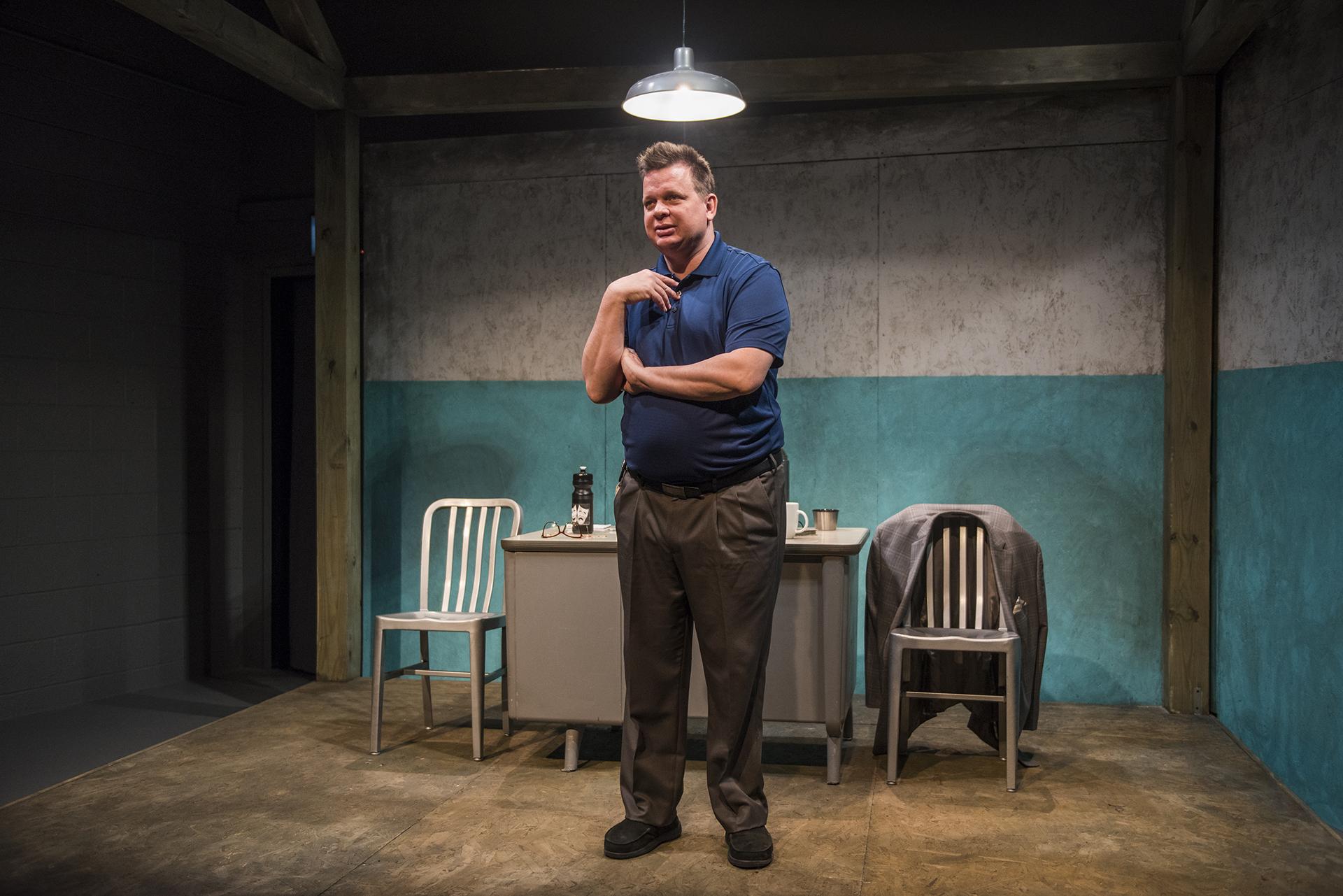 Joe Foust in "The Absolute Brightness of Leonard Pelkey" (Photo by Michael Brosilow)
The essential message of James Lecesne's "The Absolute Brightness of Leonard Pelkey," the one-man, multi-character show now in an American Blues Theater production featuring a sensational performance by veteran Chicago actor Joe Foust, is familiar. And it emerges through the story of a wildly creative, free-spirited gay teen who meets a tragic fate, but whose unapologetic approach to life ends up teaching those who knew him a lesson about the vital importance of being true to oneself.
The storyline is something of a first cousin to Lecesne's "Trevor," the 1995 Academy Award-winning short film he also wrote, and is a more distant cousin of musicals such as "Hairspray" and "Kinky Boots." On a darker note it also calls to mind the real-life tragedy of Matthew Shepard. (A gay university student who was tortured and killed in 1998.) But it comes with the irresistible structure of the classic detective story, the many comic delights of watching a skilled actor singlehandedly morph into a slew of characters who suggest the diverse characters of a working-class town on the Jersey shore. Beyond all that, the play pays homage to how theater can serve as a refuge for beleaguered souls, and as an unexpected form of expression for others.
It all begins when Detective Chuck DeSantis, a middle aged, salt-of-the-earth working-class guy, is confronted with a report that 14-year-old Leonard Pelkey has suddenly gone missing. And it is not all that long before the boy's iconic fashion statement – a high-top sneaker perched atop a handcrafted platform of rainbow-hued flip-flops – washes up on shore and serves as a clear indication that Leonard has been murdered.
Reporting the missing teen is Helen, Leonard's aunt and unofficial foster mother. She's a boisterous woman who runs a beauty salon (and beautifies corpses for the local funeral home), whose daughter, Phoebe, had something of a love-hate relationship with her "weird," flamboyant cousin.
Along the way, Detective DeSantis engages with a slew of local characters in an effort to discover who was responsible for Leonard's death. Foust (deftly directed by Kurt Johns, who has overseen several other solo shows, including the hit "Churchill"), vividly portrays each of them, using little more than shifts in body language, vocal timbre and accents, bits of costumes to nail their personalities, and to suggest both the tragic and comic aspects of their lives.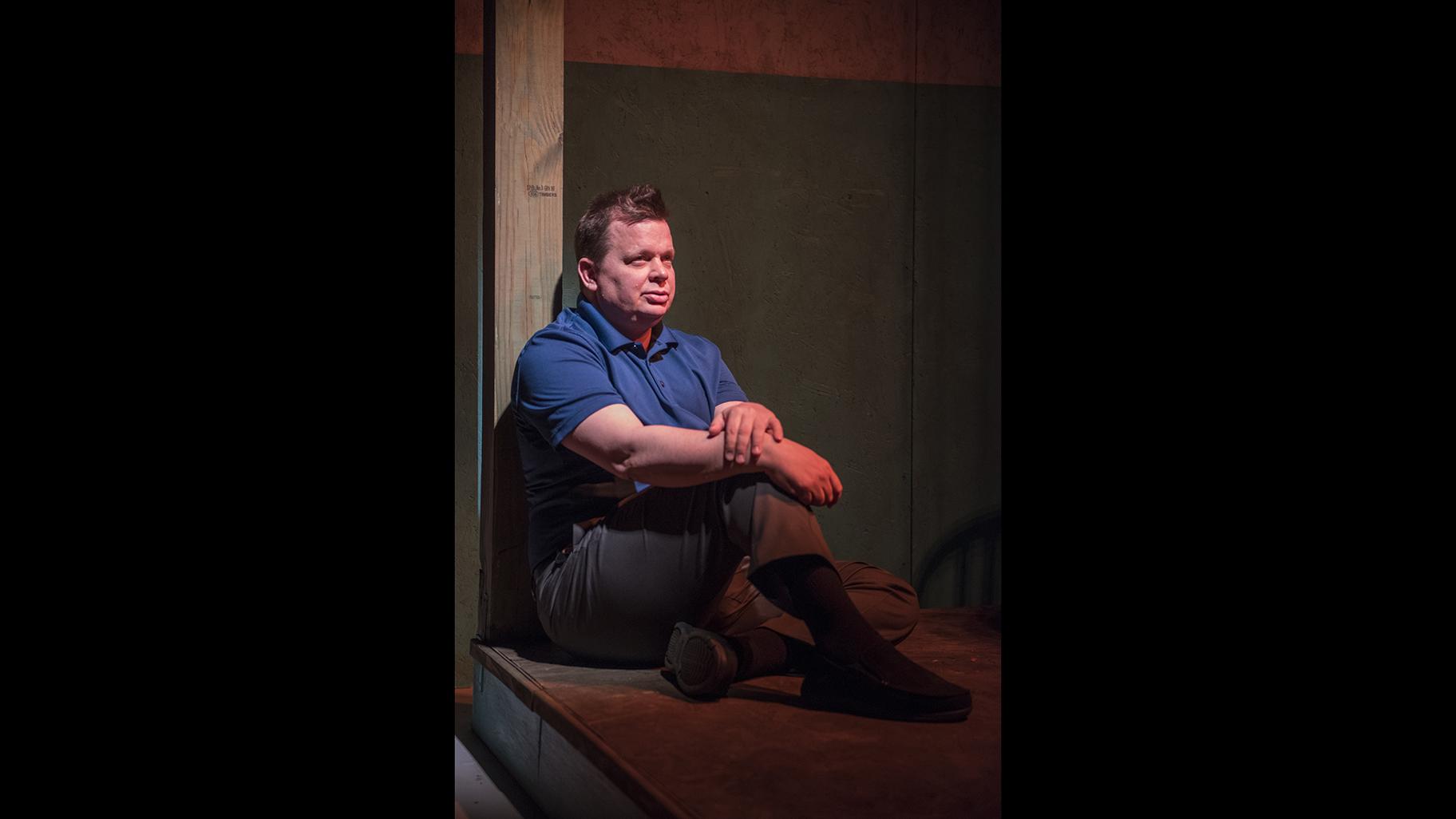 Joe Foust (Photo by Michael Brosilow)
Among these characters are a mobster's widow who has a long history of seeing more than she can let on; a British theater director who runs a local drama school, greatly appreciated Leonard's endless energy and originality, and took him under his wing; and a German immigrant who owns a clock and watch shop, oppressed his own son, and saw Leonard as a second chance to be a supportive father.
And then there are the town bullies, and the melee in a shopping mall, and the fisherman's knots and money clip. I will say no more.
Detective DeSantis' shabby office (by set designer Grant Sabin, with lighting by Jared Gooding and props by Kevin Rolfs) is continually brightened by G. "Max" Maxin IV's evocative projections and Eric Backus' sound design.
But it is Foust's effortless storytelling skills, comic sensibility and emotional range that seal the deal and bring Leonard Pelkey back to life through others' perceptions.
Finally, without giving away too much here, it is enough to say that Lecesne lets Shakespeare have the last word by way of Polonius' speech from "Hamlet": "To thine own self be true/And it must follow, as the night the day/Thou canst not be false to any man." What Shakespeare left out is that sometimes there is a steep price to pay for that kind of truth.
The American Blues Theater production of "The Absolute Brightness of Leonard Pelkey" runs through April 27 at Stage 773, 1225 W. Belmont Ave. For tickets ($19-$39) call (773) 654-3103 or visit www.AmericanBluesTheater.com. Running time is 90 minutes with no intermission.
Follow Hedy Weiss on Twitter: @HedyWeissCritic
---
Chicago Theater: 5 Shows to See in April
Israel's Mayumana Puts an Electrified High-Tech Spin on Percussive 'Stomp!'
Joffrey Academy's 'Winning Works' Program More Than Justifies its Title
In Rennie Harris' 'Lazarus,' the Spirit of Alvin Ailey Rises to Freedom
---