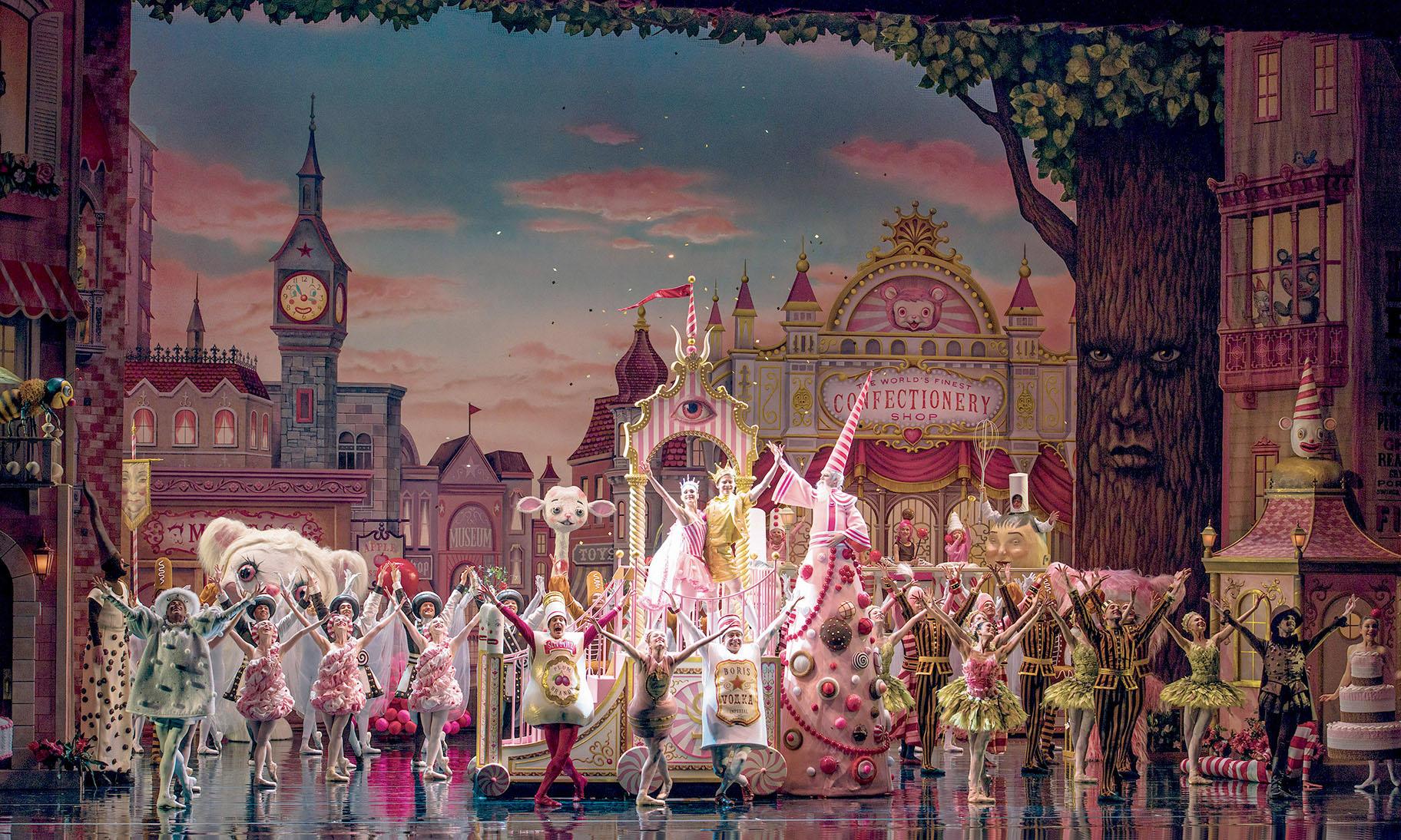 A scene from American Ballet Theatre's production of "Whipped Cream." (Photo: Gene Schiavone)
True to its title, "Whipped Cream," the full-length fairy tale production created for American Ballet Theatre (ABT) by its Russian-bred artist-in-residence, Alexei Ratmansky, is a frothy, visually lavish confection sure to generate either a light-headed sugar rush or a serious sugar coma.
Created in 2017, and now receiving its Chicago debut at the Auditorium Theatre, it is set to an unusually light-hearted score by Richard Strauss (who composed it in the early 1920s as a way to reinvigorate the sagging fortunes of the Vienna State Opera's resident ballet company). And it serves as a high-calorie dessert for audiences here as ABT reintroduces itself to the city in the first year of its four-season agreement with the Auditorium that is designed to partially fill the gap left when the Joffrey Ballet makes the Lyric Opera House it's new permanent residence in the fall of 2020.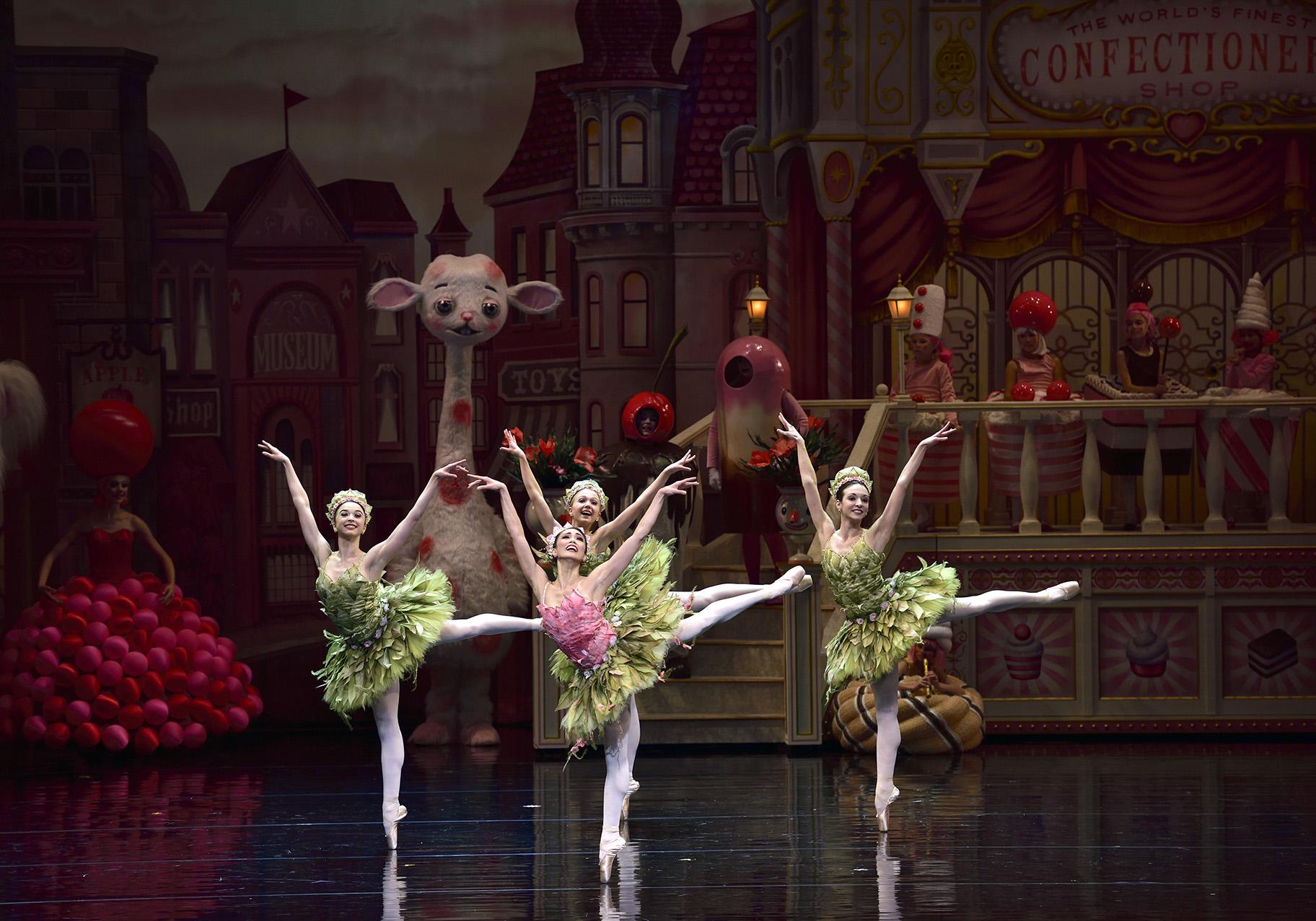 Stella Abrera in "Whipped Cream." (Photo: Gene Schiavone)
The choice to bring this $3 million spectacle here is expertly calculated. It clearly is designed to dazzle (and attract a family audience) with the wholly delectable, sometimes surreal eye candy of set and costume designer Mark Ryden, the lighting magic of Brad Fields, and the use of giant, winningly satirical, scale-altering puppet-like head masks and fantastical millinery creations. It also serves as a showcase of quite traditional classical ballet as opposed to some of the more modern approaches to the art. Plus it comes with a playful scenario.
That story unfolds in a beautiful, rosy pink, Old World confectionery shop, where a Boy and his friends have just come to celebrate by gorging on sweet treats after their first communion. But the Boy overdoses on whipped cream and lands in the hospital where a fear-inducing doctor and corps de ballet of nurses inject him with giant syringes and he falls into a combination of fantastical sweet dreams and nightmares. He also is introduced to his "first love" experience.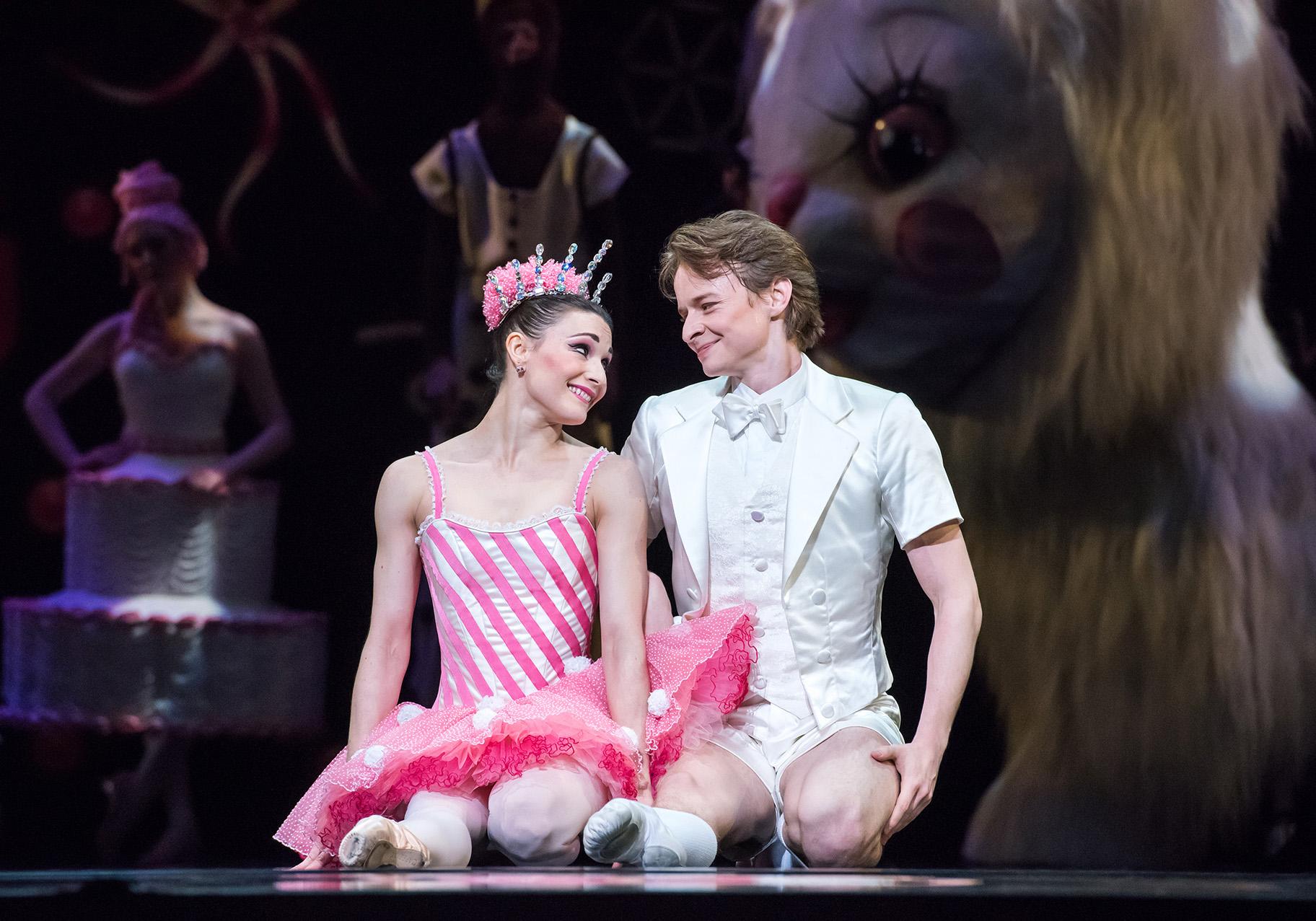 Sarah Lane and Daniil Simkin in "Whipped Cream." (Photo: Doug Gifford)
The characters are primarily royal sweets personified, and frequently emerge from the decorative tins that line the confectionery shop's shelves.
The casts for this engagement rotate. But Thursday's opening night was led by Daniil Simkin, the marvelously fleet, boyish-looking, effortlessly split-jumping, Soviet-bred dancer as the impish but naive Boy who wisely tries to elude his twisted Doctor (Alexei Agoudine, who also plays the full-faced Chef).
Performing the central first act pas de deux was the exquisitely lyrical, beguilingly beautiful Stella Abrera, who brought a delicacy and effortless precision to Princess Tea Flower. She was neatly partnered by the easily graceful Calvin Royal III as Prince Coffee and attended by a female quartet in feathery pistachio green frocks. Providing a strong jolt of competition to Coffee was Joseph Gorak's sharply danced Prince Cocoa. Adding to the calorie count were a quartet of Marzipan Men, Sugarplum Men and Gingerbread Men. And arriving to form a stage full of gentle peaks of whipped cream was a contingent of 16 maidens in gauzy white gowns and veils.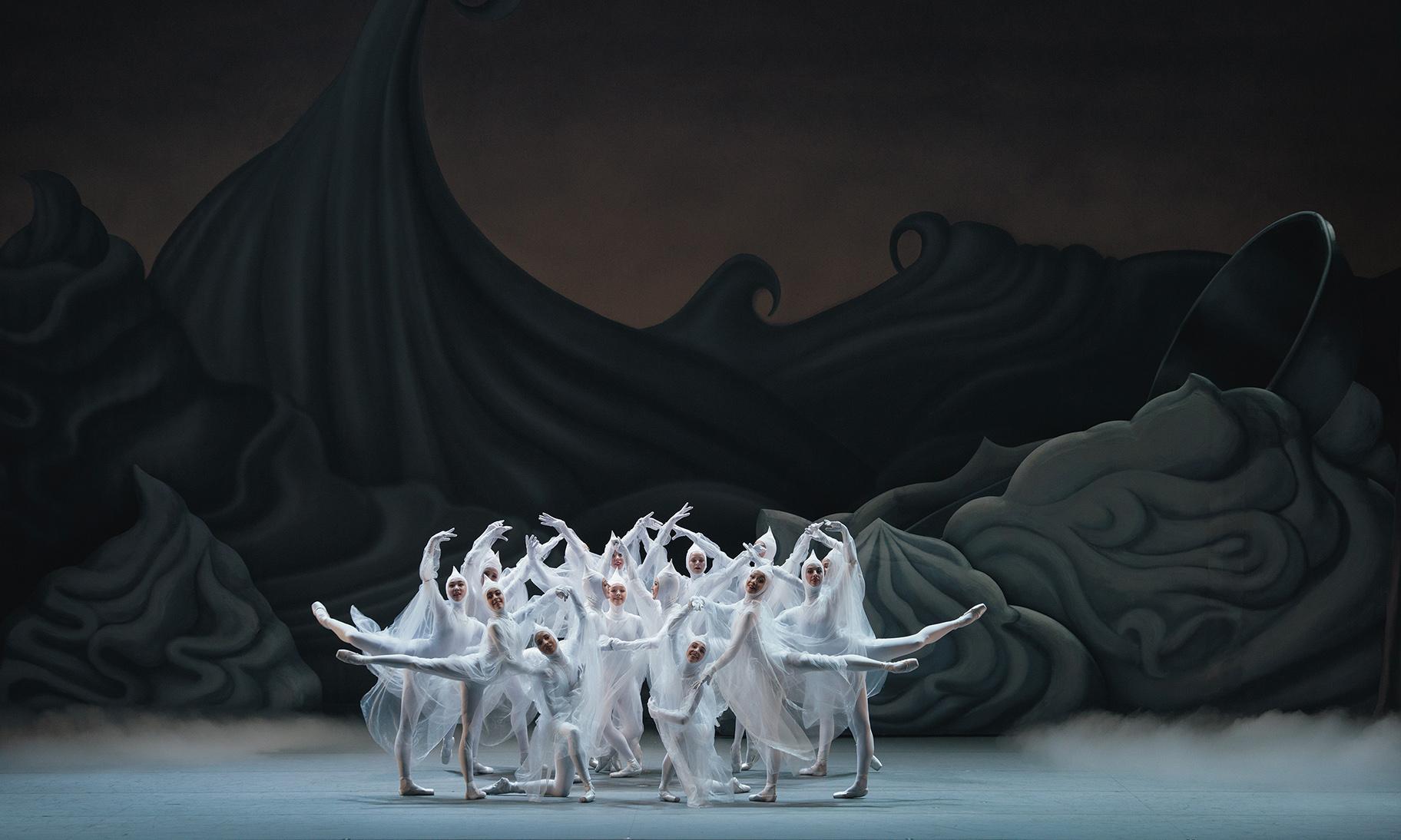 A scene from "Whipped Cream." (Photo: Gene Schiavone)
The second (and in many ways more intriguing act) begins with the Boy in his hospital bed, surrounded by a giant pill bottle, an intestinal anatomy poster and a laughter-generating bedpan. But the scene soon shifts to a great town square festival during which the Boy (still in knee pants) is taught a few things about romance by Princess Praline (the sparkling, authoritative Sarah Lane) and her Swirl Girls.
Along the way, there is a (literally) high-spirited trio of liquor-filled candies with the whimsical (and national identity-fueled) names of Mademoiselle Marianne Chartreuse (Catherine Hurlin), Ladislav Slivovitz (Duncan Lyle) and Boris Wutki, or Vodka (Marshall Whiteley). The laugh-inducing roles of tiny petit-fours and cupcakes are danced by a group of children, and there is a slew of novelty candies ranging from the Gumball Lady to the Worm Candy Man.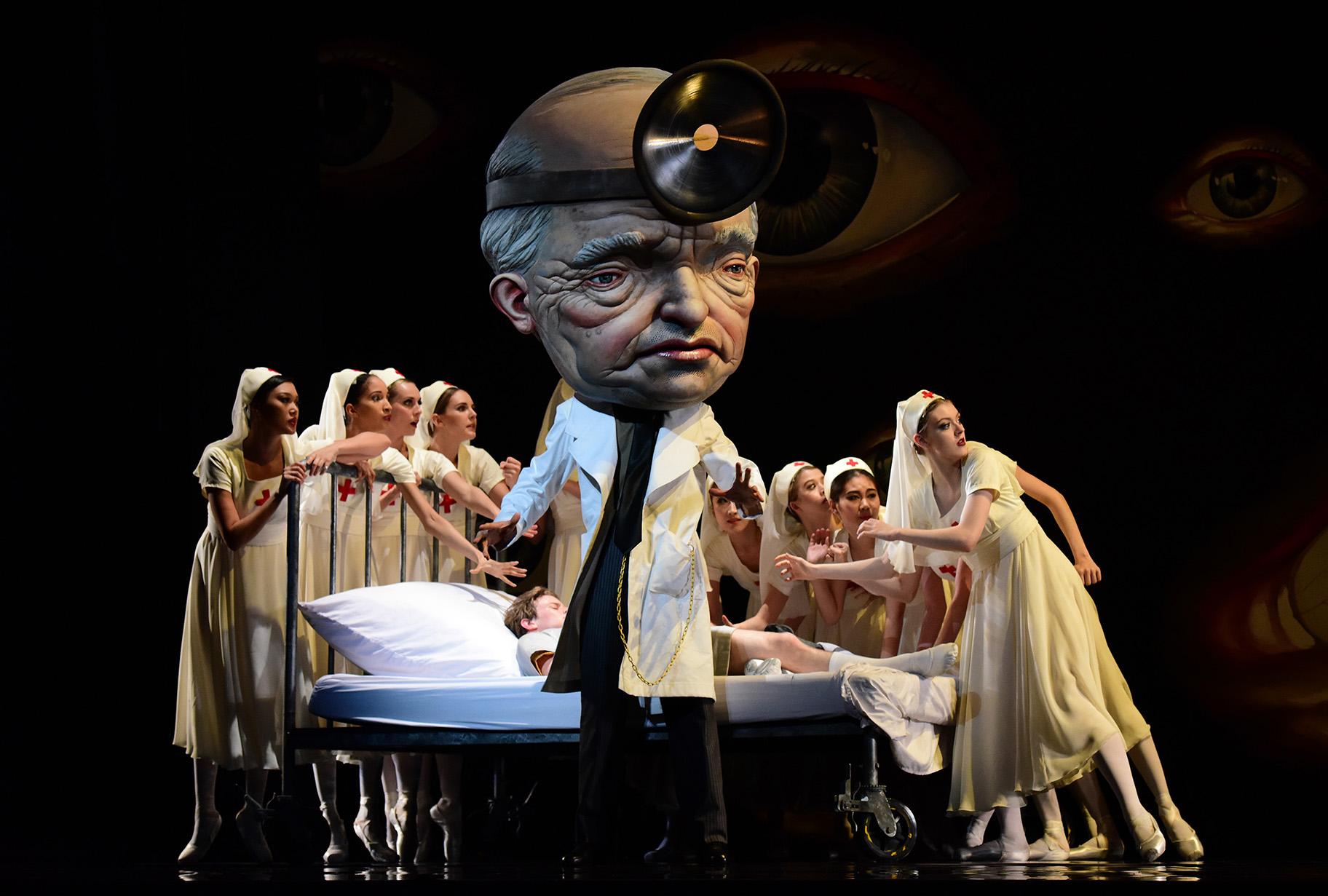 Alexei Agoudine in "Whipped Cream." (Photo: Doug Gifford)
Charles Barker, principal conductor of American Ballet Theatre, led the Chicago Philharmonic in an impeccable, airborne rendering of the Strauss score which is lovely, but no match for Tchaikovsky's "Nutcracker."
"Whipped Cream" has many charms, but ultimately it is a sort of Viennese Disneyland "mit schlag."
"Whipped Cream" runs through Sunday (April 14) at the Auditorium Theatre, 50 E. Ida B. Wells Drive. For tickets ($44-$150) call (312) 341-2300 or visit auditoriumtheatre.org. Running time is one hour and 40 minutes with one intermission.
Follow Hedy Weiss on Twitter: @HedyWeissCritic
---
Gauthier's 'Mega Israel' a Thrilling Dance Trifecta of Originality, Technique and Endurance
Israel's Mayumana Puts an Electrified High-Tech Spin on Percussive 'Stomp!'
Joffrey Academy's 'Winning Works' Program More Than Justifies its Title
---