Cook County State's Attorney Kim Foxx is standing behind her office's unexpected decision to drop felony disorderly conduct charges against "Empire" actor Jussie Smollett stemming from a hoax attack he allegedly orchestrated on himself.
Those charges were dismissed Tuesday as part of what Foxx's office has called an "alternative prosecution," in which Smollett was allowed to forfeit his $10,000 bond and complete 16 hours of community service in exchange for the dismissal.
Foxx defended that move in an interview with WTTW News at her office Wednesday evening, saying the result of this case was in line with other low-level felony charges like the ones Smollett faced.
"I stand behind how this office, and how I in particular, handled this case," she said. "My regret is that the hardworking men and women of the state's attorney's office are having the integrity of the office questioned by a decision I made. Certainly I wouldn't want that for these men and women."
A grand jury this month indicted Smollett on 16 counts of disorderly conduct for allegedly filing a false police report. That's a Class 4 felony punishable by probation or up to three years in prison. He had already been facing another similar charge that was filed last month.
But the dismissal sparked anger from Chicago Police Superintendent Eddie Johnson and Mayor Rahm Emanuel, who appeared blindsided by the move during a press conference Tuesday afternoon. Emanuel, in particular, said the dismissal represented a "whitewash of justice."
Foxx acknowledged that outrage, but said her office was not duty bound to inform Emanuel or anyone else about how or when this case would be resolved.
"I think it's important that the prosecutor's office is an independent agency," she said. "We do not work for the mayor. Certainly this is a case that impacted the city, and the implications impact all of us including the mayor, but this was not a circumstance … where we were required to inform the mayor."
The state's attorney's office says it regularly disposes of low-level felony cases with this type of "alternative prosecution" – pointing to more than 5,700 such cases in the last two years alone. Despite that resolution, she still believes Smollett was guilty of the charges he faced.
"We can't offer someone (the chance) to forfeit their bond in exchange for dropping their charges if we don't think that they're guilty," she said. "As prosecutors, I can't proceed on a case ethically that we don't believe we can prove guilt. In order for us to make this available as an option for diversion, we have to believe that he was guilty."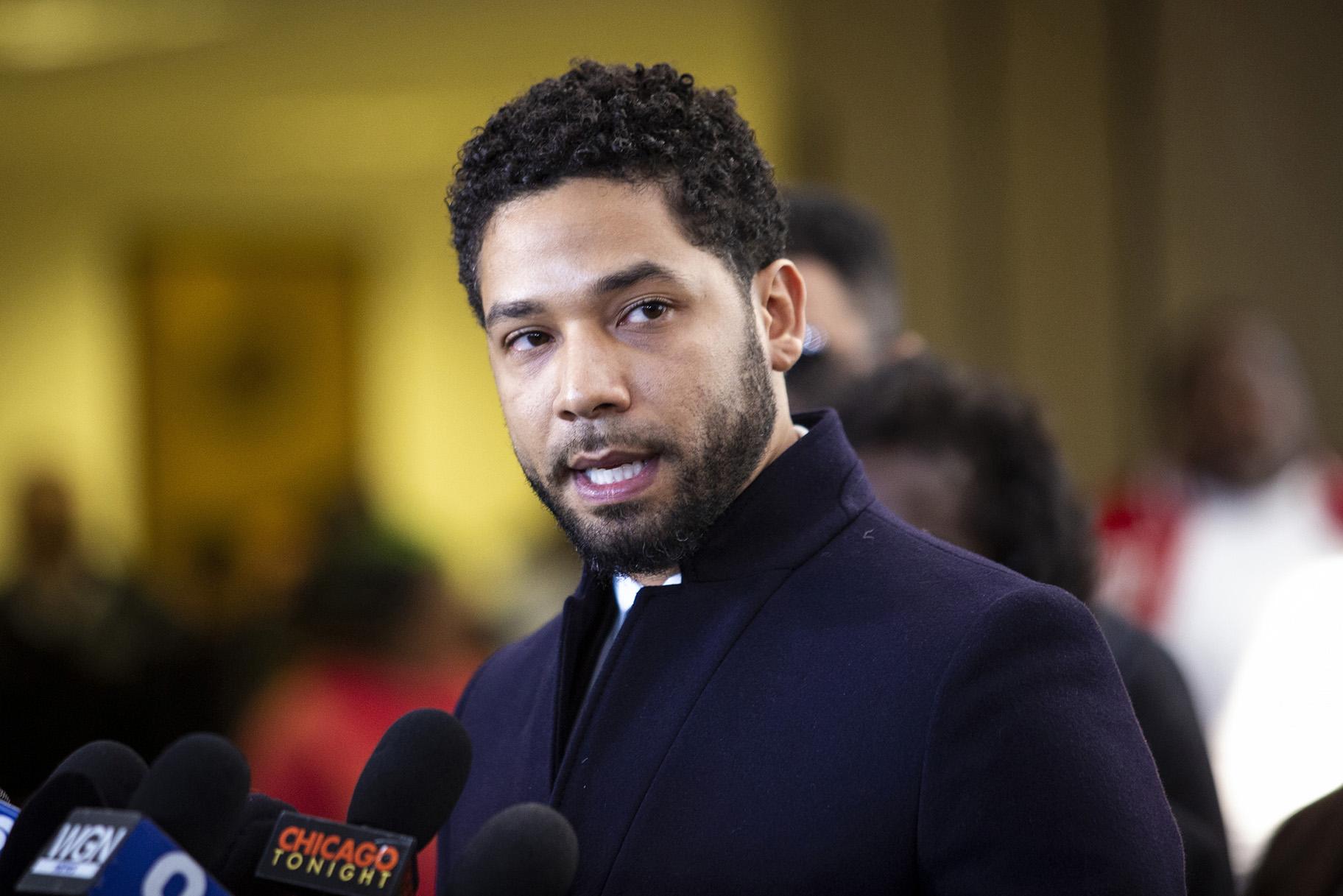 Actor Jussie Smollett leaves the Leighton Criminal Courthouse in Chicago on Tuesday March 26, 2019, after prosecutors dropped all charges against him. (Ashlee Rezin / Chicago Sun-Times via AP)
This case began in the Streeterville neighborhood in the early morning hours of Jan. 29 when Smollett alleged that he had been attacked by two unknown men who yelled racial and homophobic slurs, wrapped a rope around his neck and poured bleach on him.
The incident was initially treated as a possible hate crime, but the story quickly garnered national attention as the police investigation began examining the possibility Smollett orchestrated the "attack" on himself.
Police alleged Smollett paid two brothers – Abimbola and Olabinjo Osundairo – $3,500 to stage the attack.
More: Osundairo Brothers' Former Attorney Speaks Out
After Smollett was arrested and charged last month with an initial count of disorderly conduct for filing a false police report, Johnson told media that the actor orchestrated the hoax because he was upset with his salary on the hit Fox television series.
Foxx recused herself, but not her office, from the Smollett case in February, leaving First Assistant State's Attorney Joseph Magats in charge. That move came after Foxx had asked Johnson to turn over the then-ongoing investigation to the FBI at the behest of a Smollett family representative, according to the Chicago Tribune. That request came at a time when Smollett was still presumed to be the victim of an attack.
Foxx took that step, she said, due to the abundance of leaks coming from the police department regarding this case, and because federal investigators had already gotten involved.
"I didn't ask for a new investigation," she said. "I asked in the interest of making sure this case was handled with the utmost integrity and with minimal amount of leaks."
Smollett maintained his innocence Tuesday, telling reporters he's been "truthful and consistent since day one."
While Foxx and Magats both have said Smollett had to give up his bond and do community service before the charges were dismissed, the actor's attorneys maintain there was no deal and said their client remains the "victim" in this case.
That resolution has left a bad taste for many, but Foxx believes Smollett will still be forced to deal with the repercussions of this case well into the future.
"I think Mr. Smollett for a long time to come will have to answer to the questions of the public as to what he did in this case," she said. "And I think that's justice that may be long-lasting."
Contact Matt Masterson: @ByMattMasterson | [email protected] | (773) 509-5431
---
Related stories:
Osundairo Brothers' Former Attorney Speaks Out
Surprising Outcome in Smollett Case Provokes Anger from Mayor, Police Superintendent
Prosecutors Drop All Charges Against Jussie Smollett
Chicago Police Union Wants Federal Probe in Smollett Case
Brothers in Smollett Case Say They Have 'Tremendous Regret'
Anita Alvarez to Kim Foxx: 'Do Your Job'
---