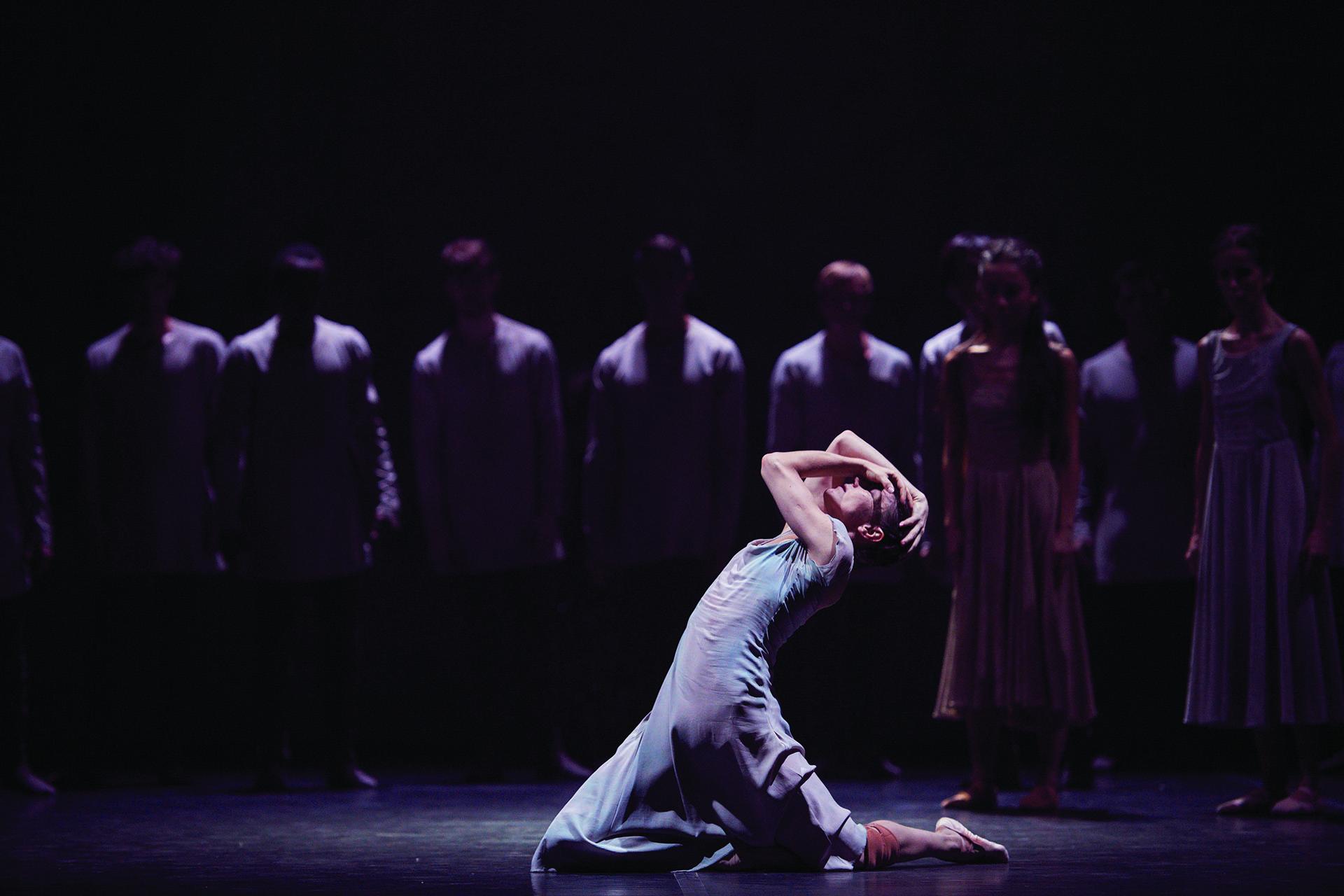 English National Ballet. Alina Cojocaru in Akram Khan's Giselle © Laurent Liotardo
Choreographer Akram Khan's transformed and transformational "Giselle" – a thunderclap of a 21st century production that works its magic on one of the foundational 19th century works in the classical ballet repertoire – debuted in an English National Ballet production in 2016. And from the very first moment I saw mesmerizing video clips of the work posted online, I wrote: "Will someone please bring this work to Chicago?"
Patricia Barretto, the wonderfully enterprising president of the Harris Theater for Music and Dance, heeded the call, and made the unexpected happen, with Chicago becoming the first and only site in the U.S. to present the work. Her efforts have been fully rewarded. The ballet's all-too-brief engagement, which opened Thursday night and runs through Sunday, is completely sold out – just the latest indication that this city is fast becoming a mecca of the dance world. This comes on the heels of the Joffrey Ballet's recent triumph with a world premiere production of "Anna Karenina," and the announcement of the Bolshoi Ballet's visit to the Auditorium Theatre in June 2020.
Khan's "Giselle" is a hypnotic stunner that injects a primal scream into a story of romantic betrayal and class warfare whose mystical element has long captivated audiences. He has unleashed the emotional ferocity of the work's characters in ways that were not available to its French choreographers and its composer, Adolphe Adam, in 1841. And his intensely sensual and organic movement, combined with his distinctive storytelling gifts, turns the stage into a place of fearsome beauty. (British-born, but of Bangladeshi parentage, Khan trained from the age of 3 in the classical South Asian dance form of kathak, and at 13 was taken under the wing of legendary British theater director Peter Brook, all of which helps account for his hybrid creative vision.)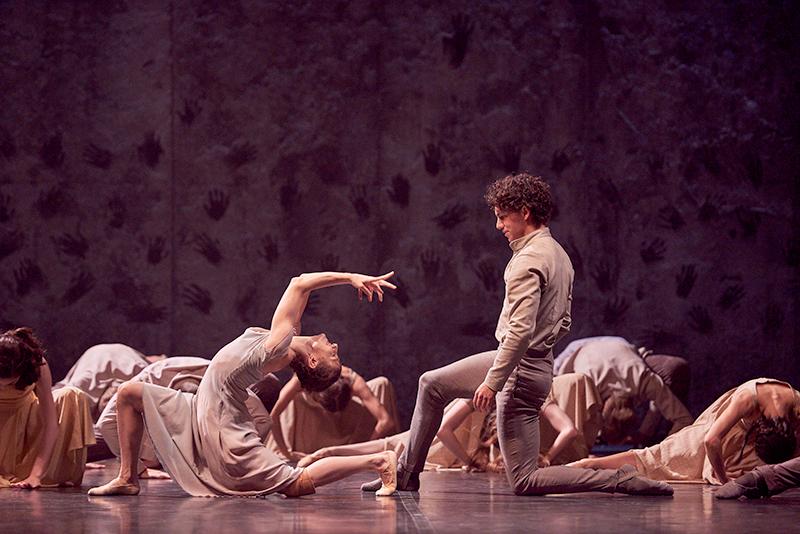 Alina Cojocaru and Isaac Hernandez in Akram Khan's Giselle © Laurent Liotardo
The volcanic, altogether astonishing score and sound design of Italian composer Vincenzo Lamagna, played brilliantly by the Chicago Philharmonic under the direction of Gavin Sutherland, is described as "after the original by Adam." But it has only the briefest references to that work. A roaring thunderclap rather than a gentle rain, with dazzling percussion, haunting passages for the horns and a ferocious, often eerie rhythmic drive, it is thrilling and immersive from first note to last.
The visual design for the ballet, with sets and costumes by Tim Yip and lighting by Mark Henderson, is equally spellbinding and fearsome, with a massive revolving wall alternately suggesting a factory or mausoleum, pale, simple clothes for the "common people" and aptly grotesque extravagance for the royals, and lighting effects that suggest an underworld more than a fairy tale village and forest.
Along with everything else, Khan's "Giselle" also demonstrates how very wrong those who say ballet is an antiquated art form happen to be. To be sure, only bravura ballet dancers could perform this work (in which pointe shoes are used only in the second act). But its hypnotically repetitive, pulsating, expressionist movement – a blend of the ritualistic and the modern – possesses a timeless quality.
Khan has retained the essential outline of the ballet's story, although here, rather than a shy yet curious village girl, Giselle is a migrant worker in a factory. This is kept quite abstract, but the notion of the masses under the intimidating thumb of the "royal" elite is clear. So is the sense that Giselle is quite instantly smitten, if wary, when she becomes the chosen one of Albrecht, the aggressive aristocrat who picks her out of the crowd (a bit of "The Rite of Spring" here), much to the chagrin of her boyfriend, Hilarion.
The powerful initial interaction between the two is suggested with a stunningly fresh and honest pas de deux (the first of several) that brilliantly reinvents that convention. Similarly, the mocking, competitive tension between Albrecht and Hilarion is expertly devised. And in one subtle but crucial gesture, Khan also suggests this chilling note: That adding to Giselle's sense of utter devastation and disgrace when she realizes Albrecht is set to marry Bathilde, a haughty aristocrat, is the fact that she might be pregnant.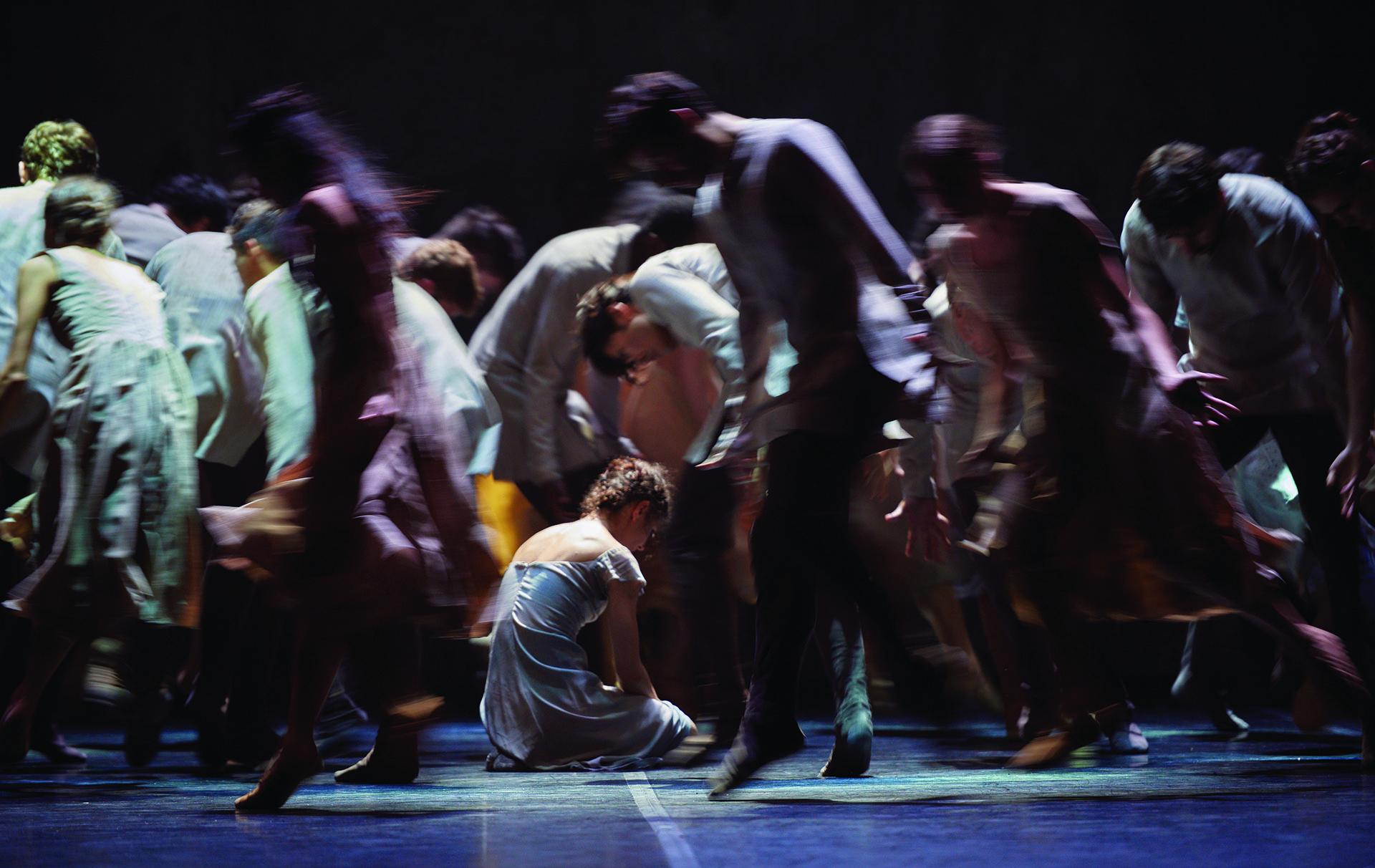 English National Ballet. Alina Cojocaru in Akram Khan's Giselle © Laurent Liotardo
But Khan makes the roiling passions that drive the story far more epic than the individuals. The heated leaps of the ensemble as they repeatedly cross the stage in silhouetted light like a herd of impossibly wild, graceful but agitated antelopes is nothing short of breathtaking. So is the moment when the crowd encircles the ill-fated Giselle, forming something of a giant human heart, and lifting her aloft almost as if to breathe life back into her. (That sensation is suggested in a very different way in the second act when Martha, Queen of the Wilis, who protects all the women who have been betrayed by men, prods her back to life.) Throughout, Khan also works remarkable variations on the conceits of the corps de ballet, drawing on traditional patterns while at the same time breaking the mold.
The ballet's opening night cast was magnificent, with Alina Cojocaru (a tiny hummingbird of a dancer of extraordinary strength, fluidity, endurance and emotional heat) as a Giselle whose passions are total, whose grief is intense, and whose sense of forgiveness is anguished but undeniable. And Isaac Hernandez was just predatory, arrogant and ultimately despairing enough as Albrecht.
Jeffrey Cirio's portrayal of Hilarion, the snubbed lover, was a knockout. An astonishing dancer-actor, he brought an all-important rage and resentment to his sublimely realized portrayal and it was impossible to keep your eyes off him as he used a black bowler hat as a tool of knife-sharp mockery. Stina Quagebeur brought a most distinctive, no-nonsense but loving quality to Myrtha, who fully prepares Giselle for a momentary, if eternal, reconciliation with the man who shattered her heart.
Khan's "Giselle" fittingly begins with the sound of a formidable explosion. Take it as a warning that he will proceed to blast open this ballet classic in some amazing ways, but he will not forget to reassemble the pieces before it's all over, even if he bravely refuses to completely erase the scars.
Note: Alternating in the role of Giselle will be Erina Takahashi, Tamara Rojo (the company's artistic director), and Crystal Costa.
Follow Hedy Weiss on Twitter: @HedyWeissCritic
Editor's note: An earlier version of this story incorrectly identified the conductor of this program. Gavin Sutherland conducted.
---
Chicago Flamenco Festival Kicks Off Season Full of Dance
A Contentious Family Dinner Morphs Into an Absurdist Black Comedy in 'Act(s) of God'
Six Girls Negotiate Difficult Road to Adulthood in 'Twilight Bowl'
In 'The Abuelas,' a Chilling Episode in Argentina's History Washes Up on Lake Shore Drive
---