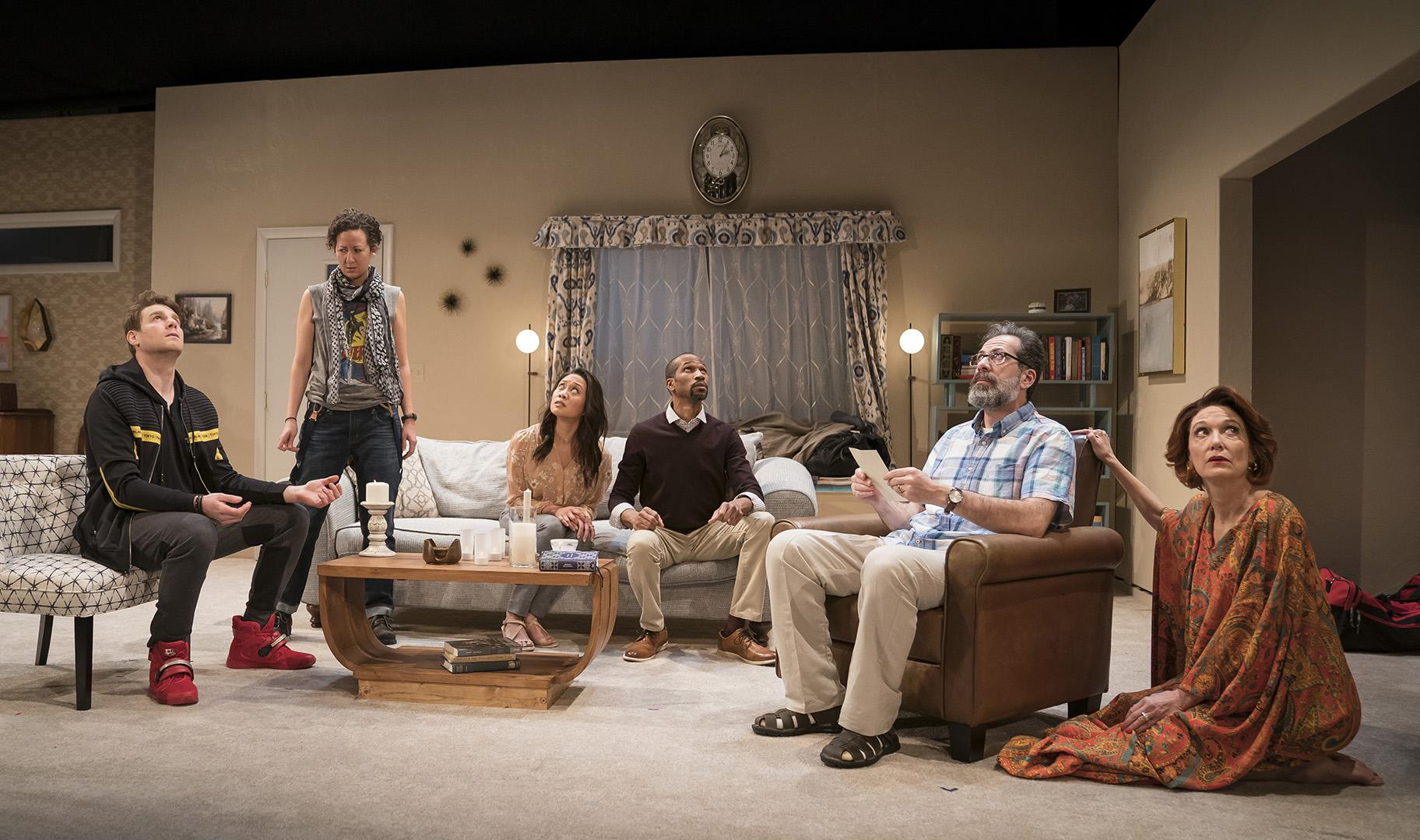 The cast of "Act(s) of God" (Photo by Liz Lauren)
Guess who's coming to dinner?
Well, your first guess was probably incorrect. (It is definitely not Sidney Poitier.) If you thought it might be someone closer to one of the bedraggled tramps in Samuel Beckett's "Waiting for Godot" you would have been on the right track, but not entirely on target. For as it turns out, in "Act(s) of God," Kareem Bandealy's wacky, absurdist, blackly comic, hokum-and-bunkum-filled metaphysical meditation on everything from family dynamics and faith to end-time calamity, the visitor who at least a few members of a particularly fractious family expect to stop by turns out to be far less impressive than imagined. A big disappointment in fact, especially for Mother.
And, as it happens, we never actually get to see "the being" in question. For after eating dinner in this home in a remote, unnamed town in the U.S., the guest (and Mother's fervent hope is that it would be a "she"), just holes up in the unseen computer room of the family's notably bland ranch house, pays a memorable visit to a similarly unseen bathroom, and turns out to be quite an all-around disappointment.
Curious and confused yet? Good. For this play, now receiving its world premiere at Lookingglass Theatre (where Bandealy, an ensemble member with many years of acting credits both at Lookingglass and beyond), is posing some epic, cosmic questions while at the same time capturing the more familiar aspects of family relationships and identity crises. The play supplies no answers. But Bandealy turns out to be an audacious existential prankster with more than a touch of that earlier absurdist, Eugene Ionesco.
And if you want to know just how knowingly bizarre Bandealy's play happens to be consider this: At the very moment of writing this review a news alert popped up on my computer screen proclaiming that according to astrophysicists at Johns Hopkins University, "the universe seems to be expanding faster than it should be." That only made the vaguely futuristic setting of "Act(s) of God" – in April of 2029 – feel all the more worrisome.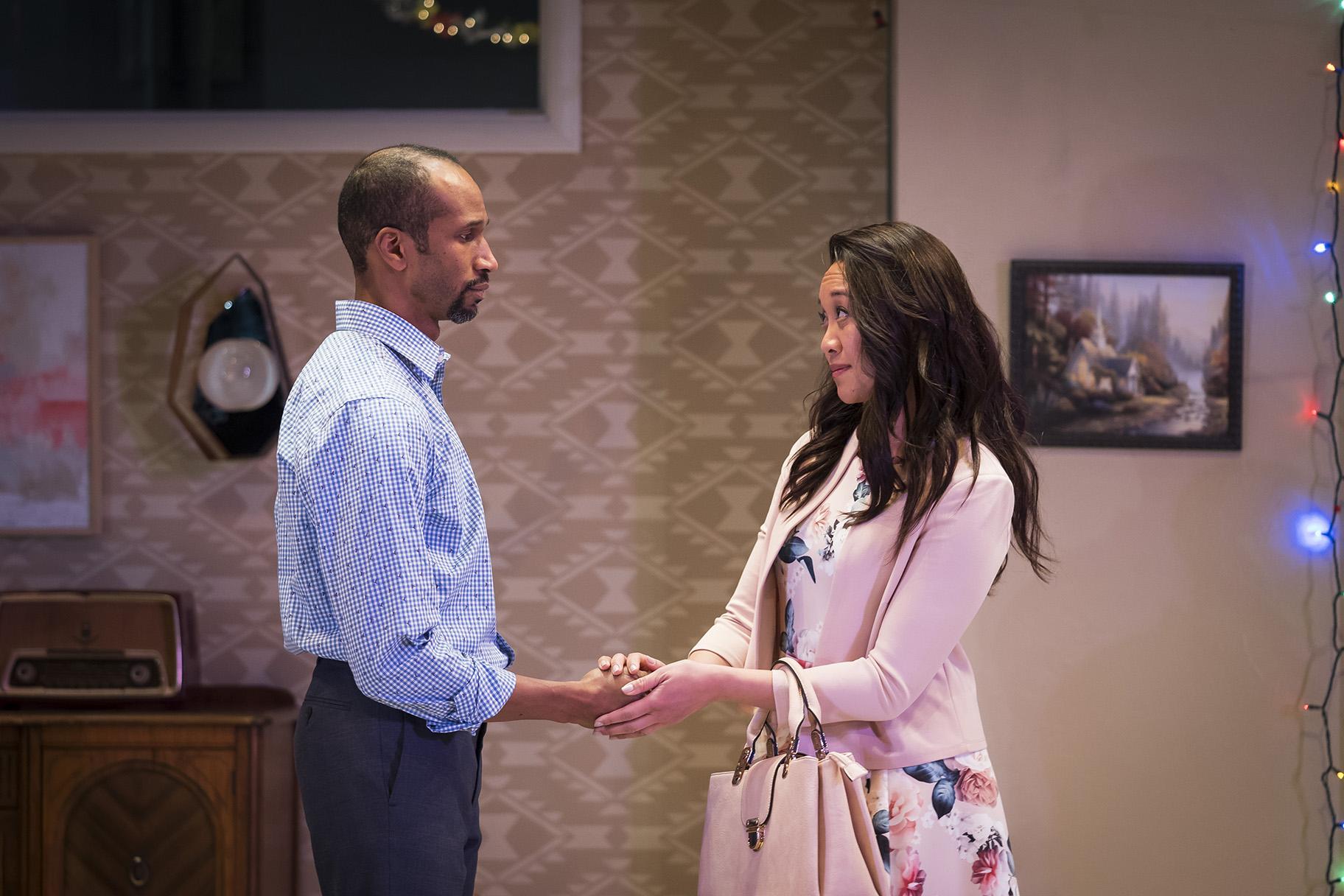 Anthony Irons and Emjoy Gavino in "Act(s) of God." (Photo by Liz Lauren)
But first, the family. There is Mother (Shannon Cochran, in what might just be the boldest and most brilliant performance of her long career, featuring a bravura performance of an aria of raging complaint composed by Bandealy, Amanda Dehnert, Konstantin Jace and Rick Sims). Still beautiful, and chicly dressed in a silk caftan (courtesy of costume designer Mara Blumenfeld), Mother is something of an anachronistic combination of born-again feminist and believer in God (who she fervently hopes is female), and is furious about her fate as a woman and fully vents about being robbed of her identity by years of responsibilities as a wife and the mother of three now grown children.
Mother also has little patience with her husband, Father (Rom Barkhordar), something of an aging academic and cultural anthropologist who spends most of his time tuning out – snoring in a worn leather chair, and only occasionally waking from oblivion to spin some parable or myth or search for bowls of fruit in the kitchen.
As the play begins, the "children" return home. There is Eldest (Kristina Valada-Viars), a lesbian, atheist and writer who lives a penniless existence and rejects everything her mother stands for, particularly her religious fervor. There is Middle (Anthony Irons), the financially successful achiever and fundamentalist believer who has brought his long-time Fiancée (Emjoy Gavino) home to meet the family, where she gets an unexpectedly hostile reception by Mother. And there is Youngest (Walter Briggs), the lost boy who doesn't really know where he is going in life but just wants to be happy. All three are looking for approval from each other and from their parents.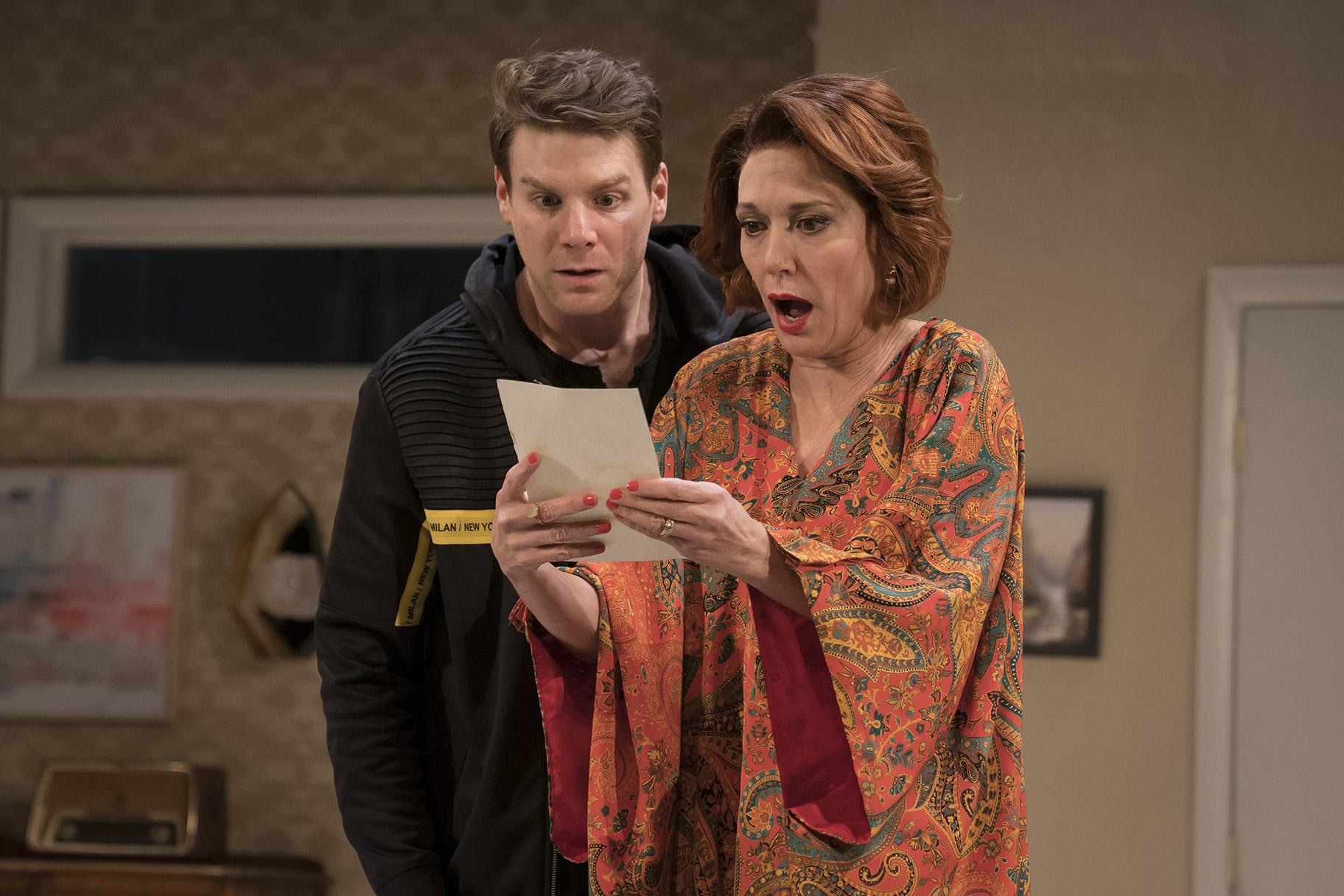 Walter Briggs and Shannon Cochran in "Act(s) of God." (Photo by Liz Lauren)
Just as they all gather, Mother is going through a pile of mail and finds an elaborate envelope with a sealing wax stamp that neither she nor the others seem able to open. The envelope also suddenly seems to be exerting some eerie power to turn the lights in the house on and off. Everyone is a bit spooked and they all fall into an almost cult-like sort of prayer ritual – all, that is, except Eldest, the atheist. Mother is convinced that it is a sign that God (who she dearly hopes is a woman), is on the way to the house for dinner. Big preparations get underway. And as we learn in the play's second of three acts, someone does show up, though we never see him (and yes, it's a man, much to Mother's chagrin), but he (or "He") is far from extraordinary.
Tensions build to the boiling point between Mother and Eldest daughter, between Middle and his Fiancé, and between Middle and Youngest. And by the play's third act things (literally) fall apart in a way that should not be described here. (Suffice it to say that a small group of stagehands carry off this "coup de theatre" with impeccably choreographed efficiency and the ever ingenious Brian Sidney Bembridge's "pre-fab" set and lighting design.)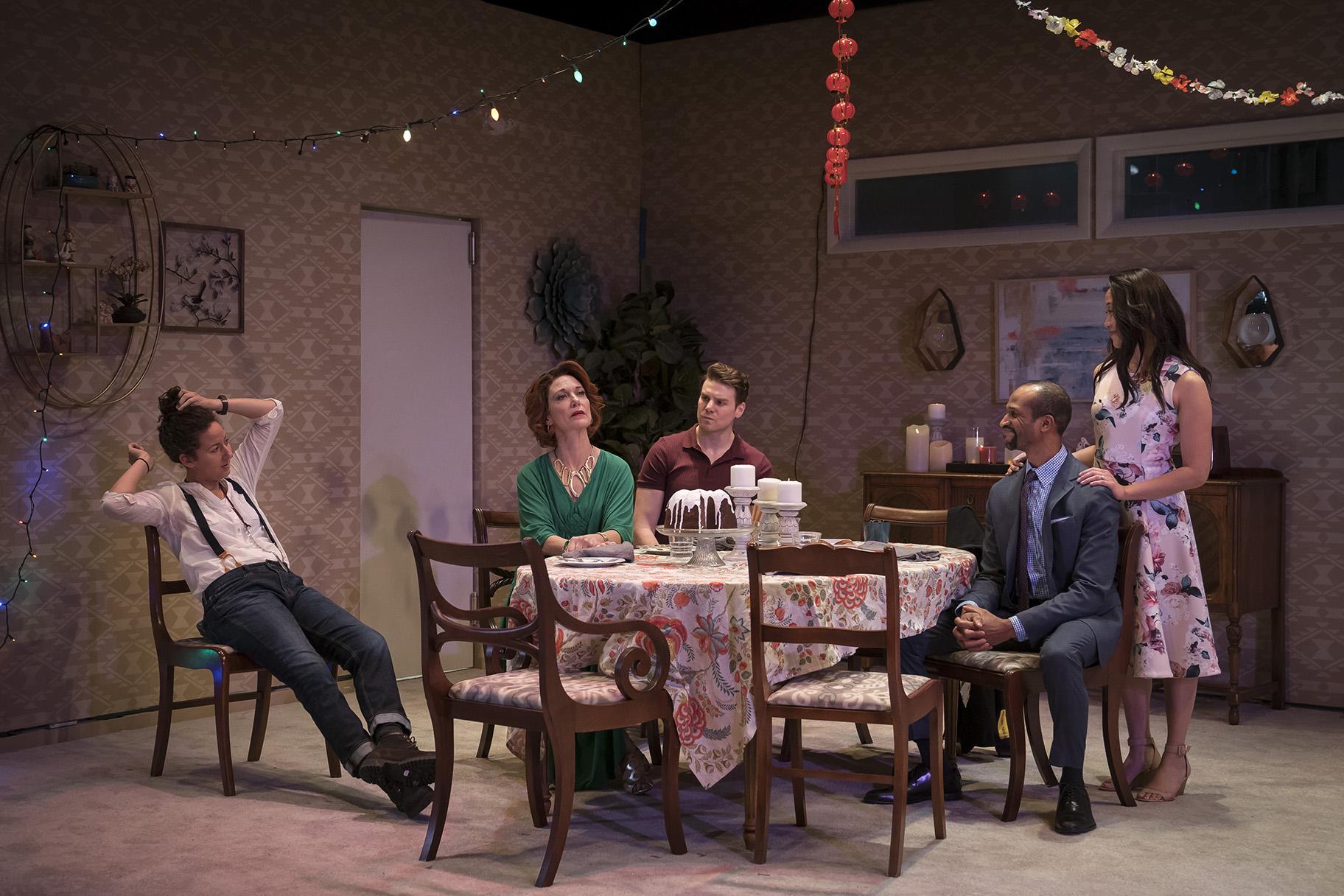 The cast of "Act(s) of God" (Photo by Liz Lauren)
Under Heidi Stillman's highly polished direction, Valada-Viar, Irons, Briggs and Gavino all give distinctive, just larger-than-life performances in this feverishly verbal (often lewd) play that would benefit from a bit of judicious editing. But if you are in search of a far from ordinary "dissonance-at-a-family dinner" play infused with a crazy cosmic vibe that plays with some of the big human questions, "Act(s) of God" will be the answer to your prayers.
"Act(s) of God" runs through April 7 at Lookingglass Theatre, 821 N. Michigan Ave. in the Water Tower Water Works. For tickets ($40-$75) call (312) 337-0665 or visit lookingglasstheatre.org. Running time is 2 hours and 45 minutes with two intermissions
Follow Hedy Weiss on Twitter: @HedyWeissCritic
---
Six Girls Negotiate Difficult Road to Adulthood in 'Twilight Bowl'
In 'The Abuelas,' a Chilling Episode in Argentina's History Washes Up on Lake Shore Drive
At Lyric, a 'La Traviata' of Great Intimacy Amid the Social Whirl of Paris
---