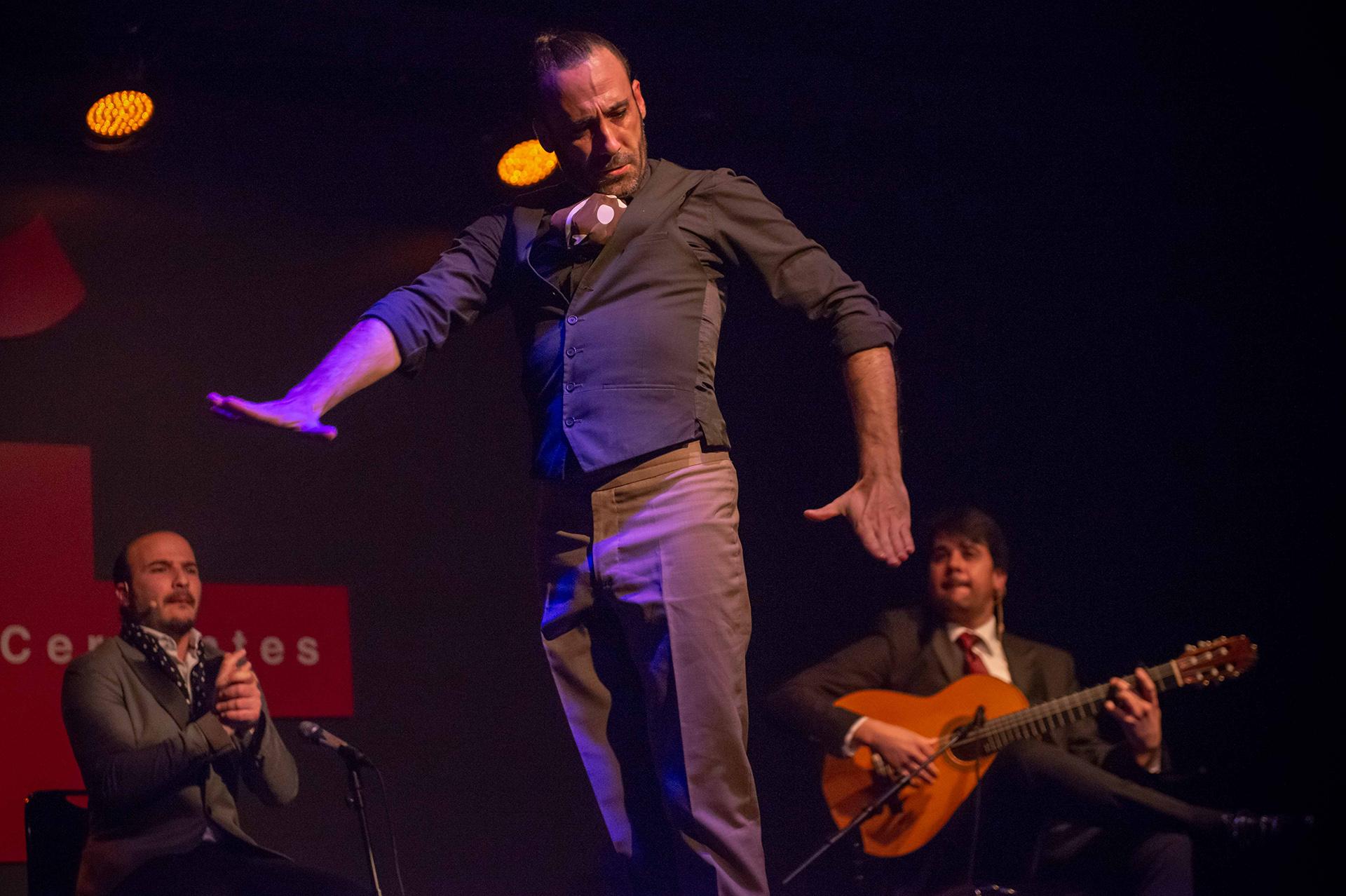 Flamenco dancer Jesus Ortega in the opening program of Instituto Cervantes' Chicago Flamenco Festival. (Photo by John Boehm)
Spain welcomed more than 82 million tourists last year, with nearly 3 million of them from the United States. But as a traveler passionate about the country and its arts, I can attest to the fact that some of the finest, most authentic (and least touristy) flamenco dance and music performances can be found on Chicago stages, whether courtesy of the city's exceptional resident company, the Ensemble Espanol Spanish Dance Theater, or the annual Chicago Flamenco Festival produced by the Instituto Cervantes.
This year's flamenco festival, which runs through March 14, kicked off last weekend with a bit of a twist, bringing a sampler of dance and music from Spain's Extremadura region (the western area of the country that borders Portugal), rather than the more usual Andalusian region of the south. The program featured stunning percussive dance work by the tall, intense, motor-legged Jesus Ortega, whose balletic arms and rapid-fire pirouettes were paired with the ferocious rhythms of his feet. He was accompanied by the excellent flamenco guitarist/singer Juan Manuel Moreno, percussionist Sergio Garcia (who incorporated chimes into his work), and singer Manuel Pajares. The interplay of the four men suggested both the most meticulous scoring and a certain amount of flawless improvisation.
Appearing this Friday and Saturday on the intimate Instituto Cervantes stage will be flamenco dancer-singer Elena Andujar, with guitarist Sebastian Carrasco and percussionist Antonia Andujar.
Instituto Cervantes is located at 31 E. Ohio St. For information about the many other programs in the festival, call (312) 335-1996 or visit www.chicago.cervantes.es.
Additional Dance Performances
Hubbard Street Dance Chicago, Dance Evolve 2017 Cloudline by Robyn Mineko Williams © Todd Rosenberg Photography 2017
And now for a brief rundown of some of the many upcoming dance events in and around Chicago during the next couple of weeks. (Not included is the English National Ballet's already completely sold out engagement of Akram Khan's "Giselle" at the Harris Theater for Music and Dance.)
Hubbard Street Dance Chicago and Cuba's Malpaso Dance Company will present world premieres by Malpaso's artistic director Osnel Delgado and Chicago-based choreographer Robyn Mineko Williams, as well as two additional works by each choreographer. Watch the companies' first collaboration Saturday and Sunday at the Auditorium Theatre (50 E. Ida B. Wells Drive). For more information, call (312) 341-2300 or visit www.AuditoriumTheatre.org.
New York-based Urban Bush Women will  perform "a radical re-imagining" of the company's multidisciplinary classic, "Hair & Other Stories," which explores many social issues through the lens of hair, primarily that of African-American women. Performances are Friday and Saturday at the Dance Center of Columbia College (1306 S. Michigan Ave.). For more information, visit Columbia's website.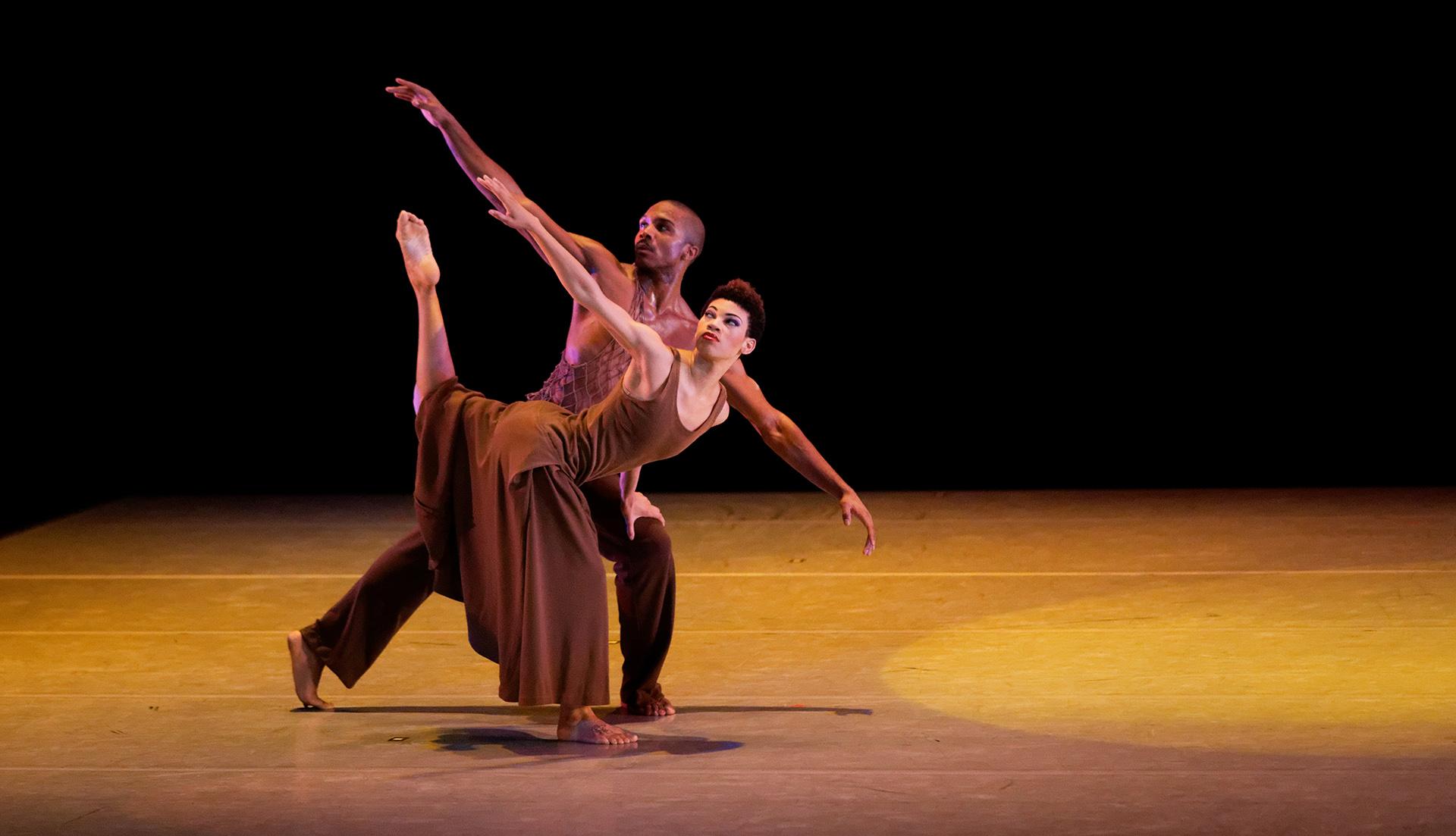 Alvin Ailey American Dance Theatre's annual Chicago visit will feature three different programs. One will feature Rennie Harris' acclaimed new work, "Lazarus," inspired by the life and legacy of Alvin Ailey. Another will feature Wayne McGregor's "Kairos," set to experimental composer Max Richter's reimagined version of Vivaldi's "The Four Seasons," and Jessica Lang's first work for the Ailey troupe, "EN" (Japanese for signifying a circle, destiny, fate or karma), set to music by Jakub Ciupinski. And a third, under the umbrella title "Timeless Ailey," will be comprised of excerpts from a wide range of Ailey's works including "Mary Lou's Mass," "The Lark Ascending," "Blues Suite," "Cry" and more. All performances will conclude with the beloved Ailey classic, "Revelations." Performances run March 6-10 at the Auditorium Theatre (50 E. Ida B. Wells Drive). For more information, call (312) 341-2300 or visit www.AuditoriumTheatre.org.
Northwestern Danceworks 2019 features works in various styles choreographed by Chicago-based Paige Fraser (a member of Visceral Dance Chicago) and J'Sun Howard, as well as by Northwestern University dance faculty members Jeff Hancock and Joel Valentin-Martinez. Danceworks runs through March 10 at the Josephine Louis Theater (20 Arts Circle Drive, Evanston). For more information, visit Northwestern's website.
Joffrey Winning Works' program will feature Joffrey Academy dancers performing world premiere works by the four choreographers who won its ninth annual competition that calls for new works by African, Latino, Asian, Arab and Native Americans artists. This year's winners are Tommie-Waheed Evans, Marissa Osato, Xiang Xu and Edgar Zendejas. Performances are March 9 and 10 at the Museum of Contemporary Art Chicago (220 E. Chicago Ave.) For more information, visit Joffrey's website.
Follow Hedy Weiss on Twitter: @HedyWeissCritic
---
A Contentious Family Dinner Morphs Into an Absurdist Black Comedy in 'Act(s) of God'
Six Girls Negotiate Difficult Road to Adulthood in 'Twilight Bowl'
In 'The Abuelas,' a Chilling Episode in Argentina's History Washes Up on Lake Shore Drive
---