Video: Illinois Attorney General Kwame Raoul and special prosecutor Joseph McMahon discuss the Jason Van Dyke case.
---
Illinois' top legal officer and the special prosecutor in charge of the Jason Van Dyke murder trial are challenging the legality of the prison sentence handed down to the former Chicago police officer in a move that could lead to Van Dyke being resentenced.
Illinois Attorney General Kwame Raoul and special prosecutor Joseph McMahon announced Monday they have petitioned the state Supreme Court for a writ of mandamus, claiming Van Dyke received an "improper sentence" in the 2014 shooting death of Laquan McDonald.
"Ultimately it was to make sure that the law was followed in all aspects," McMahon told media during a press conference Monday. "This step by the Attorney General and I this morning is our effort to make sure the law is applied equally to this case like it has been to every other case."
Van Dyke received an 81-month sentence after he was convicted last year of second-degree murder and 16 counts of aggravated battery with a firearm stemming from the fatal shooting.
Document: Read the full mandamus petition
But Cook County Judge Vincent Gaughan imposed a sentence only on the second-degree murder charge – a Class 1 felony with a shorter sentencing range than the Class X aggravated battery counts. McMahon had argued Van Dyke should have instead been sentenced on the aggravated battery counts.
"Because the General Assembly assigned a higher maximum sentence, higher minimum sentence, and greater felony classification to aggravated battery with a firearm, it is always a more serious offense than second degree murder," the petition states.
If the Supreme Court analyzes the case and agrees with McMahon – ruling Gaughan misapplied the law – it can issue the writ and compel the judge to resentence the ex-officer. Raoul said there is no timeline for the court to decide whether it will accept and consider the petition.
The state's petition – an exceedingly rare move – doesn't directly challenge the length of the existing sentence, but instead argues that Gaughan's decision is inconsistent with state law.
"While there are many who have opined on the appropriateness of the length of sentence in this matter, I recognize that a trial judge's discretion in sentencing is to be given great deference," Raoul said.
"However, it is in the interest of justice that we do all in our power to make sure that such exercise of discretion be applied consistent with the mandates of law no matter who the defendant and no matter who the victim in a particular case."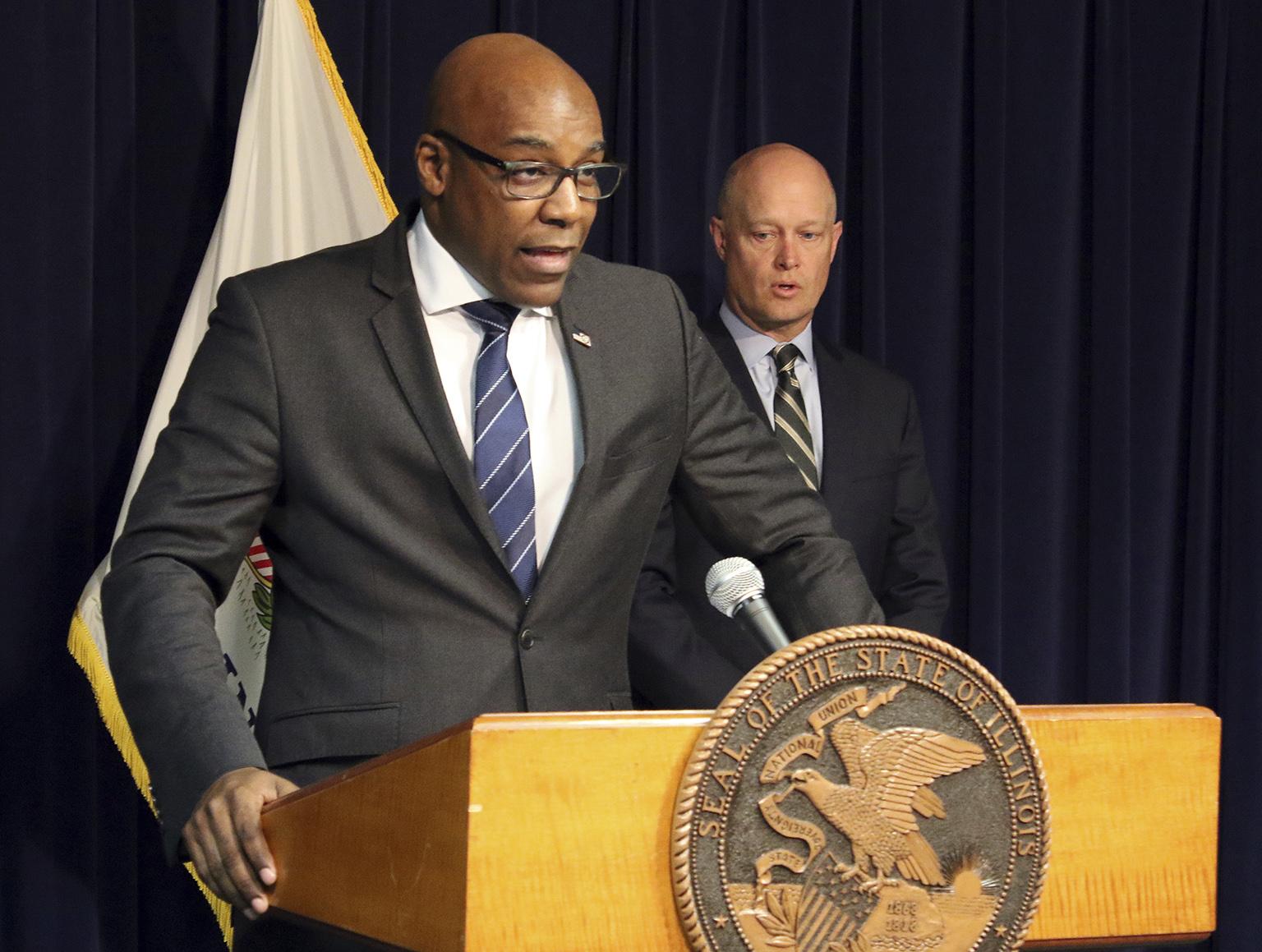 Attorney General Kwame Raoul, left, and Kane County State's Attorney Joseph McMahon speak during a news conference Monday, Feb. 11, 2019. (AP Photo / Noreen Nasir)
Van Dyke was charged with McDonald's murder in 2015, more than a year after the shooting and only hours after the city released graphic police dashcam footage of the fatal encounter. The trial proceedings earned widespread national attention, as Van Dyke became the first Chicago police officer to be convicted for an on-duty shooting in 50 years.
Responding to the mandamus announcement, Jennifer Blagg, one of Van Dyke's appellate lawyers, said she and her team now have no choice but to file an appeal of the officer's convictions.
"Jason and his family very much wanted to put this behind them," she said. "He has expressed that he doesn't want a new trial, he doesn't want to go through that again and he's not happy with being convicted obviously, but the toll this has taken on his family is unbelievable … He had no desire to prolong this and make his family suffer any further."
Blagg said notice of that appeal was filed last week when they learned what McMahon and Raoul intended to do.
Despite the Class X designation, Gaughan concluded that in this case, the battery counts aren't more serious than the second-degree murder charge. He essentially boiled the question down to this: Is it more serious that Laquan McDonald was shot with a firearm or is it more serious that he was murdered with a firearm?
"Common sense comes to an easy answer on that in this specific case," Gaughan said at Van Dyke's sentencing.
Because he was sentenced to a Class 1 felony, Van Dyke is expected to serve about half of his current term, or about three years. If he is resentenced on the aggravated battery charges, he could face possible 6-year consecutive sentences on each of the 16 counts. He would have to serve 85 percent of any sentence given on a Class X felony.
Former Chicago police Officer Jason Van Dyke enters the courtroom for his sentencing hearing at the Leighton Criminal Court Building on Friday, Jan. 18, 2019. (Antonio Perez / Chicago Tribune / Pool)
McMahon and Raoul are also asking the high court to decide if Gaughan was incorrect in applying the "one act, one crime doctrine," which the judge cited in merging the 16 individual aggravated batteries into a single act at sentencing. They claim the judge should instead impose sentences on all 16 counts and then determine if one or more of those should be served consecutively.
But a massive sentence increase in this case appears unlikely. Gaughan made clear in his initial sentence he is not looking to put Van Dyke away for life and McMahon recommended an 18- to 20-year term for Van Dyke.
Various activist groups, legal experts and at least one member of McDonald's family urged the sides to follow through with that challenge, claiming in an open letter last month that Van Dyke was the recipient of an "illegal" sentence. McMahon said he has spoken with McDonald's family and believes they are supportive of the move, though he mentioned the teen's mother Tina Hunter "would like the process to be over."
Van Dyke's lead trial attorney Dan Herbert previously condemned Raoul's office for attempting to involve itself in the case, saying the attorney general was "exploit(ing) the tragic death of Laquan McDonald for his own political gain." Blagg reiterated that point Monday, saying this move would turn the Supreme Court "from a deliberative body into a political battleground."
But Raoul on Monday dismissed those claims as "nonsense," saying he and McMahon are only focused on the law.
"It's in the interest of justice that the law be followed," he said. "That is not a political action, that is an action of law."
Contact Matt Masterson: @ByMattMasterson | [email protected] | (773) 509-5431
---
Related stories:
Van Dyke Prosecutor Joseph McMahon, Attorney General Discussing Sentence Challenge
Attorney General, Special Prosecutors Reviewing Van Dyke Sentence
Jason Van Dyke Sentenced to 7 Years in Prison
Jason Van Dyke Found Guilty of Second-Degree Murder
Van Dyke Defense Opens with Testimony of Laquan McDonald's Past
A Timeline of the Laquan McDonald Shooting
---