Former Chicago police Officer Jason Van Dyke enters the courtroom for his sentencing hearing at the Leighton Criminal Court Building on Friday, Jan. 18, 2019. (Antonio Perez / Chicago Tribune / Pool)
From the moment Jason Van Dyke was convicted last fall, there seemed to be confusion over his possible prison sentence.
A jury in October found the former Chicago police officer guilty of second-degree murder and 16 counts of aggravated battery with a firearm in the fatal shooting of 17-year-old Laquan McDonald.
Last week, Cook County Judge Vincent Gaughan handed down an 81-month prison sentence, more than four years after Van Dyke fired 16 shots at McDonald in the middle of South Pulaski Road.
But was a different sentence required? The judge sentenced Van Dyke only on second-degree murder rather than the aggravated battery counts, which some believe represented the more serious charges.
Illinois Attorney General Kwame Raoul's office says it's now taking a look at Gaughan's decision to see if it fits with state sentencing requirements.
"We are reviewing this matter," attorney general spokeswoman Maura Possley said in a statement Wednesday. "We are going to do a careful review of the record and the law and make a determination based on our review."
The attorney general and special prosecutors in the case can petition the Illinois Supreme Court to review Gaughan's sentencing decision and issue a "writ of mandamus" – essentially an order from the high court commanding the judge to act in accordance with state sentencing guidelines.
If the state Supreme Court were to analyze the case and agree that Van Dyke should have been sentenced on aggravated battery charges rather than the second-degree murder conviction, ruling Gaughan misapplied the law, it could issue the writ compelling him to resentence the ex-officer.
A spokesman for special prosecutor Joseph McMahon said this week they too are reviewing the matter.
"We are currently reviewing the trial court's ruling in conjunction with the relevant case law and statutory authority that bears on the sentence imposed on Jan. 18," McMahon said in a statement Thursday. "The unique facts of this case require consideration of the complex principles of Illinois law."
These types of petitions are exceedingly rare and difficult to obtain. But they're not unheard of. In 2016, the state Supreme Court granted a writ ordering Gaughan to resentence a man convicted of aggravated criminal sexual assault, concluding the judge should have imposed an additional 15-year penalty enhancement.
If a writ is sought in this case, the petition would most likely have to come from McMahon's office, according to David Erickson, a former appellate court judge and current professor at IIT Chicago-Kent College of Law. The Illinois attorney general was not a party to Van Dyke's prosecution. In fact, former Attorney General Lisa Madigan refused to take on the case years ago when Gaughan initially sought a special prosecutor in the case.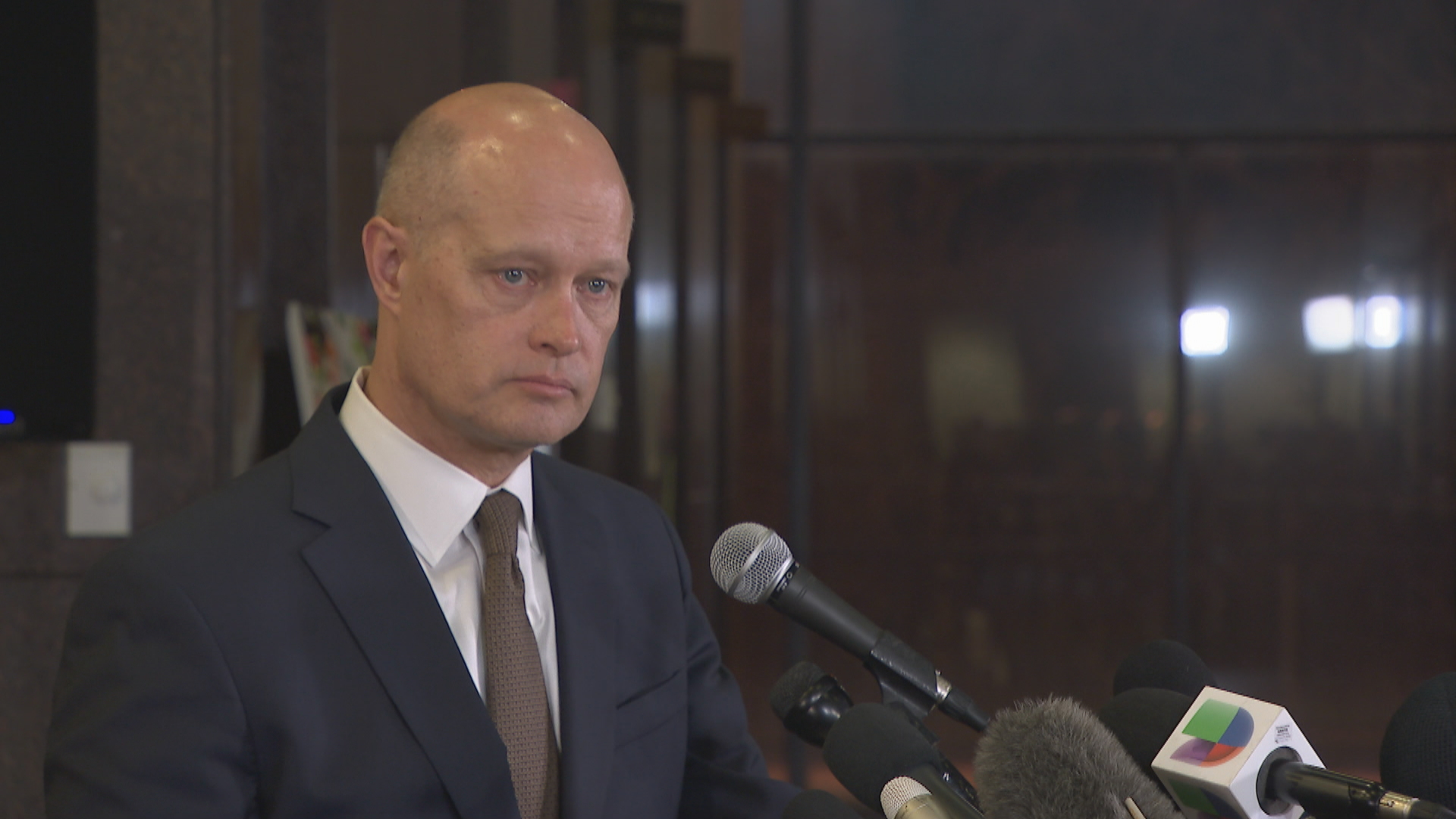 Special prosecutor Joseph McMahon addresses the media shortly after Jason Van Dyke's sentence was announced Friday, Jan. 18, 2019.
"It is disappointing that yet another politician has chosen to exploit the tragic death of Laquan McDonald for his own political gain," Van Dyke's lead defense attorney Dan Herbert said in a statement Thursday regarding Raoul.
"The judge in this case carefully considered the arguments made and issued the correct ruling under the law," he said. "What is more, the judge in this case had the benefit of reading thousands of pages of defense motions which contained substantial mitigation which was not part of the trial record but properly factored into the sentence in this case."
Gaughan explained his logic in sentencing Van Dyke on second-degree murder over the aggravated battery charges at the end of a marathon eight-hour hearing last Friday.
Illinois' "one-act, one-crime" doctrine holds that a defendant cannot be sentenced on consecutive counts stemming from a single physical act. Gaughan determined that because all 16 shots occurred within only a few seconds, he would treat them all as one act and issue a sentence on only one charge or the other.
More: A Timeline of the Laquan McDonald Shooting
The judge also had to decide which offense was more serious and then hand down a sentence based on that determination.
In order to convict someone of second-degree murder, a jury must initially determine that first-degree murder occurred, but with mitigating circumstances. In this case, jurors determined Van Dyke feared for his life when he fired upon McDonald, but they determined that fear was unreasonable.
In oral and written arguments, McMahon cited the 2004 Illinois Supreme Court case of People v. Lee, which holds that in cases of multiple convictions stemming from a single act, only the "offense with the highest sentence may stand."
More specifically, the state Supreme Court determined through its decision that aggravated battery with a firearm is a more serious offense than second-degree murder because of their respective sentencing ranges. The battery charges are Class X felonies carrying a six- to 30-year prison range. Second-degree murder is a Class 1 felony with a four- to 20-year range.
Darren O'Brien, a veteran attorney hired to handle Van Dyke's planned appeal, disagreed with that reasoning. He cited more recent state Supreme Court cases in arguing that prosecutors cannot charge out a case in a way that "eliminates" second-degree murder by rolling it into other charges. Instead, he argued, Lee should not apply here and the charges should merge the opposite way, with second-degree murder as the more serious offense.
"The common sense answer to that would be the lesser harm merges into the greater harm," he said. "The woundings merge into the death."
In explaining his ruling, Gaughan also mentioned the Lee case. But he did so by citing Justice Robert Thomas, who penned a dissent in Lee outlining his belief that the relative seriousness of two crimes can't be based solely on "the upper and lower limits of their respective sentencing classifications." Rather, that determination should be made on a case-by-case basis.
Despite the fact that aggravated battery is classified as a more serious Class X felony, Gaughan concluded that in this case, those batteries aren't more serious than the second-degree murder. Essentially, he boiled the question down to this: Is it more serious that Laquan McDonald was shot with a firearm or is it more serious that he was murdered with a firearm?
"Common sense comes to an easy answer on that in this specific case," Gaughan said at Van Dyke's sentencing.
Van Dyke was charged with McDonald's murder in 2015, more than a year after the shooting and only hours after the city released graphic dashcam footage of the fatal encounter. The trial proceedings earned widespread national attention, as Van Dyke became the first Chicago police officer to be convicted for an on-duty shooting in 50 years.
Immediately after sentencing last week, McMahon said he was "satisfied" with Gaughan's decision and made no mention of any possible further action.
"What Judge Gaughan did, and I think he made that quite clear, is that he looked at the particular facts of this case, the conduct of Jason Van Dyke on that night and he imposed a sentence that he thought was appropriate based on that conduct and the other statutory and legal factors that he had to consider," McMahon said.
"Was justice served?" he added. "In this case, I believe the system worked."
Contact Matt Masterson: @ByMattMasterson | [email protected] | (773) 509-5431
---
Related stories:
Jason Van Dyke Sentenced to 7 Years in Prison
Jason Van Dyke Found Guilty of Second-Degree Murder
Van Dyke Defense Presents Fatal Shooting from Officer's Perspective
Van Dyke Defense Opens with Testimony of Laquan McDonald's Past
A Timeline of the Laquan McDonald Shooting
---