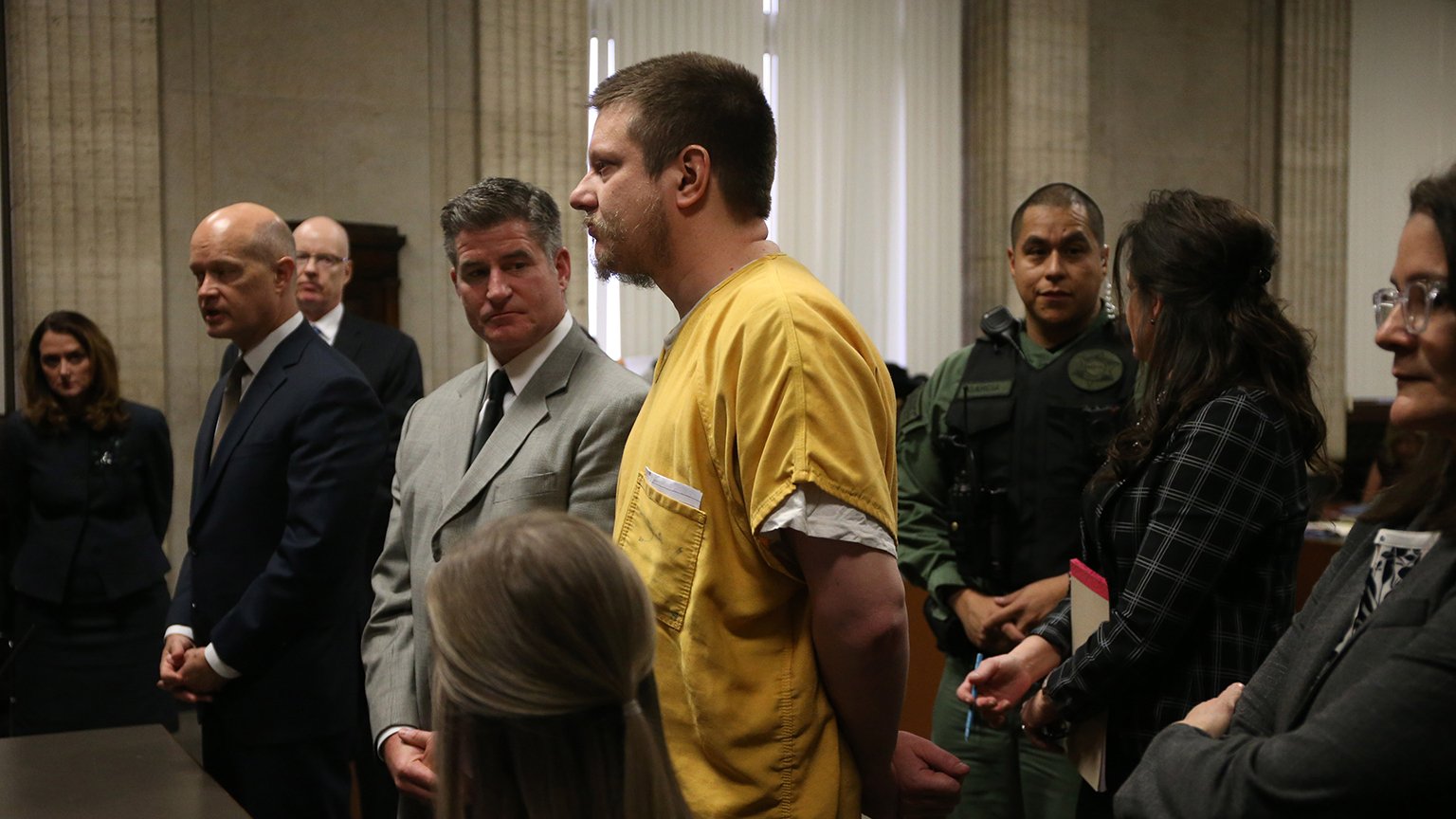 Former Chicago police Officer Jason Van Dyke and his attorney Daniel Herbert, left, attend Van Dyke's sentencing hearing on Friday, Jan. 18, 2019. (Antonio Perez / Chicago Tribune / Pool)
Former Chicago police Officer Jason Van Dyke is currently slated to serve about half of his nearly seven-year prison sentence for the 2014 murder of black teen Laquan McDonald. But an upcoming decision from Illinois' high court could directly impact that timeline.
The Illinois Supreme Court will likely issue a ruling next week on a petition filed by special prosecutors and state Attorney General Kwame Raoul that seeks to challenge Van Dyke's prison sentence.
Supreme Court spokesman Chris Bonjean on Thursday confirmed the matter is expected to be taken up during the court's March term, which runs from next Monday through Thursday.
The court had previously given no timeline by which it might rule on the petition.
Van Dyke, 40, is currently scheduled for release on Feb. 8, 2022 under the terms of his sentence, according to the Federal Bureau of Prisons, meaning he would serve about 40 months in prison. That's about half his sentence.
He remains incarcerated at the federal correctional institution in Danbury, Connecticut, where he was attacked and beaten by other inmates last month.
McMahon and Raoul claim Van Dyke received an "improper sentence" following his convictions on second-degree murder and 16 counts of aggravated battery with a firearm. In response, they filed a petition for a writ of mandamus – an order from the Supreme Court compelling the trial judge to re-sentence Van Dyke.
In January, Cook County Judge Vincent Gaughan ordered an 81-month sentence solely on Van Dyke's murder conviction, ruling that to be a more serious offense than aggravated battery. But because aggravated battery carries a wider and potentially longer sentence than second-degree murder, McMahon and Raoul contend that's where the judge should've entered his sentence.
"Because the General Assembly assigned a higher maximum sentence, higher minimum sentence, and greater felony classification to aggravated battery with a firearm, it is always a more serious offense than second degree murder," their petition states.
Van Dyke shot 17-year-old McDonald 16 times after responding to a call for assistance on Oct. 20, 2014.
The aggravated battery charges are Class X felonies carrying a range of six to 30 years in prison. Second-degree murder is a Class 1 felony with a four- to 20-year range.
The mandamus petition came just over two weeks after Van Dyke was sentenced. If the Supreme Court agrees with McMahon and Raoul – ruling Gaughan misapplied the law in this case – it can issue the writ and compel the judge to resentence the ex-officer.
Van Dyke's attorneys have countered that argument, saying Gaughan's ruling complies with state law and should not be opened to a legal challenge. They believe prosecutors have already forfeited their right to issue such a challenge, which they say would open a "Pandora's box" of issues tied to the former officer's impending appeal
"In sum, this case does not present this Court with a clearcut violation of a statute or law," his attorneys state in their response memo.
Contact Matt Masterson: @ByMattMasterson | [email protected] | (773) 509-5431
---
Related stories:
Van Dyke's Attorneys Claim Sentence Challenge Would Open 'Pandora's Box'
Source: Jason Van Dyke Beaten by Fellow Inmates in Prison
Attorney General, Special Prosecutors Reviewing Van Dyke Sentence
Jason Van Dyke Sentenced to 7 Years in Prison
Jason Van Dyke Found Guilty of Second-Degree Murder
Van Dyke Defense Opens with Testimony of Laquan McDonald's Past
---