Former Chicago police Officer Jason Van Dyke and his attorney Daniel Herbert, right, listen as the judge describes how he'll be sentenced on Friday, Jan. 18, 2019. (Antonio Perez / Chicago Tribune / Pool)
Granting prosecutors the ability to challenge the prison sentence of Jason Van Dyke would open a "Pandora's box" of additional legal issues tied to his impending appeal, attorneys for the former Chicago police officer claim.
Van Dyke's appellate attorneys Jennifer Blagg and Darren O'Brien believe the 81-month sentence Cook County Judge Vincent Gaughan handed down to their client last month conforms with Illinois sentencing statutes and should not be made available for review. But if it is, they say Van Dyke may be forced to push for a new trial.
Illinois Attorney General Kwame Raoul and special prosecutor Joseph McMahon have petitioned the state Supreme Court for a mandamus order that would compel Gaughan to resentence Van Dyke following his conviction in the 2014 shooting death of black teen Laquan McDonald.
The former officer last year was convicted of second-degree murder and 16 counts of aggravated battery with a firearm. But Gaughan only entered a sentence on the murder charge, while McMahon and Raoul believe the judge should have instead sentenced Van Dyke on the aggravated battery charges.
"Judge Gaughan's ruling looked to the legislature's intent in carving out a special sentence for those convicted of second degree murder … and relied on that intent in sentencing (Van Dyke) to second degree murder," Blagg and O'Brien wrote this week a 15-page objection to the state's petition. "As such, his ruling complied with the law."
Blagg told reporters last week Van Dyke has filed a notice of his intent to appeal those convictions – but he only did so in response to the mandamus request.
Van Dyke doesn't want to raise any issues that could result in a new trial or a new sentencing hearing, his attorneys state. But if mandamus is granted and he's suddenly facing a potential sentence increase, his mindset would likely change.
"As such, granting mandamus would greatly affect his appeal," Blagg and O'Brien state. "Indeed, granting mandamus would open a Pandora's box of additional legal issues for (Van Dyke) that would impact his appeal."
Van Dyke is expected to serve 50 percent of his current sentence, meaning he could be out of prison in about three years. He was transferred to a federal prison in Connecticut earlier this month, where he was then attacked and beaten by at least one other inmate.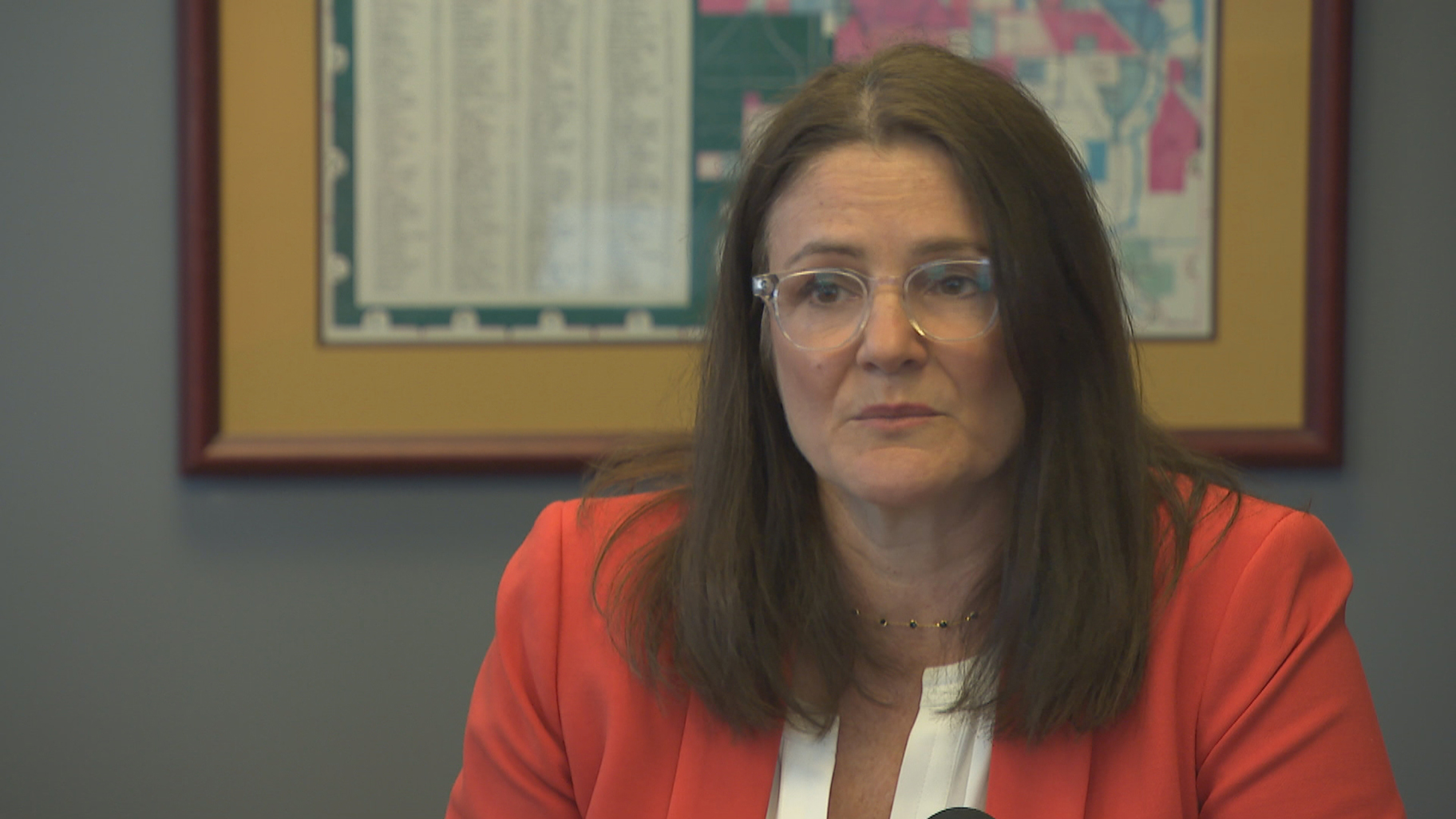 Attorney Jennifer Blagg says granting mandamus would open a "Pandora's box of additional legal issues." (Chicago Tonight)
The prosecutor's mandamus request is an exceedingly rare move, which essentially contends Gaughan misapplied the law when he sentenced Van Dyke.
The judge ruled that each of the 16 shots Van Dyke fired at McDonald constitute a single act. Thus, he can only enter a sentence on the murder or the aggravated battery charges based on which is the "more serious" offense.
Because aggravated battery carries a wider and potentially longer sentence than second-degree murder, McMahon and Raoul contend that's where Gaughan should have entered the sentence.
But Blagg and O'Brien say that argument doesn't follow common sense.
"No one would contest that death is a more serious 'injury' than a wounding," they state in their response. "Furthermore, the law is clear that aggravated battery is a lesser included offense of first degree murder. As such, the aggravated battery counts merged in this case the moment the jurors found (Van Dyke) had committed first degree murder."
Indeed, for a jury to convict on second-degree murder, they must first determine a first-degree murder was committed, but with mitigating circumstances. In this case, the jury believed Van Dyke feared for his life when he shot McDonald 16 times, however, they believe that fear was unreasonable.
Blagg and O'Brien argue aggravated battery is always a lesser included charge when included with first-degree murder, and should be treated similarly in this case.
"The fact that jurors later determined a mitigating factor existed to warrant a conviction of second degree murder should not change the analysis in such a way to harm (Van Dyke) and nullify the jury's finding of the mitigating factor," they state.
The Supreme Court has no timeline to accept or reject the mandamus request.
Contact Matt Masterson: @ByMattMasterson | [email protected] | (773) 509-5431
---
Related stories:
Source: Jason Van Dyke Beaten by Fellow Inmates in Prison
Attorney General, Special Prosecutors Reviewing Van Dyke Sentence
Jason Van Dyke Sentenced to 7 Years in Prison
Jason Van Dyke Found Guilty of Second-Degree Murder
Van Dyke Defense Opens with Testimony of Laquan McDonald's Past
A Timeline of the Laquan McDonald Shooting
---