The Democratic field in the race to take on Bruce Rauner for governor is getting crowded. Thursday, a big name with even bigger pockets officially threw his hat into the ring, after months of speculation.
J.B. Pritzker is said to be worth $3 to $4 billion, and he wants to take on a governor that's worth nearly a billion. But Pritzker says the race is not about money.
Flanked by his wife and two children, as well as African-American, Hispanic and union supporters, J.B. Pritzker formally declared his candidacy for governor at an old-fashioned rally and press conference at a gymnasium in the Greater Grand Crossing neighborhood of Chicago.
Pritzker says he's in this race because he believes Gov. Rauner has been a failure, and that Rauner and Trump threaten the values he holds as a progressive. 
Pritzker is an heir to the family that started the Hyatt hotel chain, although he made clear he's had nothing to do with the family business since he was a kid working for one of his father's motels.
He's built his own fortune as an entrepreneur and investor. He also spearheaded 1871 – the Chicago tech company incubator housed at the Merchandise Mart. He has long been active in Democratic Party politics and most recently tried to help elect Hillary Clinton president.
Today, he says his move from behind-the-scenes player to front and center has everything to do with the current direction of the state.
"Gov. Bruce Rauner is a failure," he said to cheers from the audience. "He promised a turnaround, and all we got was the run around. He said he would stand up to the special interests, and instead he's become his own special interest.
"Gov. Rauner said he'd address the budget deficit, but instead he's held the budget hostage to his right wing agenda," Pritzker said. "And meanwhile, millions of people suffered a loss of health care and human services. You want to know why Rauner won't introduce a balanced budget? Because he doesn't want to tell you how many people he's gonna hurt."
Pritzker has been exploring a run for governor for several months, and Republicans have operated as if he's the presumptive front-runner. He is worth $3-4 billion so can go toe-to-toe with Rauner's money.
Immediately today, Republicans released a web ad tying Pritzker to House Speaker Mike Madigan and purporting to show a private conversation in which Pritzker advocated hiking the income tax back to 5 percent from the current 3.75 percent.
"Let's remind everyone the tax used to be 5 percent, he let it lapse to 3.75 percent," Pritzker says in an audio recording that appears in the ad. "That's what started a lot of the problems in our state. So if you just put it back, that's $5 billion."
---
That tax hike expired in 2014, although a proposed budget negotiated in part with Republicans and Rauner staff members would have hiked the income tax to 4.99 percent. It's a point that wasn't lost on Pritzker, who says he isn't shying away from more revenue.
"All the social services have been cut back because Rauner won't introduce a balanced budget," Pritzker said Thursday. "The proposal his Republican Party put forward would have raised taxes to 4.99 percent. He wants to raise it on everyone.
"I think we should start with the millionaires and billionaires. Raise it on them first. We're not gonna talk about raising taxes on middle-class families until we're willing to take care of that problem."
Illinois hasn't had a budget in two years, and there's a real likelihood the political intransigence could lead to four years without a full budget, which could leave a bill backlog of $20-25 billion – a staggering amount.
Pritzker has historically had a close political relationship with Mayor Rahm Emanuel, although Pritzker said he would be an independent candidate.
Some Emanuel-allied aldermen were at Pritzker's rally Thursday and said that Pritzker was their guy for the job.
"I was a kid from Cabrini Green when he embraced me, we've been friends ever since," said Ald. Walter Burnett (27th Ward). "I know where his heart is, I know he cares about the people, I know he cares about this party. I think he'd be a great candidate."
Pritzker joins a crowded field that includes Chicago Ald. Ameya Pawar; businessman, philanthropist and Kennedy family scion Chris Kennedy; Evanston state Sen. Daniel Biss, downstate school superintendent Bob Daiber, and suburban resident Alex Paterakis.
The primary is 11 months away. Pritzker says he will be in downstate Murphysboro to launch his campaign there later in the day.
Follow Paris Schutz on Twitter: @paschutz
---
Related stories: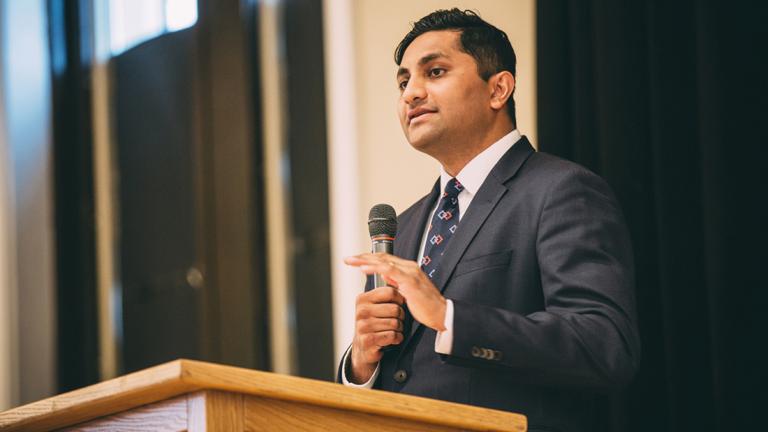 Ameya Pawar: 'More Money Doesn't Always Mean You Win'
April 4: The Chicago alderman joins host Eddie Arruza to discuss his run for Illinois governor.
---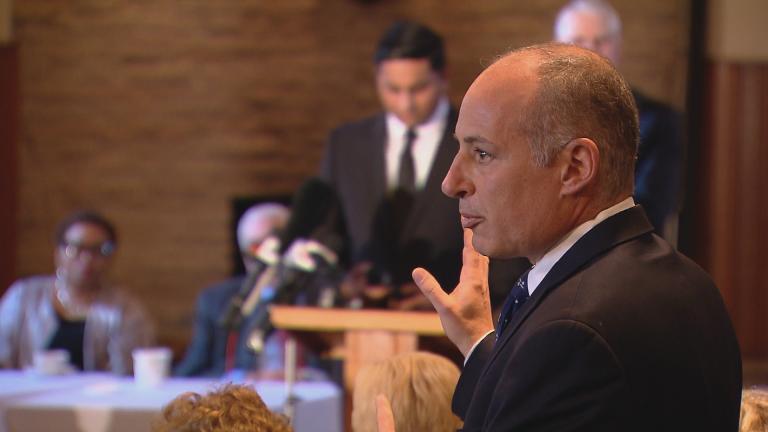 Cook County Democrats Consider Who They Want for Governor
March 27: The primary for governor is a year away. But already, it's quite a contest. Limits on campaign contributions have been lifted. And this morning, six potential candidates made their pitches to Cook County Democratic committeemen.
---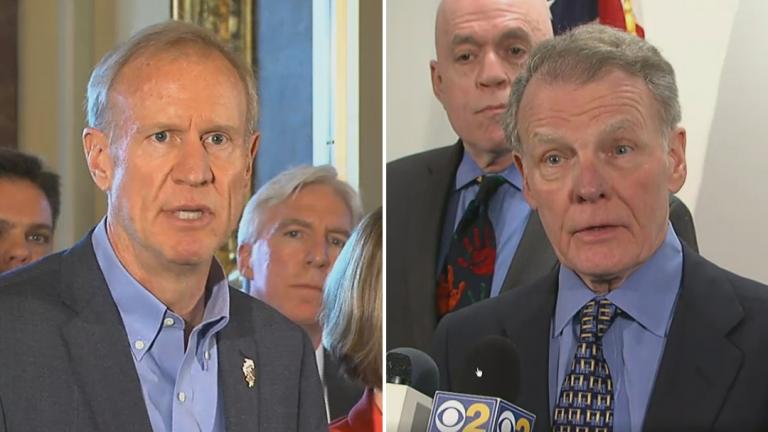 Poll: Voters Not Happy With Rauner, Madigan or Other State Leaders
March 15: Gov. Bruce Rauner and the Republican Party have spent months and millions trying to frame Illinois House Speaker Michael Madigan as a master puppeteer, but Rauner appears to be dragging himself down at the same time.
---