There's a state budget for the first time in more than two years. It includes significant cuts and a higher income tax. So, now what? Will the state be able to avoid a credit rating downgrade into junk bond status? And does the budget help get Chicago's fiscal house in order?
While Illinois residents should expect to see a smaller paycheck in short order, Illinois Comptroller Susana Mendoza says it will takes months for the increased revenue to truly buttress state coffers.
"The important but difficult job that I will have moving forward is to try to temper people's expectations as to what this budget really means," Mendoza said Monday. "The first and most important thing that this budget does is to stop the unfettered deficit spending that was happening the past two years. But what is does is it stops the hemorrhaging. It's almost like putting a tourniquet on an open wound. It stops the hemorrhaging."
Mendoza says that she's prioritizing getting money to public universities that haven't received state funding since January, but that it will take time to pay down the $15 billion backlog of unpaid bills Illinois racked up during the impasse.
Though some estimates say that—in part by leveraging matching money from the federal government—Illinois could cut the backlog by $8 billion, she says more realistically, it'll be about half that.
The spending plan calls for Illinois to borrow money at a lower interest rate than the 8 percent to 12 percent it's currently required to pay some of the vendors owed money, akin to refinancing a home.
Mendoza, and Treasurer Michael Frerichs—both Democrats—say the governor should move on that quickly.
"I call upon the governor to take specific steps to prevent Illinois' credit rating from being downgraded to junk status," Frerichs said. "Avoiding junk status can only be done if the governor reassures the credit rating agencies that junk status is unnecessary and unwarranted. We know that because at least one rating agency, Moody's, publicly has said that passing a budget, especially in the acrimonious and divisive way that it occurred is simply not enough."
On July 5, Moody's signaled that the budget "entails substantial implementation risk" and that given the governor's opposition to it may "signal shortcomings in its effectiveness once implemented."
Frerichs also says Rauner should travel to New York to convince the ratings agencies that he's serious about avoiding the "junk" rating and that he will implement the budget.
In response, Rauner spokeswoman Eleni Demertzis issued a statement saying only: "The low rating from the rating agencies is reflective of the fact that Madigan's 32 percent permanent tax increase will not solve the problems created by decades of unbalanced budgets, unfunded pension liabilities, borrowing and high debt. Even with the tax increase, this budget remains $2 billion out of balance for fiscal year 2018. The best thing we can do is to work collaboratively to pass truly balanced budgets that pay down our debt, reform our pension system, and make the changes necessary to drive economic growth in our state. The governor will continue to be a champion for the critical changes needed to get Illinois on a path to fiscal solvency."
Meanwhile, the Rauner administration is undergoing a major shakeup as the governor suddenly replaced Chief of Staff Rich Goldberg with Kristina Rasmussen, effective immediately on July 10.
Rasmussen, 34, had been serving as head of Illinois Policy Institute, a free-market think-tank and is known as a libertarian ideologue. With organizations including the Civic Federation and the Civic Committee of the Commericial Club of Chicago say higher taxes were required to bring Illinois out of its fiscal funk, the IPI maintains its possible through moving low-income adults off of state-backed Medicaid health care coverage, eliminating giving municipal governments a share of the income tax and cutting state employee pension benefits.
The change-up signals the direction Rauner is taking as he gears up for his 2018 re-election campaign, and is belies hopes of compromise in future negotiations.
For the city of Chicago, the budget plan means hundreds of millions of savings in the next few years because the reforms to the city's pension funds can now go forward—meaning revenue from a higher water/sewer tax and a higher 911 tax will help stabilize the funds and keep them from going insolvent.
It also saves the city money on the front end by changing the contributions that employees put into their fund from 8.5 percent to 11.5 percent, and lengthens the amount of years the city has to fully fill these funds.
"One of the big things that was hanging over the city was our fiscal picture and the municipal finances. Those are firmer today because of what happened in Springfield," Mayor Rahm Emanuel said. "All four pensions now are completely on the road to solvency as opposed to insolvency."
But it's not a cure-all—in about 4-5 years, the required city contribution to these funds is going to skyrocket by about a billion, and then continue to go up, meaning city leaders will have to again come together to find a solution.
Essentially, as the Civic Federation's Laurence Msall puts it, this buys the city time.
"It's not a panacea. Those funds are still going to struggle. But they have more money coming into them than otherwise. It won't be enough unto itself if the state doesn't stabilize its own pension crisis," Msall said.
Follow us on Twitter: @AmandaVinicky | @paschutz
---
Related stories: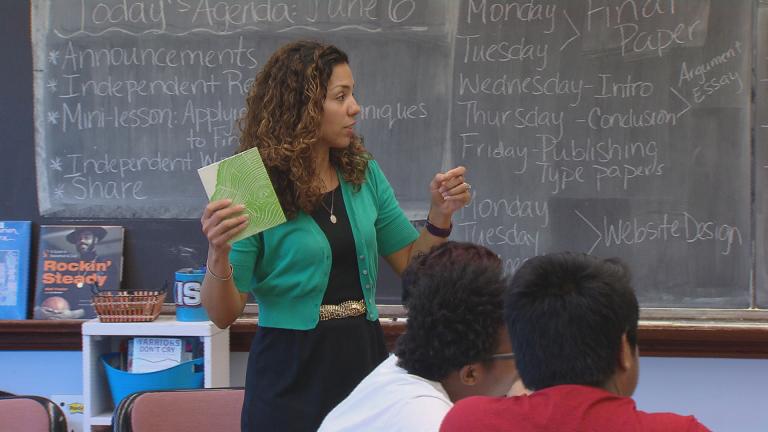 The Battle Over School Funding Bill
July 10: After 736 days, Illinois finally has a budget. But it's not all good news: At the moment, funding is locked up for all of the state's public schools. Will schools open on time?
---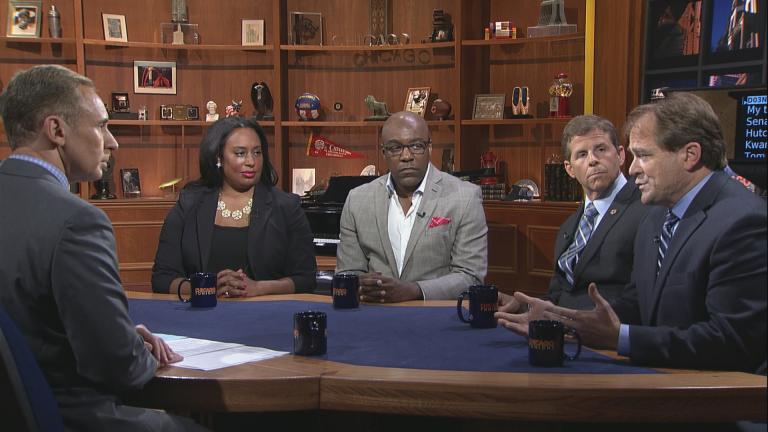 Illinois Senators Weigh in on New Budget
July 6: Illinois Senators discuss the newly passed budget and explain why they voted the way they did.
---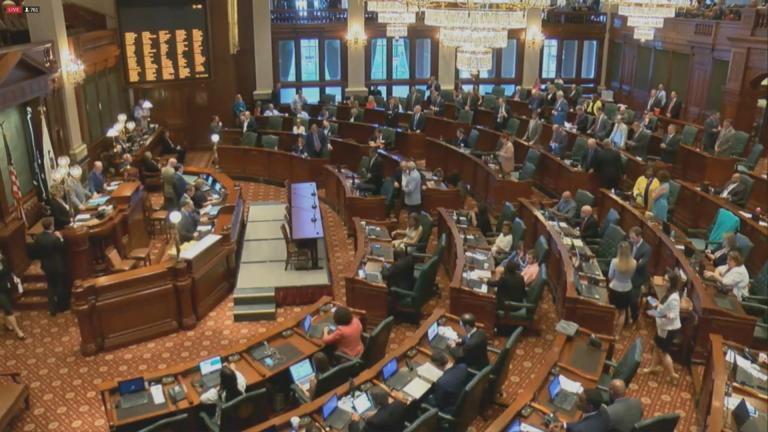 House Overrides Rauner's Vetoes to Pass a Budget
July 6: At long last, Illinois has a budget – its first in more than two years. And residents will be sending more of their paychecks to state government to help pay for it.
---