E. Faye Butler as Rose in "Gypsy" from Porchlight Music Theatre. (Photo by Michael Courier)
Last winter, near the end of "Lettin' the Good Times Roll" – a high-spirited cabaret show at Victory Gardens Theater created by E. Faye Butler and Felicia Fields (two of Chicago's "grande dames" of musical theater) – Butler brought down the house with her performance of "Rose's Turn," the knockout final number from "Gypsy," that Broadway classic with a score by Jule Styne and Stephen Sondheim and a book by Arthur Laurents.
Whether Butler saw it simply as a chance to rip into a showstopper from a musical she had never done – or it was designed to serve as one of the more brilliant unofficial auditions by an actress who long dreamed of playing Mama Rose – I do not know. But her hurricane of a performance in the role she is now playing in the Porchlight Music Theatre revival of "Gypsy" – a production remarkable in countless ways – suggests that someone saw her (most likely Michael Weber, Porchlight's artist director), and got the message. For with her force-of-nature personality, powerhouse voice and galvanic emotional range, Butler clearly was born to play Mama Rose.
From left: Daryn Whitney Harrell, Aalon Smith and E. Faye Butler in "Gypsy." (Photo by Michael Courier)
And yes, it should be mentioned that Butler and her daughters in the show happen to be African-American, and part of a wholly diverse cast. But I note that only because the leading roles are based on the true story of Rose, the roaring lioness of a vaudeville-era stage mother who craves the spotlight, and pushes her two daughters (one of whom will become the burlesque star Gypsy Rose Lee) to live out her dreams of stardom. And Mama Rose has traditionally been played by white actresses, from Ethel Merman, to Angela Lansbury, Tyne Daly, Bernadette Peters and Patti LuPone. Of course this is ultimately a universal story – the chronicle of a family led by a single, financially challenged, thrice-divorced mother who wreaks havoc on the lives of her children, on the man who loves her, and, ultimately, on herself.
The brilliance that marks Weber's production is evident from the moment the rousing overture begins. The brassy six-piece band (which spends most of the show perched in a corner of the theater's balcony), is at center stage to start, as a shy, wide-eyed young girl (the haunting Jillian-Giselle) moves from musician to musician, clearly entranced by their performances. The girl is Baby Louise, the sensitive, loving daughter Rose overlooks as she focuses all her attention on Louise's sister, Baby June, who she is hell-bent on making a star of the vaudeville circuit in the 1920s. (Izzie Rose, an apple-cheeked, clarion-voiced dynamo of a tot, turns in a hilarious, cartwheel-turning performance that makes her the most convincing Baby June I've yet to see.)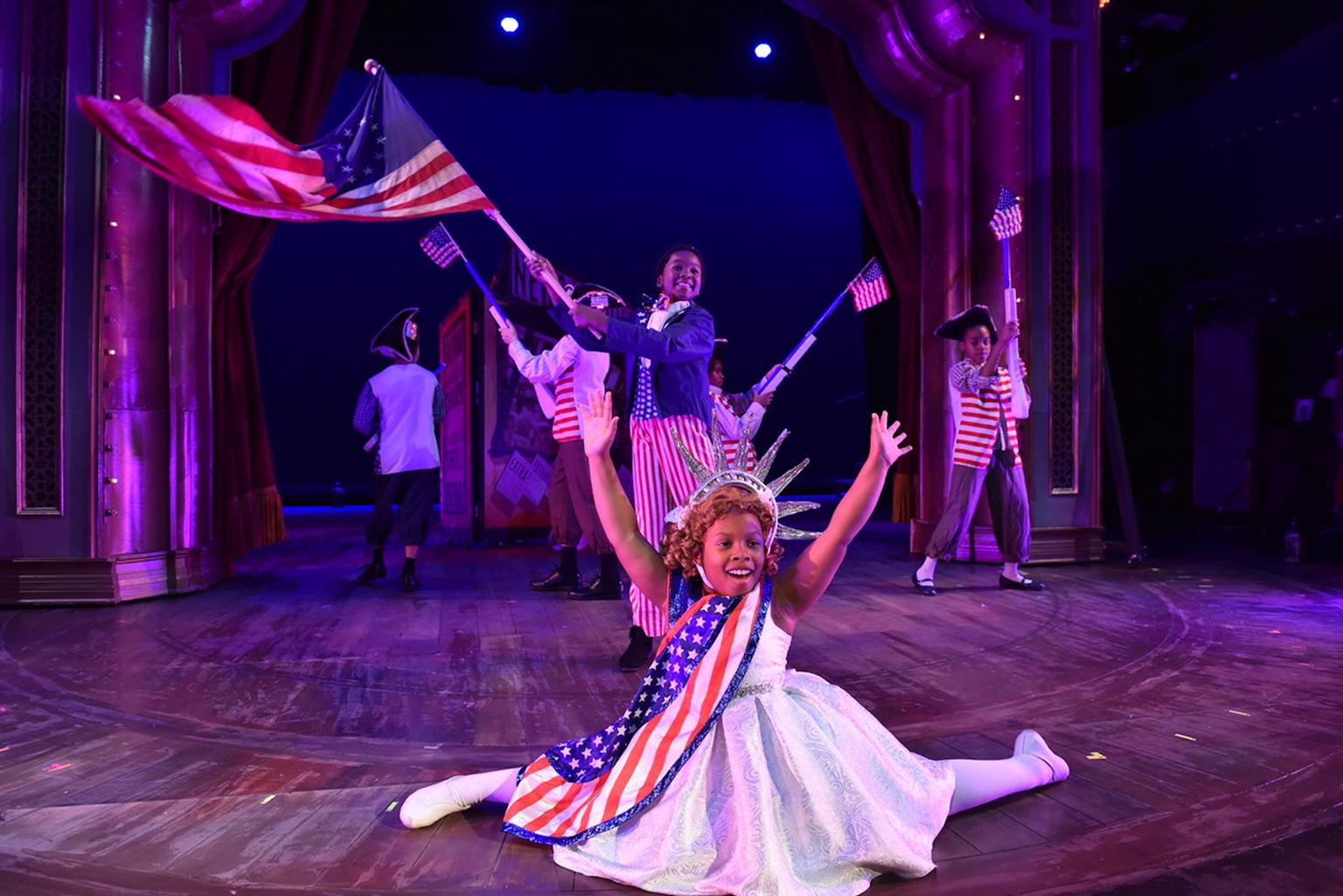 Izzie Rose, front, and Jillian-Giselle, background, in "Gypsy." (Photo by Michael Courier)
Enter Herbie (Jose Antonio Garcia, a superb actor with an exceptionally rich voice). A theater concessions salesman with show biz connections, he falls for Rose, wants to care for her daughters, harbors impossible dreams of settling down, but gets caught up in her obsessive drive for a different kind of success. (The chemistry between the two is ideally revealed in a couple of the show's loveliest songs: "Small World" and "You'll Never Get Away from Me.")
The "girls," despite Rose's desperate attempts to keep them "under age 10," evolve into young women, with June (Aalon Smith), ultimately breaking free of her mother. And it is only then that Rose turns her attention to Louise (Daryn Whitney Harrell, whose exquisitely nuanced performance and honeyed voice mark her as a talent to watch). Keep your eye on Butler's face in the wordless moments between which she learns of June's departure and then decides on her next plan. As she gradually fixes her gaze on Louise you will see something at once remarkable and terrifying.
From left: Jeff Pierpoint, Marco Tzunux, Aalon Smith and Joshua Bishop in "Gypsy." (Photo by Michael Courier)
Louise's metamorphosis from a sensitive duckling (and the front part of a vaudeville act cow) to Gypsy Rose Lee, the celebrated, Vogue-approved swan, is played by Harrell with all the warmth and quietly self-mocking style that marked her as special. And even her fierce reckoning with her mother is shot through with a hint of enduring love and empathy, plus newfound confidence.
Along the way there are the wonderfully over-the-top antics of the three past-their-prime, bump-and-grind-style strippers – Tessie Tura (Melissa Young), Mazeppa (Dawn Bless) and Electra (Honey West); a romantic song-and-dance number, "All I Need is the Girl," winningly performed by Marco Tzunux (and expertly choreographed by Chris Carter); several turns by Larry Baldacci as various addled theater producers; and a deft ensemble.
From left: Dawn Bless, Melissa Young and Honey West in "Gypsy." (Photo by Michael Courier)
And, with strong music direction by David Fiorello, the score for "Gypsy" receives a highly polished performance thanks to musicians Matt Kowalski, Greg Strauss, Anthony Rodriguez, Lara Regan, Christian Moreno and Jackson Kidder.
Weber's impressive staging of the musical is fully of a piece with Jeffrey D. Kmiec's characteristically ingenious set design, which takes the form of a revolving proscenium-on-wheels. Its many rotations suggest the views actors have from both on stage and backstage, as well as the passage of time, and the whirlwind existence of life on the road. (Cheers, too, for Bill Morey's countless costumes, Denise Karczewski's lighting and Robert Hornbostel's sound.)
But of course it is Butler who once again brings down the house with "Rose's Turn" – that bitter confessional, exorcism and torrent of rage. Rose is not lovable, but like the actress playing her, she is indomitable. 
"Gypsy" runs through Nov. 25 at the Ruth Page Arts Center, 1016 N. Dearborn St. For tickets ($20-$66) call (773) 777-9884 or visit www.PorchlightMusicTheatre.org. Running time is 2 hours and 40 minutes with one intermission.
Follow Hedy Weiss on Twitter: @HedyWeissCritic
---
African-American Women Assert Their Independence in 'Flyin' West'
Luminous Play by Lynn Nottage Explores Faith, Politics, Family and Discrimination
Making Deals With the Devil in the Bloody Brilliant 'Witch'
Fall Theater Recommendations from Hedy Weiss
---