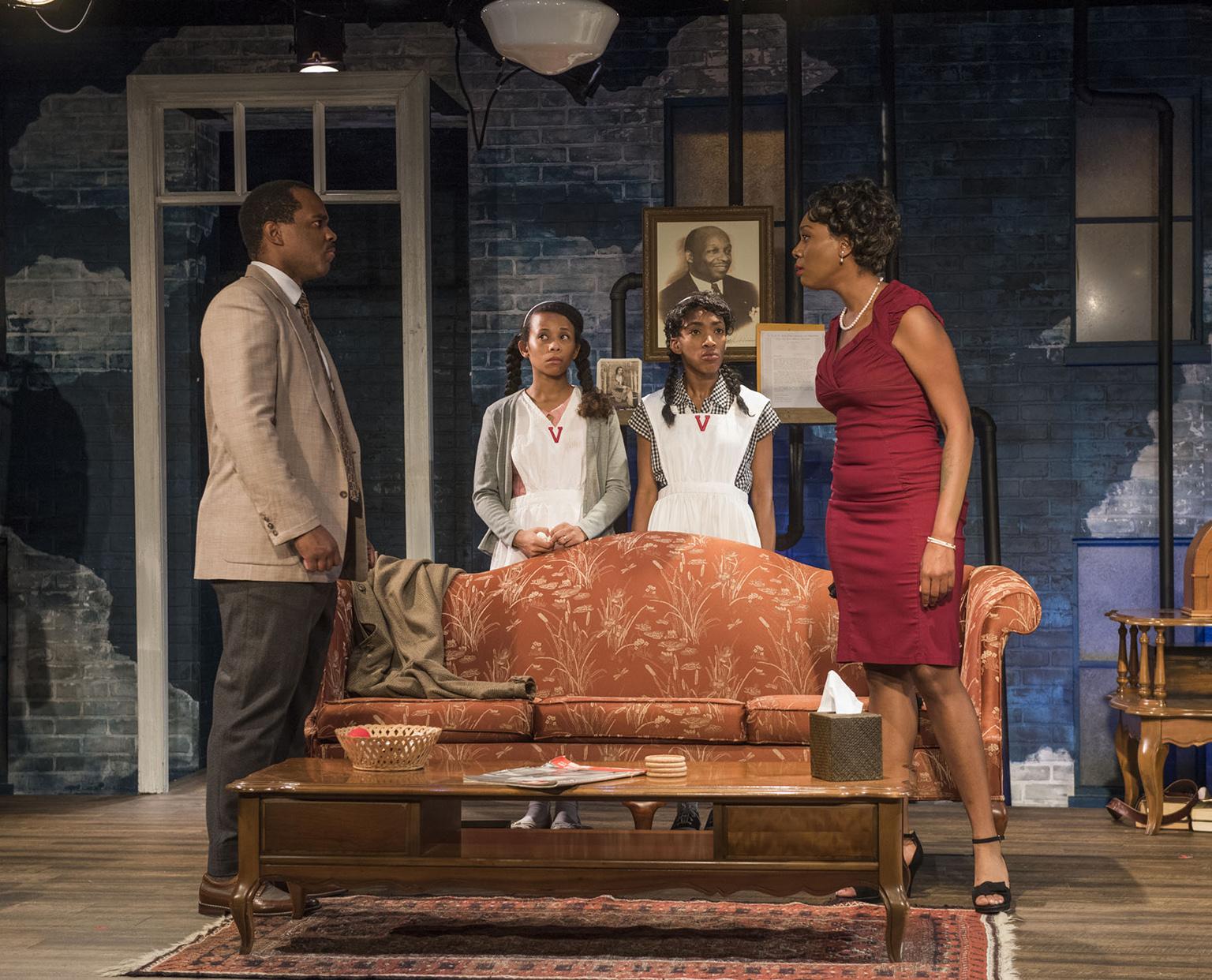 From left: Terence Sims, Brandi Jiminez Lee, Chanell Bell and Brianna Buckley "Crumbs from the Table of Joy," by Lynn Nottage. (Photo by Michael Brosilow)
The work of Brooklyn-bred playwright Lynn Nottage has certainly not gone unnoticed. She received both the 2009 Pulitzer Prize for "Ruined," her blistering look at the savage treatment of women during the Democratic Republic of the Congo's civil war, and the 2017 Pulitzer for "Sweat," about the fallout from the shutdown of a steel factory in Reading, Pennsylvania. ("Sweat" will receive it's Chicago premiere at the Goodman Theatre from March 19-April 14, 2019.)
But one of her earliest works, the 1995 play "Crumbs from the Table of Joy" – now receiving a luminous production by Raven Theatre, where director Tyrone Phillips has assembled a magnificent cast – is proof that Nottage was writing sublime plays long before the big prizes began rolling in. With its many-faceted exploration of faith, politics, family and discrimination, paired with the beguiling coming-of-age story of two sisters, it is continually engaging. And in the current climate, it also turns out to be uncannily timely (despite its 1950 setting) as it suggests the tension between those who seek answers in fundamentalist religion and those who turn to socialist ideology.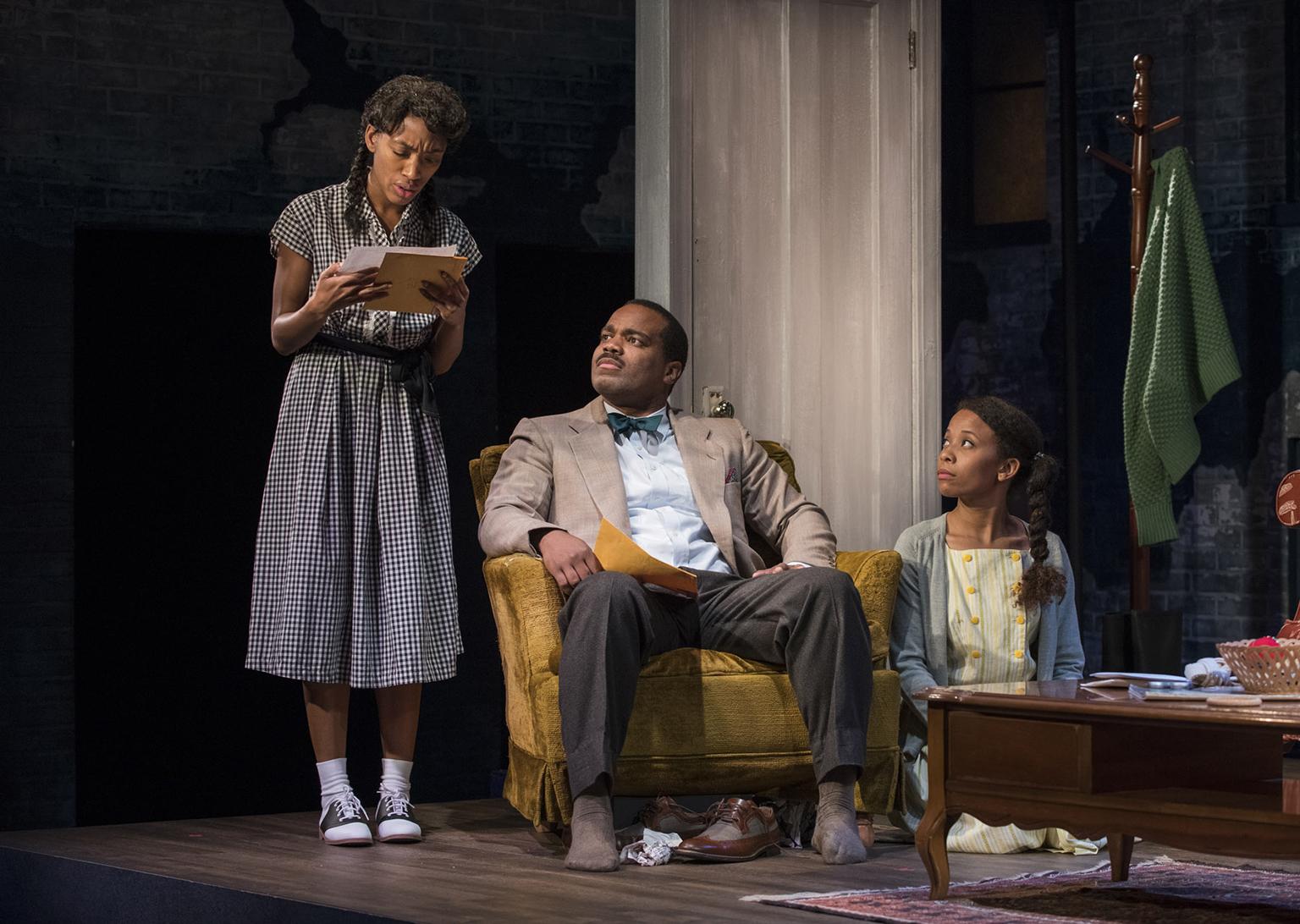 From left: Chanell Bell, Terence Sims and Brandi Jiminez Lee in "Crumbs from the Table of Joy." (Photo by Michael Brosilow)
When we first meet them, Godfrey Crump (Terence Sims), and his two teenage "country-bred" daughters – the shy but brainy 17-year-old Ernestine (Chanell Bell), and the socially eager 15-year-old Ermina (Brandi Jiminez Lee) – have just arrived from their home in Florida to settle into a whole new life in a basement apartment in Brooklyn.
The recently widowed Godfrey, who has a job working the night shift in a bakery, is still grieving over the death of his wife. And he hopes to find solace and "answers" in the ministry of Father Divine, the immensely influential African-American founder of a megachurch-like movement who, as it happens, has fled New York for Philadelphia. (Of course Divine did not always abide by his own commandments about abstinence from various "immoral" indulgences, but this sense of moral purity is something the overprotective Godfrey tries to enforce with his daughters.)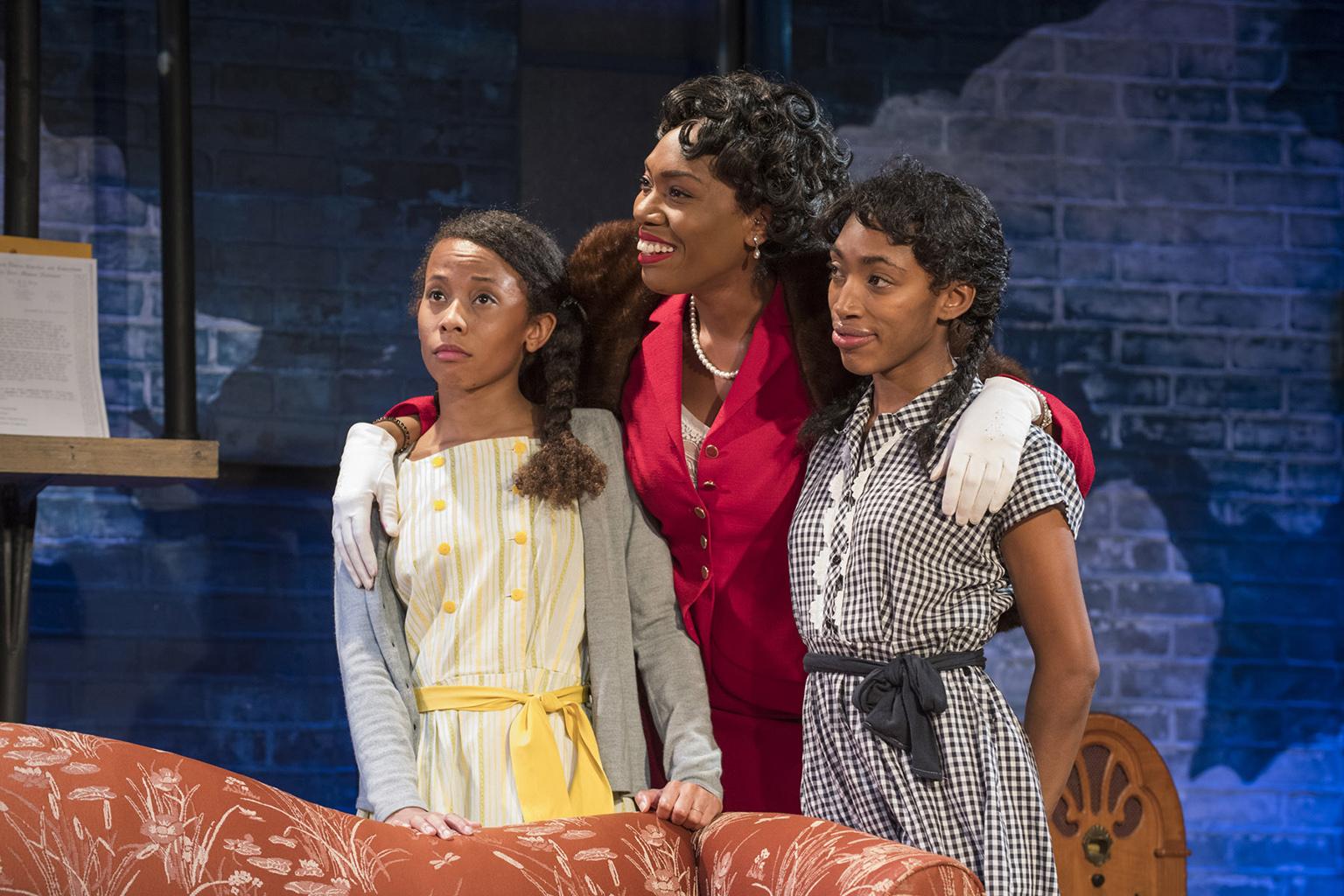 From left: Brandi Jiminez Lee, Brianna Buckley and Chanell Bell in "Crumbs from the Table of Joy." (Photo by Michael Brosilow)
Enter Lily Anne Green (Brianna Buckley), Godfrey's impossibly seductive, free-spirited sister-in-law who has been living in Harlem for some time, is passionate about the Communist movement afoot there, and is clearly unemployed, broke and far too attached to alcohol. She does not wait for an invitation to move in, and immediately becomes a figure of fascination for the two sisters whose personalities are quite different. There also is a clear suggestion that for all of Godfrey's talk of purity, something might have happened between him and Lily while his wife was still alive.
Lily is a force of nature, as well as a force of disruption and self-destruction, and she is no fan of Father Divine. She also represents quite different forms of freedom for Ernestine and Ermina, opening their eyes to new possibilities, even if these possibilities have largely eluded her.
And then another woman enters the picture and complicates things further. For while riding the subway, Godfrey meets Greta (Emily Tate), a young, lonely German immigrant. Greta survived World War II (and her past purposefully remains a bit murky), but she seems to understand the horrors of discrimination. And in very short order the two are married. Not surprisingly, the tiny household erupts with the tension between Lily and Greta.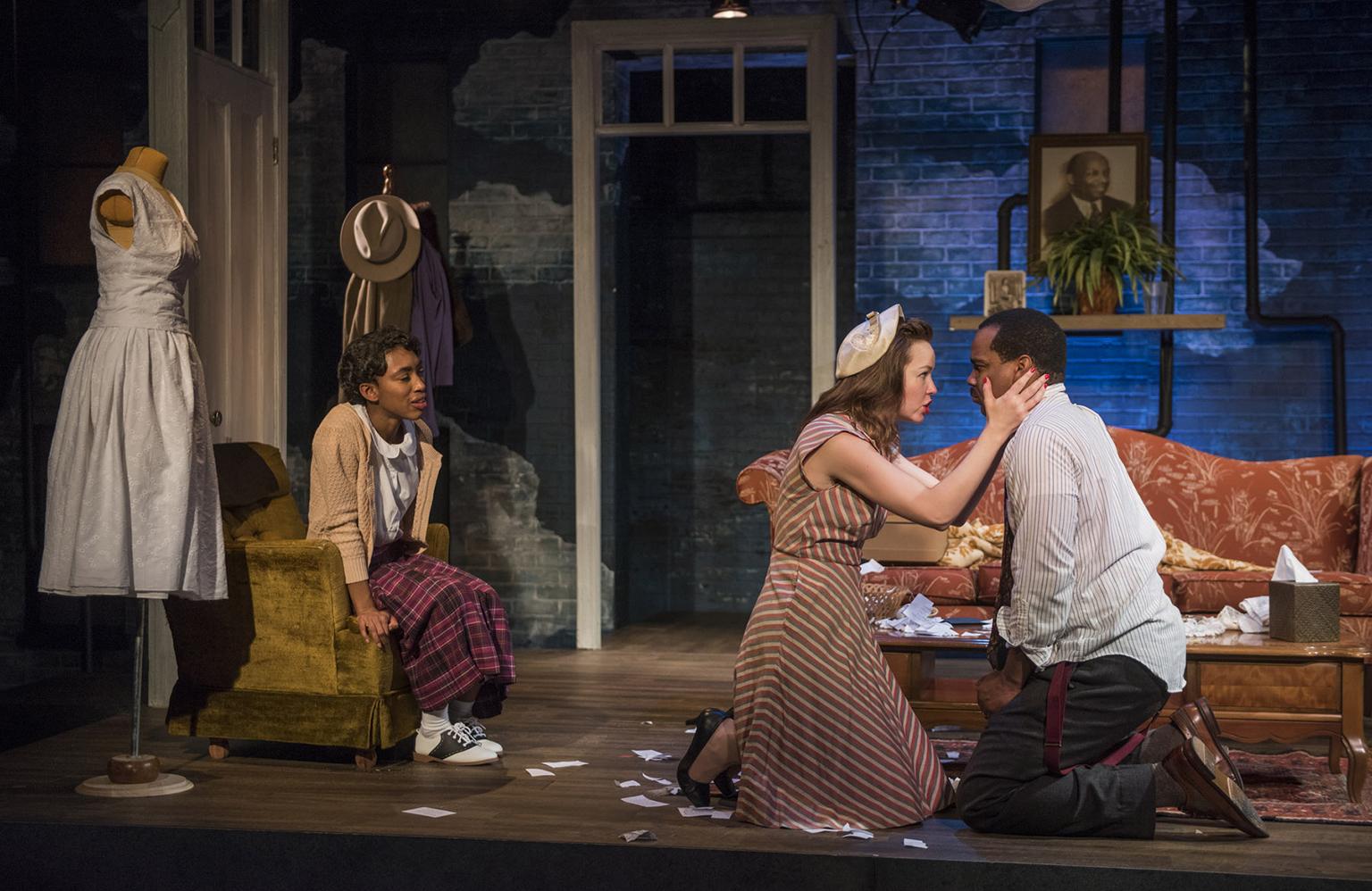 From left: Chanell Bell, Emily Tate and Terence Sims in "Crumbs from the Table of Joy." (Photo by Michael Brosilow)
The young sisters are beautifully played, with Bell (who has a hint of the young Lorraine Hansberry about her), expertly capturing a genuine moment of self-discovery, and Lee ideally suggesting the short-lived glory of the pretty, flirty girl.
But it is Buckley's star quality that sets the stage on fire as she memorably dances the mambo (choreographed by Jon Martinez) in a red sheath dress, and later, takes Ernestine under her wing and touchingly instills in her some life-changing advice.
Sims deftly captures a man in crisis – unable to shake free from the racial discrimination that continues to plague him in the North, and in many ways betrayed by Father Divine, in whom he had put such faith. And Tate, with a spot-on German accent, brings just the right mix of charm and determination to a character with an elusive past who has learned how to survive.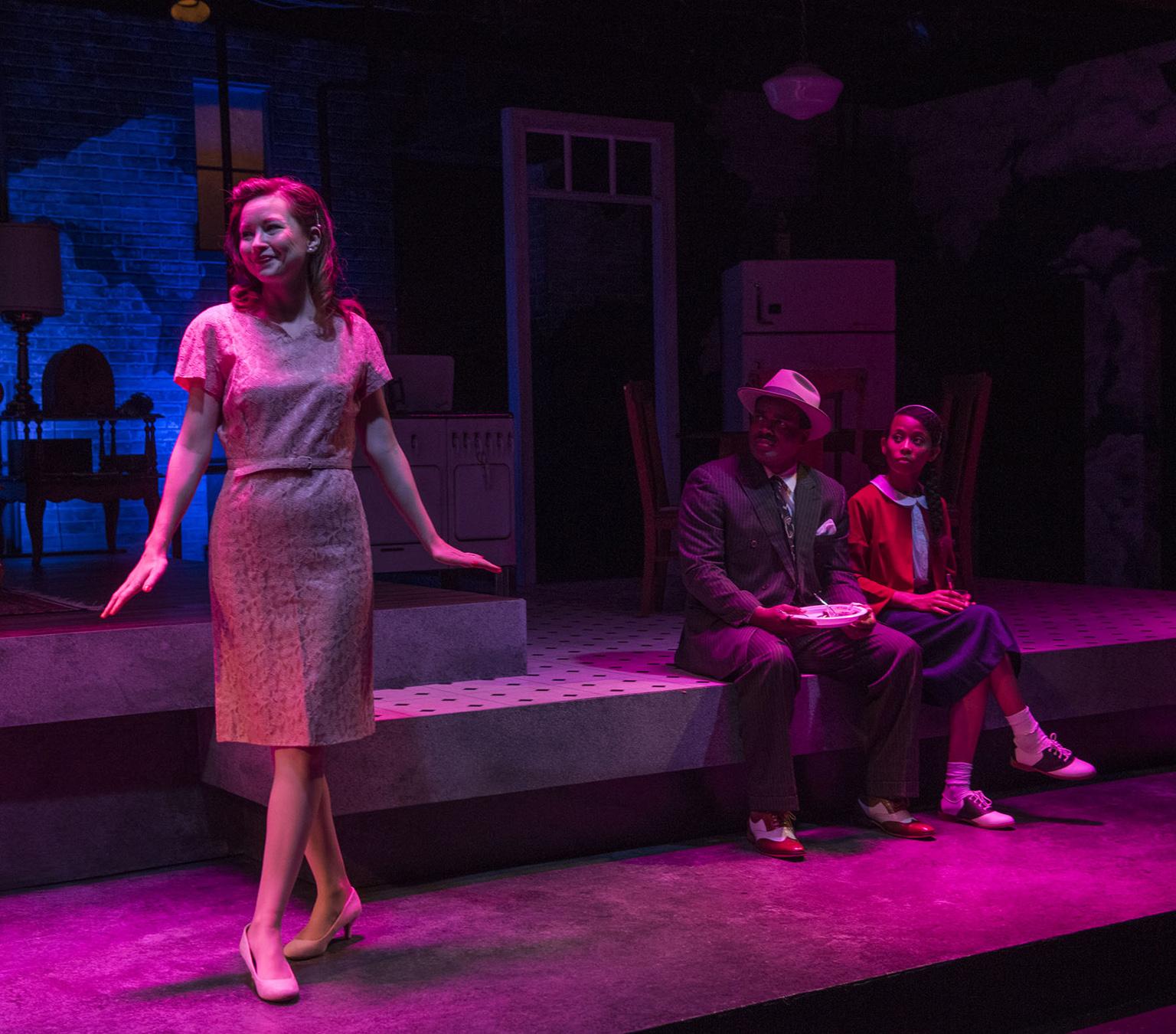 From left: Emily Tate, Terence Sims and Brandi Jiminez Lee in "Crumbs from the Table of Joy." (Photo by Michael Brosilow)
Arnel Sancianco's cut-away set, Kathy A. Perkins' lighting, Christine Pascual's character-defining period costumes and Matt Test's incidental music all add to the richness of the production.
And finally there is Nottage's haunting epilogue, delivered by Bell with a perfect blend of understatement and inevitability. I will not divulge the details, but I can assure you it has the ring of perfect truth.
"Crumbs from the Table of Joy" runs through Nov. 18 on the East Stage of Raven Theatre, 6157 N. Clark St. For tickets ($46; $43 if purchased online) call (773) 338-2177 or visit www.raventheatre.com. Running time is 2 hours and 30 minutes with one intermission.
Note: Coming up at Raven this season will be: "How I Learned to Drive" (Feb. 7-March 24, 2019 on the East Stage), Paula Vogel's timely play about a teenage girl in the 1950s; "Yen" (March 24-May 5, 2019 on the West Stage), Anna Jordan's tale of feral teens in contemporary London; and "The Undeniable Sound of Right Now" (May 2-June 16, 2019 in the East Stage), Laura Eason's play about the shift from classic rock to the blare of electronic music.
Follow Hedy Weiss on Twitter: @HedyWeissCritic
---
Making Deals With the Devil in the Bloody Brilliant 'Witch'
Fall Theater Recommendations from Hedy Weiss
Incendiary 'Downstate' Fearlessly Probes Unique Aspect of Crime, Punishment
Themes of Freedom, Faith and Money Fuse With Brilliant Score in 'Caroline, or Change'
---