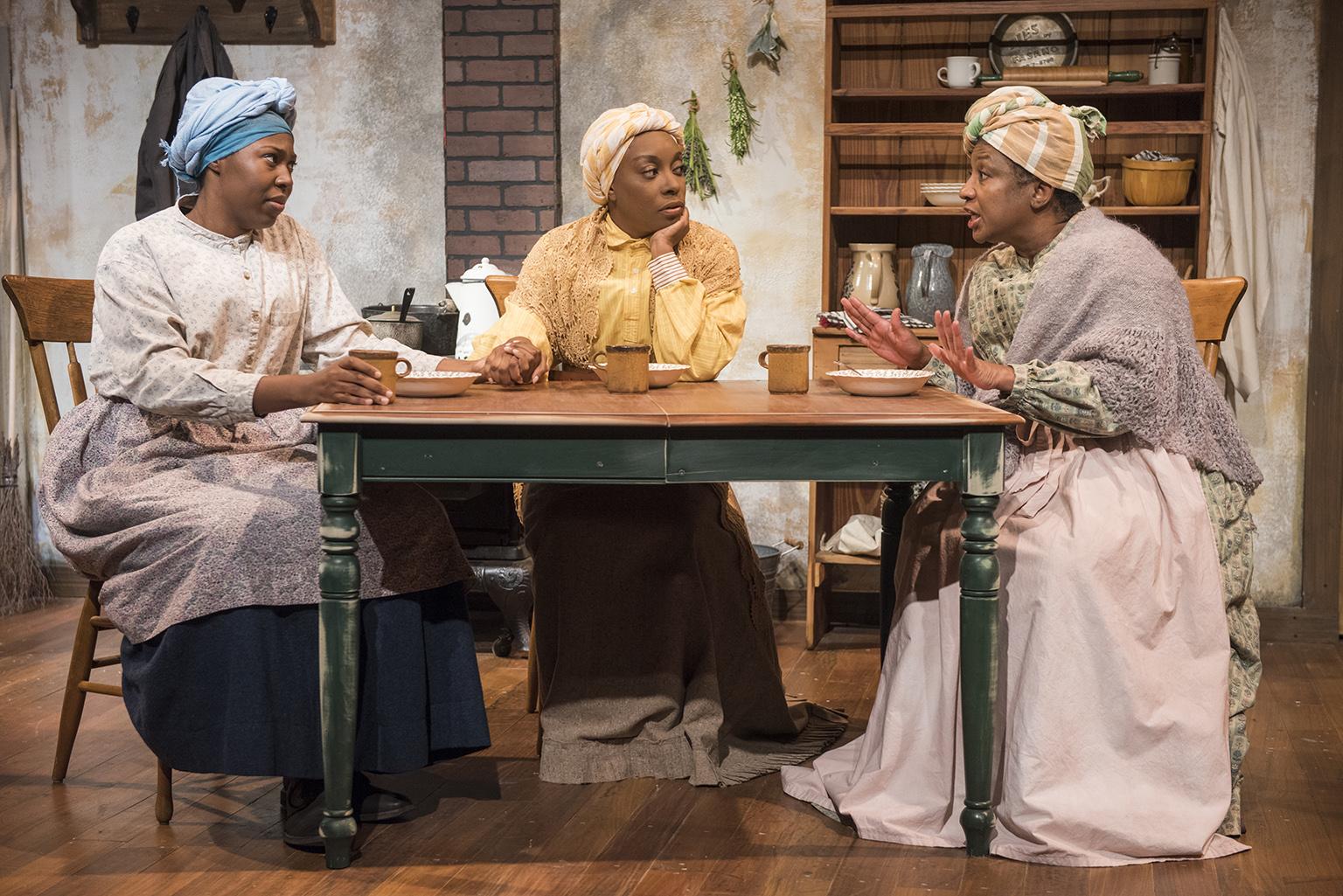 From left: Tiffany Oglesby, Sydney Charles and Joslyn Jones in American Blues Theater's production of "Flyin' West." (Photo by Michael Brosilow)
It might be sheer coincidence, but more likely it is a sign of the times. For with the opening of American Blues Theater's winningly realized revival of Pearl Cleage's 1992 play, "Flyin' West," there are now three exceptionally fine stories being told on Chicago stages, and they are all united by the fact that they vividly capture African-American women in pursuit of freedom, independence and respect.
The eras and places in which these stories unfold are all different, with Cleage's play set in 1898, outside the all-black prairie town of Nicodemus, Kansas, while Lynn Nottage's "Crumbs from the Table of Joy" (now at Raven Theatre) takes place in Brooklyn in 1950, and the Jeanine Tesori-Tony Kushner musical "Caroline, or Change" (at Firebrand Theatre), is set in 1963. What sets "Flyin' West" apart is that it explores a largely overlooked chapter in post-Civil War history when, however tenuous, land ownership in the largely unsettled West became a possibility for African-Americans and women as a result of the Homestead Act of 1862. (History books tend to focus primarily on the migration of blacks to urban center in the North.)
With echoes of "Oklahoma" in its evocation of the hardscrabble lives of exceptionally strong, determined women who managed to face every adversity, and learned how to fend for themselves under the toughest conditions, Cleage's story – winningly directed and impeccably cast by Chuck Smith – revolves around the different personalities and choices made by four women, including the elderly but unbending matriarchal figure who experienced the abominations of slavery, yet survived to tell the story.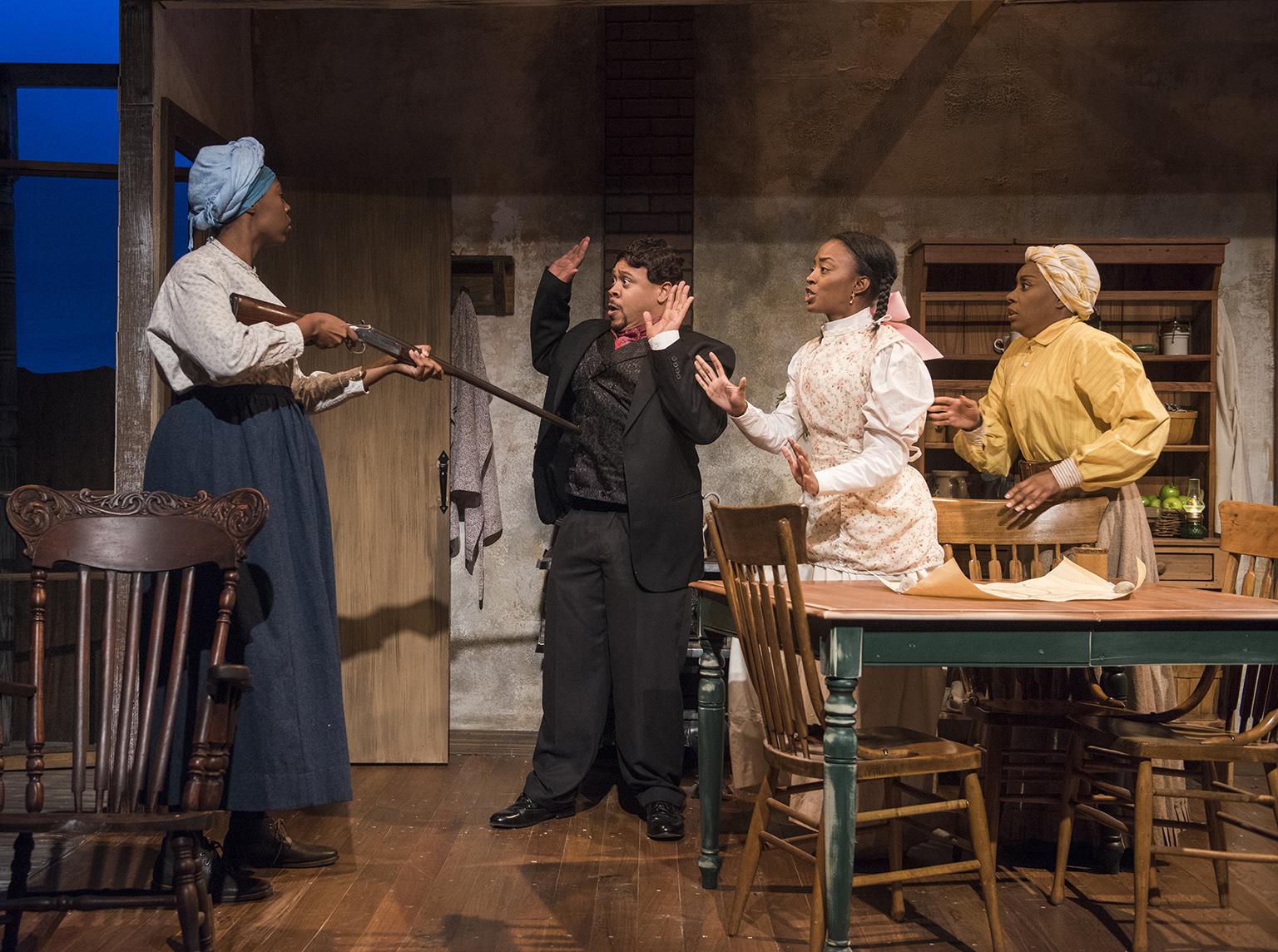 From left: Tiffany Oglesby, Wardell Julius Clark, Tiffany Renee Johnson and Sydney Charles. (Photo by Michael Brosilow)
Sophie Washington (Tiffany Oglesby) is the indomitable force at the center of the story – a fierce-willed woman with a powerful work ethic, a vision for establishing a school and other institutions in the town, a way with a rifle, and a general lack of patience with all men. She also is hell-bent on maintaining black ownership of the land, and fending off outside speculators who see its value after so much of the foundational work has been done. Oglesby gives a formidable performance as this fearless feminist with big accomplishments and even bigger dreams, who never loses sight of how she and her neighbors might be undermined.
Sophie shares her comfortable farmhouse with Fannie Dove (Sydney Charles), who has a more romantic nature, and is clearly taken with Wil Parish (Henri Watkins), a decent, worldly man who has spent time in Mexico and is willing to help these women whenever necessary. And Charles and Watkins play their scenes with great sweetness and warmth.
Fannie's younger sister Minnie (Tiffany Renee Johnson), was not cut out for the homesteading life. Pretty and artistic, she married Frank Charles (Wardell Julius Clark), the son of a plantation owner and an African-American woman. Both a narcissist and self-loathing mulatto, Charles had a moment of glory as a poet in London (where he and Minnie live), and he is a big spender who mistakenly believes he will inherit a fortune from his father. When the couple arrives for a visit to Nicodemus, a place Charles loathes, it also becomes clear that he is a dangerous wife abuser, alternately dressing Minnie in the poshest fashions and venting his rage on her in the most violent ways. Johnson deftly captures Minnie's mix of naïveté, terror and denial, just as Clark captures his character's incendiary sense of resentment.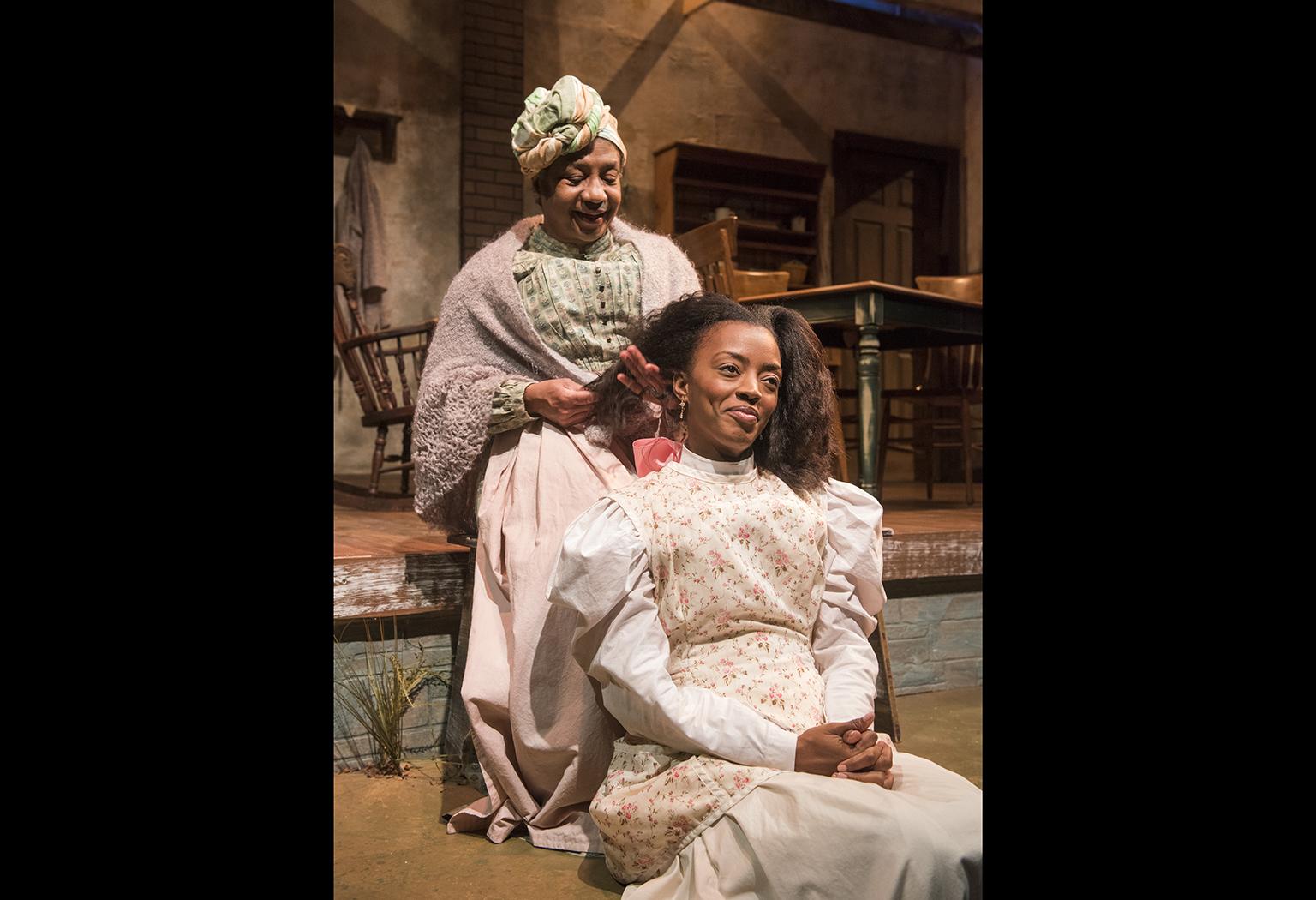 Joslyn Jones and Tiffany Renee Johnson. (Photo by Michael Brosilow)
And then there is Miss Leah (Joslyn Jones), who refuses to give in to age, maintains a feisty battle of wills with the protective Sophie, and ultimately shares her wisdom at a crucial moment. Leah, who gave birth to 10 children with a fellow slave, does not give away her anguish-filled history easily, but when she does it suggests why she survived, and why she has made Nicodemus her home. Jones gives a strong, beautiful, unsentimental performance, but she needs to be given a far more life-like baby to cuddle in a pivotal scene.
Praise, too, for the show's design, with Lily Grace Walls' period-perfect costumes, Grant Sabin's homey cutaway set (lit by Jared Gooding) and Rick Sims' bursts of original incidental music.
Cleage (who is perhaps best known for her her novel "What Looks Like Crazy on an Ordinary Day"), has injected plenty of humor, charm and true grit into this play without ever losing sight of the pernicious legacy of racism. I wish she had followed up on "Flyin' West" with a look at an even darker chapter in the history of African-Americans in the West – the story of the Tulsa Massacre of 1921. But that might be a story to be told by another playwright. In the meantime, we have the women of Nicodemus. And they are well worth meeting.
The American Blues Theater production of "Flyin' West" runs through Nov. 3 at Stage 773, 1225 W. Belmont. For tickets ($19-$39) call 773-654-3103 or visit americanbluestheater.com. Running time is 2 hours and 10 minutes with one intermission.
Coming up during the rest of the season at American Blues Theater: The holiday classic, "It's a Wonderful Life: Live in Chicago!"; the Chicago premieres of "On Clover Road," Steven Dietz's noir thriller and "The Absolute Brightness of Leonard Pelkey," a one-man, multi-character play by James Lecesne; and "The Spitfire Grill: A Musical."
Follow Hedy Weiss on Twitter: @HedyWeissCritic
---
Luminous Play by Lynn Nottage Explores Faith, Politics, Family and Discrimination
Themes of Freedom, Faith and Money Fuse With Brilliant Score in 'Caroline, or Change'
Making Deals With the Devil in the Bloody Brilliant 'Witch'
Fall Theater Recommendations from Hedy Weiss
Incendiary 'Downstate' Fearlessly Probes Unique Aspect of Crime, Punishment
---