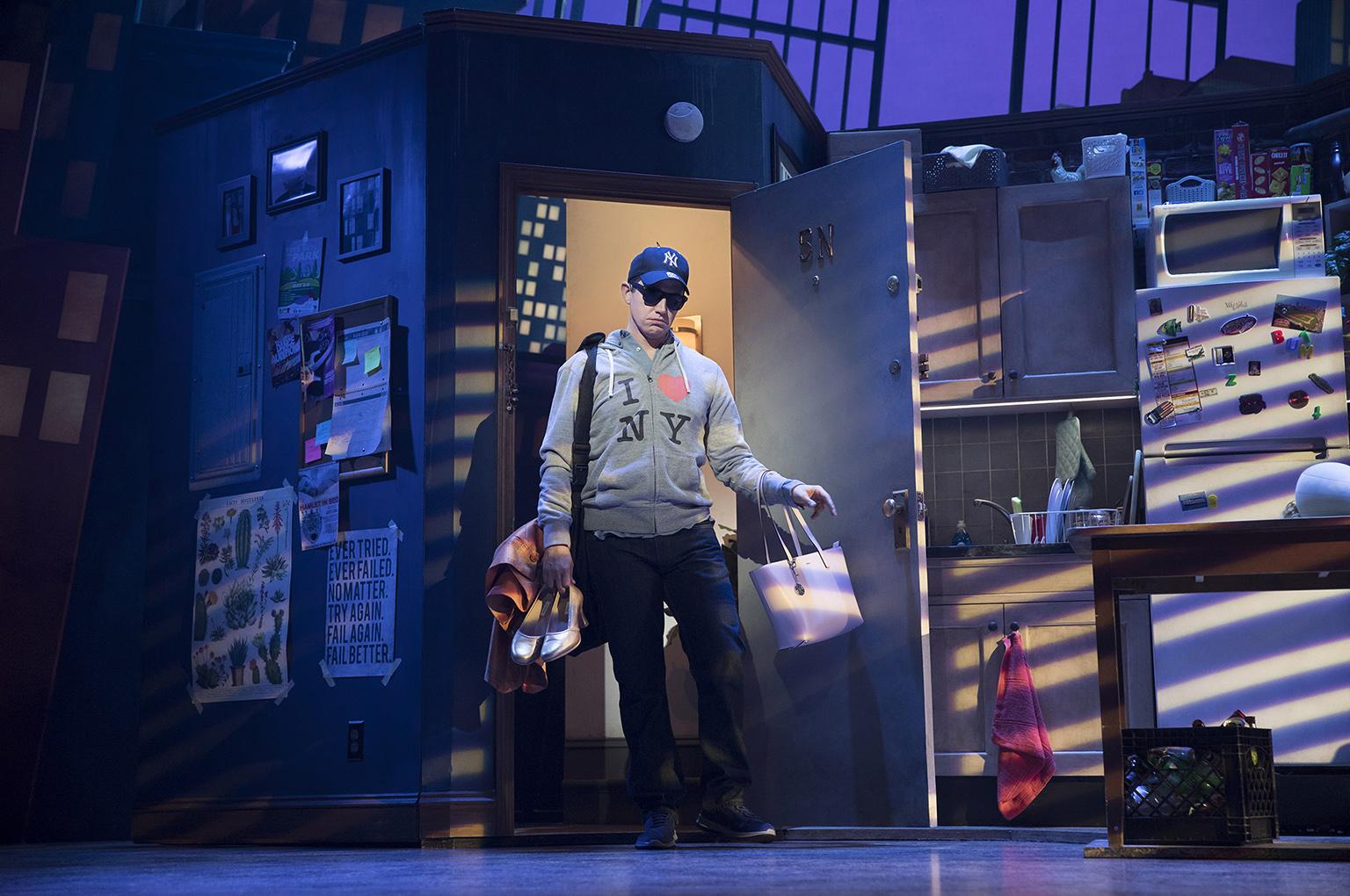 Santino Fontana as Michael Dorsey in "Tootsie." (Photo by Julieta Cervantes)
Timing is everything. So arriving at the end of a week that saw a psychologically brutal and bruising display of sexual harassment charges in real life, "Tootsie" (a gently updated musical version of the hit 1982 film) feels a bit like show business balm – a feel good work for the #MeToo era.
The "pre-Broadway" world premiere of the musical that opened Sunday night at the Cadillac Palace Theatre takes a few liberties with its source – a movie that was an insightful comedy about gender role-playing, and was not so much ahead of its time as of it's time in spinning the story of how a man is "woke" in the wake of the feminist movement of the 1970s. And along the way it also inserts some lines guaranteed to generate applause, including a shout-out for equal pay for equal work.
Of course if you really consider the story's outcome you realize that, once again, the guy wins on all fronts: he not only gets the acting role of a lifetime, and all the attendant perks (while simultaneously eliminating a role designed to be played by a woman), but he gets the girl of his dreams, too. Moral of the story: The more things change, the more they remain the same.
But let's get to the pure entertainment value of the whole thing. There is punchy if unexceptional music, and a slew of clever lyrics – both the work of David Yazbek (the 2018 Tony Award winner for his altogether transcendent score for "The Band's Visit," and before that, "The Full Monty"). And there is an updated book by Robert Horn, a natural for the job given his previous contributions to "Dame Edna," although to his credit he has curbed much of the campiness. (And if he, rather than the original screenplay writer Larry Gelbart, is responsible for the riff in which Dorothy's on-the-spot bio borrows plot lines from all the great plays, more applause is in order.)
Applause, too, for Santino Fontana, the actor who plays Michael Dorsey, the obsessively demanding, self-destructive New York actor who has made himself unemployable with his perfectionism, but finally nabs his career changing role as Dorothy Michaels, the middle-aged woman cast as the Nurse in the show's big Broadway musical-within-a-musical – a farcical retelling of "Romeo and Juliet." (The soap opera job of the film is now a role in a musical instead.)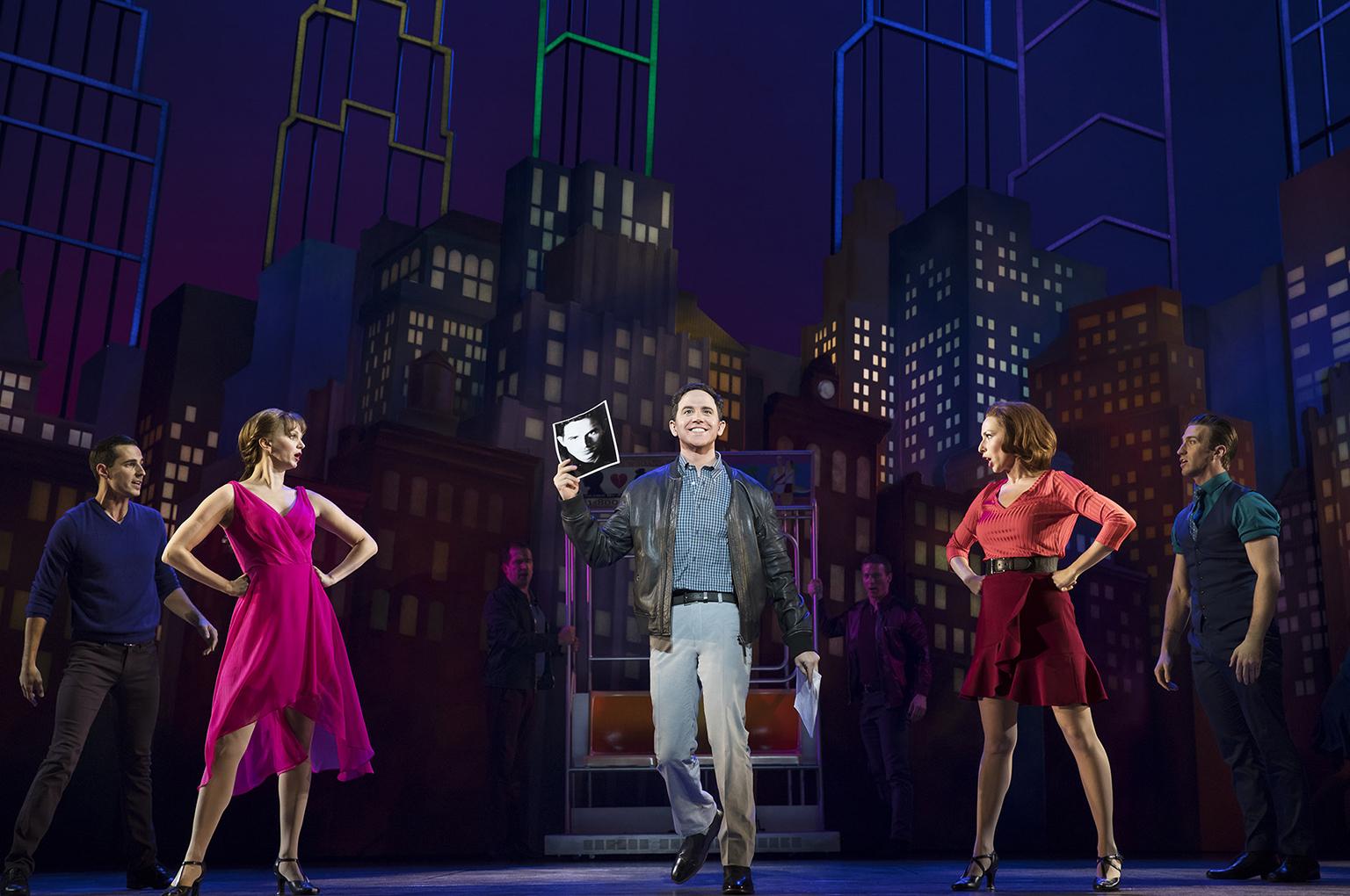 Santino Fontana, center, in "Tootsie." Also pictured, from left: Drew King, Leslie Donna Flesner, Sissy Bell and John Arthur Greene. (Photo by Julieta Cervantes)
Fontana is a good-looking guy (not a pretty boy), who so effortlessly transforms himself into Dorothy that you never doubt his ability to carry off the ruse. And at the same time that he shows us what a gifted actor Dorsey is, he demonstrates just how talented Fontana himself happens to be. He also has a terrific voice, and sings (and speaks) with equal skill and naturalness as both Michael and Dorothy. Neat trick, and one that makes any comparisons with Dustin Hoffman's iconic portrayal beside the point.
Fontana also has strong support from his fellow players, most notably Andy Grotelueschen as Jeff, Dorsey's roommate in a shabby New York apartment and a playwright who never quite gets his play written. Jeff also tends bar in the same mid-level restaurant where Dorsey waits tables. The two are particularly wonderful in the opening scene of the second act where they sit in total silence, stunned, exhausted – a moment that also finds the work of director Scott Ellis at its best.
To the role of Julie Nichols, the actress who plays Juliet, and forms a special off-stage bond of love with Dorothy, Lilli Cooper brings a clarion, soulful voice and truthful acting. Sarah Stiles plays Sandy Lester, Dorsey's wildly neurotic longtime girlfriend – an eternally aspiring actress with questionable talent. Yazbek has devised a couple of rapid-fire patter songs (not unlike Stephen Sondheim's "Getting Married Today"), for this overly exaggerated character, and while Stiles invests immense energy in them, the lyrics are too often drowned out by the orchestra. A fix is needed here, although Andrea Grody's overall music direction is first-rate.
Rail-thin John Behlmann plays the bizarre young actor Max Van Horn, who is cast as Juliet's bizarre suitor, and "in real life" develops such a wild crush on Dorothy, despite her being "an older woman," that he gets an unfortunate tattoo in her honor. Veteran Broadway actress Julie Halston plays the wealthy producer who, at a crucial audition, goes to bat for the woman she believes Dorothy to be. Reg Rogers is spot-on as the talentless but powerful director-choreographer overseeing the musical. And Michael McGrath has a most winning double-take moment as Dorsey's fed-up agent.
Spoiler alert: My heart sank during the show's opening number which conjures a wholly generic number for the chorus about the excitement of working on Broadway. As it happens, the song is designed to be completely pedestrian, and Denis Jones' purposefully hackneyed choreography underscores this fact.
David Rockwell's elaborate set (lit by Donald Holder) moves fleetly from cityscape, to apartment, restaurant, theater stage, park bench and rehearsal room. And William Ivey Long's quick-change costumes (especially those for Fontana's Dorothy, whose pale pink tote bag is a small but inspired detail) are just right, as is Paul Huntley's distinctive no-fuss wig for the character.
Ultimately, for all its timely social commentary, "Tootsie" is a lightweight confection about show business itself. It could use some trimming. And its all-important final scene could use some fine-tuning as it skews the time frame of the action and doesn't quite nail that crucial line from the film in which Dorsey tells Julie, "I was a better man with you as a woman than I ever was with a woman as a man."
"Tootsie" runs through Oct. 14 at the Cadillac Palace Theatre, 151 W. Randolph St. For tickets ($35-$105), call (800) 775-2000 or visit www.BroadwayInChicago.com. Running time is 2 hours and 40 minutes with one intermission.
Follow Hedy Weiss on Twitter: @HedyWeissCritic
---
David Cale Turns a Family Nightmare into a Dreamy Tour de Force of Survival
3 Popular Musicals Sing of Quest for Self-Esteem
Shattered Globe's Piercing Dramatization of a Dostoyevsky Classic Soars
---