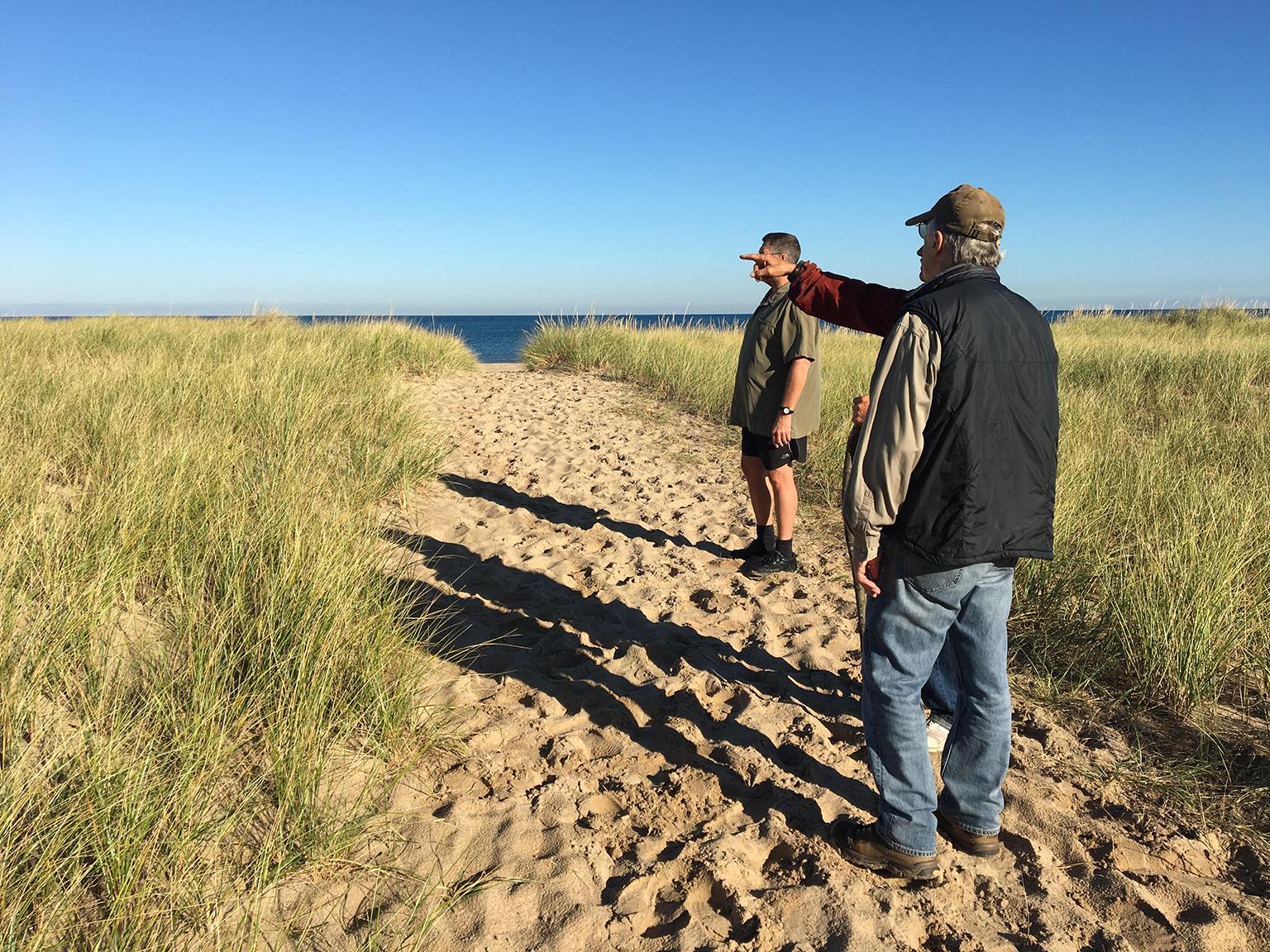 Residents of Dune Acres, Indiana, hike Cowles Bog Trail. (Katherine Moore Powell / The Field Museum)
About 2 million people, many of them from Chicago, visit the Indiana Dunes each year for its hills of sand and sprawling beaches. But the beloved tourist site on the southern shore of Lake Michigan is changing – and not in a good way.
Scientists say that human-driven climate change is taking a toll on the Dunes' 15,000 acres of land – an area just bigger than Manhattan – with extreme heat and increased precipitation causing native species to vacate and die off. Climate change is expected to continue affecting the Dunes, a National Lakeshore that is home to prairie, forest, oak savanna and wetland ecosystems, in addition to more than 70 miles of hiking trails.
To ensure that the area is still recognizable decades from now, a team of climate scientists including experts from Chicago's Field Museum have developed what they say is a groundbreaking plan for preserving the Dunes. Released to the public on Wednesday, the Indiana Dunes Climate Change Adaptation Plan builds on nine years of research into how local plants and animals can adapt to climate change.
---
The plan was developed by scientists from the Field's Keller Science Action Center in collaboration with the Dunes' land managers, regional ecologists, climate scientists, the Indiana Department of Natural Resources and the nonprofit Save the Dunes.
"The Indiana Dunes are a unique window through time, showing how new land is transformed by plants and animals to create a wide range of habitats," said Katherine Moore Powell, climate change ecologist at the Field Museum and co-author of the new plan, in a statement.
Moore-Powell said the plan offers a "menu of solutions" for land managers to utilize in efforts to preserve the Dunes. Examples include modifying the timing of prescribed forest fires to adjust for shifting growing seasons and replacing lost trees with species from areas south of the Dunes.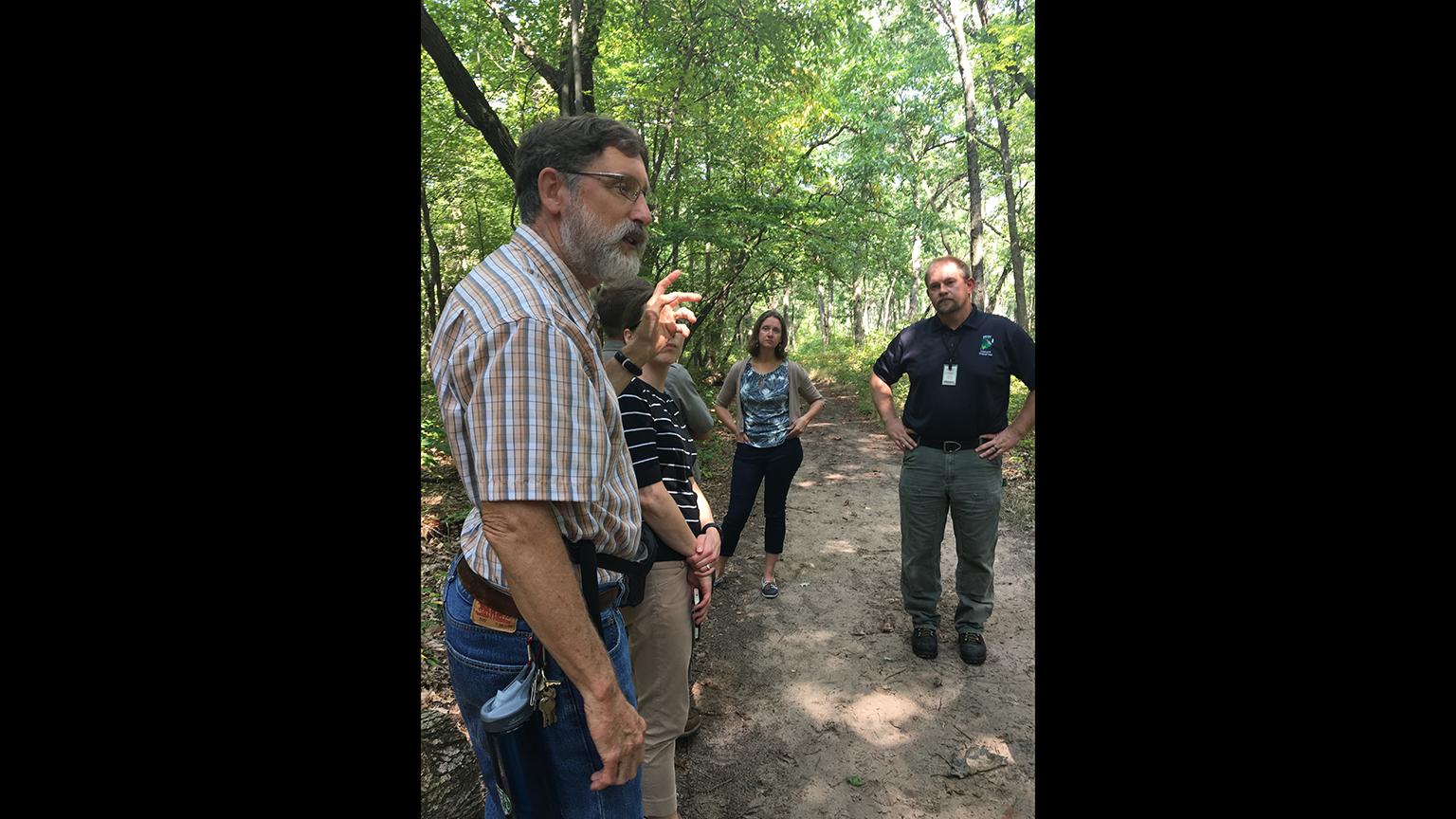 Scientists discuss climate change's impact on the Indiana Dunes. (Katherine Moore Powell / The Field Museum)
Scientists say the plan offers a hopeful alternative amidst the typically apocalyptic narrative surrounding climate change.
"My impression is that local citizens are comforted by the fact that someone is doing something," Moore-Powell said in a statement. "We aren't stuck in debate limbo about what's 'real.' We're examining potential impacts from climate change and we have a plan."
The team behind the plan also includes Field senior conservation ecologists Abigail Derby Lewis and Doug Stotz.
Contact Alex Ruppenthal: @arupp | [email protected] | (773) 509-5623
---
Related stories:
Harvard Scientist: Climate Change May Be Worse Than We Think
Chicago Sues U.S. Steel Over Lake Michigan Pollution