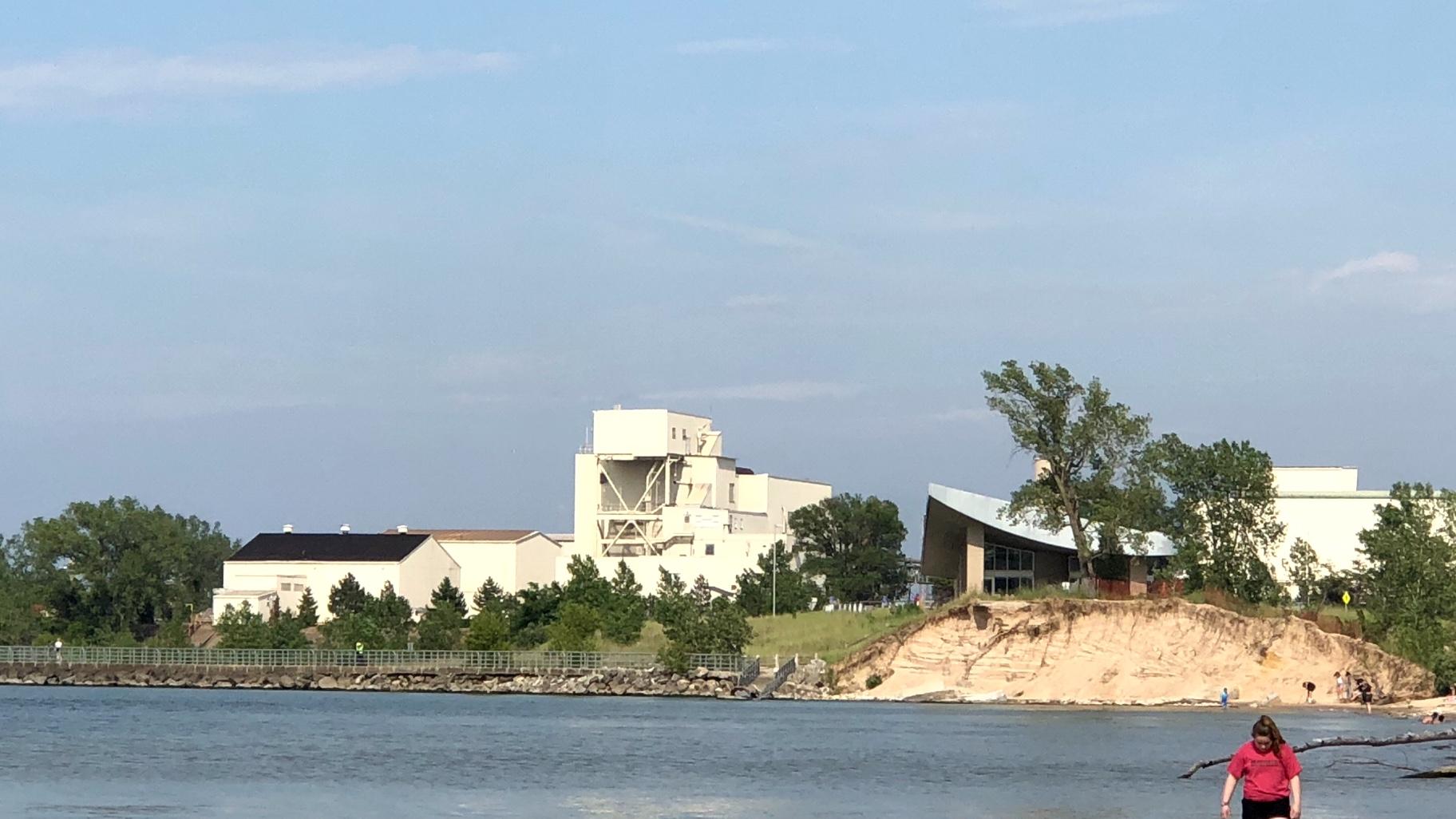 U.S. Steel Midwest Plant on the shore of Lake Michigan, with the Indiana Dunes Portage Lakefront and Riverwalk Trail in the foreground, in 2019. (Patty Wetli / WTTW News)
On Thursday, Indiana Dunes National Park issued a closure notice for its Portage Lakefront and Riverwalk shoreline and waters due to a "sheen" on the water leaking from U.S. Steel.
The Indiana Department of Environmental Management stated it is "aware of the reports of a sheen at U.S. Steel-Midwest and is investigating," but had no further updates.   
According to Amanda Malikowski, spokeswoman for U.S. Steel, the substance appeared to be oil. 
The company spotted a sheen in the Burns Waterway outside its Midwest Plant Thursday morning, she said. Operations were shut down while the company investigated.
By Thursday evening, the sheen was no longer present and operations had returned to normal. An existing boom contained the spill, none of which was observed entering Lake Michigan, Malikowski said. The cause is still under investigation.
According to the park service, the Portage Lakefront and Riverwalk area will remain closed until the investigation is complete.
This is the second leak in two weeks from the U.S. Steel Midwest Plant. The first was a "rusty discharge" caused by what turned out to be elevated levels of iron. In that instance, the spill wasn't immediately contained, which caused the shutdown of a water treatment plant as well as the national park's entire shoreline.
Environmental groups are calling for stricter oversight of U.S. Steel and other industrial facilities operating along Lake Michigan.
"This is just the latest in a long line of recent industrial water pollution incidents along the shores of Lake Michigan," said Lynn McClure, senior director of regional programs for the National Parks Conservation Association, in a statement.
"Since January 2017, U.S. Steel alone has been responsible for more than two dozen permit violations. Yet our calls for the state to step in and take a firmer hand in regulating and controlling spills at Indiana Dunes go unheard. Indiana Dunes is a national park," McClure said. "It deserves better than this, and so do the millions of people who visit its shores each year."
Contact Patty Wetli: @pattywetli | (773) 509-5623 |  [email protected]
---