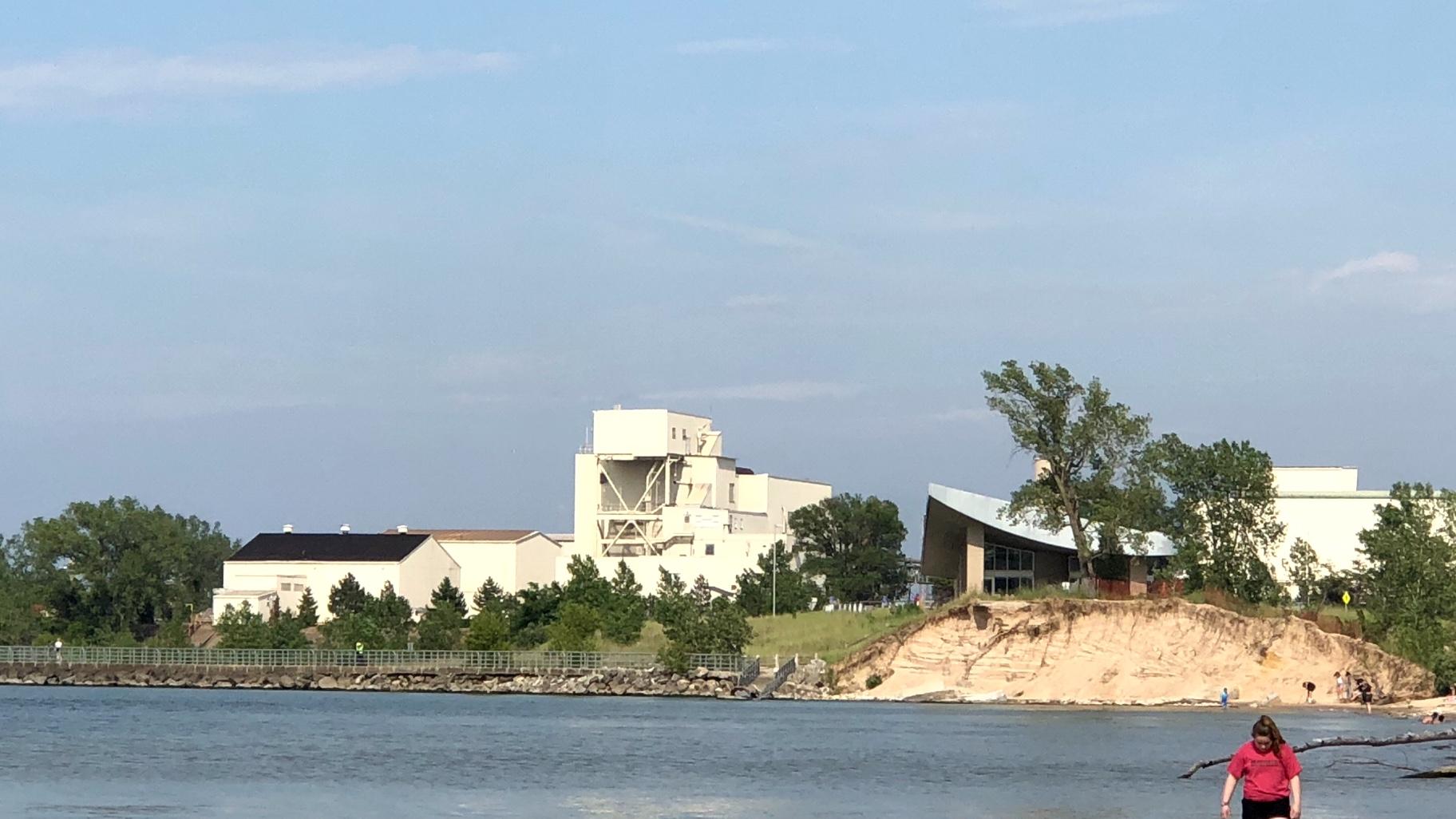 U.S. Steel Midwest Plant on the shore of Lake Michigan, with the Indiana Dunes Portage Lakefront and Riverwalk Trail in the foreground, in 2019. (Patty Wetli / WTTW News)
The Chicago Department of Water Management is calling on the EPA to make protection of Lake Michigan from industrial pollution a priority after U.S. Steel's Midwest Plant experienced two leaks in two weeks into a waterway that feeds into the region's source of drinking water.
"U.S. Steel's disregard for our region's most precious natural resource is unacceptable. Millions of Illinoisians rely on Lake Michigan as their water supply," department officials said in a statement. "We urge the Indiana Department of Environmental Management and U.S. EPA to respond urgently to this matter."
After the first leak — a "rusty discharge" caused by elevated iron levels — was reported on Sept. 26, the water department proactively sampled Chicago's water supply, according to officials. 
"Fortunately, all samples collected were within normal parameters, and there was no impact on Chicago's water quality," officials said.
The second leak, which occurred Oct. 7, created a "sheen" that's been attributed to oil discharged at U.S. Steel's outfall into the Burns Waterway, which feeds into Lake Michigan. Indiana Dunes National Park shut down its Portage Lakefront and Riverwalk shoreline and waters, which are adjacent to Midwest Plant, as a precaution. The area has since reopened, the park service announced Friday. 
The Department of Water Management said it should be notified of any such discharges, "as rapid notification enables us to respond rapidly to protect our water supply."
U.S. Steel said an existing boom contained the oil and that none entered the lake.
But according to the Indiana Department of Environmental Management, which released an update on the incident Friday afternoon, "some sheen was observed outside the boomed area."
The agency continues to investigate the cause of the incident and to weigh any potential repercussions under a consent decree approved in early September requiring improved "environmental compliance" from U.S. Steel at the Midwest Plant in Portage, Ind.
The consent decree is related to a 2017 spill in which the steel company released hundreds of pounds of hexavalent chromium, nearly 600 times the maximum permitted, into the Burns Waterway.
Hexavalent chromium is a toxic heavy metal used in a number of industrial processes. The chemical was made famous by the film "Erin Brockovich" and can cause cancer in humans when they are exposed to it by breathing, according to the EPA.
The EPA's Chicago-based regional office is still awaiting a leader to be appointed by President Joe Biden. Debra Shore, commissioner with the Metropolitan Water Reclamation District, has been tapped as the likely choice, the Sun-Times reported. The regional office serves six states — Illinois, Indiana, Michigan, Minnesota, Ohio and Wisconsin — and 35 tribes. 
Contact Patty Wetli: @pattywetli | (773) 509-5623 |  [email protected]
---