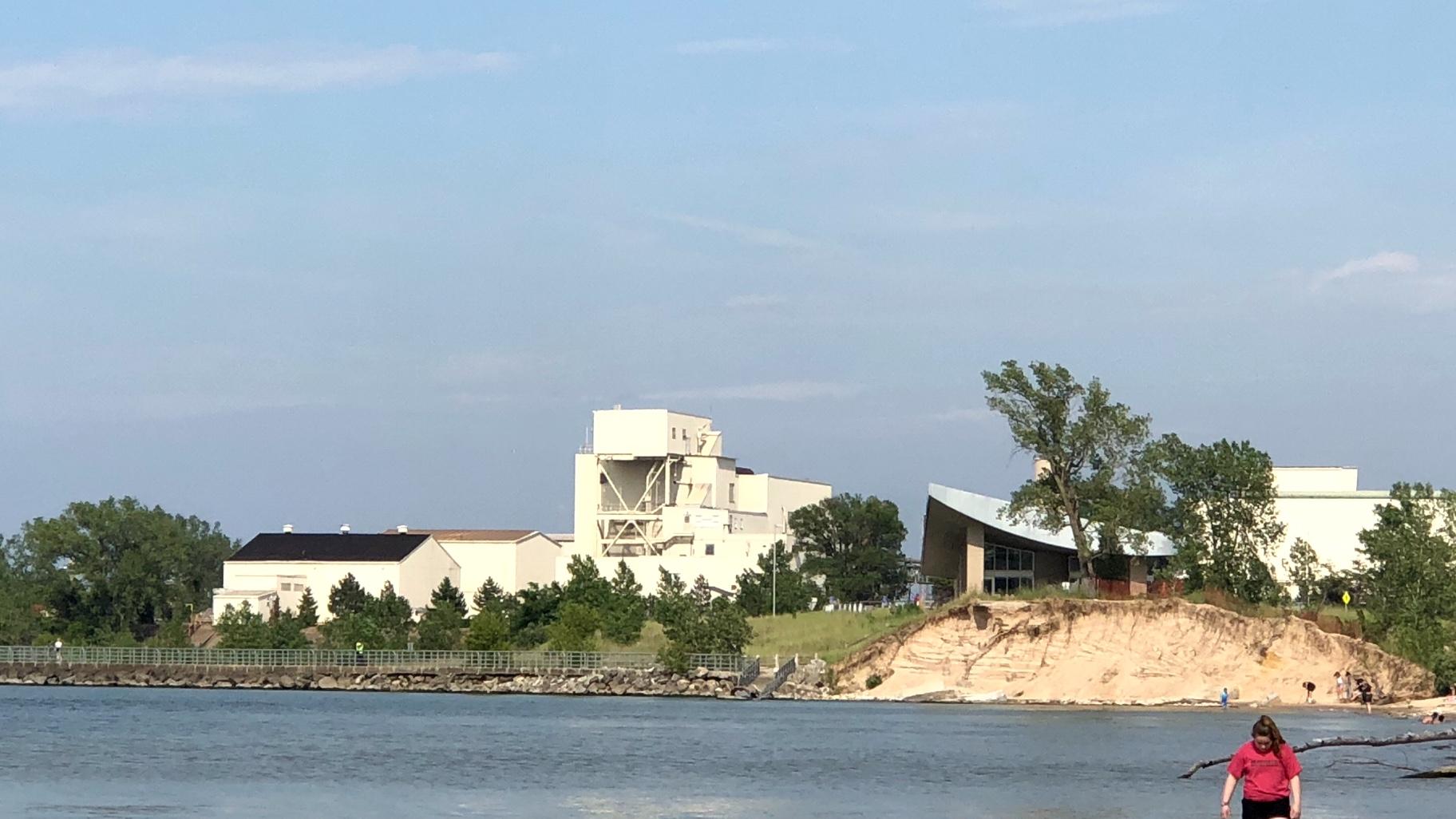 U.S. Steel Midwest Plant on the shore of Lake Michigan, with the Indiana Dunes Portage Lakefront and Riverwalk Trail in the foreground, in 2019. (Patty Wetli / WTTW News)
The Environmental Protection Agency confirmed the "reddish-orange discharge" that poured into Lake Michigan on Sunday from a U.S. Steel plant in Portage, Indiana, was caused by high levels of iron, and says there's no indication of health risks for people who may come into direct contact with the water.
The EPA's results match those reported earlier by U.S. Steel.
The agency noted that the spill, which issued from an outfall into the Burns Waterway and then seeped into Lake Michigan, consisted of concentrations of iron below the limits contained in U.S. Steel's permit.
With the EPA stating there's no indication of health risks for people who many come into direct contact with the water, Indiana Dunes National Park has reopened its beaches, which had been closed since Sunday, a spokesperson said. 
U.S. Steel has restarted its plant, according to spokeswoman Amanda Malkowski.
"The discharge has dissipated. We are continuing to investigate but were able to stabilize the system," she said, referencing the company's initial assessment that the excess of iron was linked to an "upset condition with the finishing line wastewater treatment plant." 
Indiana American Water did not immediately respond to a request for comment on its treatment plant at Ogden Dunes, which draws water for northwest Indiana from Lake Michigan near the steel plant and was shut down on Sunday.
Environmental activists called for greater scrutiny of companies operating on the lakefront.
"We need to start seriously addressing what real accountability looks like for companies that continue to contaminate our region," Gina Ramirez, board president of the Southeast Environmental Task Force, said in a statement.
This latest incident comes just weeks after federal courts approved a consent decree requiring U.S. Steel to pay penalties upwards of $600,000 and reimburse costs related to a 2017 spill.
"That this is not an isolated incident for this company brings further distrust about the way in which these types of industrial facilities can co-exist with both our communities as well as the natural areas that surround them," Ramirez said.
According to the EPA's statement, federal and state agencies continue to investigate the incident to determine the cause, possible Clean Water Act compliance issues, as well as environmental impacts and further actions that may be necessary to ensure future compliance. 
Contact Patty Wetli: @pattywetli | (773) 509-5623 |  [email protected]
Note: This story was originally published Sept. 29, 2021. It has been updated to include a statement from Gina Ramirez of the Southeast Environmental Task Force.
---