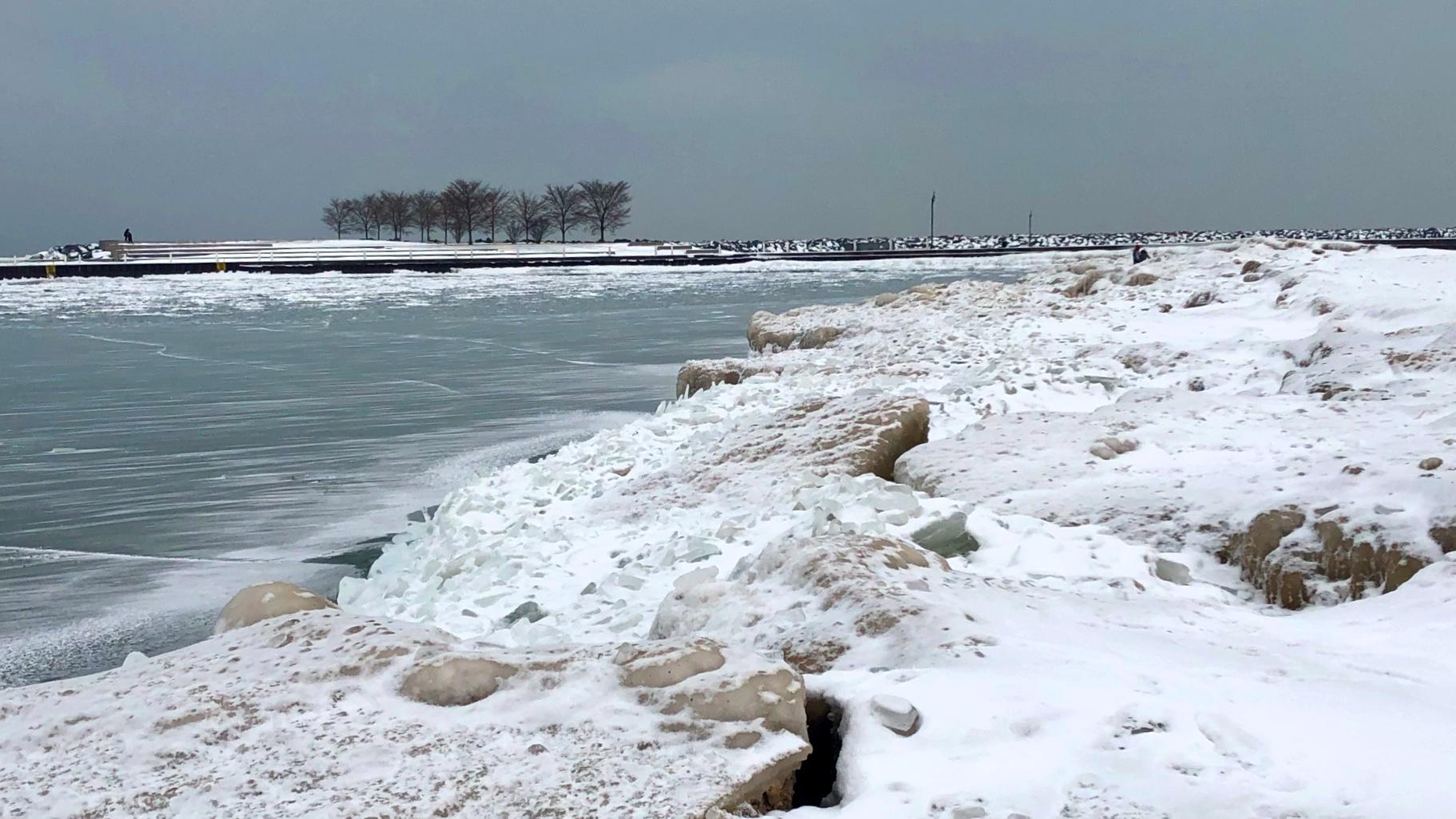 Shelf Ice at 31st Street Beach. (Patty Wetli / WTTW News)
As enchanting as Lake Michigan's ice may appear, it's unmistakably dangerous, as evidenced this week by the presumed drowning of an Indianapolis man who fell into the water off shelf ice at Indiana Dunes National Park on Monday.
Bryce Dunfee, 22, was walking on the ice with a group of friends when the shelf began to crack and he slipped into the lake. Strong waves and the shifting ice hampered rescue efforts by emergency responders and a recovery search for Dunfee is still underway, according to the Indiana Department of Natural Resources law enforcement division. 
Earlier in February, the Chicago Fire Department was called in to pull a man off the shelf ice on the south lakefront and was able to bring him safely to land. "The outcome could have easily been a tragedy," officials said.
Though both incidents involved people who were unfamiliar with the normal contours of the shoreline, shelf ice can trick even lakefront regulars. It can develop far off shore, making it difficult to tell where a beach ends and ice begins, said Brett Borchardt, a meteorologist with the Chicago office of the National Weather Service.
Shelf ice is a Great Lakes phenomenon that occurs when floating bits of ice are pushed toward shore by waves and become jammed together. The pile accumulates and spray from waves can add even more ice, Borchardt said. It develops every year, but the extent varies depending on how cold temperatures get and how long the deep freeze lasts, he added 
While it may look like a solid sheet, shelf ice is actually composed of chunks and is full of cracks and crevices, which are frequently hidden by a covering of snow, he said.
"There's weaknesses throughout the entire shelf," Borchardt said. "You never know how thin it is."
Falls from shelf ice are particularly dangerous given not only the frigid water but also how difficult it is to climb out, as people attempt to grab hold of slippery ice, he said.
"Never step out there," Borchardt advised.
---
The person on the ice near 5500 S LSD apparently didn't realize he was walking on ice. This rescue went smoothly but the outcome could have easily been a tragedy. Avoid the ice at all costs. No ice is safe ice! 0 pic.twitter.com/E90TjwyXx9

— Chicago Fire Media (@CFDMedia) February 4, 2022
---
---
Contact Patty Wetli: @pattywetli | (773) 509-5623 |  [email protected]