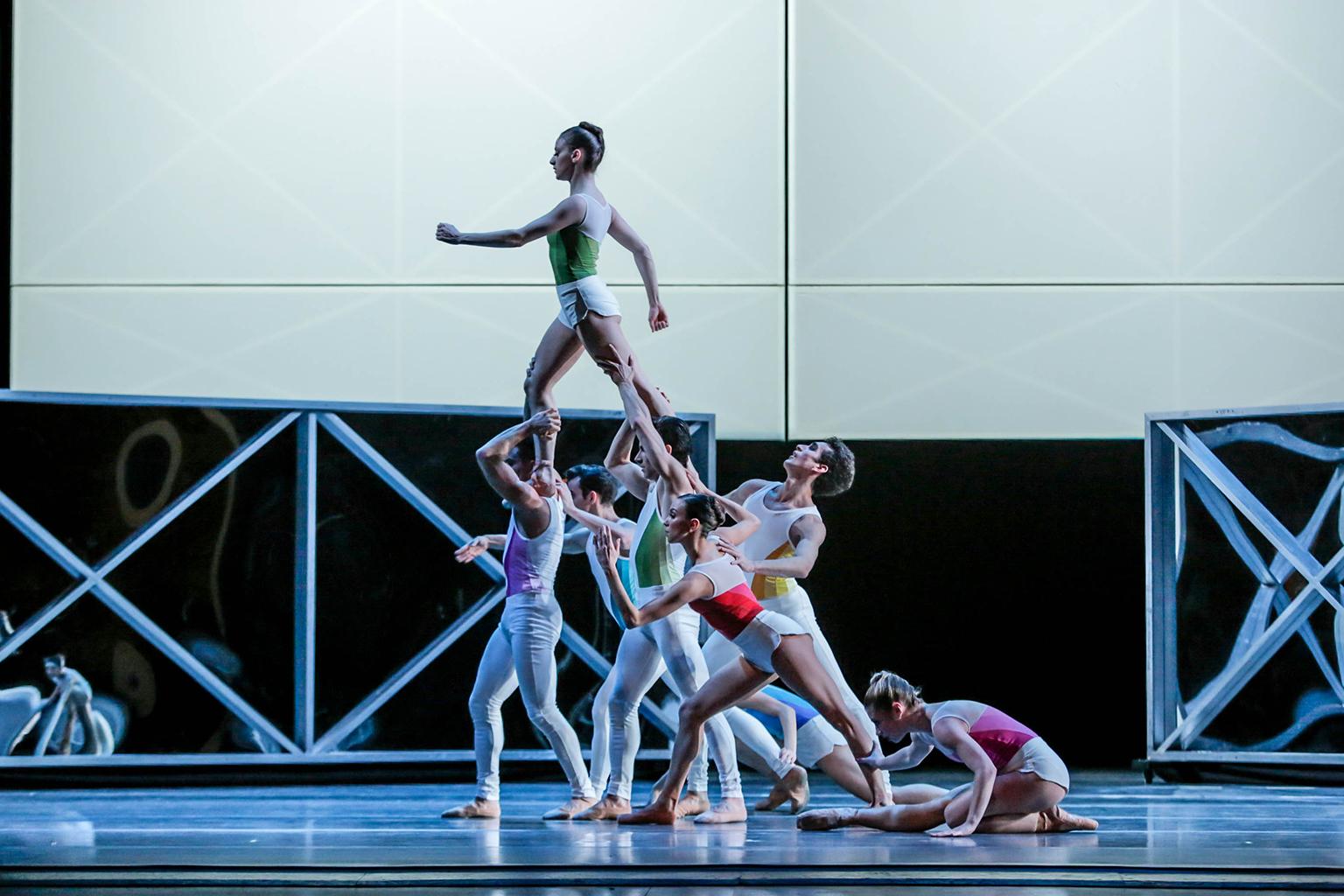 The Joffrey Ballet, "Body of Your Dreams" (Photo by Cheryl Mann)
By any measure, dancers are the hardest working people in the performing arts (a fact often unacknowledged), with the shortest career spans, as well as some of the lowest levels of salaries and benefits, especially for the many who work on a freelance basis.
The Dance for Life organization, established in 1992 in response to the HIV-AIDS crisis – but subsequently expanded to offer invaluable financial assistance to dancers with the full range of medical issues – has enjoyed impressive growth over the years. And as demonstrated in its thrilling annual benefit concert Saturday – which attracted a packed house to the Auditorium Theatre – that growth parallels the extraordinarily impressive expansion of Chicago's dance scene itself, with more companies, and more superbly trained dancers making this city their home base.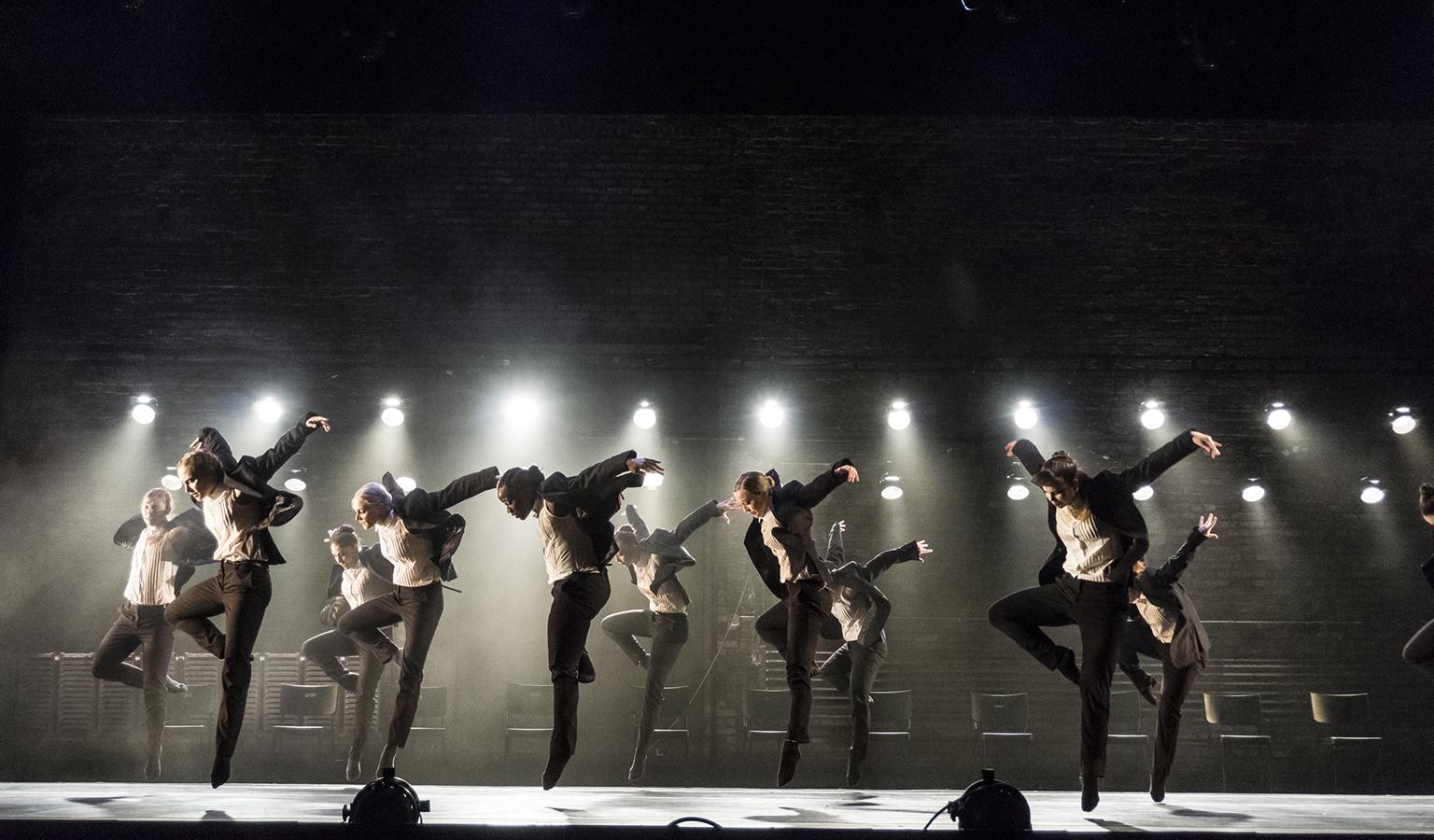 Nomi Dance Company (Credit: Matthew Gregory Hollis)
As always, the concert served up a rich smorgasbord of styles. It also offered a subtle suggestion of Chicago's dance history. So it might be best to start here with the last of the eight works on the program – a rousing revival of Lou Conte's "The 40s." Created by Conte in 1978 (when this city was far from a dance hub), this irresistible celebration of swing dance, set to the music of Sy Oliver, served as Hubbard Street Dance Chicago's signature piece for many years. In recent decades, as the company switched to a more European-based rep, the work has been only rarely revived. Watching it now, performed to perfection by dancers who weren't even born when Hubbard Street was founded by Conte, was immense fun, with the mischievous, ebullient Alicia Delgadillo as the "master of ceremonies" fronting a peerless ensemble of 15 who clearly reveled in this display of vintage Americana.
The performance was especially touching given that the ever-modest Conte was one of two honorees of the evening. He paid tribute to one of his loveliest founding dancers, Claire Bataille, who not only staged this revival of a work she danced countless times in times past, but spoke eloquently on video of how Dance for Life had helped her with bills during a recent bout with cancer.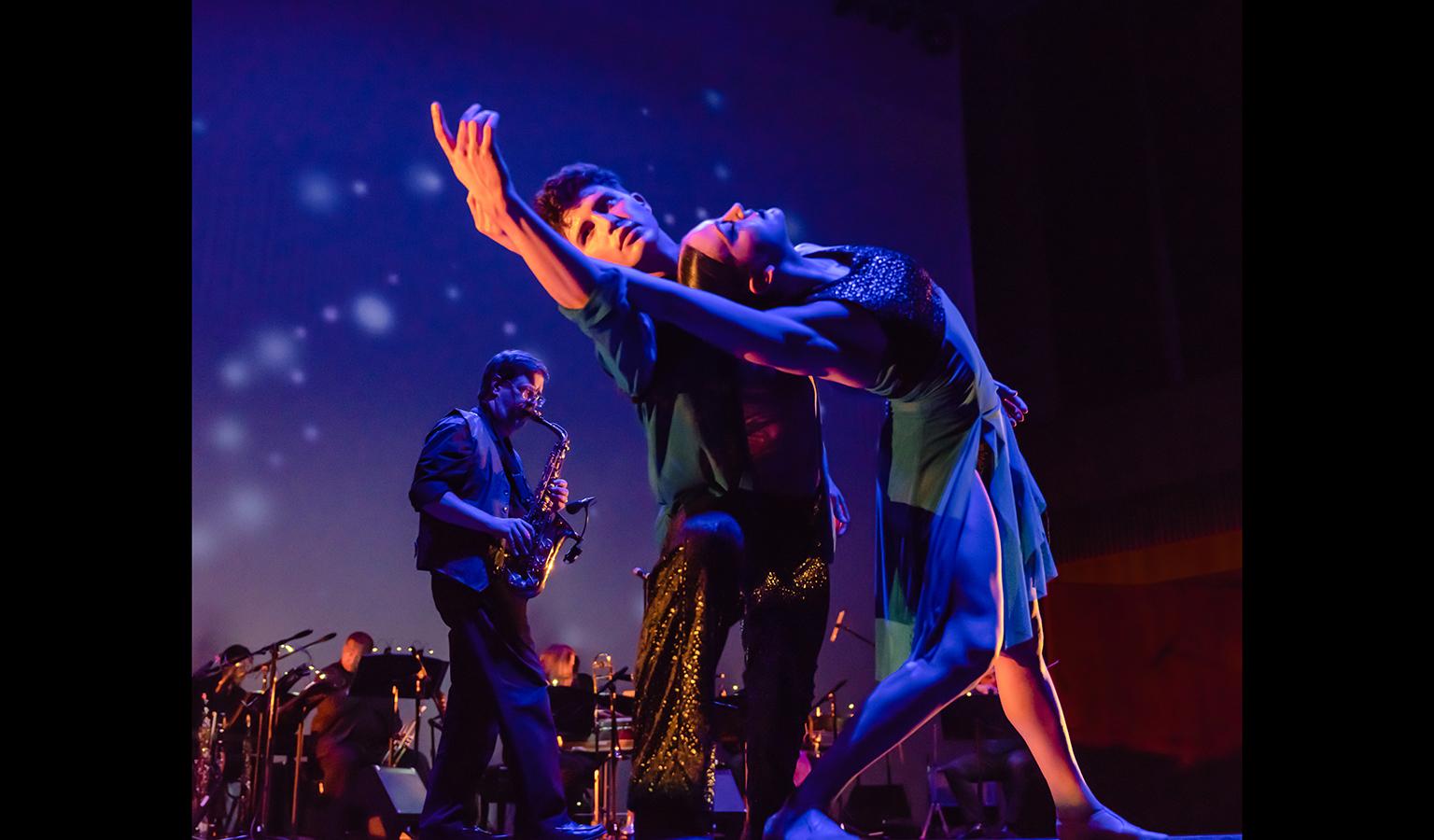 Cerqua Rivera Dance Theatre performs excerpts from Sherry Zunker's "Between Us," with musician Dan Hesler, left, and dancers Brennen Renteria and Miranda Borkan. (Credit: Dan Kasberger)
The penultimate performance in the concert was a revelation of a different kind. Over the years I have watched Hanna Brictson bring her galvanic energy and formidable stage presence to bear as a dancer with River North Dance Chicago (now defunct), and, more recently, with Visceral Dance Chicago. But with the rollicking, altogether bravura performance of her 2017 work, "My Darling," set to the Righteous Brothers' iconic song, "Unchained Melody," she demonstrated in one fell swoop that she is a choreographer of formidable talent. (Incidentally, one of Brictson's mentors, River North's longtime artistic director Frank Chaves, was seen on video speaking movingly of his transition to a wheelchair as a result of spinal cord problems.)
Brictson's phenomenally polished company of (yes) 41 dancers – dressed in smile-inducing fire-engine red suits of her design – could easily go leg-to-leg with the Rockettes' precisionism, and demonstrated a giddy-making comic flair all its own. (Note to Chicago's musical theater directors: grab hold of Brictson to choreograph your next big production and you are bound to get something special.)
Now, back to the beginning. The concert opened with "Adroit," a high-impact work created by Randy Duncan in 2007. Duncan traditionally supplies the benefit's final work, but with its  fiercely percussive African dance motifs and brilliant floor patterns set to a powerhouse score by the Chicago-trained, world-traveled composer Doug Brush, it set the ideal tone for all that was to come in the program. And as usual, Duncan's "pick-up ensemble" of 17 dancers from major Chicago companies (plus several "independent" artists) displayed an exemplary unity. The work was enhanced by Luis Razo's fluid camouflage-patterned costumes and Margaret Nelson's artful lighting.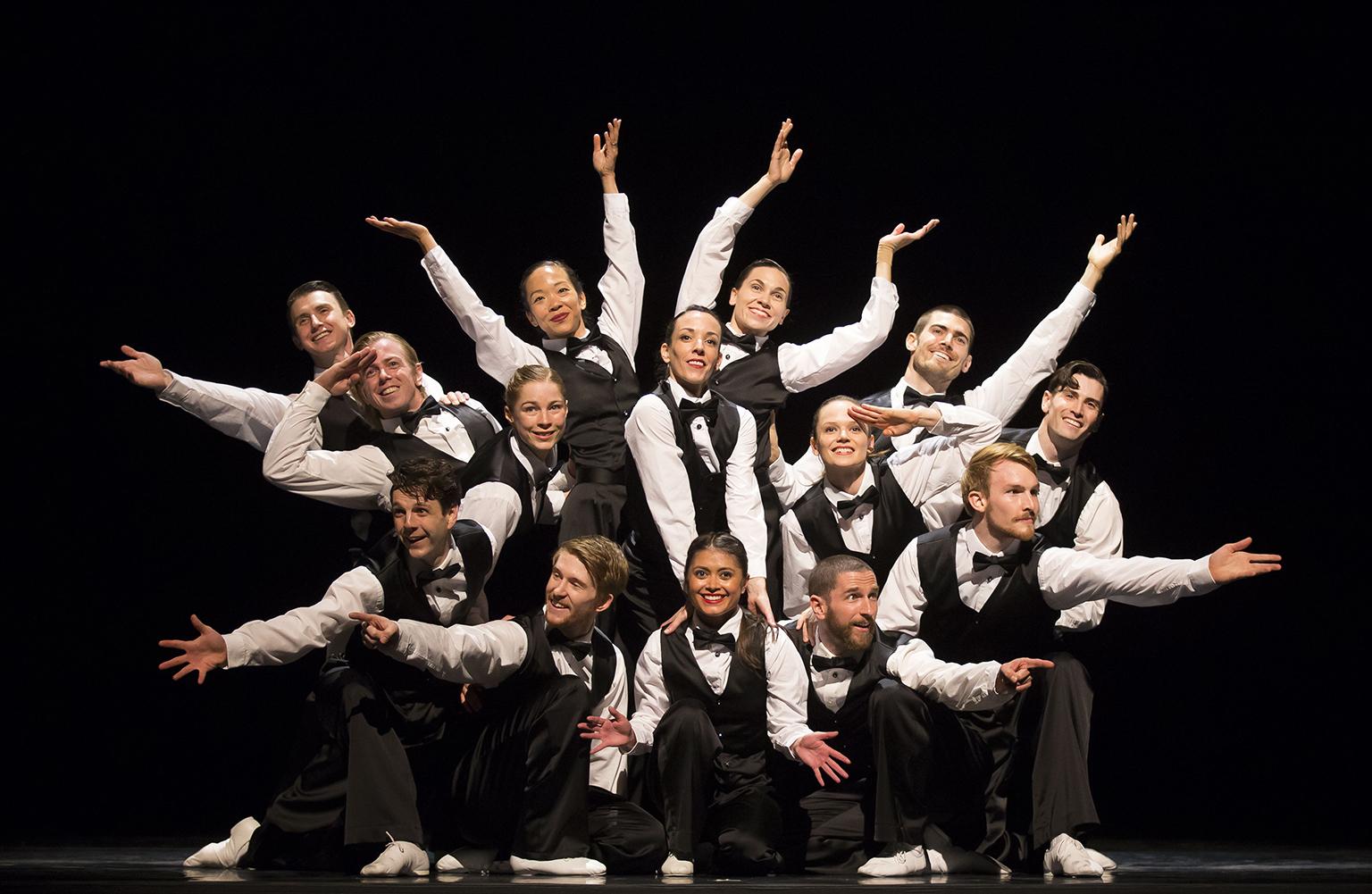 Hubbard Street Dance Chicago in "The 40s" by Lou Conte. (Photo by Todd Rosenberg)
Choreographer Joshua Blake Carter (who is director of the Giordano II troupe), was represented by excerpts from his 2017 work, "Kim," set to music by Laura Mvula and vividly realized by the Nomi Dance Company. This fiercely danced piece for 11 women seemed ideally tailored for the #MeToo era, and, with its dancers dressed in black men's suits making use of straight-back chairs, it also seemed to take a cue from Ohad Naharin's "Minus 16."
Chairs also played a major role in "Tossed Around," Ray Mercer's hard-hitting 2017 work for Giordano Dance Chicago, set to original music by Sbongisenu "Bongi" Duma (a veteran of "The Lion King") and stunningly lit by Jacob Snodgrass. Performed in the company's signature take-no-prisoners style, this tense musical-chairs exercise on the theme of relationship power games featured a pivotal central duet sublimely danced by the virtuosic Meghan McHale and Devin Buchanan.
Chicago Dance Crash (Credit: Ashley Deran)
A knockout streetwise contemporary breakdance competition featuring Olympic-level athleticism and eye-popping moves was the key to "Freshly Served," the "freestyle" work performed by members of Chicago Dance Crash under the direction of Jessica Deahr. In a sense, the company's one dozen dancers "played the dozens" as they tried to outdo each other with gyroscopic floor spins, contortions, isolations, back flips and other acrobatic wonders. Big fun.
The Joffrey Ballet (whose major attention in recent weeks has been on rehearsing a remount of Christopher Wheeldon's " Swan Lake" and creating the world premiere of Yuri Possokhov's "Anna Karenina"), danced Myles Thatcher's slight but amusing "Body of Your Dreams," a sendup of the fitness craze as only the sleekest and fittest of human beings could enact it. And Chicago's Cerqua Rivera Dance Theatre performed excerpts from Sherry Zunker's lyrical "Between Us." Set to a sweetly jazzy score by Joe Cerqua, it won points for featuring the only live music of the evening, with Dan Hesler (on soprano sax) and James Sanders (violin) weaving in and out of the action.
The other honoree on Saturday was Nan Giordano, daughter of Gus Giordano, the late and fabled jazz master. Nan assumed leadership of the company her dad founded, and, during the past 24 years, has impressively nurtured its development beyond the jazz idiom.
The final tally of funds raised by this year's gala benefit concert is not yet available. But were it measured in terms of talent and spirit alone it would be certified as pure gold.
Follow Hedy Weiss on Twitter: @HedyWeissCritic
---
Black Ensemble Unwraps the Joyful Healing Properties of the Blues
'Something in the Game' Wins One for The Gipper, and for Musical Theater, Too
In 'Pamplona,' Stacy Keach Runs with Hemingway and the Matadors
Elvis Makes a Faustian Bargain in 'Heartbreak Hotel'
---