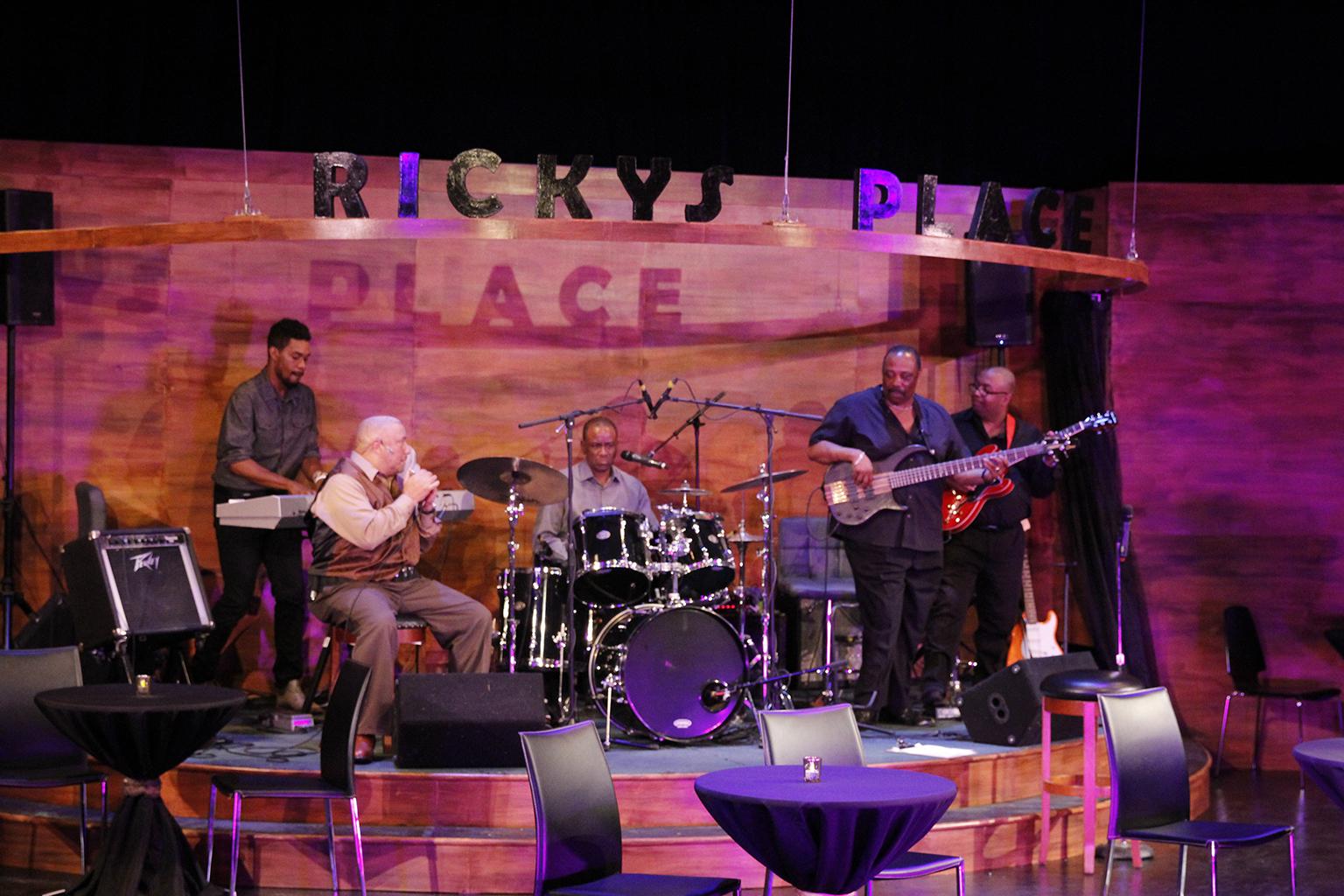 From left: Adam Sherrod, Lamont "Harmonica Man" Harris, music director Robert Reddrick, Mark Miller, Gary Baker in "Rick Stone the Blues Man" at Black Ensemble Theater. (Credit: Alan Davis)
As the blues musician Taj Mahal once observed, "With the blues it's not just about bad times; it's about the healing spirit."
Should you need further proof of this notion, simply head to the Black Ensemble Theater where, in her deftly crafted new show, "Rick Stone the Blues Man," writer/director Jackie Taylor has devised a wonderfully engaging way to explore the full spectrum of blues classics.
As fans of the Black Ensemble already know, Rick Stone (who many decades ago grew up alongside Taylor in the Cabrini Green projects), is the tall, lanky man with a distinctively raspy voice and a flair for funky, mischievous, snake-like moves who made his mark with portrayals of such blues legends as Howlin' Wolf and Muddy Waters. He also possesses an unmatched gift for carrying off high-styled suits, whether in pearly pink or ivory satin – ideal outfits for his role here as the owner and host of Ricky's Place, a blues club with a superb band (led by music director/drummer Robert Reddrick, with Adam Sherrod on keyboards, Gary Baker on guitar and Mark Miller on bass), as well as patrons and friends with enough life issues and vocal firepower to give 30 blues classics their full due.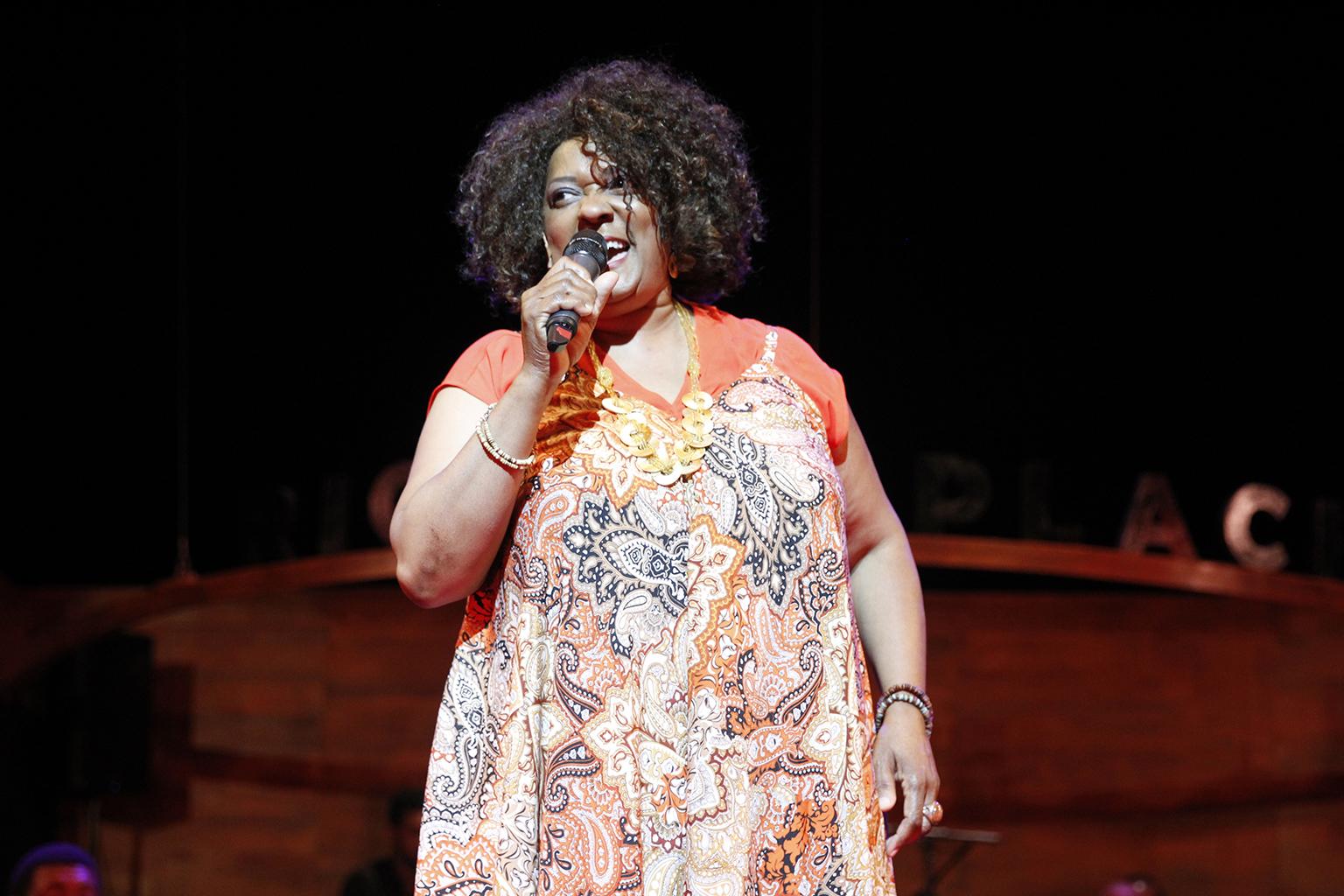 Cynthia Carter (Credit: Alan Davis)
The habitués of the club (all referred to by the performers' real names) include: Dwight Neal (as Stone's longtime friend, who helped fund the club years earlier, and who is married, but engaged in a fling with a 19-year-old); Theo Huff (the youngest member of the group, suffering from a romantic breakup); Rhonda Preston (the elegant voice of reason whose husband is seriously ill); Cynthia F. Carter (the brassy liberated woman and unapologetic good-time girl); Kelvin Davis (the Vietnam vet who works as a bartender and still suffers from periodic post-traumatic stress panic attacks); and Lamont D. Harris (the master harmonica player who adds his invaluable bluesy sound to the mix).
Theo gets things started with a soulful rendering of "Turn Back the Hands of Time" and later, "I've Been Loving You Too Long" and "Just Enuf Rope." Dwight nails his situation with "19 Years Old" and "Ain't No Love in the City." Rhonda (who deserves a musical all her own) is a hoot as she sings "You Can Have My Husband" (a title that comes with the comic tag line, "but don't mess with my man"). She also brings fire to "I'm a Woman" and "Misty Blue," and even sneaks in a Broadway classic, "The Party's Over."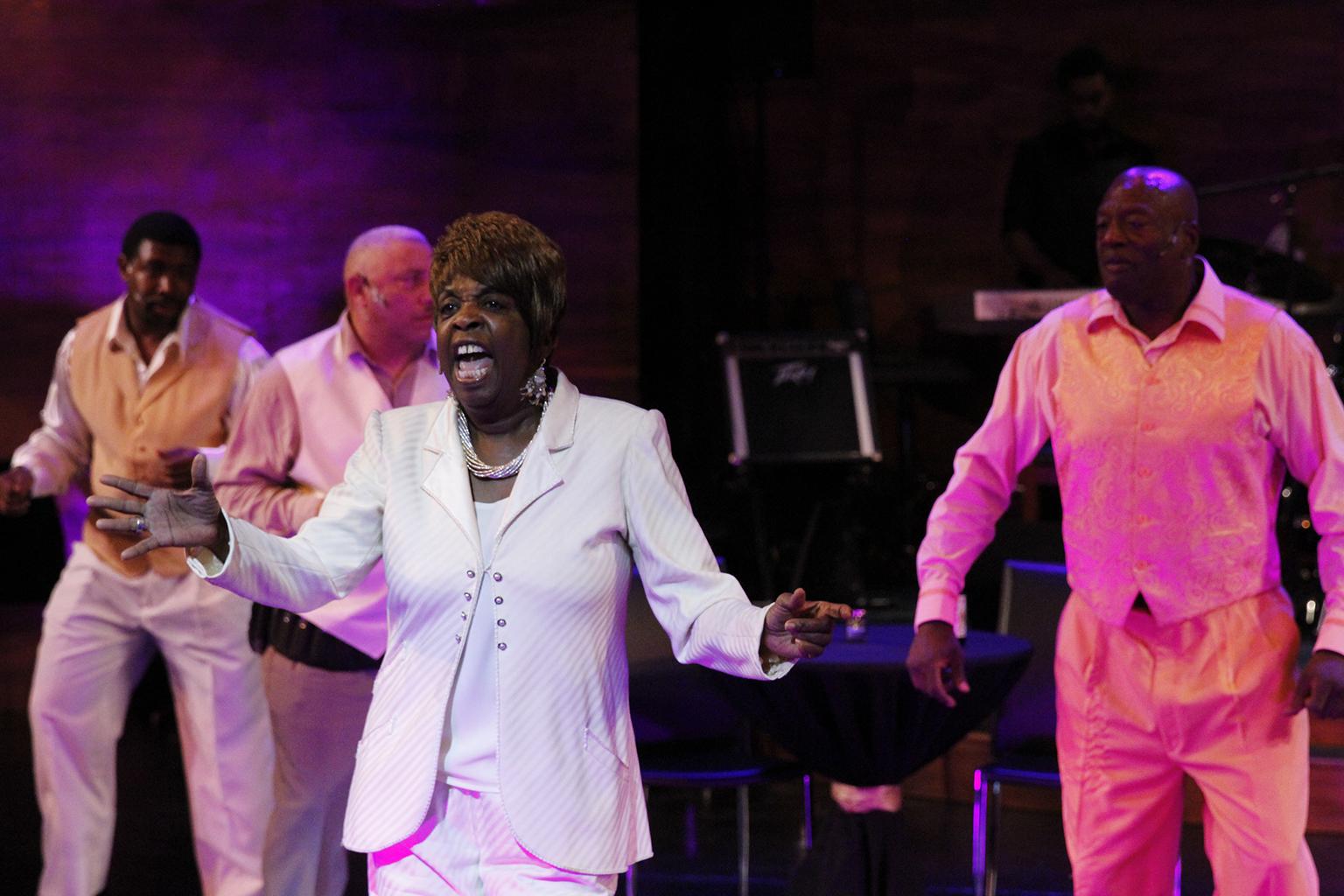 From left: Theo Huff, Lamont "Harmonica Man" Harris, Rhonda Preston and Rick Stone. (Credit: Alan Davis)
Cynthia stirs things up with rollicking renditions of "Wang Dang Doodle," Wild Wild Woman," and "Hey Bartender." Rick puts a winning ache on "Need Your Love So Bad," a tribute to his wife, and delights with "Howlin' for My Baby," "Three, Six, Nine Blues," "I'll Play the Blues for You" and "Just Like I Treat You." And Kelvin reveals his inner performer in "Call My Wife."
And there is more, including stirring takes on "Stay Around a Little Longer" and "Let the Good Times Roll."
The intriguing thing in it all is the way the performers here have taken these songs which have been so memorably performed by the likes of B.B. King, Etta James, Buddy Guy and many others, and made them their own, adding just enough of a contemporary vibe to demonstrate that the blues are forever fresh.
Bekki Lambrecht's sleekly stylish set underscores this notion, with four small cafe tables with seats occupied by eight audience members forming part of the picture. All in all, this is an uptown show full of down-home blues.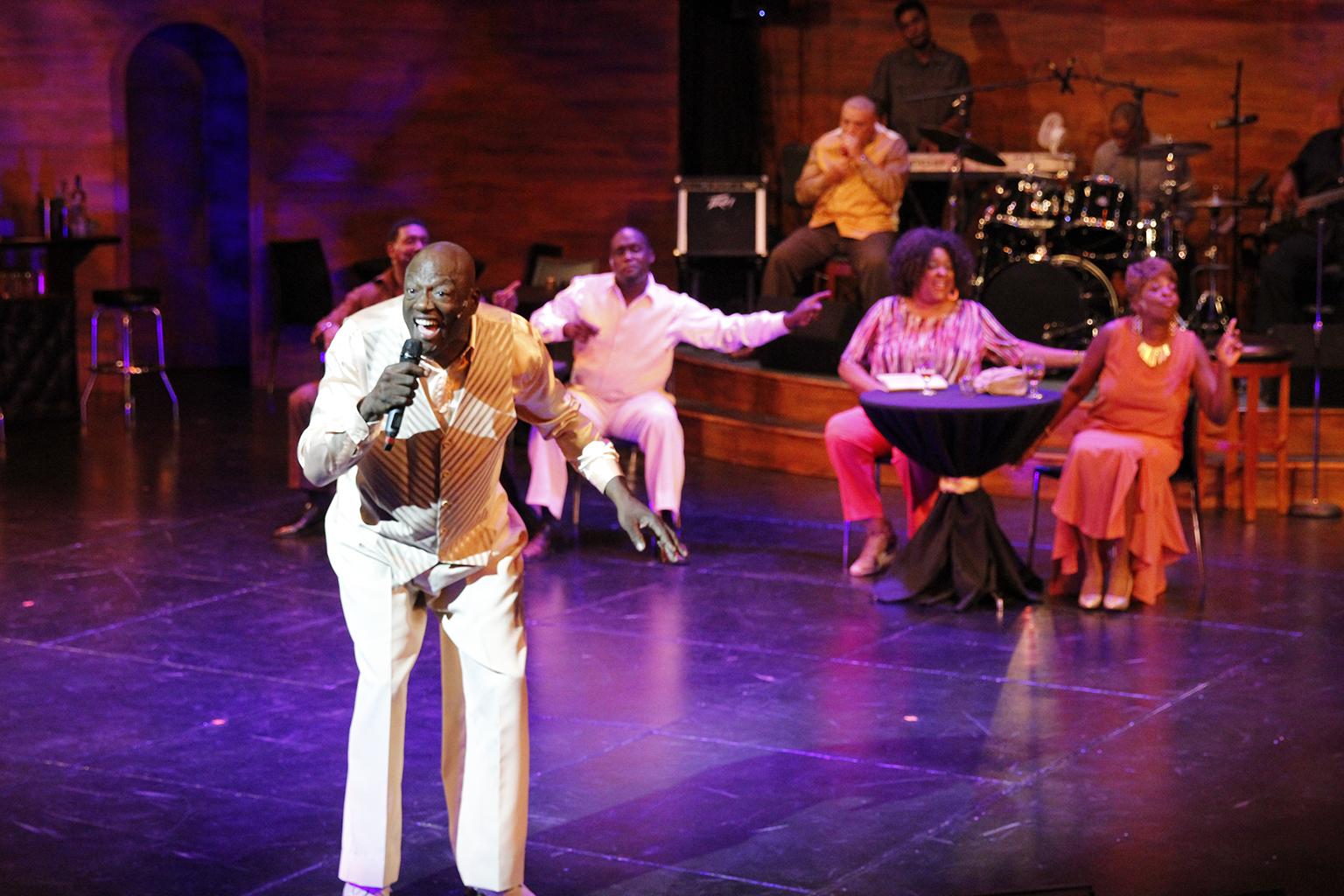 From left: Theo Huff (obscured), Rick Stone, Dwight Neal, Lamont "Harmonica Man" Harris, Cynthia Carter and Rhonda Preston. (Credit: Alan Davis)
"Rick Stone the Blues Man" runs through Aug. 26 at the Black Ensemble Theater, 4450 N. Clark St. For tickets ($55-$65), call (773) 769-4451 or visit www.blackensembletheater.org. Running time: 2 hours and 30 minutes with one intermission.
Note: Black Ensemble Theater's season will continue with productions of "A Revolution in Rhyme: From Gil Scott Heron to Jay-Z" (Sept. 29-Nov. 4), and "Women of Soul" (Dec. 8, 2018-Jan. 27, 2019).
---
'Something in the Game' Wins One for The Gipper, and for Musical Theater, Too
In 'Pamplona,' Stacy Keach Runs with Hemingway and the Matadors
Elvis Makes a Faustian Bargain in 'Heartbreak Hotel'
'Murder for Two' Sets Pair of Actors in Breathless Pursuit of Perpetrator
---