As difficult as it may be to believe, the summer of 2018 is winding down. And one significant marker of this sad fact is that the Grant Park Music Festival will give the final performances of its 84th season this weekend (ending Saturday at 7:30 p.m.) beneath the curling steel forms of architect Frank Gehry's Jay Pritzker Pavilion in Millennium Park.
To be sure, this invaluable, admission-free festival has planned a grand-scale farewell, with a program that includes "Carmina Burana," Carl Orff's ever-popular 1936 "scenic cantata." Inspired by medieval poetry discovered in a Benedictine monastery in Bavaria in 1803, it muses wildly on everything from the nature of fate, to the joys of Spring, to the wages of sin and pleasures of lust. And joining Carlos Kalmar, the festival's artistic director and principal conductor, will be members of the Anima-Glen Ellyn Children's Chorus under the direction of Grant Park's chorus director, Christopher Bell, and soloists Claire de Sevigne (soprano), Michael Maniaci (counter tenor) and James Westmann (baritone).
Also on the program will be Dvorak's rarely heard "Water Goblin," a symphonic poem based on verses that tell the story of a mischievous creature who traps downing souls in upturned teacups.
Kalmar, who has been with the festival since 2000, deserves a toast on many counts. He never dumbs down his programming; he mixes and matches pieces with great skill; his choice of soloists is superb; and he has assembled an orchestra of superb musicians (drawn from the Lyric Opera of Chicago, the Metropolitan Opera and symphonies from around the country) and assured that they sound as if they've played together for years.
Last Saturday's concert was a perfect example of all these things, with an eclectic mix of works by Beethoven, the American modernist Charles Ives and English composer Ralph Vaughan Williams.
Pablo Ferrandez with the Grant Park Orchestra in Millennium Park, Aug. 10, 2018. (Photo by Norman Timonera)
Without question, the star of the evening was the already internationally renowned 27-year-old Spanish cellist, Pablo Ferrandez, whose riveting performance of Beethoven's fiendishly difficult "Sinfonia Concertante in E Minor" (played from memory) was sublime from the moment he drew his bow across the strings of his golden-toned 1696 Stradivarius "Lord Aylesford" cello.
One of the other great pleasures of the evening was the way a boy of about nine, accompanied by his father, listened to the piece with absolutely rapt attention. At intermission I asked him if he played the cello, and he nodded shyly that he did. Another Yo-Yo Ma in the making? Let's hope so.
But the orchestra is not the only attraction at the pavilion. A standing-room-only crowd estimated at 15,000 came to the park this past Monday night for Broadway in Chicago's seventh annual Summer Concert. This sampler of the touring productions headed to Loop stages during the 2018-2019 season (with live performances enhanced by video of the Broadway editions) is unquestionably one of the savviest marketing tools in show biz.
There were excerpts from the many familiar musicals headed this way ("Hello, Dolly!" "Miss Saigon," "The Book of Mormon," "Fiddler on the Roof," "Cats" and "Falsettos"), as well as newer shows ("Roald Dahl's Charlie and the Chocolate Factory," "A Bronx Tale," "Anastasia" "Come from Away" and "Dear Evan Hansen"). Not surprisingly, "Tootsie," the only brand new, "pre-Broadway" musical (arriving in Chicago in September) was kept under wraps aside from some hosting duties carried out by its jeans-clad star, Santino Fontana.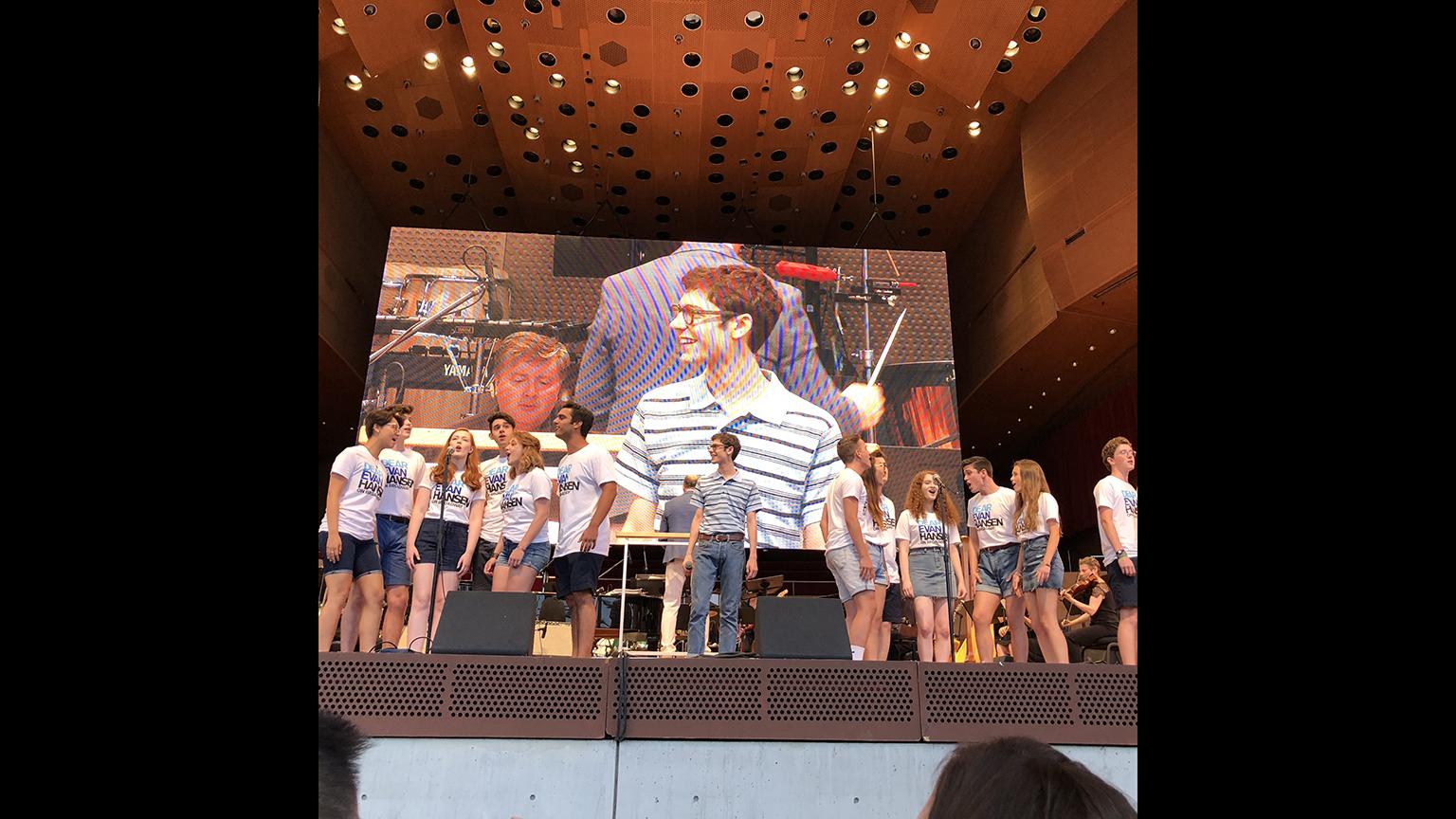 Ben Levi Ross ("Dear Evan Hansen") and the Illinois High School Musical Theatre Award Finalists.
Judging from the crowd's response, and comments overheard on my bus ride home, I'd say "Evan Hansen" – whose central character is the angst-filled teenage boy of the title (performed by Ben Levi Ross, who was joined by winners of the 2018 Illinois High School Musical Theater Awards) generated the most interest.
Applause for the lineup of all of the power-voiced soloists who carried off the difficult task of getting into character without the aid of scenery, costumes or full context, and for the expert orchestra under the excellent direction of conductor Michael Keefe.
And now on to autumn and back to school.
Follow Hedy Weiss on Twitter: @HedyWeissCritic
---
List: Free Summer Concerts in Millennium Park's Pritzker Pavilion
1960s Chaos Meets Upheaval of 2018 in Bernstein's 'Mass'
Black Ensemble Unwraps the Joyful Healing Properties of the Blues
'Something in the Game' Wins One for The Gipper, and for Musical Theater, Too
In 'Pamplona,' Stacy Keach Runs with Hemingway and the Matadors
Elvis Makes a Faustian Bargain in 'Heartbreak Hotel'
---