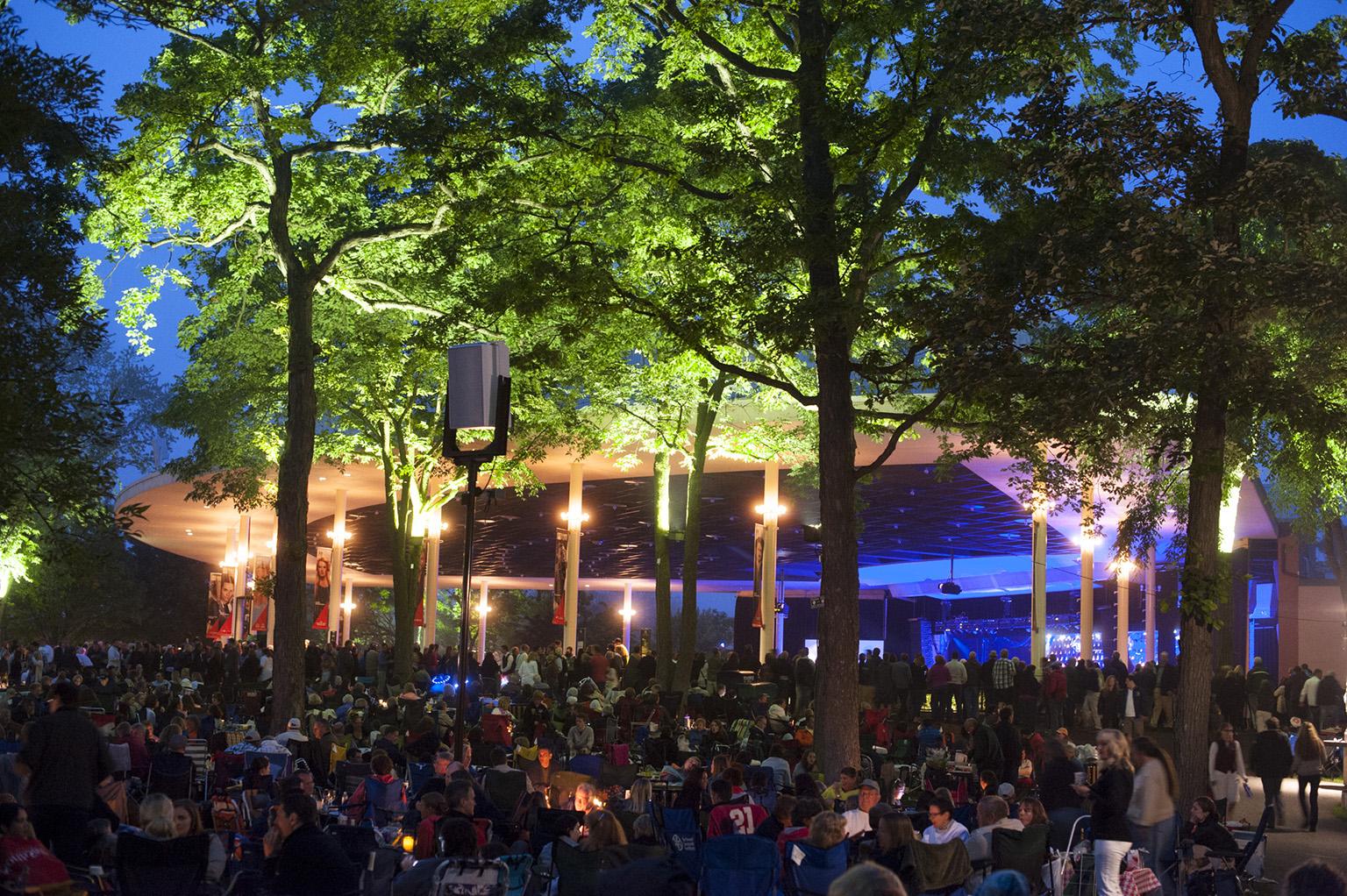 (Courtesy of Ravinia Festival)
As visitors to the Ravinia Festival well know, the picnics on the grass staged there tend to be legendary feasts. But it is the musical feasts – the nonstop lineup of concerts served up in the outdoor Pavillion and the indoor Martin Theatre and Bennett Gordon Hall – that are the real food for thought.
I haven't written about the many concerts that have filled these stages throughout July. But in the wake of Saturday's one-night-only production of Leonard Bernstein's massive "Mass" – the centerpiece of the Festival's multifaceted celebration of the 100th anniversary of the birth of the composer, conductor, teacher, writer and all-around larger-than-life personality – attention must be paid to that monumental undertaking, as well as to the many exceptional programs that preceded it.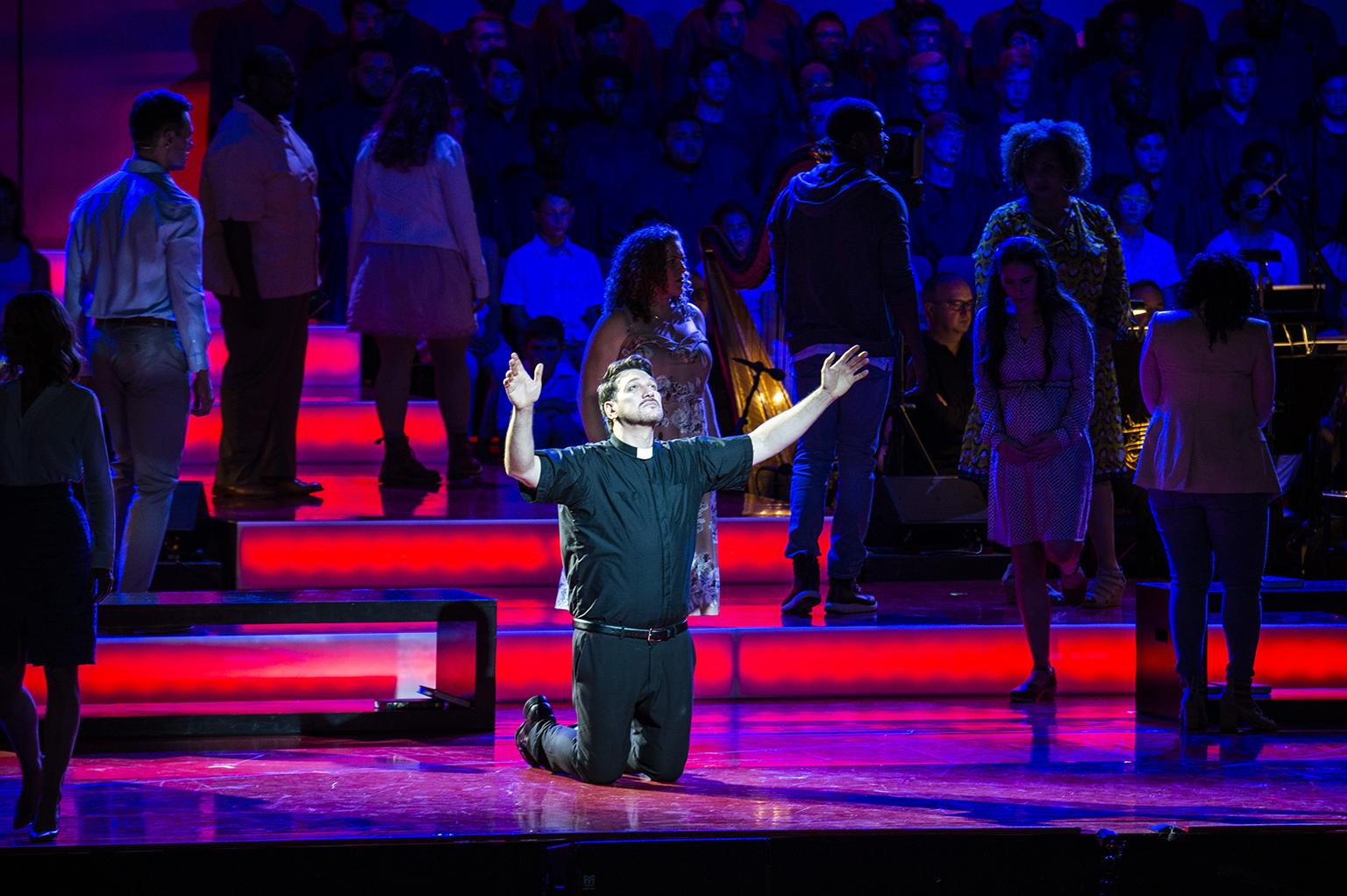 A scene from "Mass" (Russell Jenkins / Ravinia Festival)
First, the "Mass," a work commissioned for the September 1971 opening of Washington, D.C.'s John F. Kennedy Center for the Performing Arts. To briefly flash back in history: Richard Nixon was in the White House, the Vietnam War was raging, and the country was still processing the upheaval of the late 1960s. And to give things a bit of theatrical context: "Hair" had opened on Broadway just three years earlier, and "Jesus Christ Superstar," already released as a concept album, was set to open in New York in October of 1971.
Watching the 110-minute piece at Ravinia on Saturday night, both those works came to mind, even if Bernstein's roots in classical music (including brief echoes of Mahler), and jazz (including the iconic finger snapping of his own "West Side Story") could be heard throughout.
More than anything, however, what most sharply defined this grand-scale Ravinia revival was the simple fact that it was being presented in the age of the Trump presidency. And not surprisingly, some of the most thunderous applause greeted two notable updates to the libretto which was originally devised by Bernstein and a young Stephen Schwartz (who more than three decades later would write the score for "Wicked"). But more about those updates later.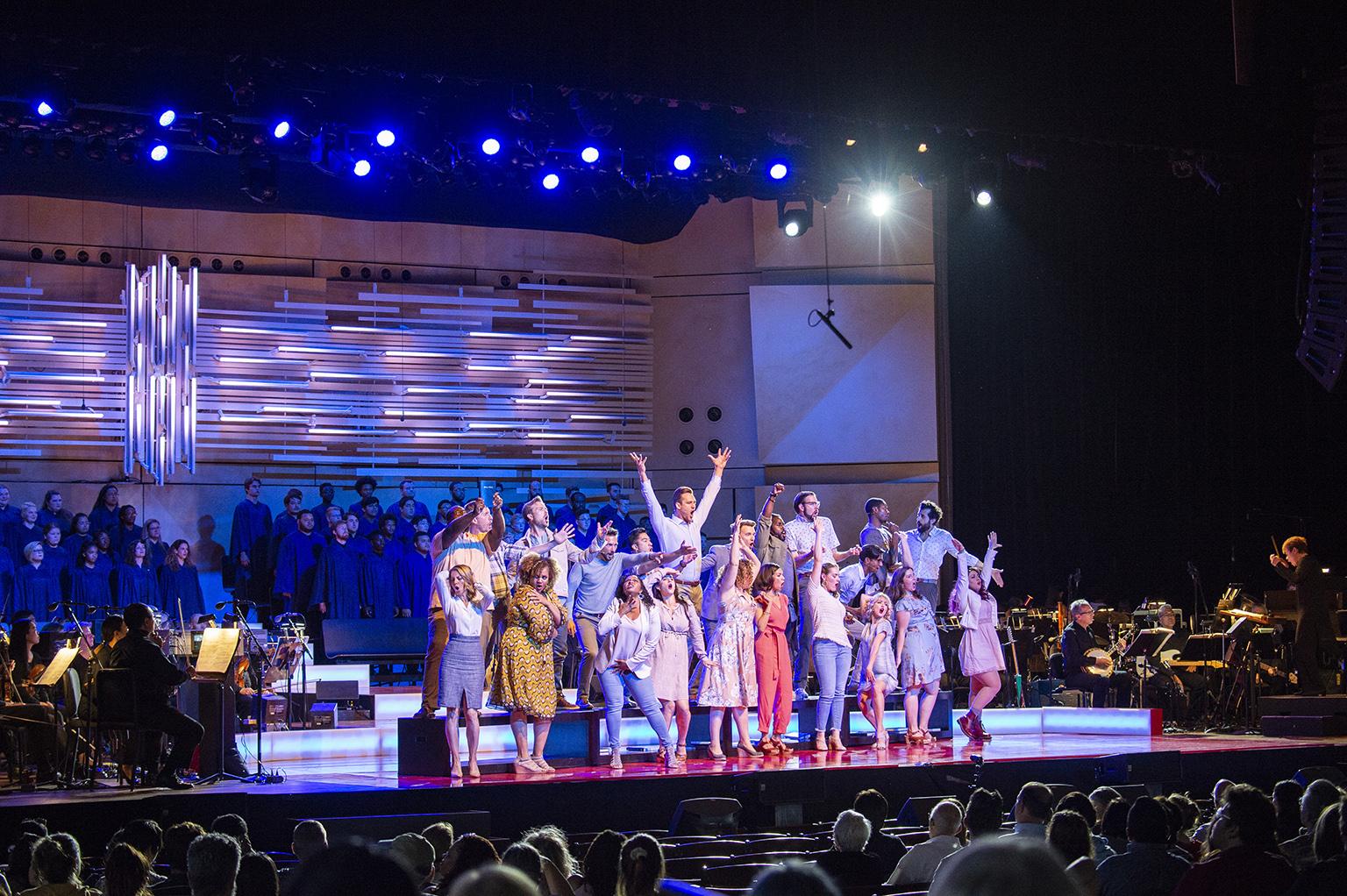 (Russell Jenkins / Ravinia Festival)
Drawing on essential elements of the Roman Catholic mass – with a number of liturgical passages sung in Latin, and a brief sequence that calls out "Kaddosh" ( the Hebrew word for "uniquely holy") – "Mass" is subtitled "A Theater Piece for Singers, Players, and Dancers." But it might more aptly have been dubbed "a quasi-operatic happening" – a spectacle (directed by Kevin Newbury), that here involved the talents of close to 300 performers including the musicians of the Chicago Symphony Orchestra, 23 vocal soloists (led by baritone Paul Szot), the Chicago Children's Choir and its more adult choral component, Vocality, and the Highland Park High School Marching Band, which trumpeted its way down the Pavilion aisles in full regalia.
Holding it all together was the extraordinary musical direction of Marin Alsop, a conductor of immense skill (and great modesty), who Bernstein mentored near the end of his life. This project clearly was a labor of love for Alsop, and she saw to it that the most beautiful musical elements of Bernstein's score cohered, while the eclectic dramatic aspects of the piece (an uneasy hybrid that at times teeters on the brink of kitsch) remained unified and cohesive. A major challenge, to be sure.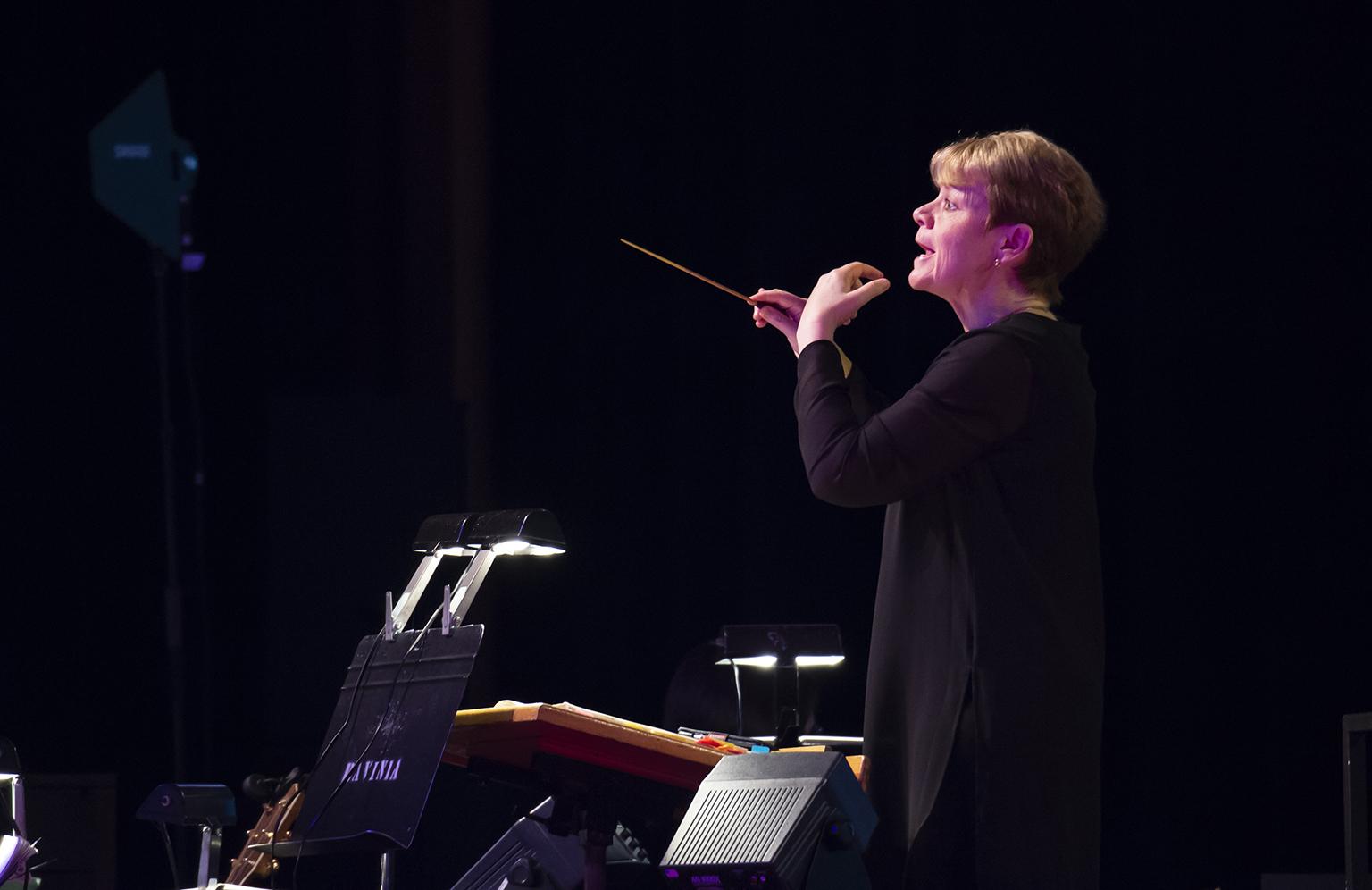 (Russell Jenkins / Ravinia Festival)
The story that unfolds here is about the restlessness, cynicism, rage and rebellion that erupts among the young members of a congregation, and the profound crisis of faith that this ultimately triggers in their priest or Celebrant (Szot), a man who steadfastly tries to cling to orthodoxy until everything around him both literally and figuratively breaks. (Bernstein's inspiration is believed to have been Father Daniel Berrigan, the radical anti-war activist.)
The congregants (all with clarion voices and distinctive personalities) are the first to find themselves in an existential meltdown, questioning what and why they should believe in a God who seems so disconnected from their personal fates and the state of the world.
"What I say I don't feel; what I feel I don't say," one man confesses, adding that he would believe in one god or 30 gods if he ever felt any of them believed in HIM. Others explained they were just tired of waiting for God to "return" and make things right. And we are told: "Half of the people are stoned while the other half are waiting for the next election." (This line earned big laughs.)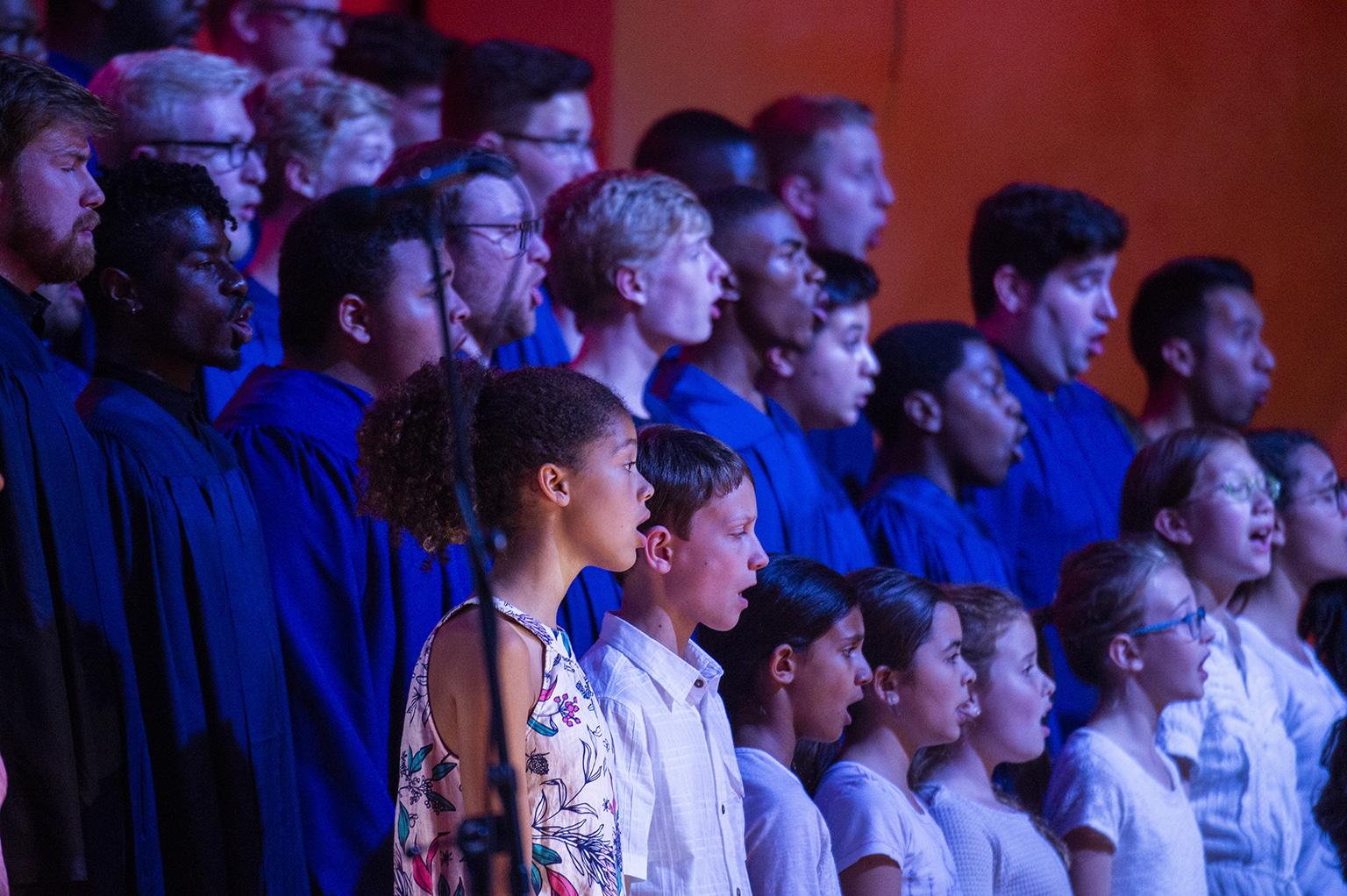 (Russell Jenkins / Ravinia Festival)
Later, the congregants deliver those new "letters" to the priest, pulling "Mass" even more directly into the politics of this moment.
"We have people in power who are using hate, fear and lies to separate us from each other and the ideals for which our country has come to stand," said actor Alexander Elliott, who co-wrote this new bit of text with Newbury. Isabel Santiago (also in collaboration with Newbury), gave voice to the plight of immigrants, crying out, "Please help us. We are desperate parents. We are not criminals. We were not prepared for this nightmare we face here."
Szot's powerfully sung and acted performance captured the confusion and pain of a man shaken to the core when suddenly forced to question everything he had so fervently believed. Of course things end with a shred of hope as everyone joins together and "goes in peace."
Other programs focused on the Bernstein anniversary included:
"Late Night with Leonard Bernstein," with the composer's oldest daughter, Jamie Bernstein, offering a first-hand, sometimes irreverent glimpse of life with her brilliant, insomniac, spotlight-grabbing father – a subject she elaborates on in somewhat darker terms in her new memoir, "Famous Father Girl" (published by HarperCollins). Stories of his friends and collaborators (Aaron Copland, Jerome Robbins, and Adolph Green and Betty Comden), were a major part of the mix, along with some rare archival material and the sensational playing of pianists Michael Boriskin and John Musto.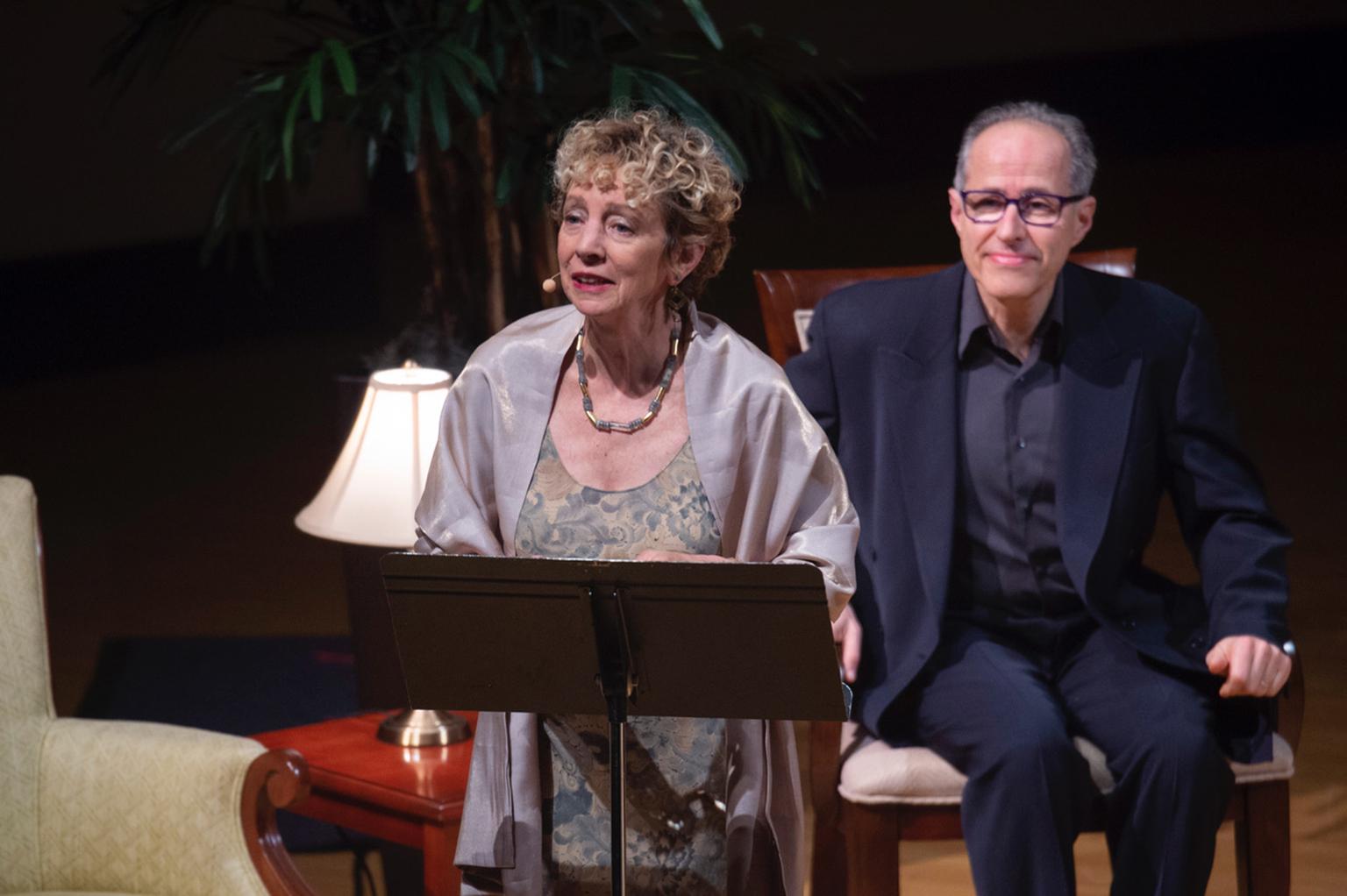 "Late Night with Leonard Bernstein" (Russell Jenkins / Ravinia Festival)
Marin Alsop led the CSO in a concert that replicated the bill for Bernstein's final tour with the New York Philharmonic. It featured a fiery yet exquisitely controlled performance by violinist Joshua Bell of Bernstein's "Serenade," a concerto inspired by Plato's "Symposium," a meditation on the nature of love (the work was so intriguing I wish it could have been repeated on the spot), as well as a lush rendering of Tchaikovsky's "Symphony No. 6 (Pathetique)."
A couple of days later Alsop was back on the podium to lead the CSO in Beethoven's monumental "Symphony No. 9" (the work Bernstein conducted in both East and West Germany in 1989, just six weeks after the fall of the Berlin Wall). But the program also included a stirring rendering of Bernstein's "Chichester Psalms," a choral work set to the Psalm of David and sung in Hebrew that brought the galvanic Chicago Symphony Chorus together with boy soprano Wyatt Parr, and opera singers Tamara Wilson, Michelle DeYoung, Paul Appleby and Ryan Speedo Green.
Beyond all the Bernstein tributes (which will continue on into August), there were these extraordinary concerts:
Gustavo Dudamel, the charismatic young conductor who is music director of the Los Angeles Philharmonic and a major supporter of Venezuela's fabled El Sistema programs that train young people in classical music, made a thrilling Ravinia debut with an all-Beethoven program. Along with the composer's "Symphony No. 7," was a breathtaking performance of his "Piano Concerto No. 1," in which Yuja Wang simply blew the audience away with her tour de force playing. A serious fashionista, Wang generated audible gasps when she first walked onto the stage in a va-va-voom, form-fitting, glitter-enhanced white crocheted gown. But the couture glam proved to be just a momentary distraction as her technical brilliance and astonishing range of expression shaped the concerto to phenomenal effect. The orchestra was a superb partner, with clarinetist John Bruce Yeh in his usual top form. And throughout, the ever-graceful Dudamel led the musicians in the most understated yet crystal clear style, with Ravinia's video screens revealing how his eyes are far more important than his baton. The evening was nothing short of a giant love fest on every level.
The solo concert by the internationally acclaimed Mexican-born pianist Jorge Federico Osorio (a faculty member of Roosevelt University's Chicago College of Performing Arts), was another virtuoso turn. A man of natural elegance and quiet intensity, his intriguingly assembled program included works by Bach, Cesar Franck, and an exquisitely varied group of Preludes by Debussy, as well as a fascinating series of mazurkas by Mexican composers Ricardo Castro and Manuel Ponce (both new to me), and a lavish Mallorcan Barcarole by the Spanish master, Isaac Albeniz. Along the way, Osorio revealed himself to be a musician with a fantastic ability to evoke the many colors, shifting moods, subtle wit and lush romanticism in all these pieces. And his fingers move like the wind.
Ksenija Sidorova's "Russian Accordion" program was yet another great discovery. The Latvian-born musician, with a runway model allure, an easily engaging personality, the storytelling skills of a practiced actress, and a virtuosity that enables her to turn her weighty  instrument into something of a full orchestra, instantly banished any cringe-worthy memories of old Lawrence Welk Show polka players. Her repertoire is bold and out of the ordinary – with works by such modern Russian composers as Kusyskov, Arkhipovsky and Voitenko, along with pieces by Bach, a tango by Stravinsky transposed for accordion, and a quirky little piece by Alfred Schnittke inspired by a Gogol story. Watching Sidorova served as a reminder of what mind-bending coordination is involved in playing her instrument, from the dexterity and coordination required to play its keyboard with the right hand and a tiny mass of bass buttons with the left, while squeezing the bellows and even using the chin to press an extra button atop its folds. (You can discover Sidorova in a number of videos on YouTube, including a turn as Carmen.)
The peerless Broadway star Audra McDonald was the headliner of the Ravinia Women's Board gala. And from the moment she arrived on stage for her glorious concert, "Sunday in the Park with Audra" (backed by the CSO, which was conducted by Andy Einhorn, and by her own three-piece band), she powered through a steamy evening and for 90 blissful minutes held a vast audience at rapt attention. McDonald is an uncanny, seemingly effortless communicator with a unique ability to turn every song into a full-blown play, and to supply just enough heartfelt commentary (some of it subtly political but never strident), to make even the most familiar Broadway songs take on intensified meaning.
Her voice is a glorious instrument. And while she can hit operatic high notes one minute (without a hint of the stiffness that too often undoes opera singers who try to perform in Broadway musicals), she also can move seamlessly into a bluesy number the next. Among the highlights was a beautifully paired rendering of Rodgers and Hammerstein's "You've Got to Be Taught" and Sondheim's "Children Will Listen"; a tribute to the late, great Barbara Cook by way of "Vanilla Ice Cream";  a heartbreaking rendering of Adam Gwon's post-Sept. 11 song, "Ordinary Days";  a rollicking take on the jazzy, playfully salacious "Cornet Man" from "Funny Girl" (that she first sang at the age of 13, long before she had a clue about its content); and "God Bless America," a beguiling tribute to that long-ago Russian-Jewish immigrant kid by the name of Irving Berlin. McDonald is, quite simply, beyond compare.
Finally, if there was one rough spot in all this sublime concert-going it was the ambitious but clunky "Shostakovich and The Black Monk: A Russian Fantasy," featuring the Emerson String Quartet, one of my favorite chamber ensembles. The musicians joined with a group of actors in a theatrical experiment that attempted to interweave the real-life anguish of composer Dmitri Shostakovich during the Stalinist era in the Soviet Union, and an earlier story by Anton Chekhov that told a related tale of a man of genius undone by other demons. Sadly, though an intriguing idea, the Emerson Quartet (and Shostakovich's music) got painfully lost amidst James Glossman's confusing script and his clumsy direction of seven actors (led by David Straithairn). The piece needs serious reworking on every count.
Follow Hedy Weiss on Twitter: @HedyWeissCritic
---
Black Ensemble Unwraps the Joyful Healing Properties of the Blues
'Something in the Game' Wins One for The Gipper, and for Musical Theater, Too
In 'Pamplona,' Stacy Keach Runs with Hemingway and the Matadors
Elvis Makes a Faustian Bargain in 'Heartbreak Hotel'
---