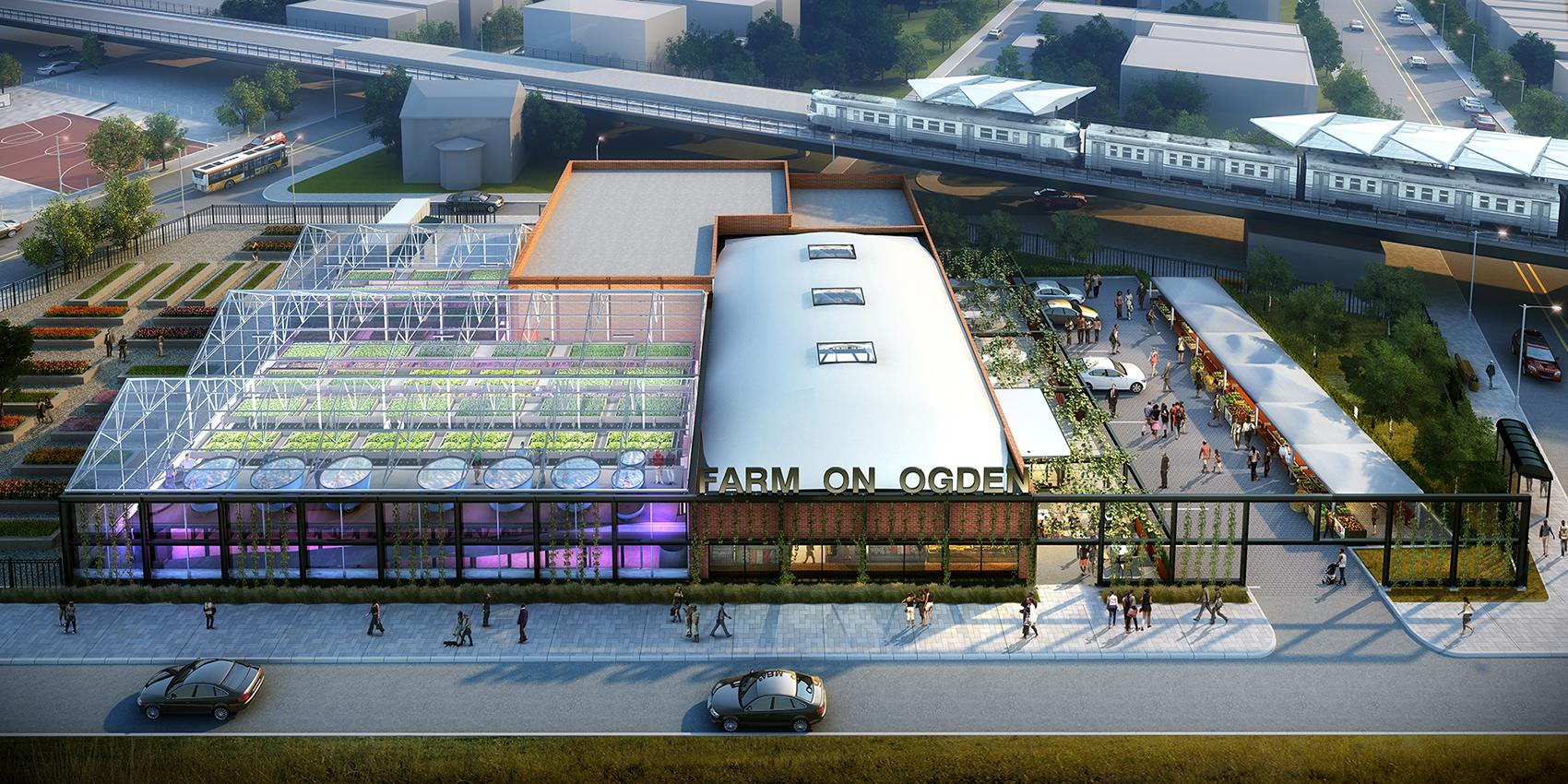 A graphic rendering of the soon-to-be completed Farm on Ogden, which opens June 22. (Courtesy Chicago Botanic Garden)
Angela Mason has spent decades running school and neighborhood garden programs in Chicago, but she's never been part of anything quite like this.
Neither has anyone else.
On Friday, two organizations that might seem to have little in common – the Chicago Botanic Garden and Lawndale Christian Health Center – will celebrate the opening of the Farm on Ogden, a 20,000-square-foot urban agriculture facility that aims to bring healthy foods and good-paying jobs to North Lawndale. Data shows that North Lawndale has some of the highest unemployment and poverty rates in the city, and residents there suffer from conditions such as diabetes and post-traumatic stress syndrome at rates far exceeding city and national averages.
Located in the heart of the Southwest Side neighborhood – at 3555 Ogden Ave., next to the Central Park Pink Line CTA station – the Farm on Ogden will allow the Botanic Garden's Windy City Harvest to expand programs for job training, farming, food safety, cooking and nutrition, while also providing more fresh produce to community members and patients at Lawndale Christian Health Center.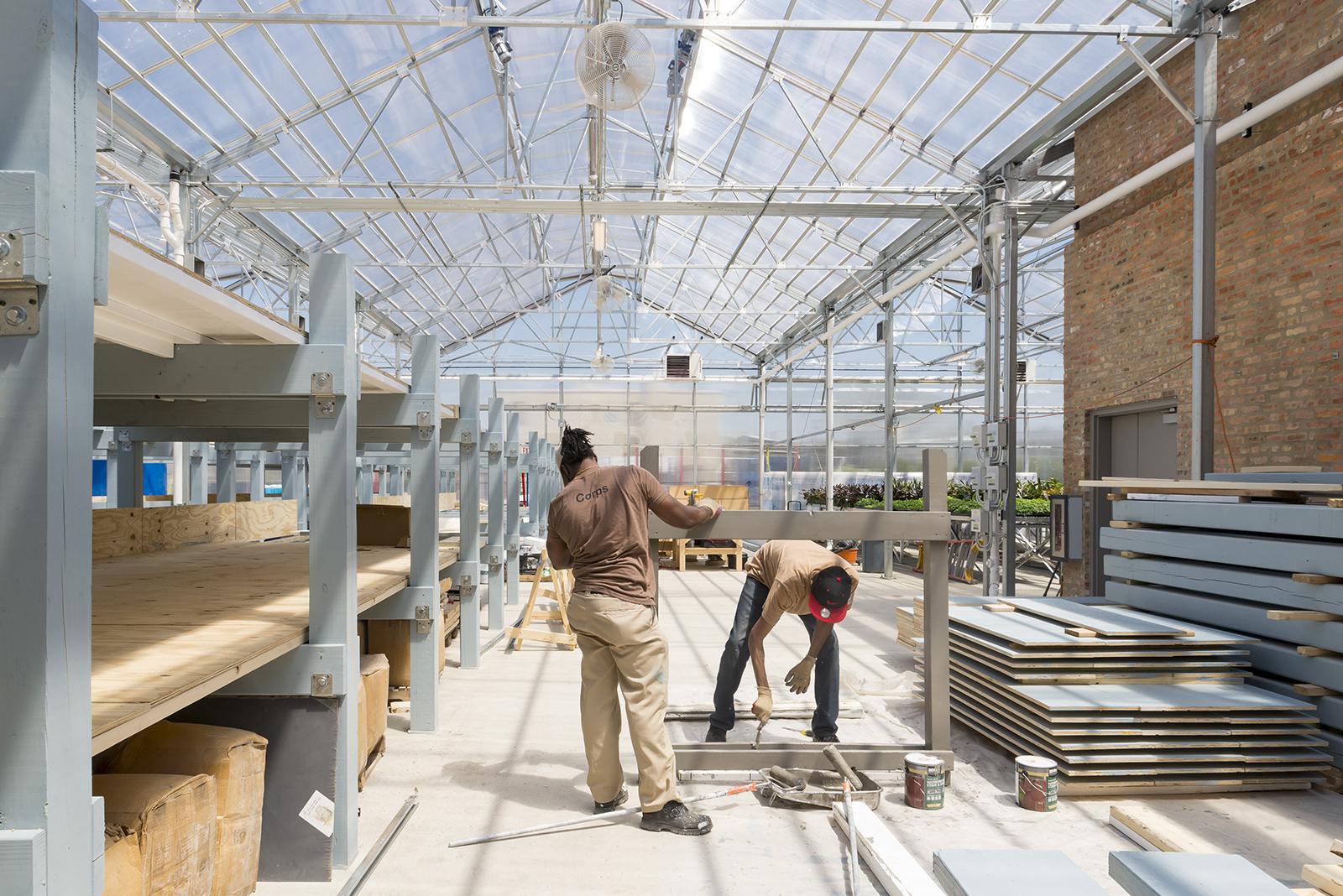 Participants in Windy City Harvest's Corps training program construct a platform for the Farm on Ogden's aquaponics system. (Courtesy Chicago Botanic Garden)
Mason said the project is the culmination of 15 years of work in urban agriculture – and a giant step forward from the school and neighborhood-focused garden programs she once ran. 
"We used to say that our programs served 10,000 kids per year," said Mason, who has led Windy City Harvest since shortly after its founding in 2001. "But what does that really mean when you spend 20 minutes with one kid, put a plant in the ground and say, 'Good luck,' and then walk away?"
With the Farm on Ogden, Mason said Windy City Harvest will be able to grow its job training program – which targets people who have been incarcerated – from 250 to 350 people per year. Participants in the program can obtain industry-specific training certificates in a number of areas, including aquaponics and vertical farming, edible landscaping and rooftop farming.
Thanks to the new facility, Windy City Harvest will also be able to operate its Youth Farm job training program year-round as opposed to only during summer months.
"If you can pack and sort produce or perishable items, you can pack and sort car parts," said Mason, noting that participants in WCH's training programs have landed jobs at Whole Foods, Eataly Chicago, a number of food distribution warehouses and other companies. "It's just figuring out how to transfer that skill to another industry."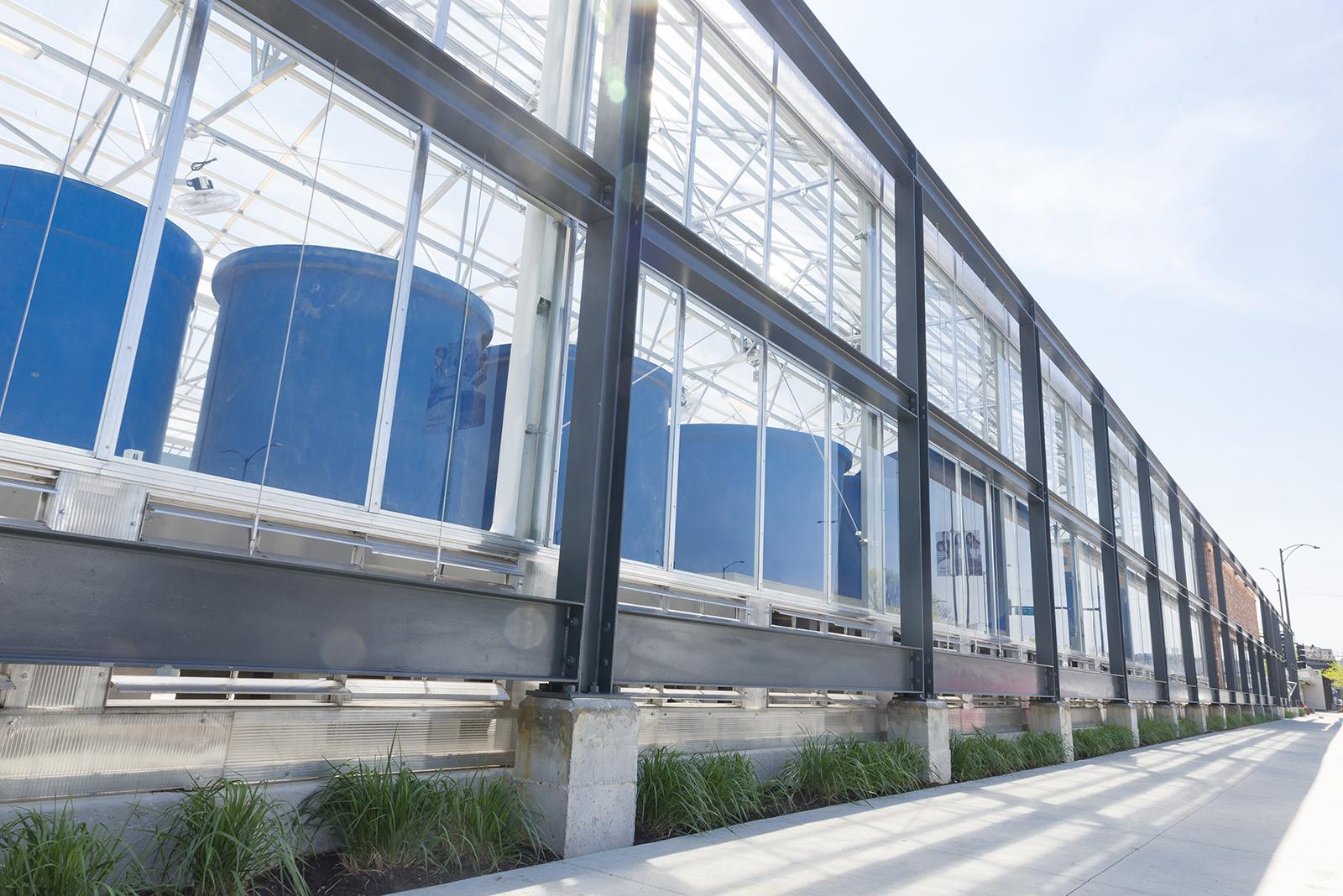 Tilapia tanks for the aquaponics system at the Farm on Ogden (Courtesy Chicago Botanic Garden)
The farm will also supply produce to patients at Lawndale Christian Health Center through the Veggie Rx program, which allows doctors to write prescriptions for healthy foods to combat diet-related conditions such as high blood pressure and diabetes. The program, which served 160 families last year, will now aim to provide boxes of fresh produce to 400 families, Mason said.
The space will also feature a 7,300-square-foot greenhouse, a commercial and teaching kitchen, a year-round farm stand and shared space for urban farmers – in addition to a 50,000-gallon aquaponics system, which will produce 2,500 heads of lettuce each week and 14,000 pounds of tilapia annually. 
Once fully complete in several months, the facility will glow with special purple LED lights facing one of the city's busiest streets.
"It's no accident that we chose to put this on Ogden Avenue," said Dr. Wayne Detmer, director of operations for Lawndale Christian Health Center. "We want this to be a place where people can see possibilities in a neighborhood where that's not often the case."
Detmer first envisioned something like the Farm on Ogden in 2010 after attending a seminar at Duke University's Divinity School, where he met a theologian who made the case that providing residents with access to local foods is a societal responsibility.
Detmer and Mason connected soon after and eventually joined forces to try and make something of their shared vision for a new type of urban garden.
To Detmer's knowledge, the project is the nation's first to combine elements of a community health clinic, botanic garden, agriculture-focused jobs training program and a year-round farm stand.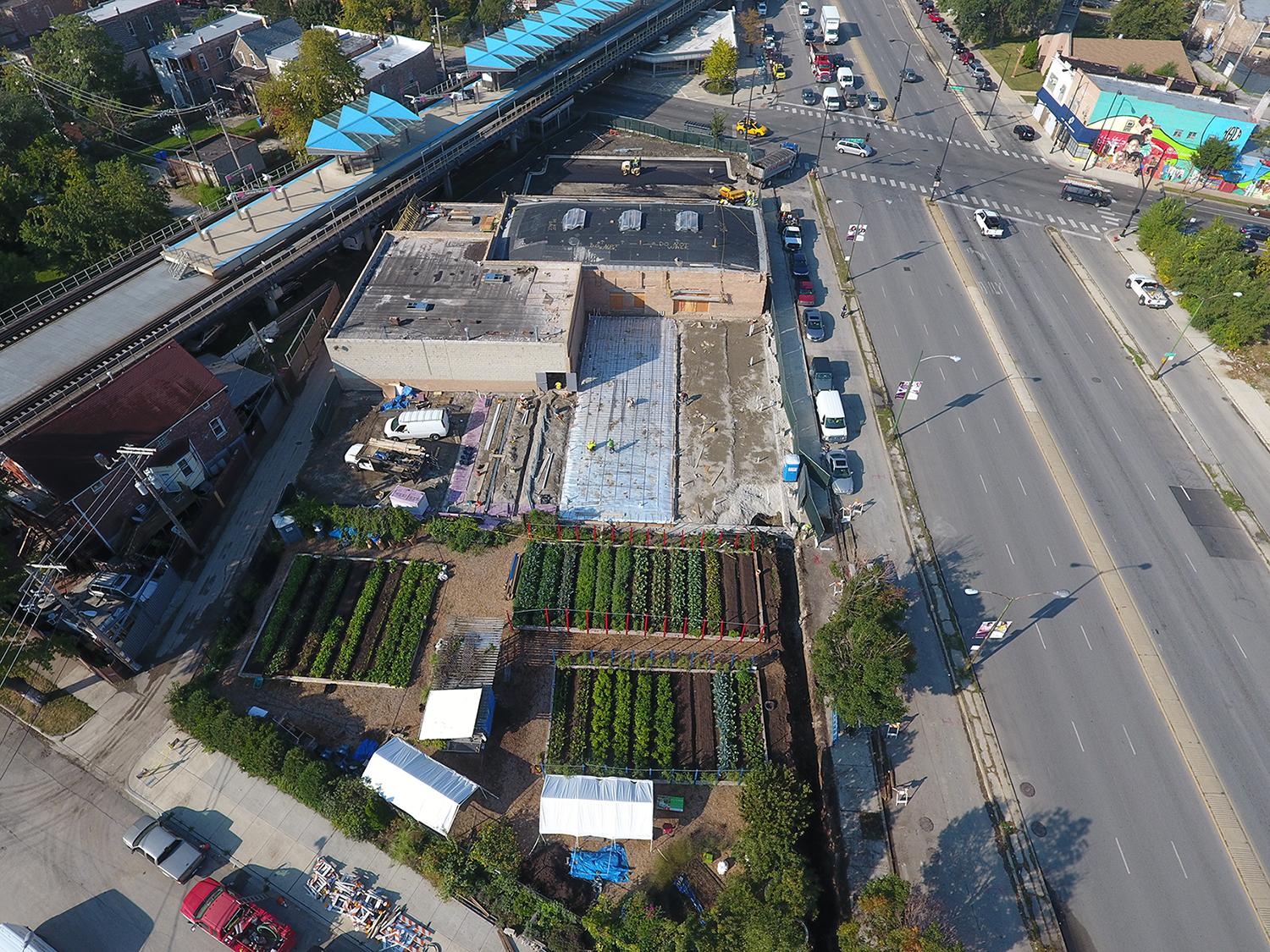 An overhead view of the Farm on Ogden site during construction in summer 2017 (Courtesy Chicago Botanic Garden)
Detmer estimates that the new farm stand, or "healthy corner store," could draw tens of thousands of residents each year, given the success of an existing farm stand stationed at Lawndale Christian Health Center, which sells out every week. 
But he acknowledges that it's difficult to project whether the Farm on Ogden will actually work – or, if it does, how anyone will be able to tell.
"I don't know if we'll ever be able to measure the direct impact on our community in terms of health indicators," he said. "It doesn't mean we're not going to try."
Researchers from the University of Illinois at Chicago are already on board to study the project's effect on residents' health and well-being, and other researchers could join the effort later, Detmer said.
Based on the project's initial performance, Detmer said it could expand to serve a broader range of individuals by adding programs for those suffering from mental illness or substance abuse.
"Getting people doing things related to growing and being exposed to nature can be therapeutic in and of itself," Detmer said.
The Farm on Garden will host an opening celebration and ribbon cutting on Friday from 10 a.m. to noon. A community celebration is scheduled for 10 a.m. to 4 p.m. Saturday.
Visit the Chicago Botanic Garden's website for more information.
Contact Alex Ruppenthal: @arupp | [email protected] | (773) 509-5623
---
Related stories:
Bill to Boost Urban Agriculture in Illinois Heads to Rauner's Desk