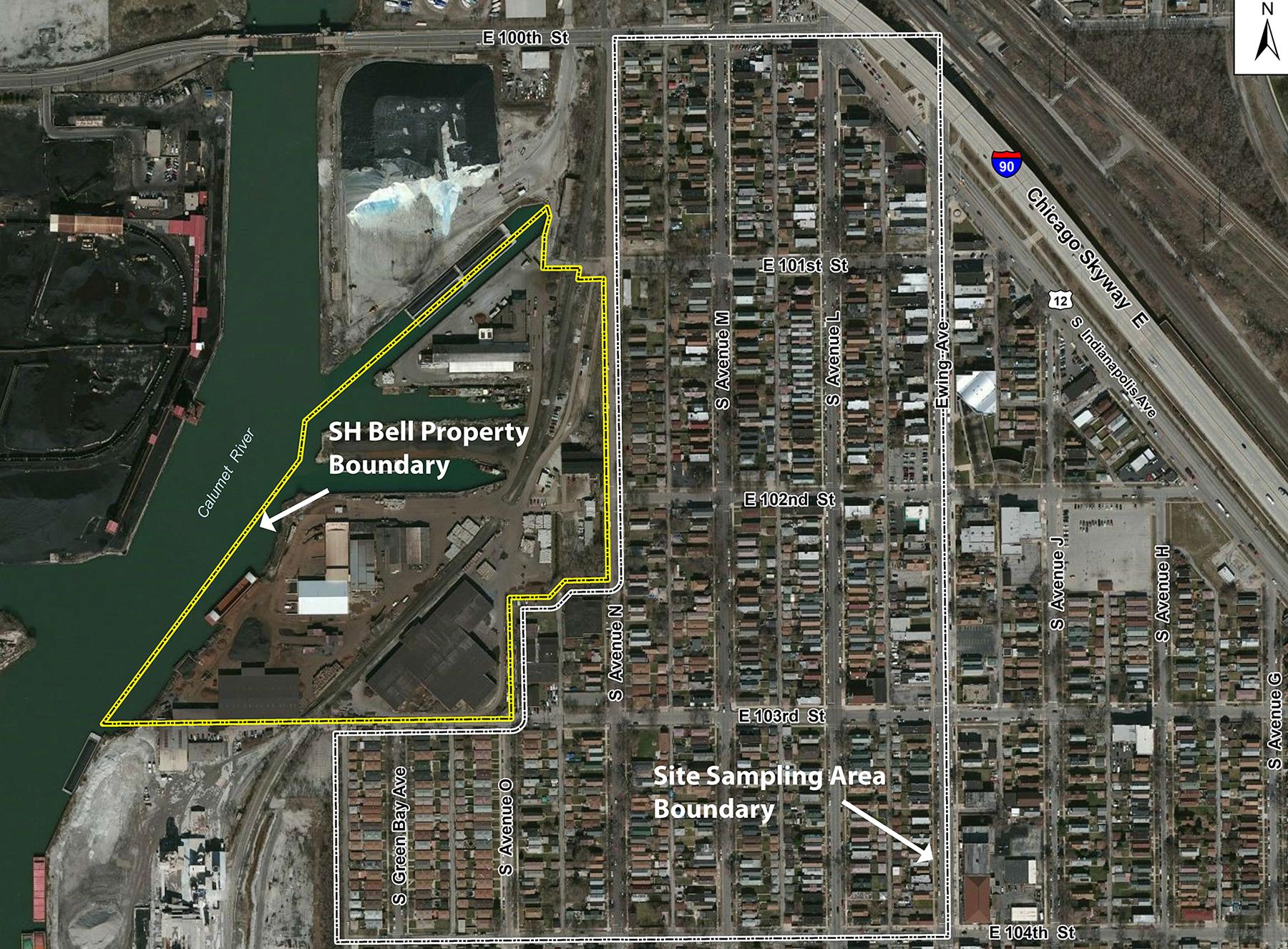 The EPA will collect soil samples from properties near S.H. Bell's facility on the Southeast Side to assess levels of manganese, a heavy metal that can cause brain damage at high exposures. (U.S. Environmental Protection Agency)
The U.S. Environmental Protection Agency will collect soil samples at homes near a Southeast Side industrial storage facility to assess residents' exposure to brain-damaging manganese, the agency said Wednesday.
The announcement comes one week after the release of data from similar testing conducted by Chicago's Department of Public Health, which found alarming concentrations of manganese at several properties near the storage site, operated by S.H. Bell Co.
Samples from three homes tested by CDPH indicated levels of manganese in excess of the EPA's emergency removal threshold under its Superfund program, which oversees cleanup of the country's most contaminated sites that pose a risk to human health and the environment.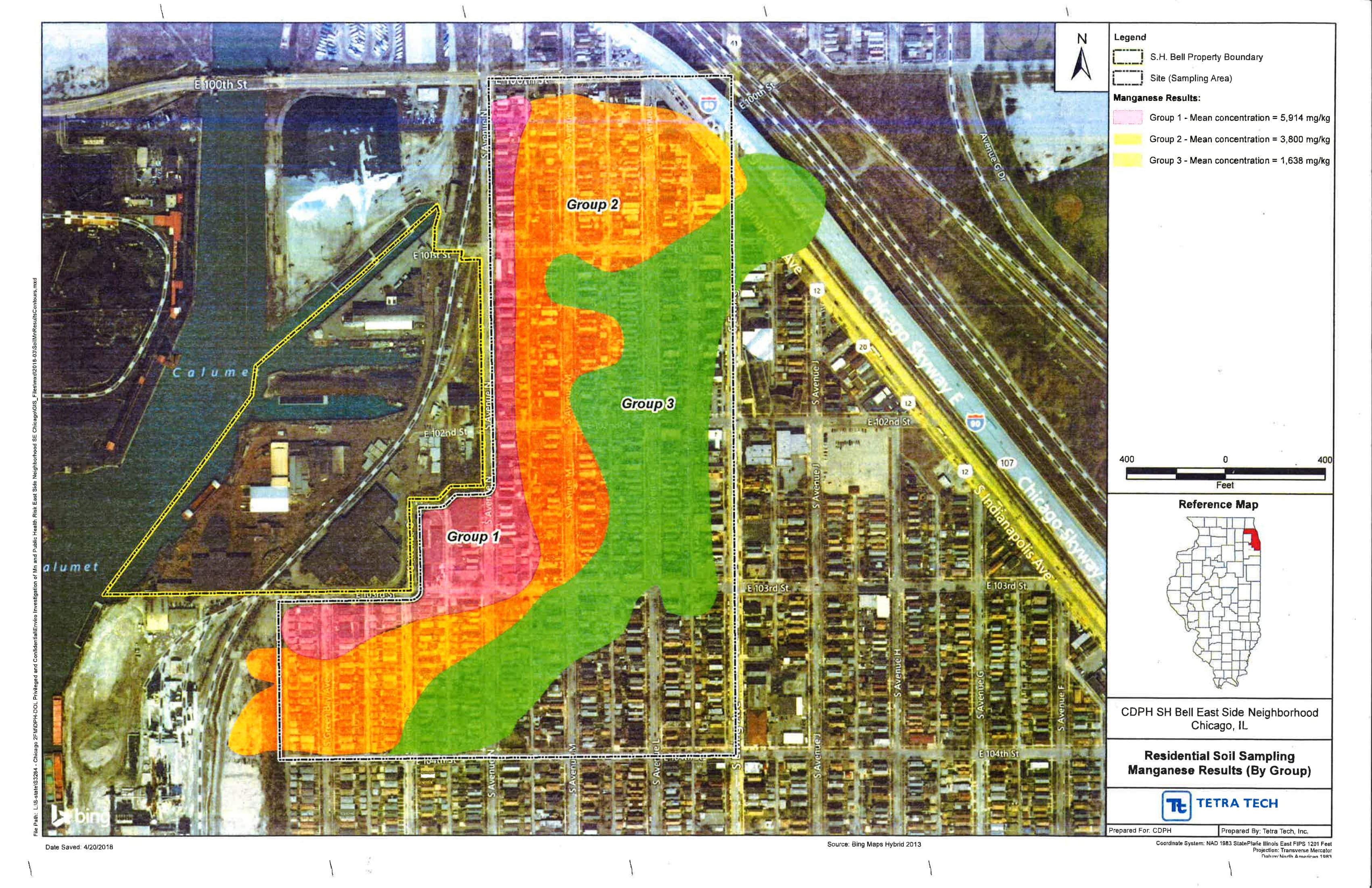 Click to enlarge: A map shows results of soil testing to detect levels of manganese on the Southeast Side. (Chicago Department of Public Health)
Manganese is heavy metal used in steelmaking that can cause Parkinson's-like symptoms at high exposures. A recently published study of children in Ohio found a significant link between higher concentrations of manganese in hair samples and declines in IQ, mental processing speed and working memory.
In response to the city's request that it conduct testing of its own, the EPA said it will request access to soil samples at a limited number of residential yards within a roughly three-block perimeter adjacent to S.H. Bell. The area is bordered by the Calumet River to the west, 100th Street to the north, South Ewing Avenue to the east and 104th Street to the south.
Nearly 20,000 people, including more than 6,000 children, live within 1 mile of S.H. Bell's storage site, according to EPA data.
Results from the soil testing will determine whether the EPA initiates a cleanup of contaminated yards, the agency said.
The EPA also said that agency officials will attend a public meeting this week organized by the city to address residents' concerns related to manganese. The meeting is scheduled to run from 5:30 p.m. to 7:30 p.m. Thursday at 11731 S. Avenue O. 
In a statement, Pittsburgh-based S.H. Bell said it is still waiting to view results from the city's soil testing:
"Despite repeated requests, S.H. Bell has not received the data report that is apparently to be discussed at a community meeting (Thursday) night. As we've said before, the safety of the community is our top priority, and once we see the soil sample report, we will determine what action, if any, needs to be taken.
"In the meantime, S.H. Bell has gone above and beyond compliance with every regulation imposed by the EPA and the city of Chicago, and focusing on our company while ignoring other known emitters of manganese and other heavy metals will not improve the environment of the city's Southeast Side."
The manganese issue came to light in 2015 when air monitors set up by the EPA to measure emissions of petcoke dust from facilities along the Calumet River happened to also detect manganese, with one facility – S.H. Bell – as the likely source.
Last summer, the EPA cited the company with violations of the Clean Air Act for exceeding federal health standards for emissions of manganese dust over a four-month period in 2017, with levels spiking up to four times the limit.
At least two other facilities in the area handle manganese. In December, the city denied a request by the owner of one site to waive a requirement that it install air monitors to track levels of manganese and other metals.
An ordinance approved in late March by the City Council prohibits new facilities from storing or handling materials containing more than trace amounts of manganese. For companies that currently handle manganese, the ordinance will require them to file quarterly reports with the city showing the amount of manganese they have shipped and received.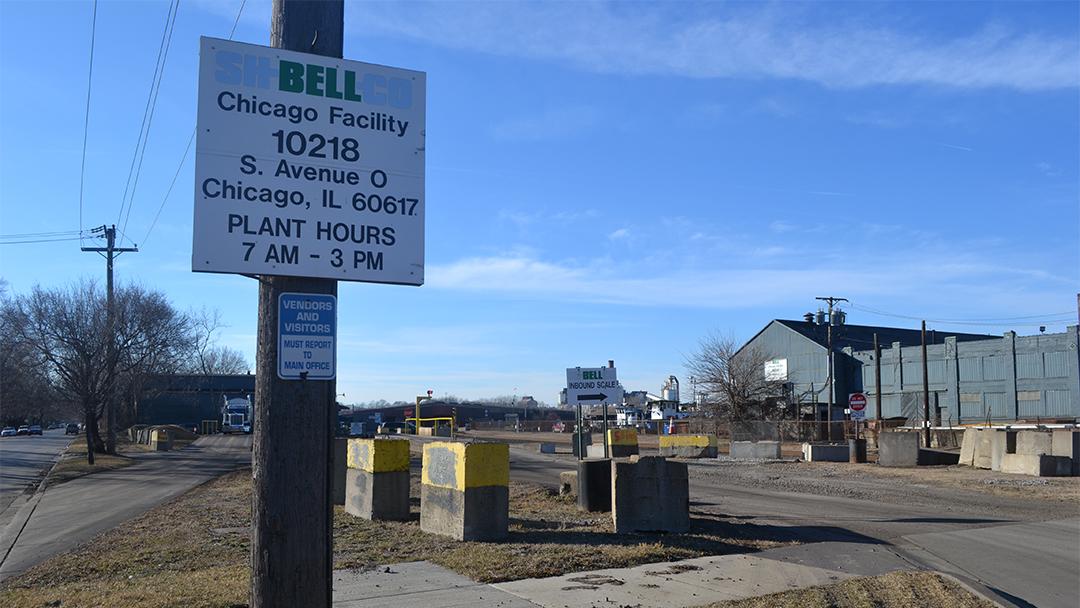 S.H. Bell's bulk storage facility along the Calumet River on Chicago's Southeast Side. (Alex Ruppenthal / Chicago Tonight)
CDPH has also proposed amendments to the city's Bulk Material Regulations that would give the department the ability to require filter-based monitors, which measure levels of manganese emissions that pose a potential risk to nearby residents.
Despite those steps, environmental advocates and residents have asked the city to take more immediate actions to protect residents, such as issuing a temporary moratorium on manganese operations. They say regulators at all levels have neglected the community's concerns in light of decades of exposure to a host of industrial pollutants, including petroleum coke, diesel emissions and abandoned piles of flue ash.
The criticism was highlighted in a letter sent to city officials last week by a coalition of environmental groups and community advocates.
"The state and federal regulatory agencies and the city of Chicago have not applied the lens of environmental justice – the inequitable exposure of communities of color, and communities in poverty, to environmental risks – so that we can adequately address the ongoing cumulative impacts of years of exposure to [pollutants]," the letter states.
Contact Alex Ruppenthal: @arupp | [email protected] | (773) 509-5623
---
Related stories:
High Levels of Manganese Found in Soil of Southeast Side Homes
City Council Approves Ordinance Banning Future Manganese Operations