A plan to protect Chicago residents from a brain-damaging pollutant found at high levels on the Southeast Side fails to go far enough, a group of residents and advocates said this week.
An ordinance approved Wednesday by the City Council will amend city zoning rules to prohibit new facilities from storing or handling materials containing more than trace amounts of manganese, a heavy metal used in steelmaking that can cause neurological defects similar to Parkinson's disease at high exposure levels.
For companies that currently handle manganese, the ordinance will require them to file quarterly reports with the city showing amounts of manganese shipped and received. 
"Ensuring that residents are breathing clean air is a top priority," said Chicago public health Commissioner Julie Morita in a statement following approval of the ordinance Wednesday. "We will continue to work together, with city leaders and community members, to improve the quality of our air, water and soil."
But residents and advocates say the ordinance falls short because it exempts facilities that manufacture manganese, rather than store or process it, and does not require filter-based monitors that would measure levels of manganese emissions, which pose a potential risk to nearby residents.
The ordinance also does not require the zoning commissioner to set a limit for manganese emissions, they said.
An overhead view of Watco Transloading's storage terminal on Chicago's Southeast Side. Watco is one of at least two facilities in the area that handle manganese. (Google)
In a letter to the Council's Zoning Committee earlier this week, members from the Southeast Side Coalition to Ban Petcoke, Southeast Environmental Task Force and several other groups again pressed the city to ban manganese altogether, which the groups have been calling for since early 2017.
Residents have renewed those calls recently in light of a study published in January that found a significant link between higher concentrations of manganese in hair samples and declines in IQ, mental processing speed and working memory among children in Ohio.
Preliminary results from an ongoing study of toxic metals on the Southeast Side found that children there had higher levels of manganese in their toenails than children in other parts of the city, though researchers said it was too early to draw conclusions about health impacts from the exposure.
"The city needs to do more," residents and advocates said in their letter, adding that the city should at minimum require companies to begin phasing out their use of manganese.
Concerns over exposure to the heavy metal surfaced in 2015 when air monitors set up by the Environmental Protection Agency to measure emissions of petcoke dust from facilities along the Calumet River happened to also detect manganese.
In their letter, advocates also called on the city to engage community members earlier in the land-use planning process "so that residents are no longer playing whack-a-mole in response to the discovery of the new threats to public health."
Contact Alex Ruppenthal: @arupp | [email protected] | (773) 509-5623
---
Related stories:
Chicago Looks to Ban Future Manganese Operations
Feb. 28: A brain-damaging pollutant found at high levels near thousands of Southeast Side homes would be banned at future industrial sites under a new ordinance introduced by city officials Wednesday.
---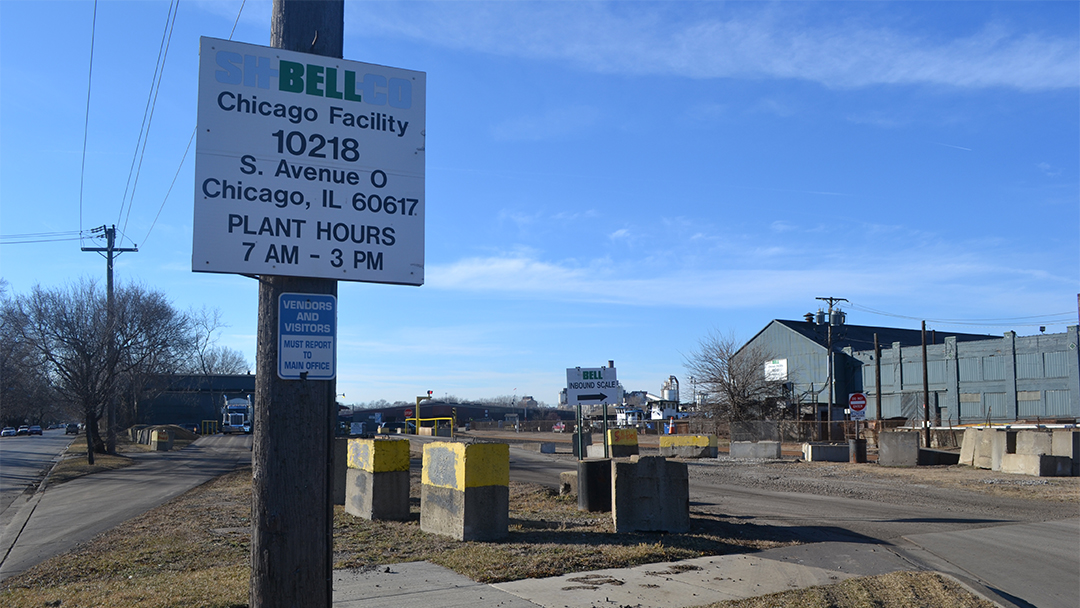 S.H. Bell's Manganese Dust-Control Plan OK'd by City
Jan. 2: Chicago public health officials have signed off on a Southeast Side company's updated plan to cut emissions of brain-damaging manganese dust that regulators say pose a health risk to nearby residents.
---
Chicago Will Require Storage Company to Install Air Monitors
Dec. 22: A Southeast Side company must install air monitors to detect levels of dust emissions from heavy metals processed on-site, according to a letter issued by the city this week.
---