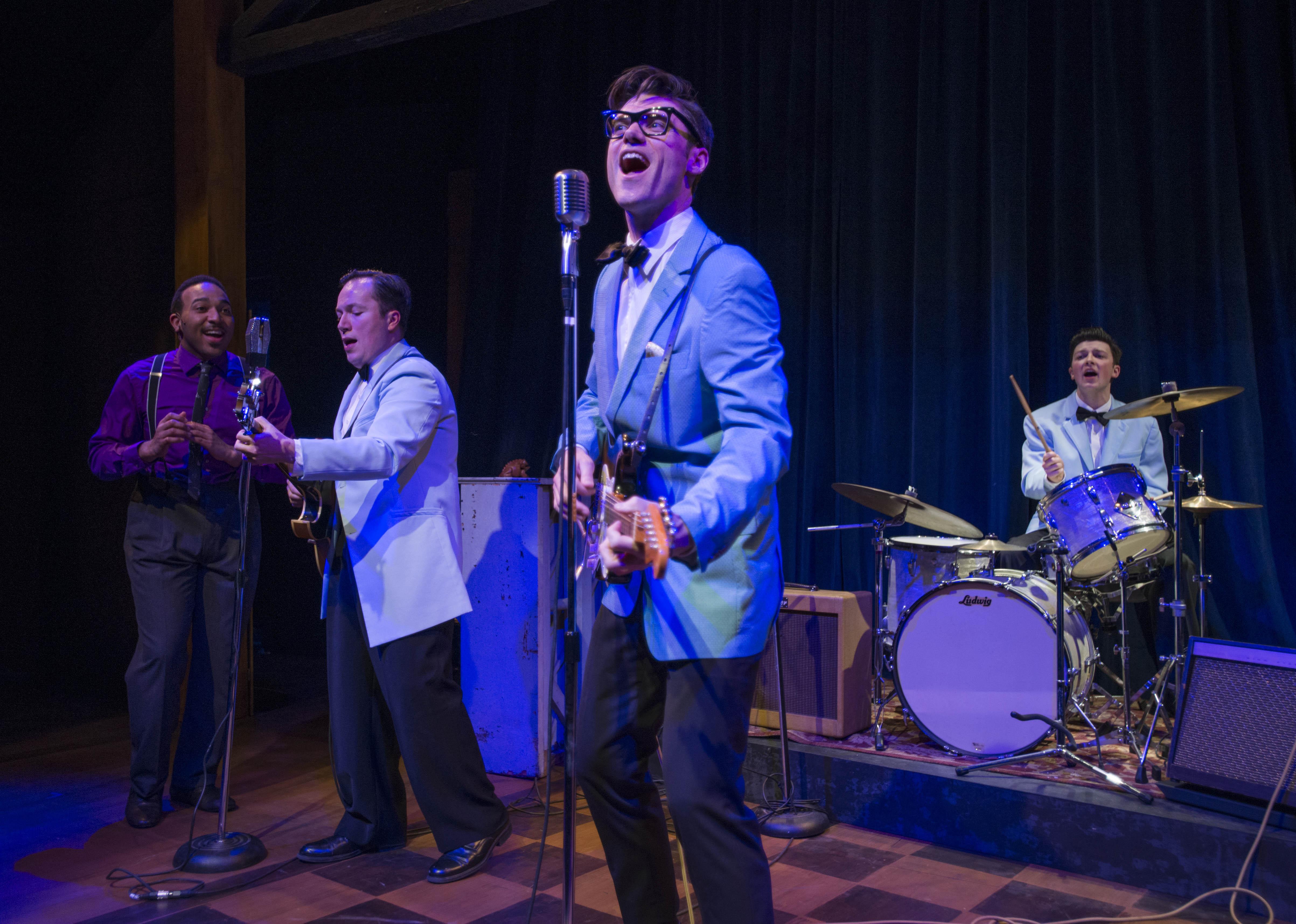 From left: Chuckie Benson, Michael Mahler, Zachary Stevenson and Kieran McCabe in "Buddy: The Buddy Holly Story." (Photo credit: Michael Brosilow)
Rock 'n' roll legend Buddy Holly was just 22 years old when, on the wintry evening of Feb. 3, 1959, a small plane carrying him and his fellow performers, Ritchie Valens and J.P. "The Big Bopper" Richardson, crashed in a cornfield in Iowa.
In his iconic 1971 song, "American Pie," Don McLean proclaimed that date to be "the day the music died." Not quite. For while I confess to being a skeptic when it comes to the notion of reincarnation, I found myself seriously reconsidering my position while watching the astonishing performance of Zachary Stevenson in American Blues Theater's production of "Buddy: The Buddy Holly Story."
Stevenson – a bravura performer who is the spittin' image of the character he plays, and who possesses the voice, moves, guitar licks and irresistible energy of the "original" – is proof that Buddy Holly lives. And in addition to his volcanic performance, every member of the show's cast (under the fleet direction of Lili-Anne Brown) is now raising the roof and rocking the rafters at Stage 773, suggesting that the spirit of classic 1950s rock 'n' roll is, indeed, still alive and well. "Oh, Boy!" is it. And even if it is not the music of your particular generation you will find "It's So Easy to Fall in Love" with every note of it – from "Peggy Sue" to "Well ... All Right" to "That'll Be the Day," and the list goes on – that age is not an issue.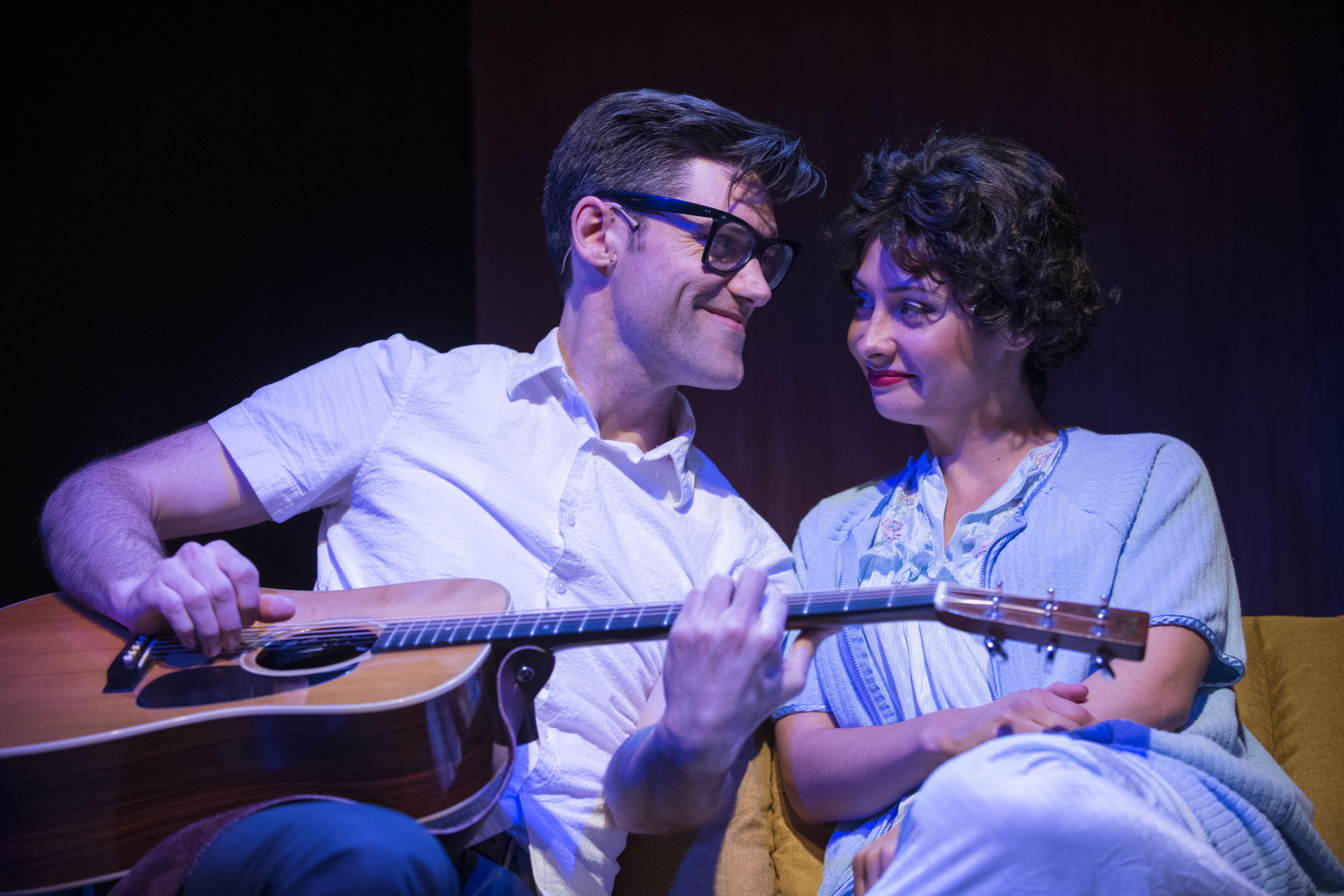 Zachary Stevenson and Molly Hernandez. (Photo credit: Michael Brosilow)
Holly's meteoric career spanned barely four years – from the moment he graduated from high school in Lubbock, Texas, in 1955 (and opened for Elvis), to the moment of the crash. But from the start, working with his band, The Crickets, he not only knew who he was (trademark geeky glasses and all), but was in charge of the sound he was after. And, as Alan Janes' book for the musical suggests, he refused to compromise.
Though initially rooted in country western music, Holly pushed his rock 'n' roll sound onto the radio in an era when it was still dubbed "race music." And as playfully recounted in a scene that takes place in 1957 at Harlem's Apollo Theater, those who knew his music from the radio only believed he and The Crickets were black. (They were the first white act to play the Apollo.)
The show traces Holly's life in fitting shorthand (he certainly seized the day), from his doting, if unseen mother, who reminded him to not forget to eat, to his relationship with the early radio host Hi Pockets (Ian Paul Custer), to his crucial collaboration with the innovative producer Norman Petty (deft work by Derek Hasenstab), and the contributions of Petty's sassy, musically gifted wife, Vi (the terrific Liz Chidester, in a total comic turnabout from her recent role as Lizzie Borden). It also captures Buddy's whirlwind romance and marriage to Maria Elena Santiago (the lovely Molly Hernandez), the Latina receptionist he meets in his New York record producer's office.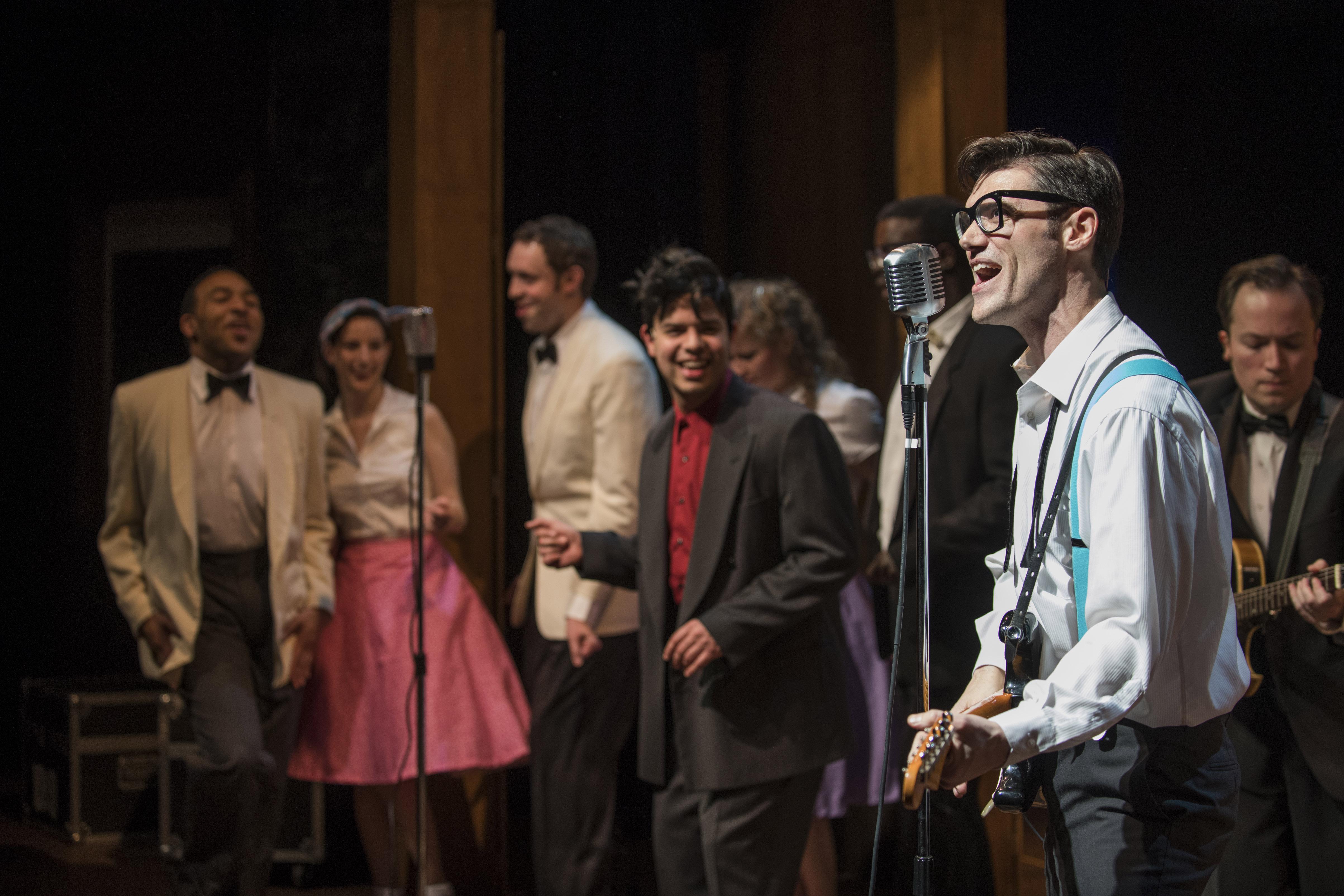 Zachary Stevenson and cast. (Photo credit: Michael Brosilow)
But it is the music that is of the essence here. Michael Mahler's music direction is sublime, and Stevenson's uncanny performance is backed throughout by the virtuosic playing of The Crickets, including bass player Shaun Whitley as Joe, drummer Kieran McCabe as Jerry, and Mahler on guitar as Tommy.
Chuckie Benson (backed by the smoldering Angela Alise and Daniel Riley) bring down the house in the Apollo Theater scene. And in the pre-tragedy moments of their ill-fated Winter Dance Party tour, Vasily Deris (as "The Big Bopper") and Cisco Lopez (as Valens) also turn up the heat with sensational turns.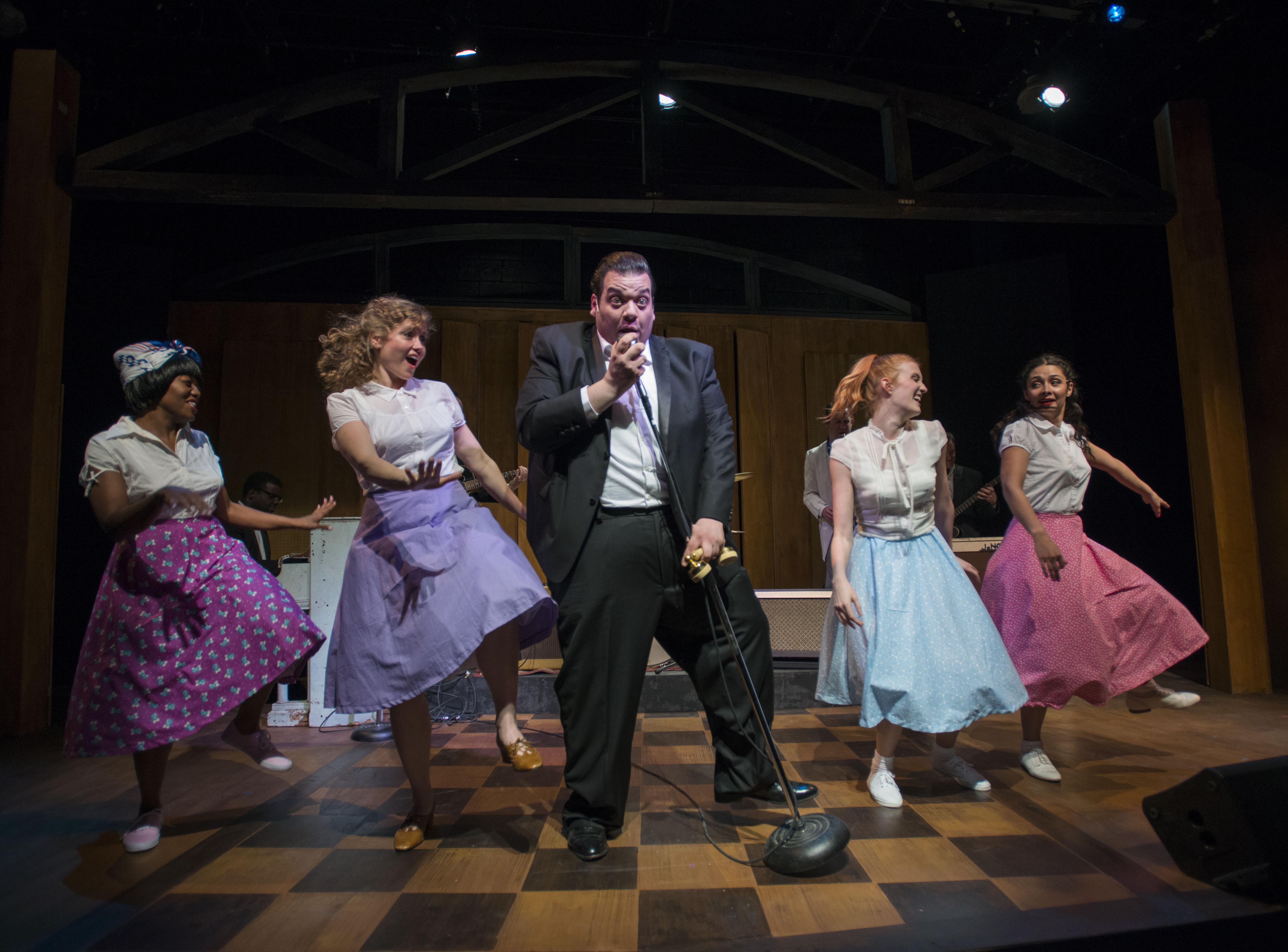 Alex Goodrich plays several roles (and is particularly funny as a British announcer), and Lauren Vogel and Ann Delaney, fine musicians, play high-spirited teenage fans.
Jon Martinez's choreography, Rick Sims' sound design, and Samantha C. Jones' vintage '50s costumes are all ideal.
But it is Stevenson who is the musical superman here. See him to believe him. He is Buddy, reborn.
And this final note: Once again, here is a show that would raise the roof at the Broadway Playhouse at Water Tower Place if only the forces that be at Broadway in Chicago would see the light. This production deserves a commercial run. It can easily compete with any musical on or off Broadway.

"Buddy: The Buddy Holly Story," an American Blues Theater production, runs through May 26 at Stage 773, 1225 W. Belmont Ave. For tickets ($19-$39) call (773) 327-5252 or visit www.AmericanBluesTheater.com. Running time: 2 hours and 10 minutes with one intermission.
Follow Hedy Weiss on Twitter: @HedyWeissCritic
---
Rodgers and Hammerstein Musicals Enjoying a Grand-Scale Rebirth
Broadway Revival of 'Carousel' Injects New Elements Into Rodgers and Hammerstein Classic
Healing Powers of Music and Love Drive Beguiling Musical 'Once'
Joffrey Ballet Celebrates a Wild and Crazy Swedish-Style 'Midsummer Night's Dream'
Porchlight Unlocks the Blazing Heart and Soul In Musical 'Memphis'
---