Barry DeBois and Tiffany Topol in "Once" at the Paramount Theatre in Aurora. (Photo credit: Liz Lauren)
"Once" is a musical about music. It also is about love, and heartbreak, and disappointment, and second chances and the power of true friendship. It is an homage to the artistic heritage of the Irish, and the quirky, irony-filled humor of the Czechs. And it is a subtle commentary on working class and immigrant life, and the life of struggling young artists.
A beauty of a show, it is an unconventional piece of musical theater in both its form and sound. And the 19 quadruple-threat performers (actors-musicians-dancers-instrumentalists) now gathered on the stage of the Paramount Theatre bring it to life with a beguiling mix of emotional depth and comic zest.
Based on the small-budget 2007 Irish film by John Carney that became a surprise box office hit, and featuring a score by Glen Hansard and Marketa Irglova (who played something of a variation on themselves in the film), "Once" is an enchanting blend of traditional folk music and contemporary ballads. And unlike the many musicals needlessly adapted from a movie, it not only cried out to exist in live musical form but seemed destined for such a transformation, with playwright Enda Walsh supplying an ideal book for the show, and British director John Tiffany devising the brilliant original production concept, with help from choreographer Steven Hoggett.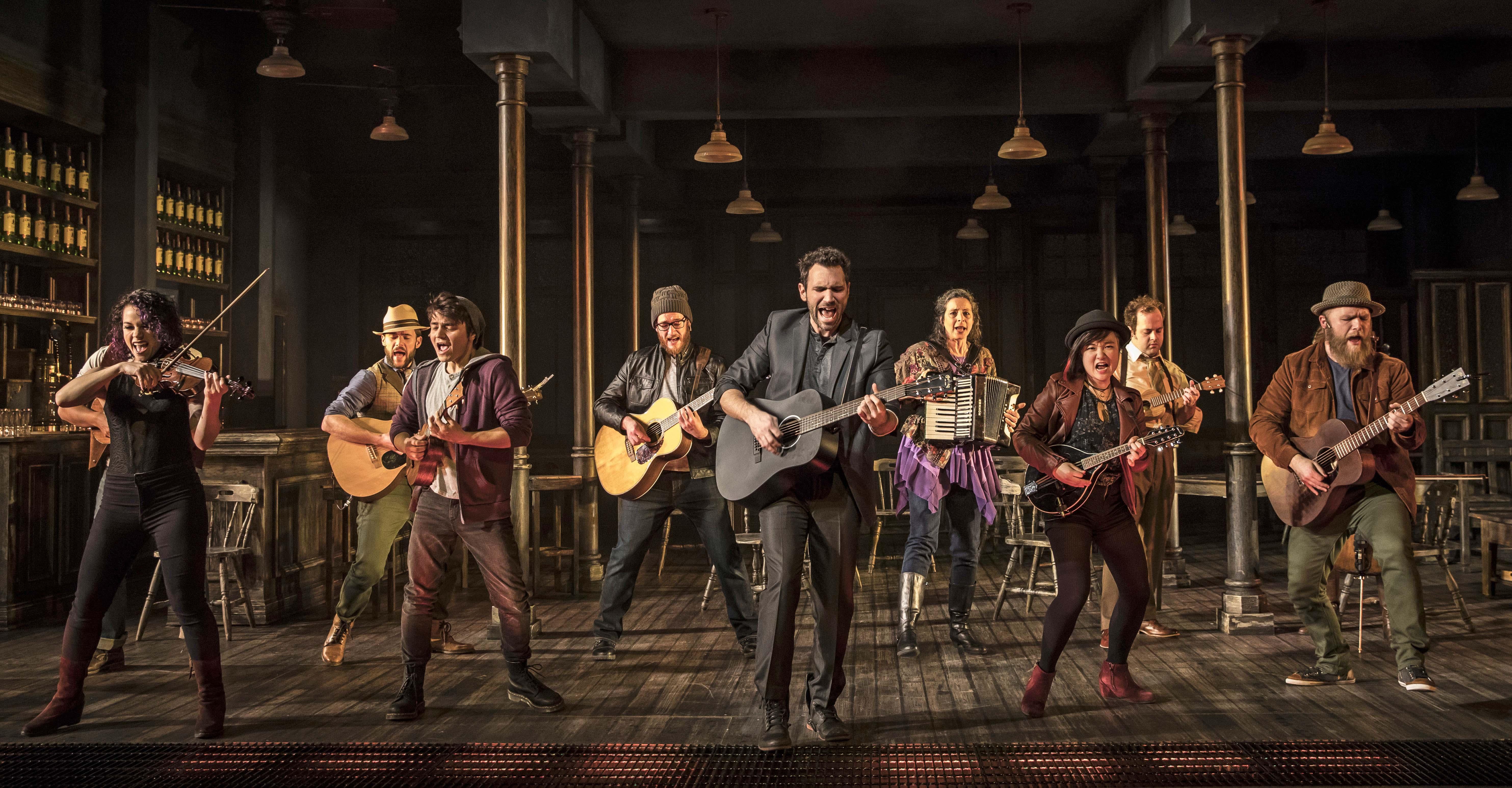 Barry DeBois, center, leads the band in "Once." Also pictured, from left: Cassidy Stirtz, Doug Pawlik, Nik Kmiecik, Grant Alan Watkins, Jeanne T. Arrigo, Angel Lin, Alex E. Hardaway and Jon Patrick Penick. (Photo credit: Liz Lauren)
At the Paramount, the masterful director Jim Corti, choreographer William Carlos Angulo and music director Tom Vendafreddo have drawn on the original but have made it very much their own. And to get the full experience of their production – which somehow manages to hold on to the show's intimacy even in a large theater – you are advised to take your seat a good 20 minutes before curtain time. For that's when the cast gathers in the handsome Dublin pub that is the all-important centerpiece of the set, and plays up a storm while audience members are able to order drinks at the onstage bar.
It all begins as the gifted but depressed and unheralded Irish busker referred to only as The Guy (Barry DeBois) sings about his broken love affair with a woman who left him and headed off to New York. He also proclaims he is giving up hope for a musical career. But as luck would have it, the character known only as The Girl (Tiffany Topol), hears him sing and is taken with his music. She also learns that he works as a vacuum repairman in his dad's shop, and as fate would have it, her Hoover is in need of fixing.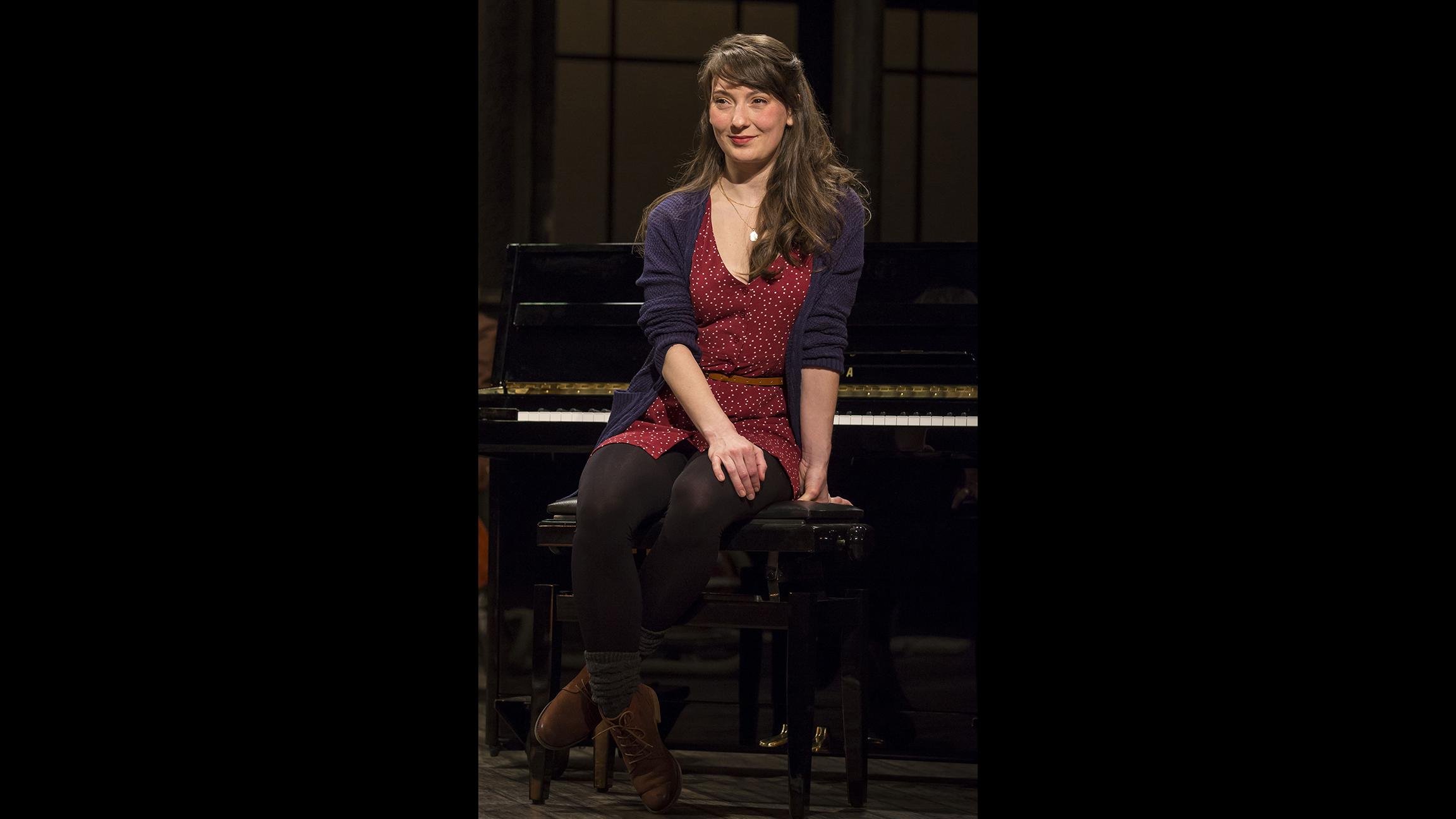 Tiffany Topol in "Once." (Photo credit: Liz Lauren)
Quirky, funny and anything but shy, The Girl, a Czech immigrant, also happens to be a classically trained pianist who won't be turned away. She invites him to the music shop whose cranky middle-aged owner, Billy (a richly comic turn by Jon Patrick Penick), who clearly but hopelessly adores her, allows her to play the piano. She plays a bit of Mendelssohn for him and before long they are collaborating on his song "Falling Slowly" (the entrancing 2008 Academy Award winner for best original song), that changes things for both of them in a matter of minutes, but not quite in the expected ways.
While The Guy lives in a tiny bedroom in his father's apartment above the repair shop, The Girl, who has unfinished business with her husband back in Prague, shares a communal apartment with a wild and crazy group of fellow Czechs, as well as her uninhibited mother, Baruska (a spicy, gypsy-inflected turn by Jeanne T. Arrigo), and her tiny daughter, Ivonka (the remarkable Everleigh Murphy).
The Guy's songs, for which The Girl helps supply lyrics, grow out of their feelings for each other, as well as the unresolved "romantic attachments" in their lives. And determined to make something valuable happen, The Girl arranges both a bank loan and a band so that they can record an album.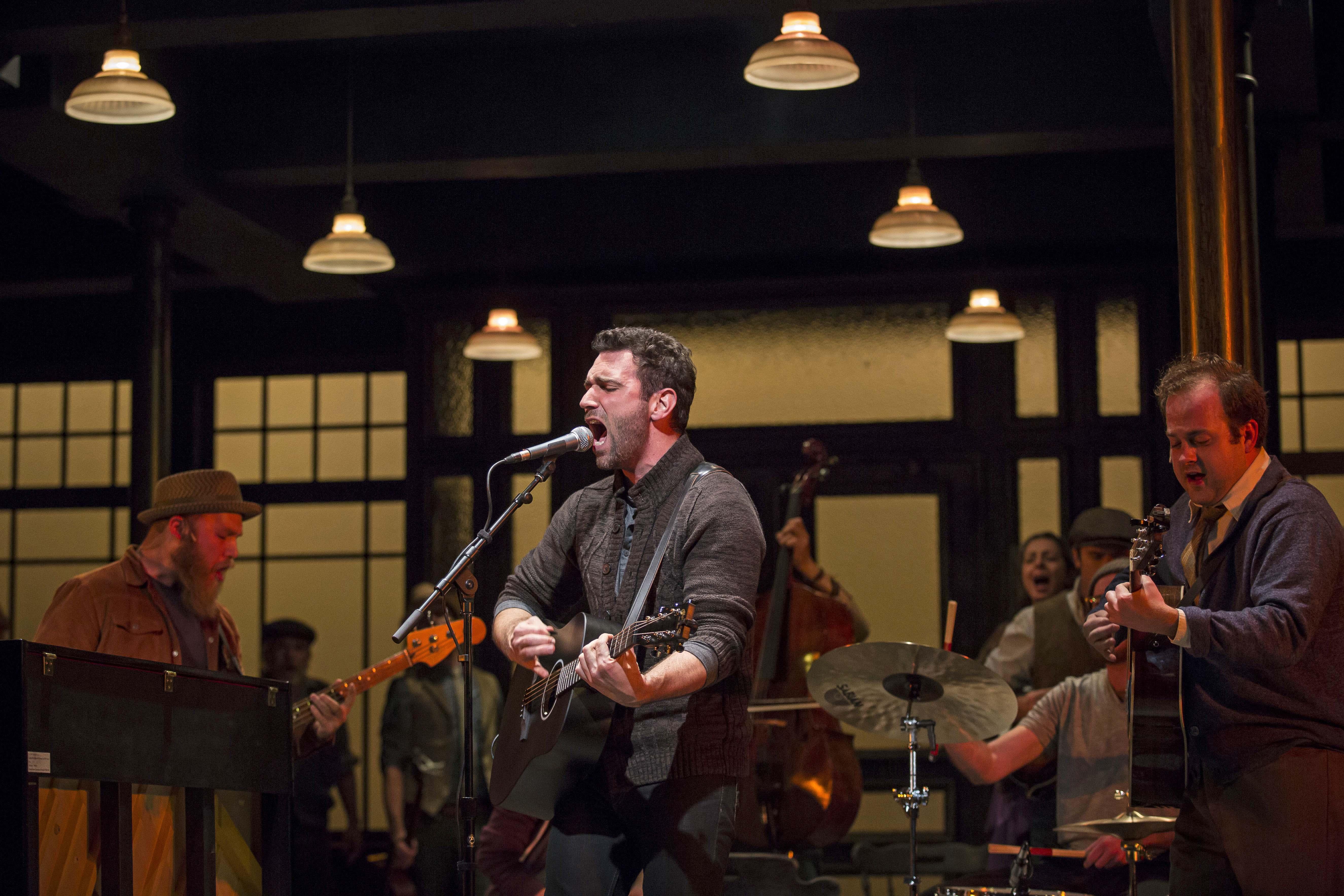 Barry DeBois in "Once." (Photo credit: Liz Lauren)
All this happens in the most organic yet unlikely way, with any temptations at "hanky-panky" forestalled in the pursuit of something grander – a more altruistic expression of love. Yes, a very different sort of love story, and one laced with some charming truths winningly lost and found in translation.
DeBois has just the right good looks and warm voice for the role, and deftly suggests the awkward social graces of a guy with a damaged ego. Topol, in a career-transforming performance, brings an irresistible charm and self-assurance to her role, injecting it with a perfect mix of ruefulness, joy and mischief, as well as a lovely voice and expert musicianship. (She accompanies herself on the piano throughout the show.)
But this is a stunning ensemble work with the actor-musicians (several of them veterans of the national tour of "Once") involved as vivid, pulsating participants at every turn. When not playing violin, cello, electric guitar, accordion, percussion and mouth piano, they are playing characters – with Cassidy Stirtz as Rena, The Girl's sexy, violin-playing best friend; Alex E. Hardaway as a guitar-playing bank manager; Larry Tobias as The Guy's good-hearted dad; and Angel Lin, Nik Kmiecik, Grant Alan Watkins, Jenn Chandler, Elisa Carlson, Cory Goodrich, Matt Kahler, Michael Kurowski, Doug Pawlik and Matthew C. Yee animating the world of the show in the most exuberant ways.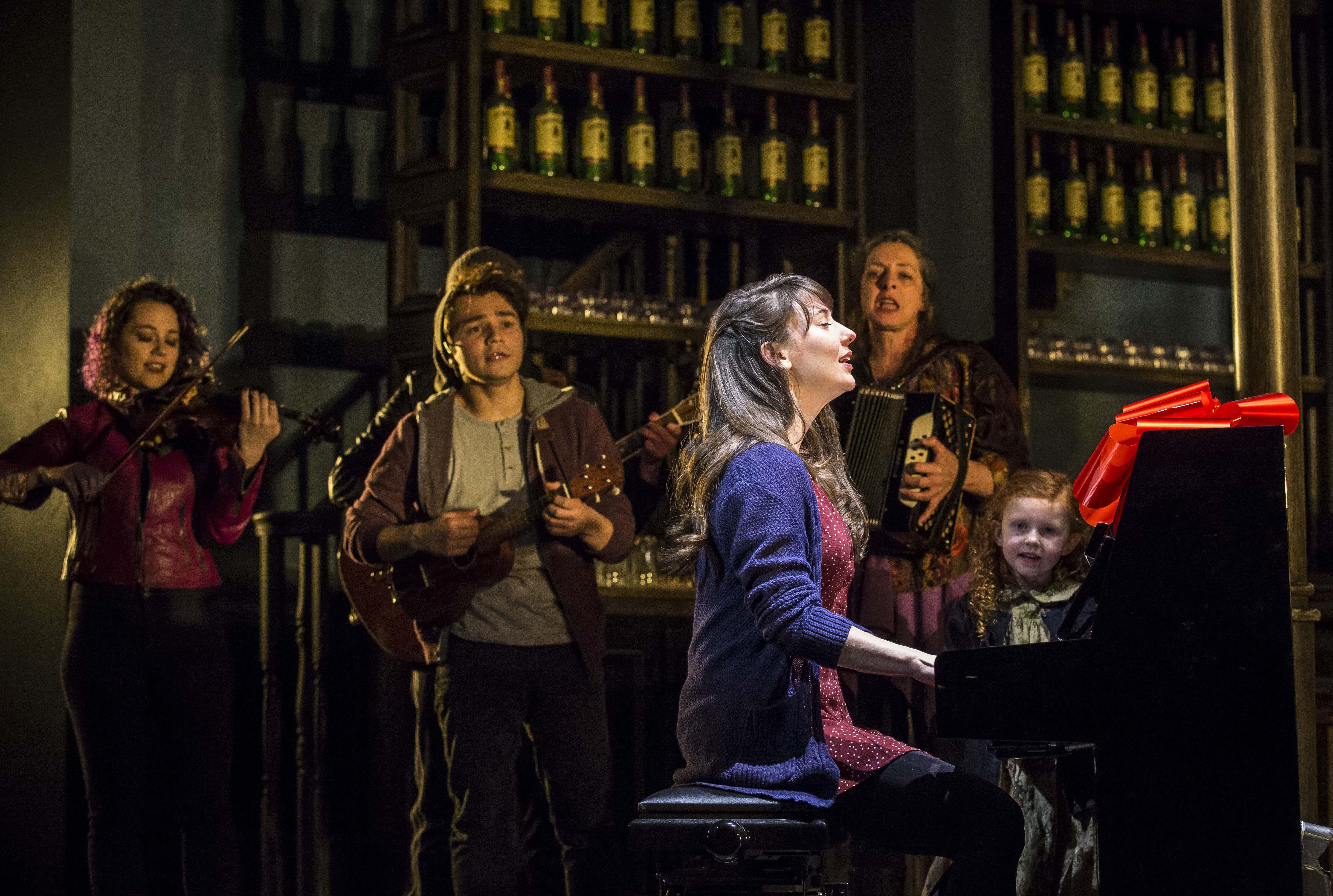 Tiffany Topol, seated, and, from left: Cassidy Stirtz, Nik Kmiecik, Jeanne T. Arrigo and Everleigh Murphy. (Photo credit: Liz Lauren)
The score is glorious, with DeBois and Topol joining for "If You Want Me" and "When Your Mind's Made Up" to heart-stopping effect, and with the ensemble's a cappella singing of "Gold" a special moment.
Jeffrey D. Kmiec's handsome set, plus the poetic lighting of Nick Belley, and streetwise costumes by Theresa Ham, combine with the perpetual motion of the cast to make the story flow – a story that will have you laughing right through your tears.

"Once" runs through June 3 at the Paramount Theatre, 23 E. Galena Blvd., Aurora. For tickets ($36-$64), call (630) 896-6666 or visit www.ParamountAurora.com.
Follow Hedy Weiss on Twitter: @HedyWeissCritic
---
Joffrey Ballet Celebrates a Wild and Crazy Swedish-Style 'Midsummer Night's Dream'
Porchlight Unlocks the Blazing Heart and Soul In Musical 'Memphis'
In 'The Doppelgänger,' Insiders and Outsiders Greedily Savage an African Nation
'Gentleman Caller' Lays Bare the Not-So-Secret Lives of Tennessee Williams, William Inge
---