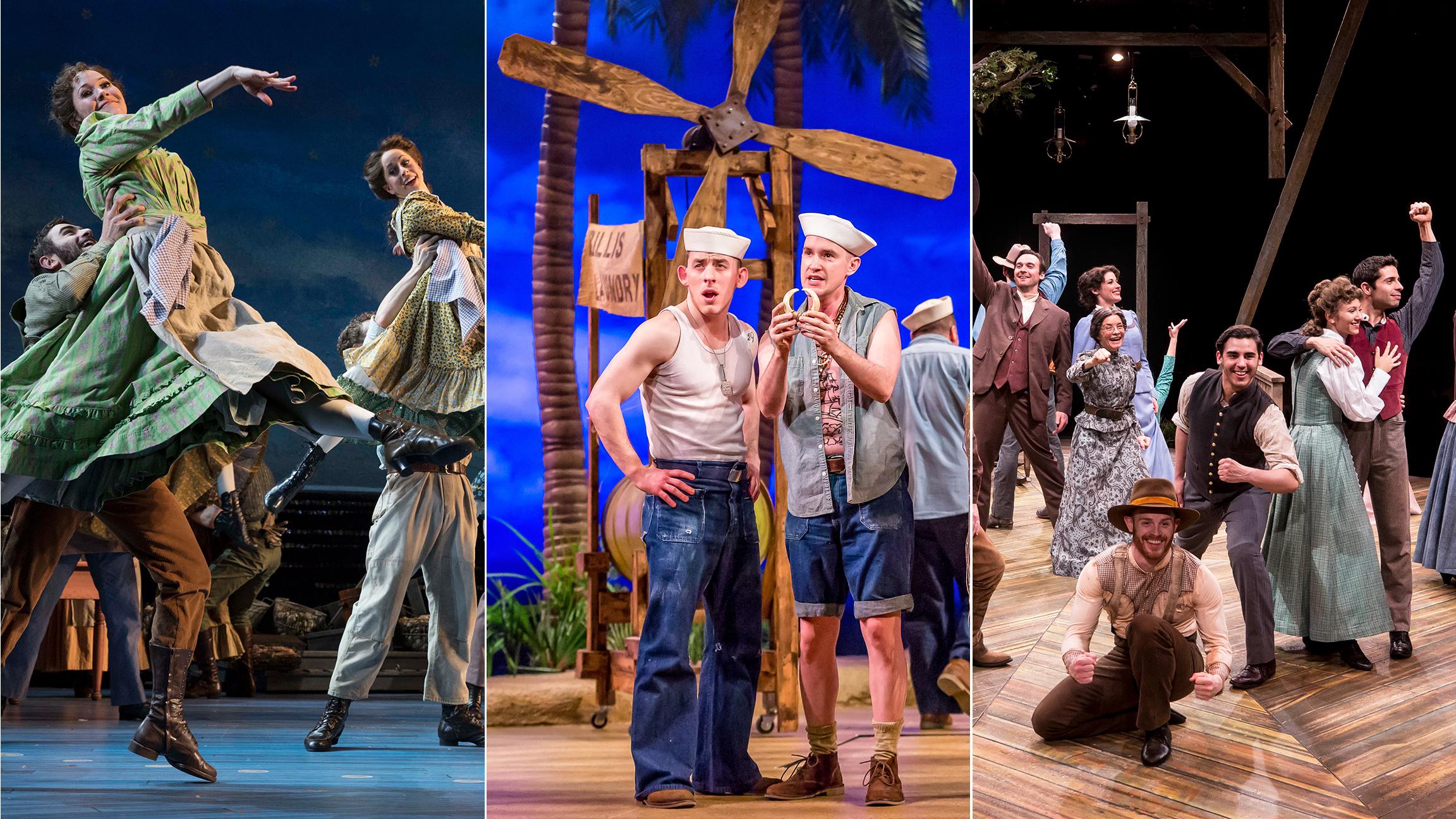 Rodgers and Hammerstein musicals currently on stage in New York and Chicago: "Carousel," left, "South Pacific," center, and "Oklahoma!" (Photo credits, from left: Julieta Cervantes, Brett Beiner, Liz Lauren)
At the very same moment that "Jesus Christ Superstar" is being widely "resurrected" and "Hamilton" continues to break the bank by way of the Founding Fathers, there seems to be an unofficial renaissance of Rodgers and Hammerstein musicals by way of three classics from the 1940s.
One production is on Broadway ("Carousel," which just picked up Tony Award nominations for Chicago-bred Jessie Mueller and diva favorite Renee Fleming), while two are in the Chicago area ("Oklahoma!" at the Marriott Theatre in Lincolnshire and "South Pacific" at the Drury Lane Theatre in Oakbrook). There also is a new book about the "R and H" team – Todd S. Purdum's "Something Wonderful: Rodgers and Hammerstein's Broadway Revolution." And Drury Lane has devised a one-night-only event (May 4, beginning at 6 p.m.) to celebrate both its show and the book, with a reading and Q&A session with the author, a signed copy of the book, and dinner at the on-site Lucille restaurant ($55) or all of that plus a ticket to "South Pacific" ($115).
So, here is the real question of the moment: Is the Rodgers and Hammerstein stack-up pure coincidence? Or is there something in the zeitgeist that suggests these shows can serve as a much-needed balm – vivid reminders of the American ethos (seen in both its positive and negative aspects), and, if something short on "cockeyed optimism" then at least "a thing called hope."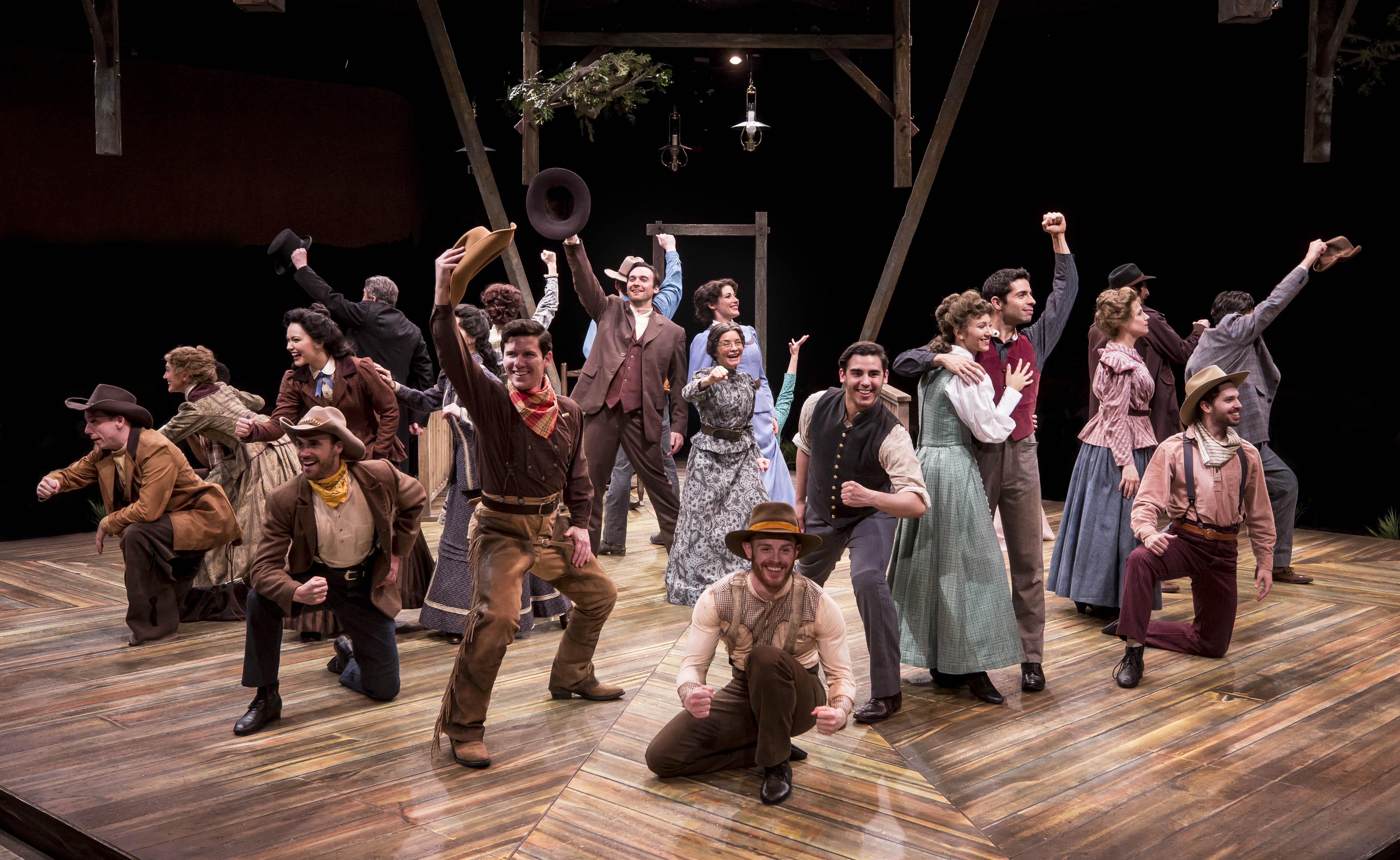 The cast of "Oklahoma!" at Marriott Theatre in Lincolnshire. (Photo by Liz Lauren)
"Oklahoma!" the pair's first collaboration, opened on Broadway in 1943, as World War II was raging on two fronts. Set in 1906, shortly before this western territory was about to become a state, the show is in many ways an homage to the pioneer spirit, and (as the song title suggests), to "The Farmer and The Cowman," who didn't always get along, yet had equally important work to do.
At its center is the love story between farm girl Lauren (Jennie Sophia, warm-voiced and winningly natural), and cowboy Curly (Brandon Springman, just snappy and impulsive enough), who are caught up in a "Much Ado About Nothing"-style battle (they are a made-for-each other couple who won't give in easily). And then there is Jud Fry (Shea Coffman), the "other" man in the mix – the farmhand and loner who brings a streak of genuine darkness and sexual tension into play, and whose fate reveals something about the nature of frontier justice. To Coffman's credit, he taps into the loneliness and alienation of the man rather than playing him as bluntly evil.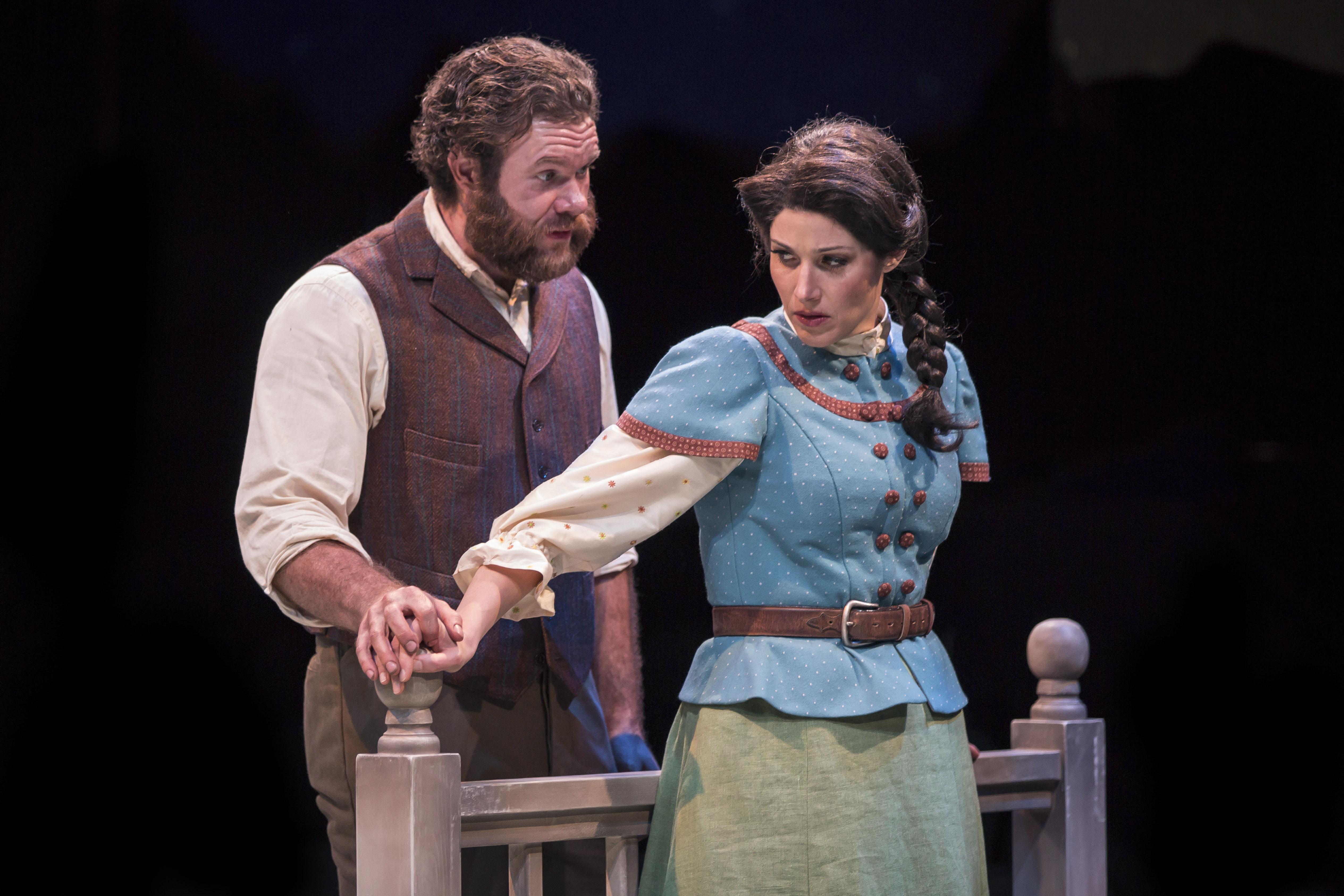 Shea Coffman and Jennie Sophia in "Oklahoma!" (Photo by Liz Lauren)
Directed by Aaron Thielen (who makes ideal use of Marriott's in-the-round configuration), the Marriott production is an easy charmer that ropes you in thanks in large part to the brilliant choreography by Alex Sanchez. His work – in a musical that changed the way dance was used in musicals – easily rivals that of Justin Peck, the much ballyhooed choreographer of Broadway's "Carousel" revival.
Sanchez's "Kansas City" number is an absolute knockout. And he has tapped a sensational ensemble of dancers, including the dazzling Aaron Umstead, in a sensational turn as Will Parker, the lasso-spinning cowboy whose girlfriend, the wild and free Ado Annie (a perfectly mischievous Michelle Lauto), almost manages to rope the womanizing Persian peddler, Ali Hakim (a fleet and funny Evan Tyrone Martin) into marriage.
Adding great spirit to the show are Susan Moniz as Laurey's surrogate mother, Aunt Eller, the no-nonsense pioneer woman who can take control when things get out of hand, and Terry Hamilton in a fine comic turn as Ado Annie's tempestuous dad. Benita Bunger, Lucas Segovia and Alejandro Fonseca dance beautifully in the dark "Out of My Dreams" ballet, with the ever-haunting young actress Maya Lou Hlava as Young Lauren.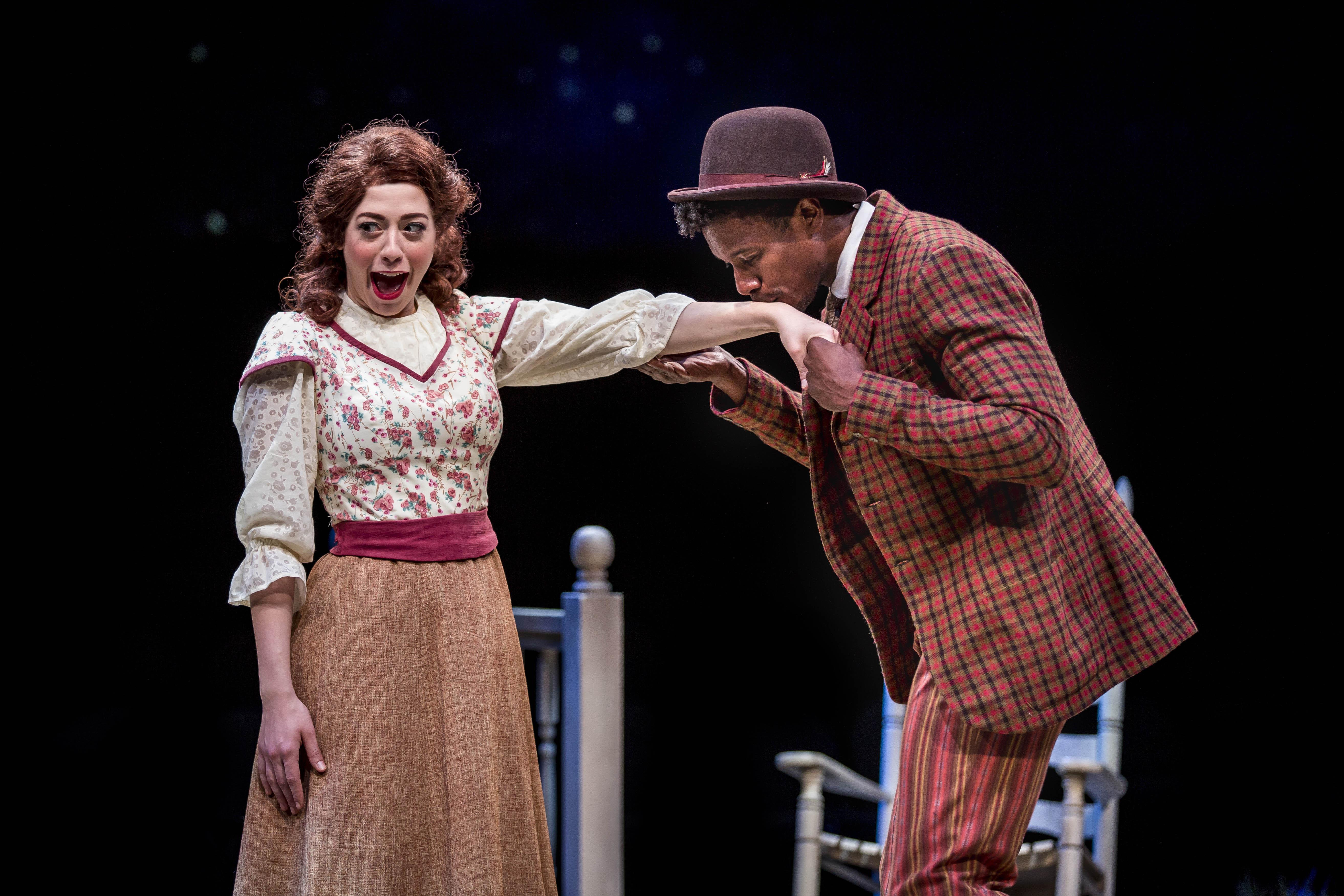 Michelle Lauto and Evan Tyrone Martin in "Oklahoma!" (Photo by Liz Lauren)
Kevin Depinet's artful set (lit by Jesse Klug) features a panoramic wrap-around view of the Oklahoma landscape that encompasses the entire theatre, and includes a muscular rigging of wooden beams to suggest a barn-raising. And Brian Hemesath's costumes are "frontier stylish."
A greater degree of gravitas in the show's final scene would help seal the deal. But all in all, by the time the cast gathers for a rousing finale of the title song you might well be ready to add a loud "YIP-I-O-EE-A" of your own.
"Oklahoma!" runs through June 10 at the Marriott Theatre, 10 Marriott Drive, Lincolnshire. For tickets ($50-$60) call (847) 634-0200 or visit www.MarriottTheatre.com.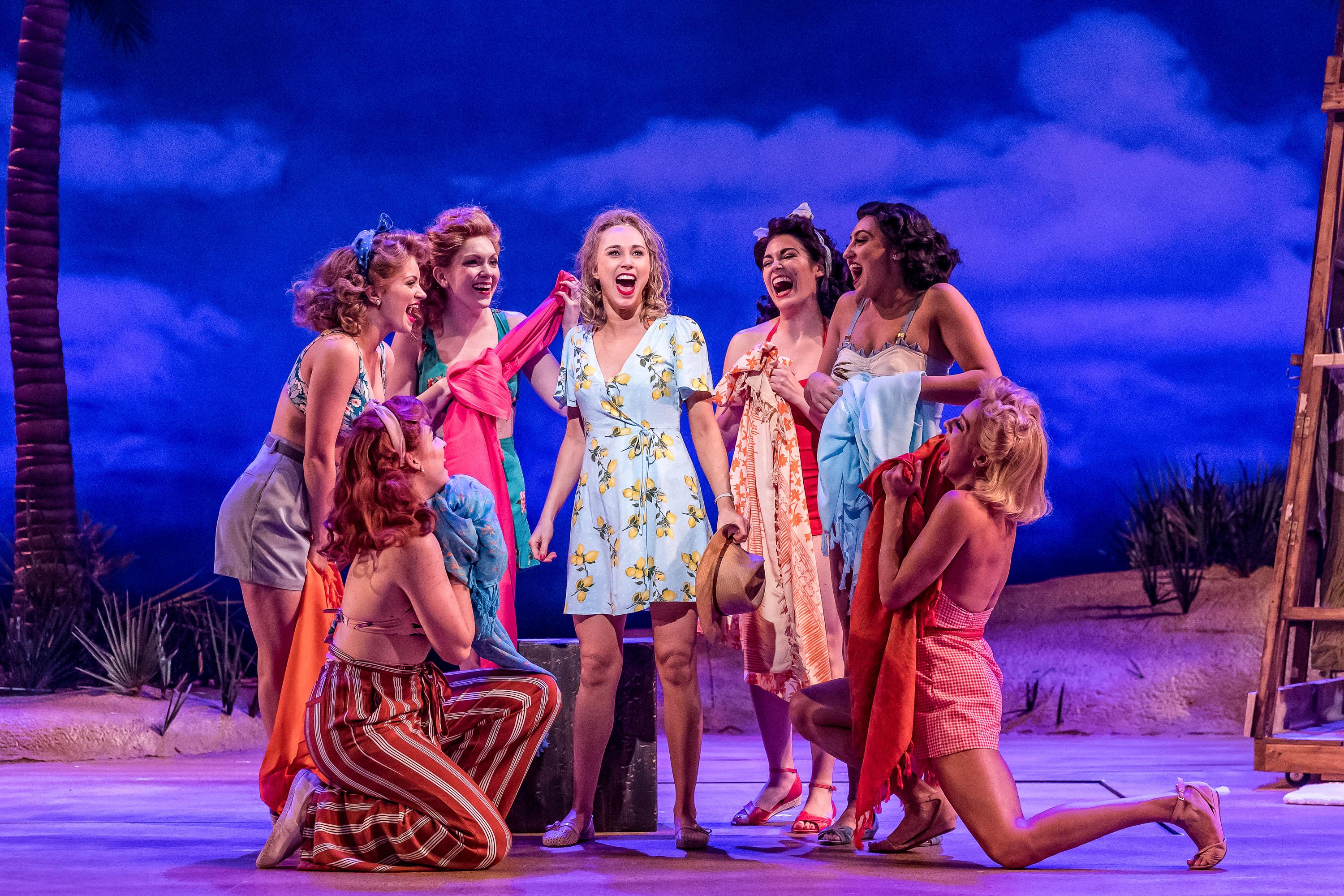 Samantha Hill, center, as Nellie in "South Pacific" at Drury Lane Oakbrook Theatre. (Photo by Brett Beiner)
Although "South Pacific" (based on James A. Michener's Pulitzer Prize-winning novel) is set during wartime, it didn't arrive on Broadway until 1949, and in many ways it is driven by the more internal American conflict of racism as only Rodgers and Hammerstein (well ahead of the social and cultural curve) could address it.
It spins the story of Ensign Nellie Forbush (Samantha Hill in a very real performance that avoids cuteness), a Navy nurse who clearly wants to experience something beyond her home town of Little Rock, Arkansas, and her love affair with Emile de Becque (Robert Cuccioli, whose rich baritone is paired with good looks and a mature bearing), a French planter on an island smack in the middle of the Pacific theater of war. Yet as far away from Little Rock's Jim Crow-era prejudices Nellie might be, when she learns that Emile is the father of two young mixed-race children from his marriage to a Polynesian woman, she freezes.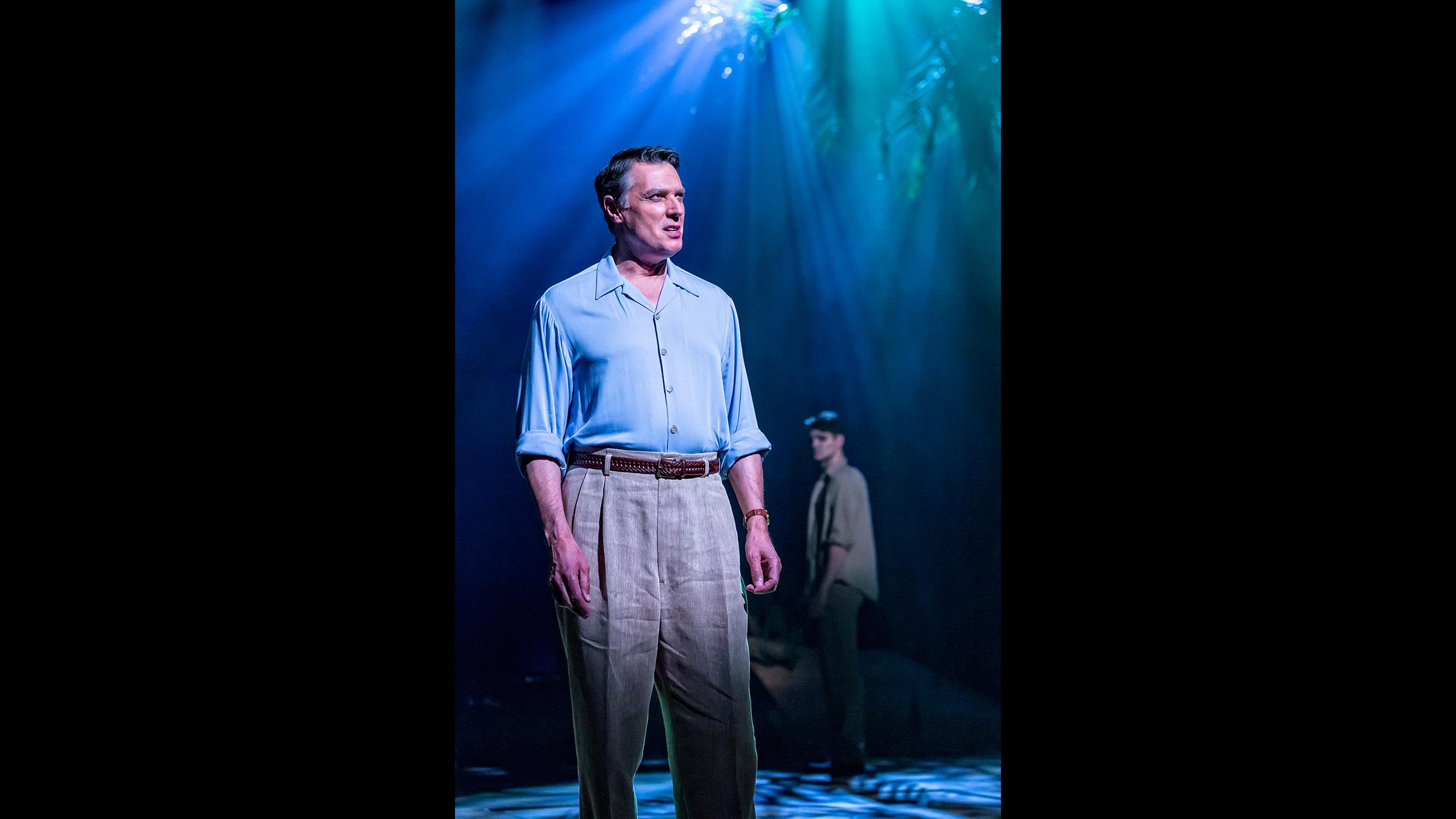 Robert Cuccioli as Emile de Becque in "South Pacific." (Photo by Brett Beiner)
In counterpoint to that story is the equally disturbing look at the relationship engineered by the earthy, opportunistic Tonkinese entrepreneur on the island, Bloody Mary (Yvonne Strumecki, whose powerful voice soars in "Bali Ha'i"). Mary is not beyond pushing her beautiful young daughter, Liat (Sarah Lo), into the arms of the "sexy" Ivy League American marine, Lt. Joseph Cable (Austin Colby), with the intention of marrying her off. But as played by Colby (a fine singer but rather stiff actor), the seduction scene is something short of rapturous. This might very well be intentional on the part of director Victor Malana Maog, and suggestive of a different sort of prejudice. But it also robs the relationship of a certain pathos later on, as does the failure to fully tap into the brief but crucial scene concerning Cable's pocket watch.
The comic genius in this production (as in everything he touches) is Matt Crowle, who plays Luther Billis, the restless, mischievous Seabee who clearly has a hopeless crush on Nellie, and is forever in search of adventure. Why Crowle, a zany, born-to-dance actor, is not a Broadway star defies comprehension. Just watch his moves in numbers like "There is Nothin' Like a Dame" and "Honey Bun" both zestful choreographed by Otis Sallid.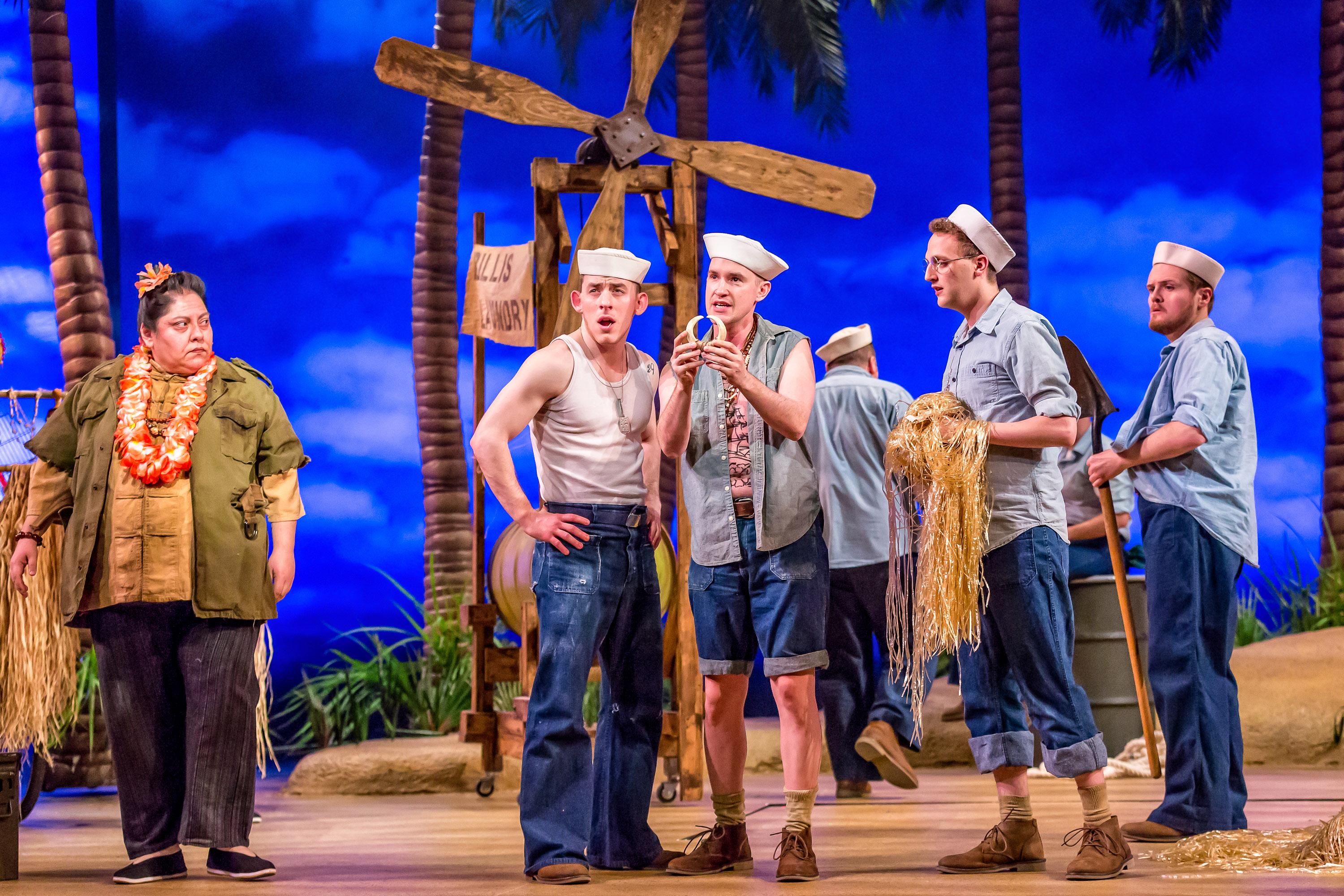 From left: Yvonne Strumecki, Joe Capstick, Matt Crowle, Sam Shankman and Harter Clingman in "South Pacific." (Photo by Brett Beiner)
But back to Rodgers and Hammerstein. Think about the depth and variety of the songs in "South Pacific" alone (the operatic "Some Enchanted Evening," the achingly lovely "Younger Than Springtime" and "This Nearly Was Mine," and, above all, the peerless, angry "You've Got to Be Carefully Taught"), and you understand the meaning of brilliance.
"South Pacific" runs through June 17 at the Drury Lane Oakbrook Theatre, 100 Drury Lane, Oakbrook Terrace. For tickets ($47-$62) call (630) 530-0111 or visit www.DruryLaneTheatre.com.
Follow Hedy Weiss on Twitter: @HedyWeissCritic
---
Broadway Revival of 'Carousel' Injects New Elements Into Rodgers and Hammerstein Classic
Healing Powers of Music and Love Drive Beguiling Musical 'Once'
Joffrey Ballet Celebrates a Wild and Crazy Swedish-Style 'Midsummer Night's Dream'
Porchlight Unlocks the Blazing Heart and Soul In Musical 'Memphis'
---