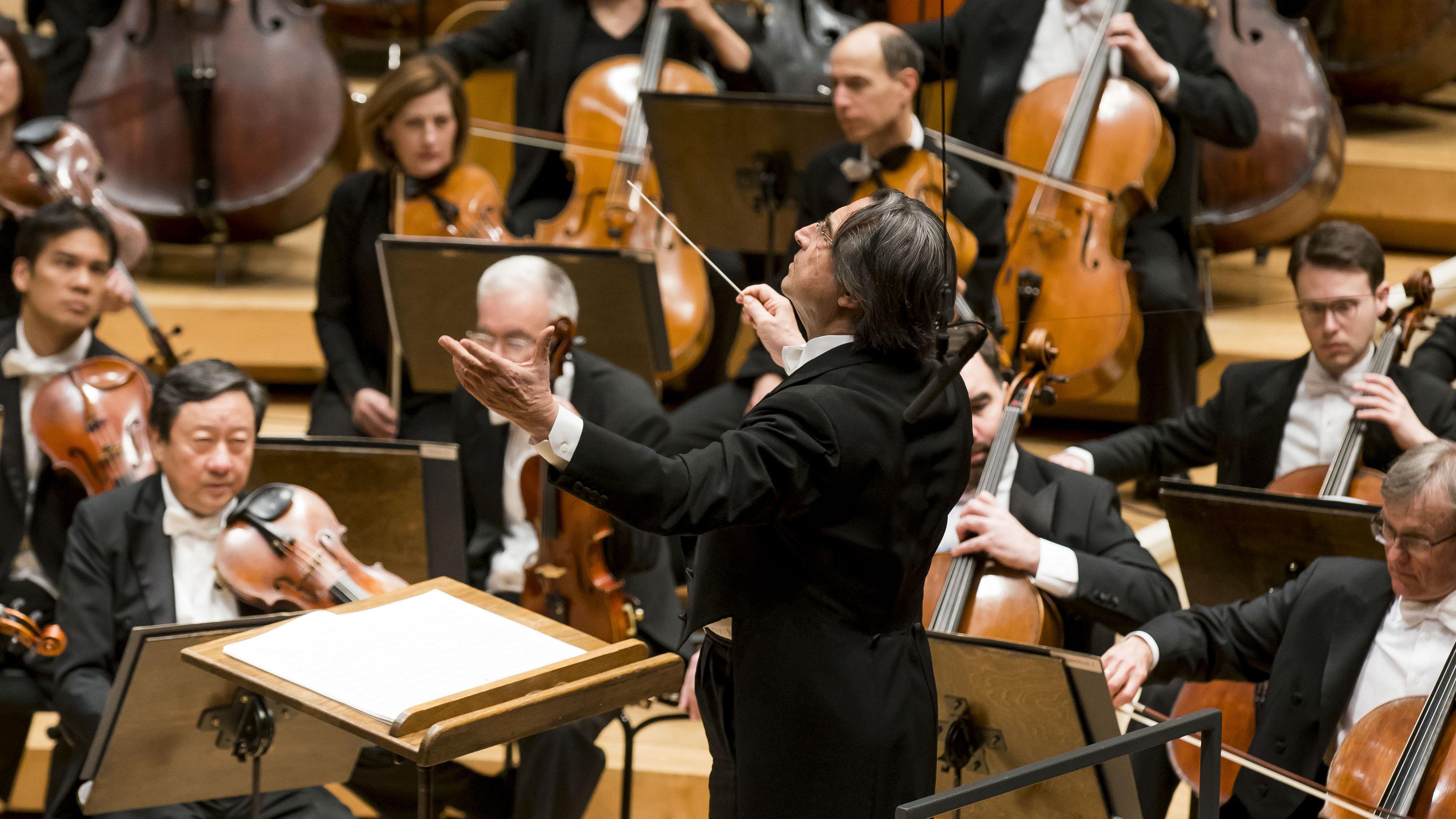 Zell Music Director Riccardo Muti leads the Chicago Symphony Orchestra in a program of works by Debussy and Tchaikovsky in the final weekend of his April residency at Symphony Center. (© Todd Rosenberg)
Few composers can lure you into a world of dreamlike sensations like that of impressionistic Frenchman Claude Debussy. And for pure theatricality driven by stormy operatic emotions and the grace and grandeur of dance, a certain 19th century Russian by the name of Piotr Ilyich Tchaikovsky is your man.
The work of both composers shares the Chicago Symphony Orchestra's current program led by Maestro Riccardo Muti. And the result is a most winning mix of opposing musical temperaments.
Opening the concert is Debussy's 1901 "Nocturnes for Orchestra," a triptych of soundscapes that begins with the quiet awakening of "Clouds," and its suggestion of the movement of those shape-shifting forms. It moves on to "Festivals," with its richer, whirling tones and familiar theme, with the strings, reeds, horns and timpani creating a distant march-like rhythm that grows in intensity and ultimately settles with a beautiful whisk-like sound. The final sequence, "Sirens," spins its enchantment with the help of the women of the CSO Chorus, whose seductive, wordless humming could easily have distracted Homer's Odysseus as he sailed home. A lush passage for horns, an unusual use of the violins' bows and the song of two harps is all to be heard before it fades into tranquility and a silent breath.
Debussy's "Sacred and Profane Dances," with its exquisite waltz-like theme, is a glorious showcase for a master harpist. And Sarah Bullen, the CSO's principal harpist, demonstrates her heavenly gift for this big, beautiful instrument that can be used to make the most weightless, airborne, otherworldly music. Watch the many and varied balletic moves of Bullen's hands as she draws a golden sound of both delicacy and surprising power from its many strings. Absolute magic.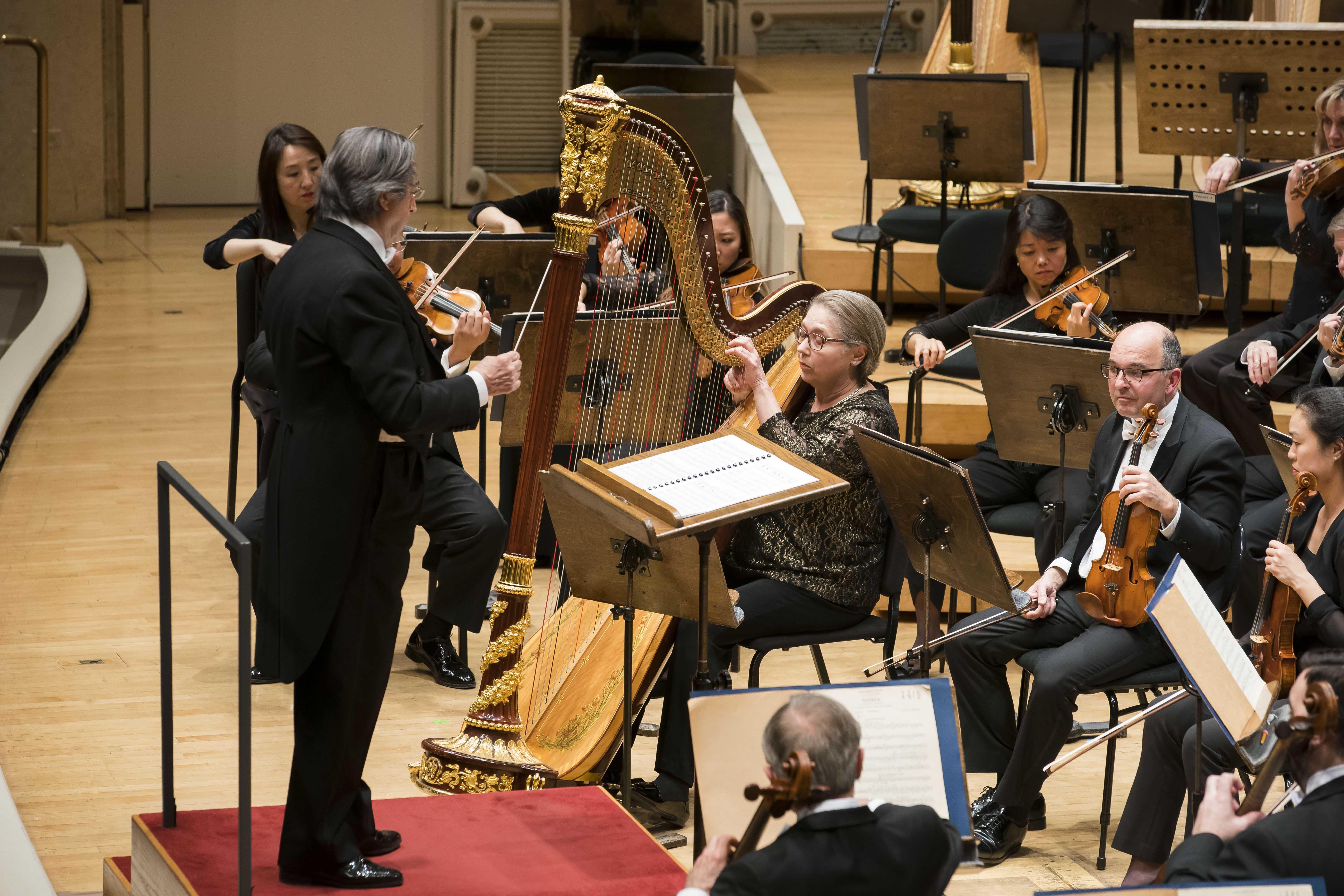 Zell Music Director Riccardo Muti leads the CSO in Debussy's "Sacred and Profane Dances," with CSO Principal Harp Sarah Bullen as soloist. (© Todd Rosenberg)
And then it's on to Tchaikovsky and his 1876 "Francesca da Rimini" a symphonic poem inspired by his reading of the fifth canto of Dante's "Inferno," and its meditation on the torment of a happy memory at a time of great sorrow. (For a closer understanding of what might have been going on in the composer's life you might want to see actor-musician Hershey Felder's splendid one-man show, "Our Great Tchaikovsky," now in the Steppenwolf's Theatre Upstairs.)
The intense, whirling drama that drives "Francesca" is audible from the start, as Tchaikovsky conjures an uneasy atmosphere of stormy emotions, danger and high anxiety. Throughout, the piece is brilliantly orchestrated, with horns, timpani, cymbals and reeds (including an exquisite solo by principal clarinetist Stephen Williamson counterpointed by plucked strings), and it moves to a furious finale.
Last, but by no means least, is the eight-part Suite from Tchaikovsky's iconic 1877 ballet score, "Swan Lake." While it is now almost impossible to separate the music from the foundational choreography of Marius Petipa and Lev Ivanov, this CSO performance thrillingly liberates the music and allows you to hear its mood-spinning genius in a whole new way.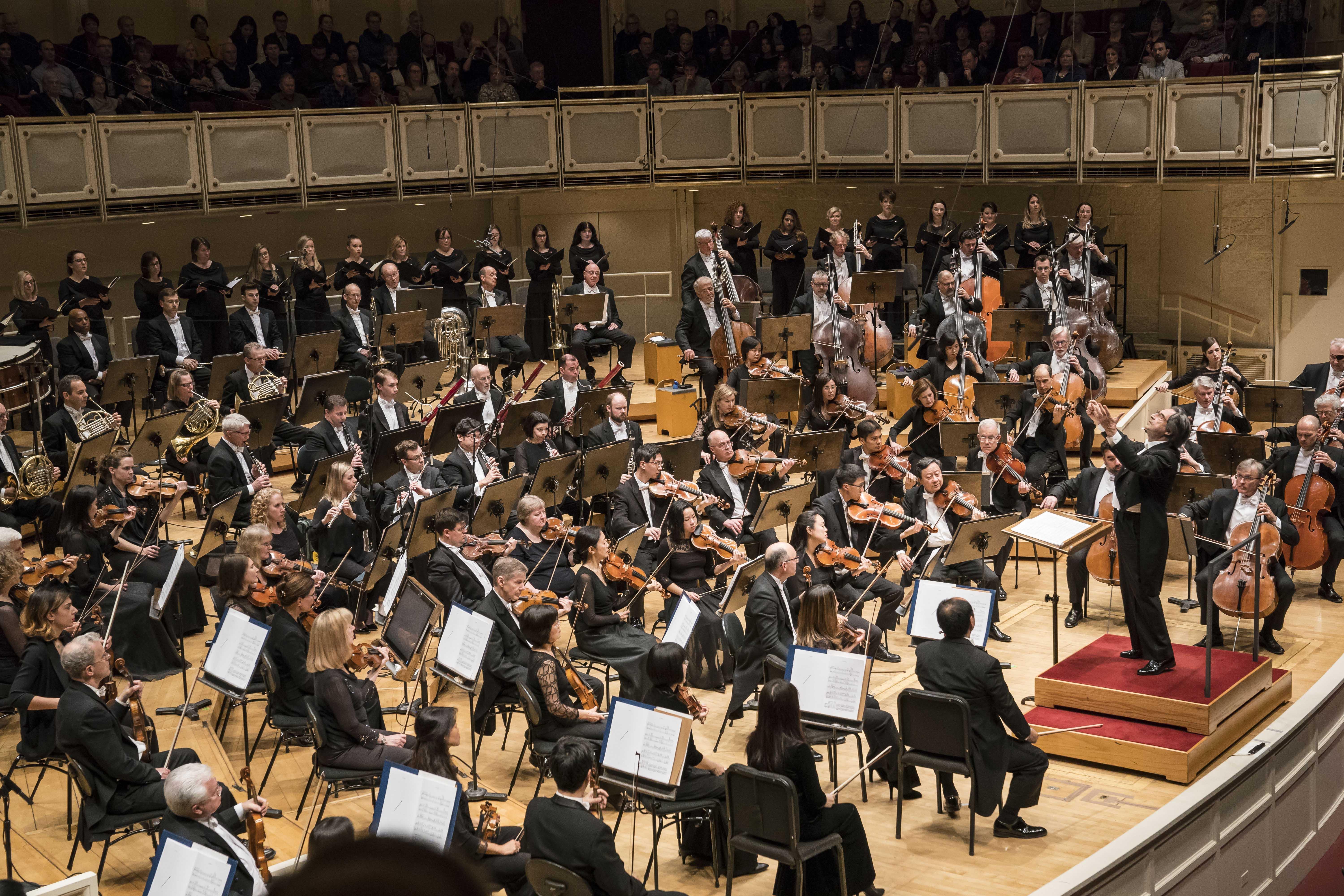 Zell Music Director Riccardo Muti leads the Chicago Symphony Orchestra and Women of the Chicago Symphony Chorus in Debussy's "Nocturnes." (© Todd Rosenberg)
The opening fairy tale scene is as atmospheric as a Debussy riff - full of yearning and a hint of tragedy. The lavish imperial-sounding "Waltz" and swan sequence suggests Tchaikovsky's gift as a great colorist whose music is meant to be danced to, with the singing of the harp capturing the fluid grace of swans afloat, and with a magnificent violin solo by concertmaster Robert Chen embodying the essence of love and pain.
The orchestra brought a wildly exuberant spirit to the gypsy-inflected "Hungarian Dance," the castanet-infused "Spanish Dance," the rapid-fire, tarantella-like "Neapolitan Dance," and finally, the exhilarating rhythms of the "Mazurka" with its Polish folk roots and irresistible momentum.
Debussy's dreaminess awakened by Tchaikovsky's fervor.
One final note: Following these concerts, Maestro Muti will head to Australia, where he will conduct the Australian World Orchestra in works by Brahms and Tchaikovsky, both at the Sydney Opera House (May 2 and 4), and at Melbourne's Hamer Hall (May 5). He will return to Chicago (June 14-16) to lead the CSO in Prokofiev's "Symphony No. 3," and to join forces with Yo-Yo Ma for Shostakovich's "Cello Concerto No. 2."
In the interim, you might want to catch Esa-Pekka Salonen conducting the CSO in Mahler's "Symphony No. 9" (May 17-19 and 22), and a program featuring Bartok's "Piano Concerto No. 3" (with the remarkable pianist Mitsuko Uchida), along with works by Brahms ("Variations on a Theme by Haydn") and Schoenberg ("Transfigured Night").

Muti Conducts Tchaikovsky and Debussy will be performed at 8 p.m. Saturday at Symphony Center, 220 S. Michigan. For tickets ($36 - $250) call (312) 294-3000 or visit www.cso.org.
Follow Hedy Weiss on Twitter: @HedyWeissCritic
---
In 'The Doppelgänger,' Insiders and Outsiders Greedily Savage an African Nation
Hersey Felder's Portrait of Tchaikovsky Fueled by Composer's Music of Suppression, Longing
Broadway Revival of 'Carousel' Injects New Elements Into Rodgers and Hammerstein Classic
'Gentleman Caller' Lays Bare the Not-So-Secret Lives of Tennessee Williams, William Inge
Blistering Grand Opera 'Sweeney Todd' at Theo Ubique's Tiny Storefront
---