Actor John Malkovich is narrator in Copland's "Lincoln Portrait" with Zell Music Director Riccardo Muti and the Chicago Symphony Orchestra. (Photo © Todd Rosenberg)
If you had to put an umbrella title on the Chicago Symphony Orchestra's current beautifully thought-out program, you could easily borrow the title of William Carlos Williams' book of poetic essays, "In the American Grain."
From its brief but elegiac opening work ("Lyric for Strings," by George Walker, a Pulitzer Prize-winning African-American composer who is now 95), to its uncannily timely performance of Aaron Copland's "Lincoln Portrait," to what, on Thursday evening, proved to be the most radiant rendering of Dvorak's 1883 work, the "Symphony No. 9 in E Minor (From the New World)," that I can ever remember hearing, the concert served as a subtle but revealing portrait of the deep but varied influences that have taken root in this country. And those roots extend to the concert's conductor, Maestro Riccardo Muti, whose Italian heritage has been ever-present in his shaping of the CSO, that ever-astonishing American orchestra.
Though only six minutes long, Walker's work, which dates from 1941 (when he was still a graduate student at the Curtis Institute of Music, and a piano student of Rudolf Serkin), is distinguished by its beautiful use of the orchestra's string section, when even the brief plucking of violin strings catches your attention and suggests a few breaths. Written as a memorial in the wake of his grandmother's death, the piece possesses a gentle, lyrical gravity and ends with a haunting, softly moaning sound.
Musically, "Lincoln Portrait" (dating from 1942, when World War II was raging) is pure Americana as only Copland could conjure it. Suggesting Lincoln's roots in Kentucky, Indiana and Illinois, it is laced with bits of familiar folk tunes, as well as a riff that two years later would make its way into the composer's score for choreographer Martha Graham's masterwork, "Appalachian Spring." But it also is marked by the stirring modernism that was a part of Copland's vocabulary, as well as a traditional sounding of horns that suggest wartime, whether the Civil War or others.
It is the text of the work, however, that strikes many of its most formidable chords, with brief but powerful, poetic excerpts from Lincoln's eloquent pen, including the Gettysburg Address of 1863, his State of the Union address of 1862, and the Lincoln-Douglas debates of 1858.
Narrating the work with immense clarity and controlled fire was John Malkovich, whose impeccably understated but potent delivery, and slightly reedy voice (not unlike descriptions of Lincoln's own voice) rendered our 16th president's words to powerful effect at a moment of great national unease.
To quote the man: "As I would not be a slave, so I would not be a master. This expresses my idea of democracy. Whatever differs from this, to the extent of the difference, is no democracy."
Compare this to contemporary oratory and begin to weep. The audience was on its feet.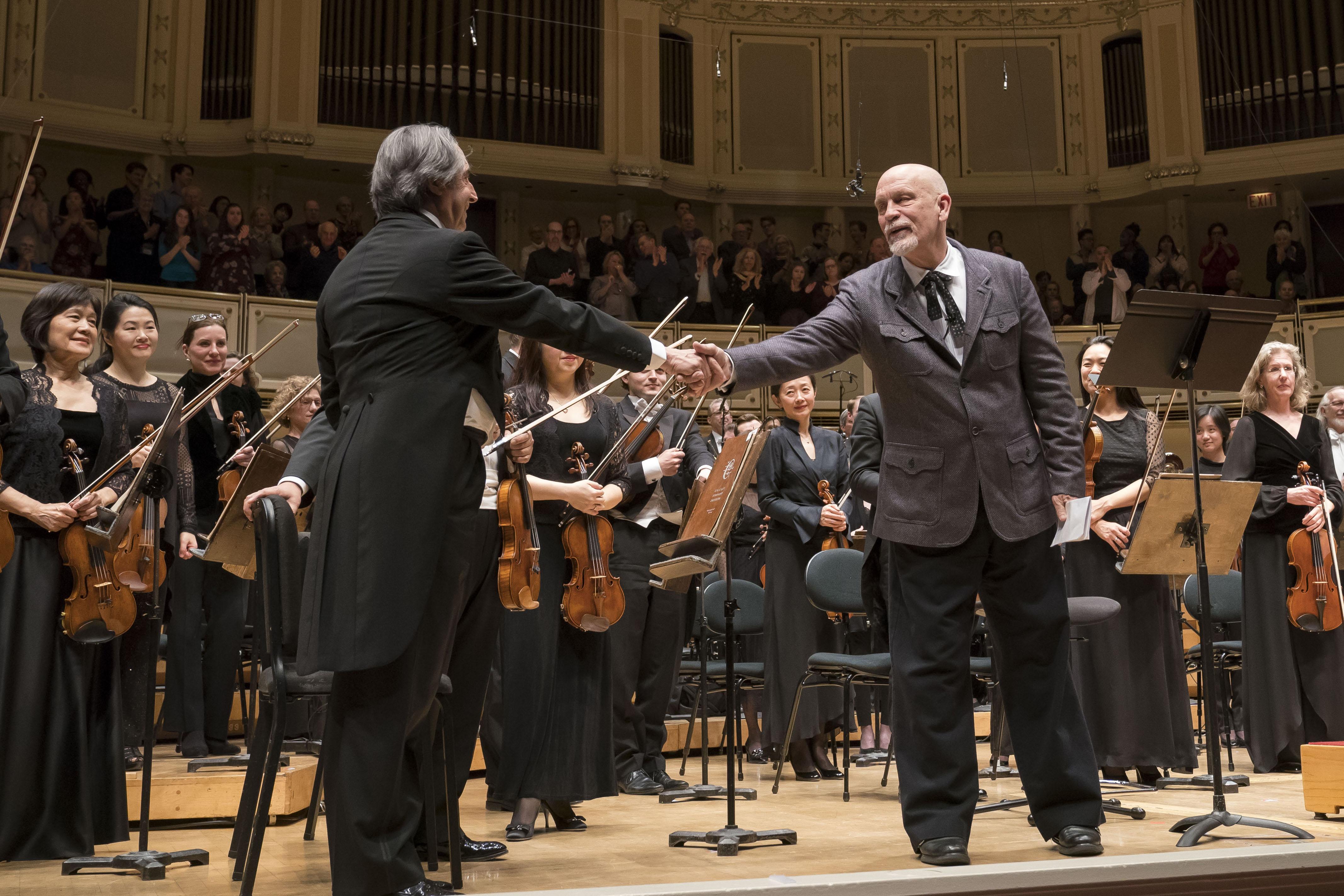 Zell Music Director Riccardo Muti congratulates John Malkovich following their performance of Copland's "Lincoln Portrait" with the CSO. (Photo © Todd Rosenberg)
Finally, the ravishing Dvorak work, which comes with its own story but fits ideally into the notion of immigrants and other visitors to this country.
The Czech composer came to the U.S. in the early 1890s, thanks to an invitation from a wealthy New York woman who wanted him to lead an American school of composition. The truth is, like many such artists, he brought the sounds of his homeland with him, along with his particular genius for shaping glorious melodies around Czech folk themes that dance in your ear. In this he was not unlike Copland, although his sources were very different.
From the quietest opening moments, to recurrent storms, and with the French horns sounding one minute, and a mournful processional with prayer-like violins perhaps suggesting a streak of homesickness the next, this symphony thrives on a great current of moods and orchestral colors that can surge to an explosive bang at one moment and a melting away of horns at another.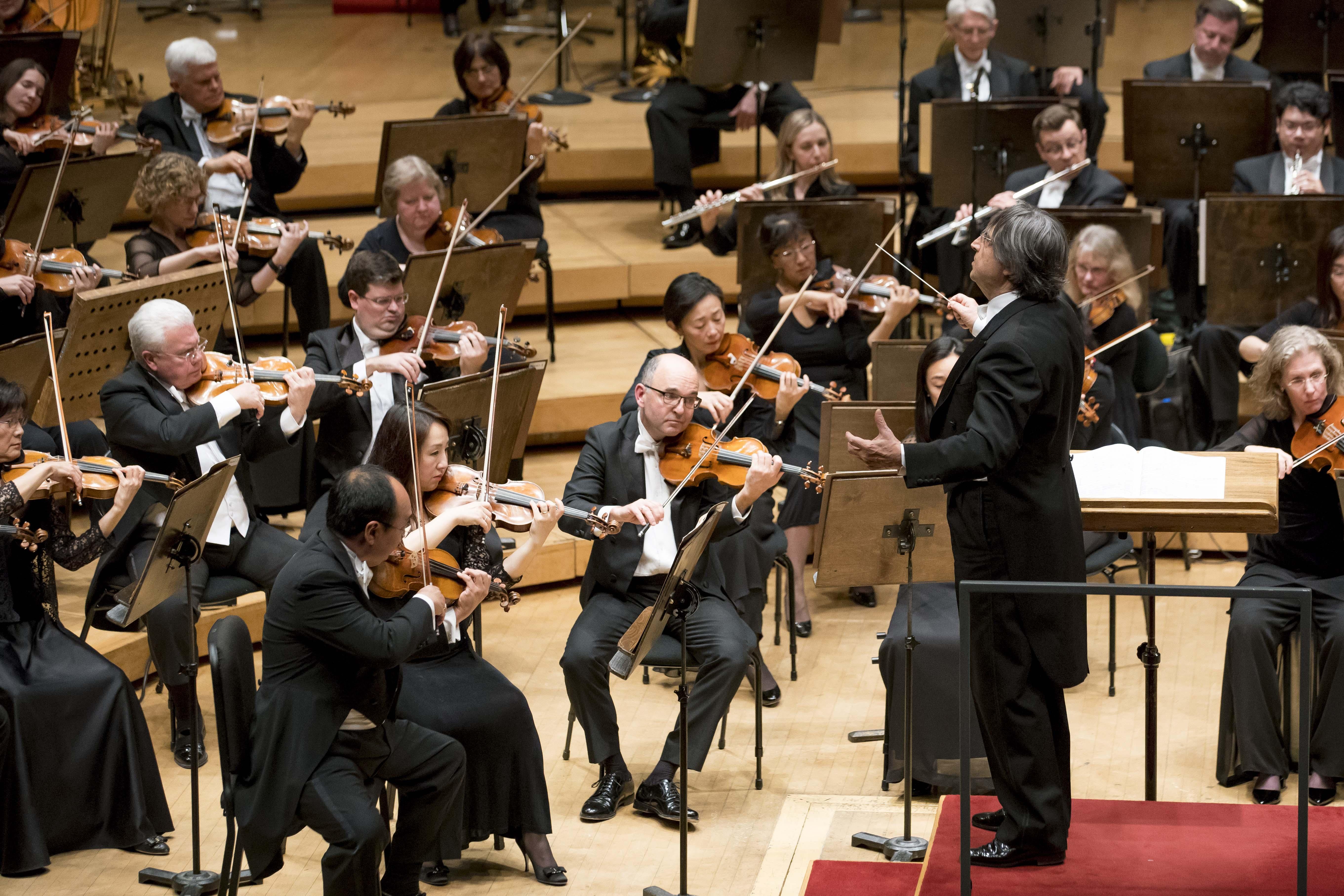 Zell Music Director Riccardo Muti leads the CSO in Dvořák's Symphony No. 9 (From the New World). (Photo © Todd Rosenberg)
Muti was in his glory here as the orchestra responded to every nuance in this work – a work in which Dvorak drew on his past to evoke the spirit of his "new world."

This concert will be repeated at 8 p.m. April 13 and 14 and at 7:30 p.m. April 17 at Symphony Center, 220 S. Michigan Ave. For tickets ($55 - $280) call (312) 294-3000 or visit www.cso.org.
Follow Hedy Weiss on Twitter: @HedyWeissCritic
---
CSO and Chorus Create Wondrous Veil of Sound, Color with Ravel and Debussy
CSO Debuts Fascinating New Piece, Celebrates A Heavenly Massing of Voices
CSO, Muti and Soloists In Eloquent Conversation with Mozart
Blistering Grand Opera 'Sweeney Todd' at Theo Ubique's Tiny Storefront
---