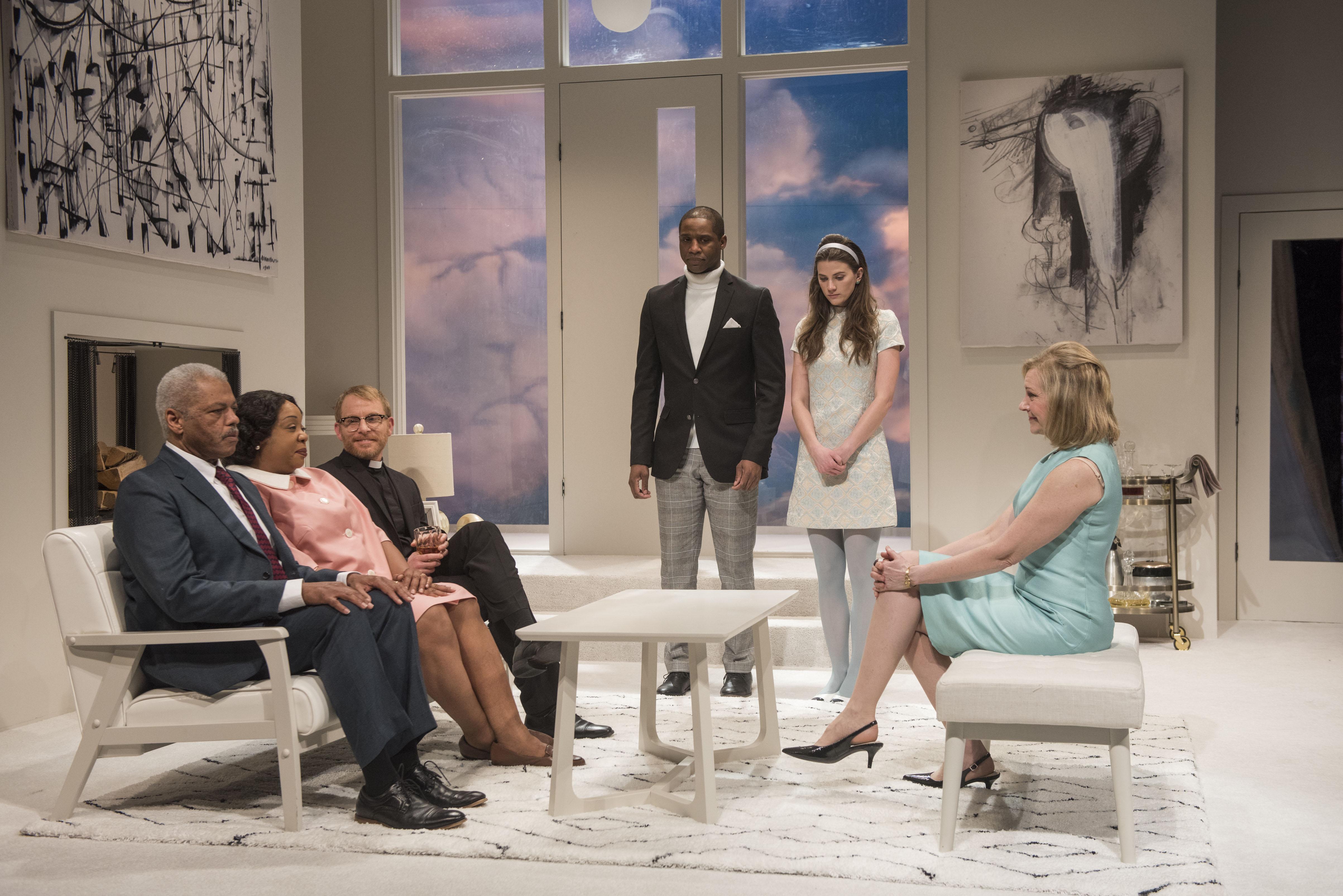 From left: Dexter Zollicoffer, Jacqueline Williams, Dan Waller, Michael Aaron Pogue, Bryce Gangel and Mary Beth Fisher in "Guess Who's Coming to Dinner" through April 15, 2018 at Court Theatre. (Credit: Michael Brosilow)
It is worth noting that up until just six months before the release of the film "Guess Who's Coming to Dinner" in December 1967, interracial marriage was still illegal in 17 states in this country, and it was only a U.S. Supreme Court decision in June of that year that officially ended the ban. It also is worth recalling that 1967 was a time of intense racial upheaval in this country, as cities from Newark, to Detroit, to Chicago and beyond erupted in devastating violence.
The upscale, art-filled, supremely modernist (and notably all-white) home in the hills of San Francisco that dominates the stage of Court Theatre for its world premiere production of Todd Kreidler's stage adaptation of the film (with its screenplay by William Rose) is seemingly removed from all that turbulence. But it will unexpectedly experience its own form of a racially charged storm in the course of a single day.
I confess I was wary about how this story would hold up a full half-century after director Stanley Kramer and his starry cast (Katharine Hepburn, Spencer Tracy and Sidney Poitier) dealt with some very uncomfortable truths. But the more things have changed, the more things have remained (almost) the same. And despite all the talk of "a post-racial" society and the Millennial generation, this Court production can still strike a chord of instant recognition (and a mix of knowing laughter and painful self-awareness) among a racially diverse audience in Hyde Park.
The story is, above all, a terrific indictment of pseudo-white liberals, as well as an equally honest look at the wariness of African-Americans when it comes to interracial relationships. It raises the issue of whether such attitudes are the product of hypocrisy, pragmatism or enduring historical scars. Yet finally, in a spirit of Hollywood optimism and "love conquers all," it suggests that the only way forward is a feverishly honest airing of feelings and fears.
It all begins when Matt Drayton (a fearless turn by Tim Hopper), the wealthy publisher of a progressive newspaper, and his wife, Christina (the always spot-on Mary Beth Fisher), owner of a posh art gallery, welcome their daughter Joanna (the winningly natural Bryce Gangel) home from an internship in Hawaii.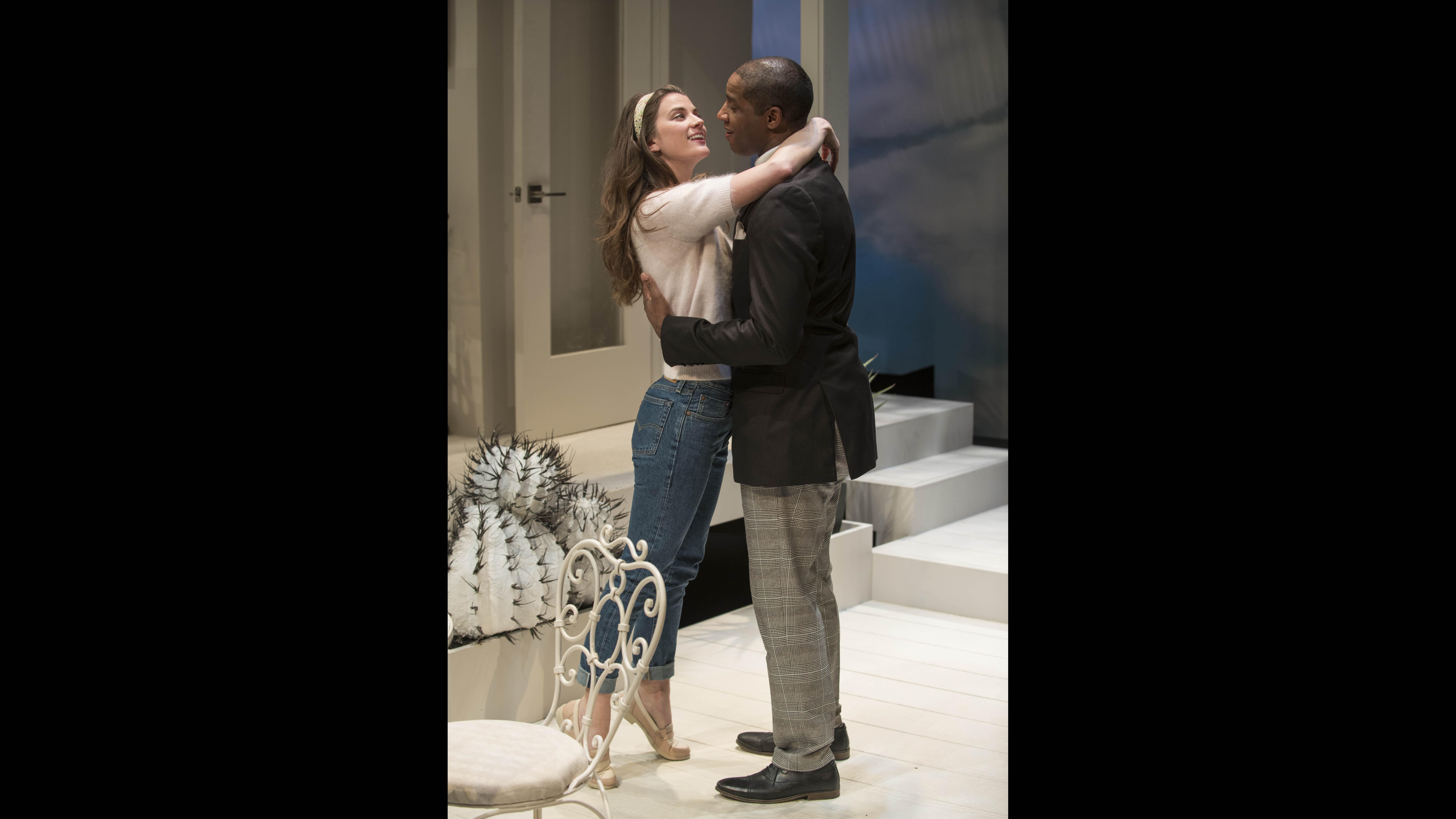 Bryce Gangel and Michael Aaron Pogue. (Credit: Michael Brosilow)
As it turns out, Joanna has news: After a whirlwind friendship-turned-romance she plans to marry Dr. John Prentice (Michael Aaron Pogue), a prominent researcher in tropical diseases who is 11 years her senior, and whose wife and child were killed in a tragic accident some years earlier. And oh yes, there is this: Prentice is African-American.
Joanna's mother is stunned and worried but not closed-minded, as she demonstrates in a blistering encounter with her bigoted gallery assistant, Hilary St. George (Rachel Sledd). Her father, despite championing liberal causes throughout his career, is vehemently opposed, and even orders a police check on the doctor.
Prentice, who has yet to tell his own parents about his plans, wants the consent of Joanna's parents before marrying, sensing very well that without it there will be a permanent rift among all involved that will ultimately destroy the marriage. Joanna, younger and more impulsive – and raised in a "liberal" household that now seems to be a lie – wants to fly off to Europe with him that very night.
The tension is palpable. But the real fireworks begin with the arrival of Prentice's parents. John Prentice Sr. (Dexter Zollicoffer, with a fine searing edge of bitterness), is, for his own reasons, even more opposed to the marriage than Matt, while his wife, Mary (Jacqueline Williams, in a fine mix of loyalty and reason), is deeply protective of both her husband and son.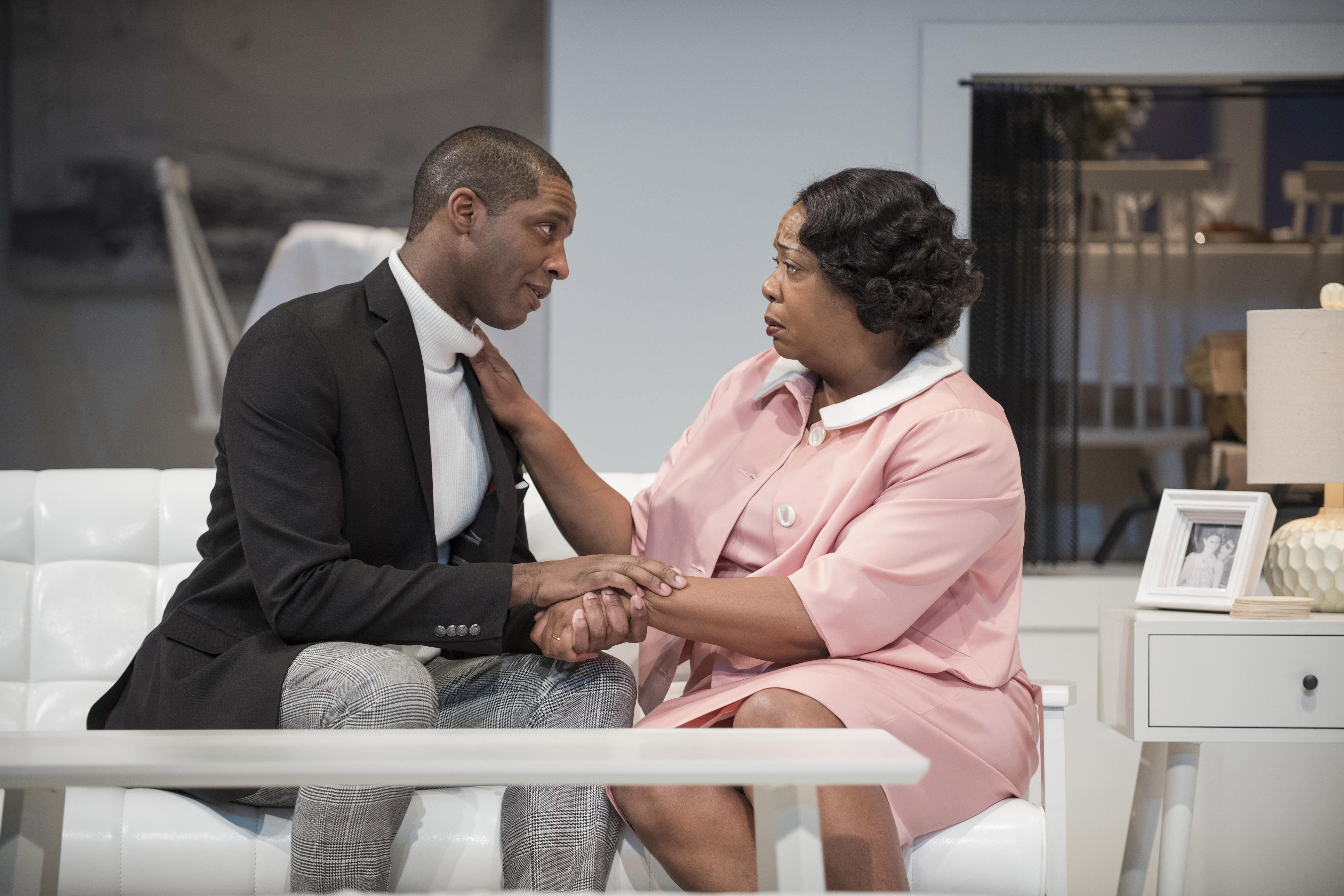 Michael Aaron Pogue and Jacqueline Williams. (Credit: Michael Brosilow)
Adding their very particular form of droll commentary and wisdom to this chaotic dinner party – which was originally planned as a business meeting – is the Draytons' black housekeeper, Matilda "Tillie" Binks (the sharply hilarious Sydney Charles, whose facial expressions are beyond priceless, and more potent and telling than any words), and Monsignor Ryan (a beguiling turn by Dan Waller), Matt's friend and golfing partner, and an urbane, outspoken liberationist cleric of great good cheer.
Joanna is angered and disillusioned by her father's response. John, worn down by his father's inability to shed a painful Jim Crow past, finally confronts him with a blistering proclamation of his existence as "a man," rather than an eternally oppressed black man. Both sets of parents understand that the marriage of their children comes with many potential dangers and emotional stresses from the outside world.
Scott Davis' set is "privilege" writ large, with a dining room side show that takes on a life of its own. And the directing team – Marti Lyons (a white woman), and associate director Wardell Julius Clark (a black man) – have tapped into just the right balance of rage and love, with the recognition that the impassioned relationship between parents and children is the great universal that transcends color.
Of course a conjoined heritage has a special healing power, too. And it is captured beautifully in a brief but revealing scene in which Tillie and John instantly bond over a song from their past.

"Guess Who's Coming to Dinner" runs through April 15 at Court Theatre, 5535 S Ellis Ave. For tickets ($44- $74) call (773) 753-4472 or visit www.CourtTheatre.org.
Follow Hedy Weiss on Twitter: @HedyWeissCritic
---
'An Enemy of the People' a Tragic, Comical Political Farce of Our Times
Blistering Grand Opera 'Sweeney Todd' at Theo Ubique's Tiny Storefront
In Gounod's 'Faust,' a Slew of Mixed Messages
Powerful Women at Odds With Each Other and the Nature of Power
---