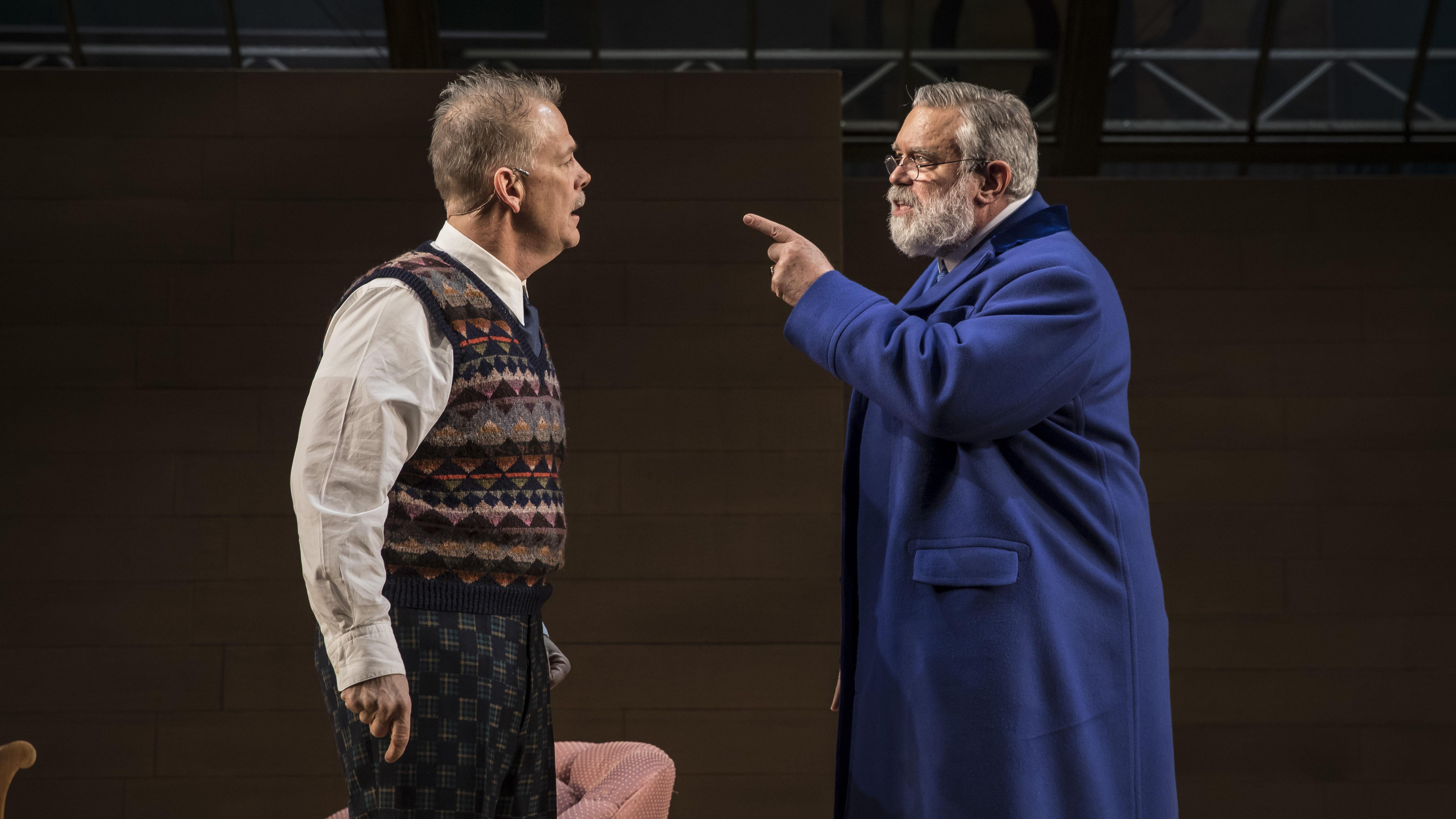 Philip Earl Johnson (Thomas Stockmann) and Scott Jaeck (Peter Stockmann) in "An Enemy of the People" by Henrik Ibsen, adapted and directed by Robert Falls at Goodman Theatre. (Credit: Liz Lauren)
Corrupt and greedy politicians who serve themselves above all; a poorly educated citizenry skeptical of science and "facts" that consistently votes against its own best interests; a purportedly progressive press that ultimately buckles in favor of sustaining the business. And short-term thinking that denies the calamitous results of pollution and long-term health.
Sound familiar? Well, the Norwegian playwright Henrik Ibsen wrote all about it in 1882, in his play, "An Enemy of the People" - a protest drama inspired by popular reaction to his earlier work, "Ghosts," in which he had the audacity to deal with the taboo subject of syphilis. And if ever there were a play fit (or fit to be retrofitted) for our current moment, this would be the one.
Director Robert Falls' rip-roaring, tragic, comical take on the classic for the Goodman Theatre, which just happened to open Monday night - on the eve of some highly contentious primary races in Illinois, and against the backdrop of an exceptional level of national and global political upheaval (as well as in the shadow of crucial Great Lakes water issues) - is more than up to the task.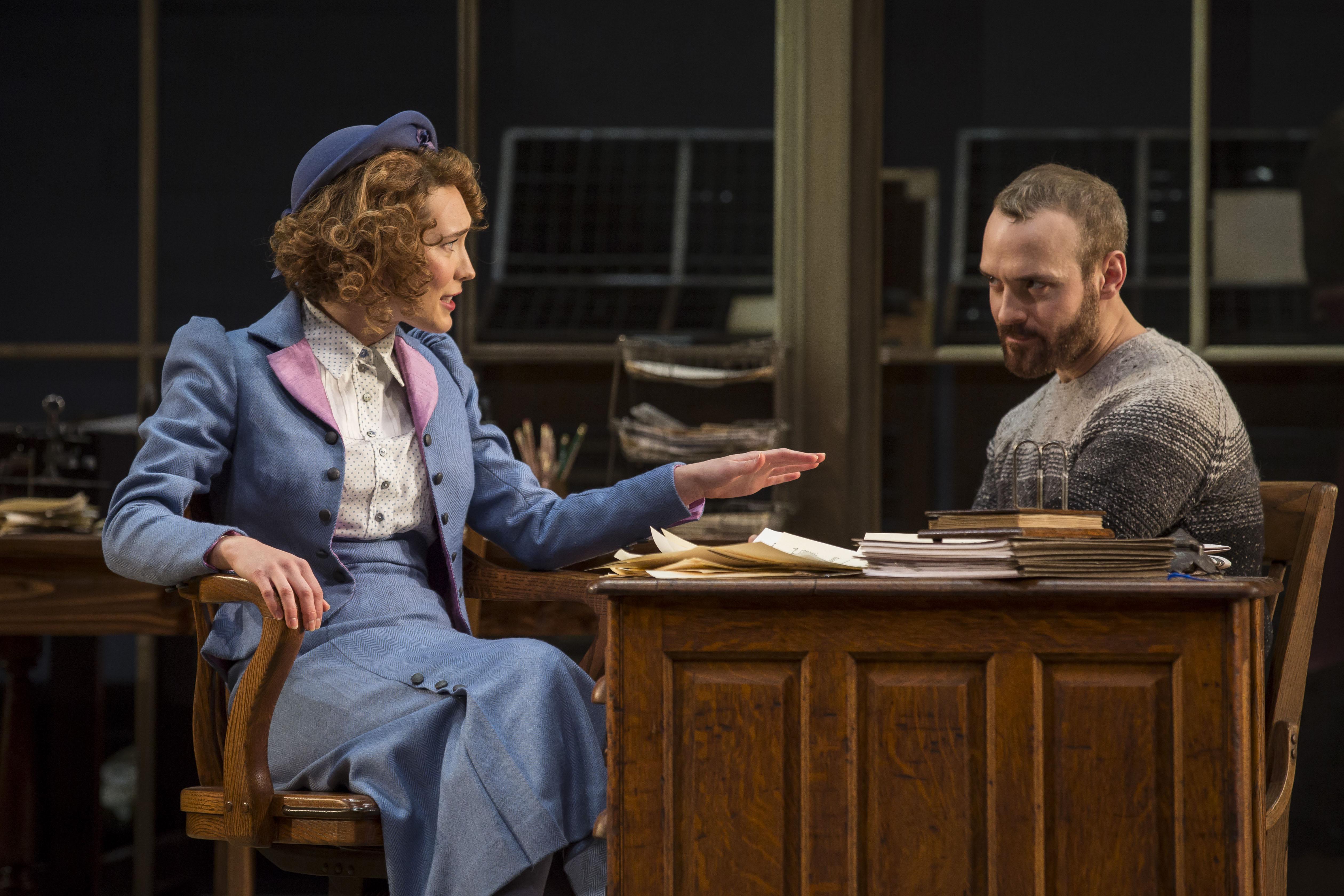 Rebecca Hurd (Petra) and Aubrey Deeker Hernandez (Hovstad) in "An Enemy of the People" by Henrik Ibsen, adapted and directed by Robert Falls at Goodman Theatre. (Credit: Liz Lauren)
Falls' production is no stuffy Victorian version on Ibsen. Using a translation by Eleanor Marx-Aveling, his adaptation plays fast and furiously with the dialogue, invoking all the necessary colloquial, and at times deftly anachronistic language of this moment (including the use of the disparaging label, "the deplorables") to trigger instant recognition.
And it comes with a slew of performances infused with such a level of irrepressible energy and blackly comic zest, as well as an eye-popping design, that even an audience not entirely in synch with its politics (and the Goodman audience is by no means monolithic in its thinking), cannot help but be enthralled. 
The story (and it is a reminder of how Tracy Letts' recent play, "The Minutes," also had echoes of Ibsen) remains true to the original. At its center is Dr. Thomas Stockmann (with Philip Earl Johnson in a finely modulated yet ferocious turn as a man who is certainly not without his flaws, yet is one who will not compromise his values).
The doctor has just returned to his hometown after years of serving people in a poor, backward village in the far north of Norway which he is far from complimentary of. Now he is about to undermine the newfound prosperity of his town whose mineral springs and newly developed spa facilities have brought back tourism and economic health to the place.
And he is doing so by releasing a report he commissioned that documents the serious level of bacterial pollution in the town's water system, where defective pipes and the runoff from tanneries and other factories have made what was said to be "healing waters" something far more lethal.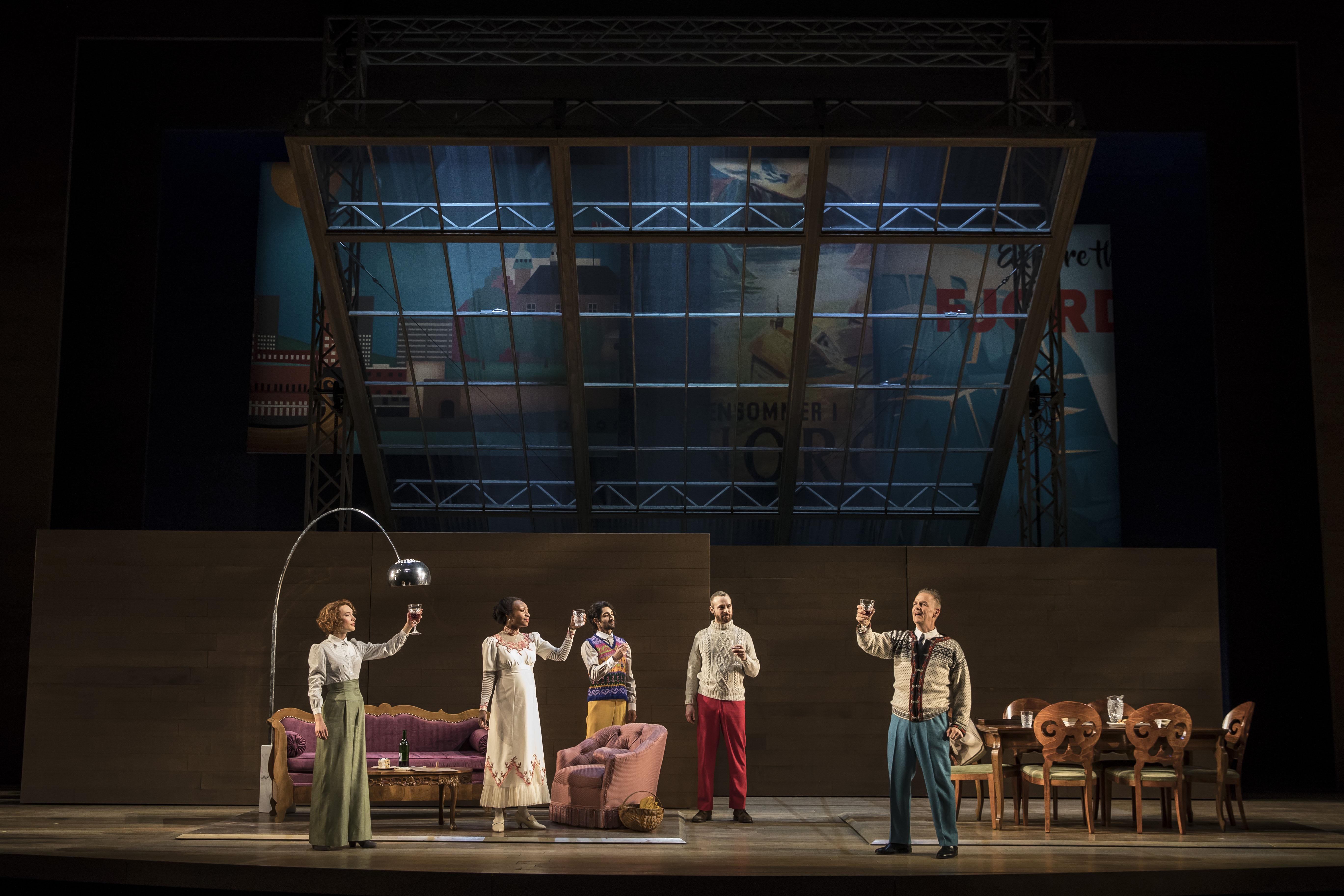 Lanise Antoine Shelley (Katherine), Jesse Bhamrah (Billing), Aubrey Deeker Hernandez (Hovstad), and Philip Earl Johnson(Thomas Stockmann) in "An Enemy of the People" by Henrik Ibsen, adapted and directed by Robert Falls at Goodman Theatre. (Credit: Liz Lauren)
Never mind that the spa was the doctor's own idea - even if his older brother, Peter (Scott Jaeck), the powerful and power-obsessed mayor of the town, with whom he has long been in intense competition - helped bring the whole business to fruition. For the doctor is hell-bent on telling the truth while his brother – aware that fixing the problem would cost millions, would require a huge, unpopular tax hike, and would destroy tourism (probably forever) – is a wholly self-interested pragmatist determined to cover up and deny the truth for profit.
Thomas believes he has the support of the local "radical press," whose young editor, Hovstad (Aubrey Deeker Hernandez, who brings just the right oily egotism and opportunism to the role), is initially gung-ho about publishing the damning water report. Meanwhile, Aslaksen, the canny printer of the newspaper who also represents the interest of the town's small businessmen (a spot-on, shrewdly charming turn by Allen Gilmore), is far more restrained. The self-described voice of moderation and cautious self-protection, he makes the argument that he and his neighbors must continue to "live in the town."
And then there is Thomas's family. Katherine (Lanise Antoine Shelley, who deftly and elegantly finesses her shifting loyalties), is his pregnant second wife and the daughter of a crusty, prosperous (heavily polluting) tannery owner, Morton Kiil (an expertly limbed turn by David Darlow). She, too, is concerned about the precarious economic position into which her husband is putting the family.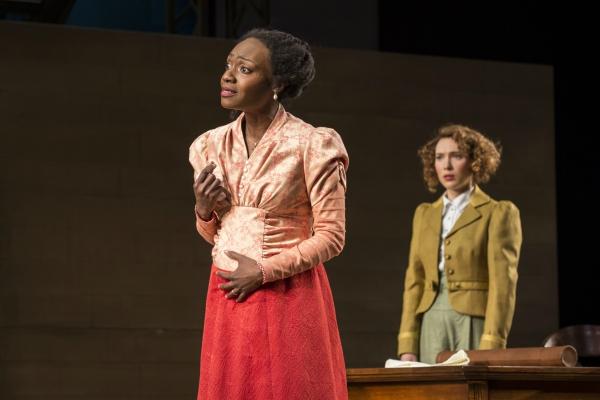 Lanise Antoine Shelley (Katherine) and Rebecca Hurd (Petra) in "An Enemy of the People" by Henrik Ibsen, adapted and directed by Robert Falls at Goodman Theatre. (Credit: Liz Lauren)
And there is Petra (the spirited, easily engaging Rebecca Hurd), Thomas' independent-minded daughter from his first marriage, who works as a teacher and has also caught the eye of Aslaksen, who, when push comes to shove, is not the man he seems to be. Nor is his assistant, Billing, played by Jesse Bhamrah. 
(It is worth noting that while these two women are very much their own people, the men frequently ask them to leave the room when an important conversation is to take place - an apt, subtly done commentary on another aspect of power.)
Falls' impressive achievement here is the way he shifts away from Ibsen's more antiseptic realism to dance on the edge of tragic, comical political farce. At the same time he never loses hold of the play's crucial arguments, including the question of whether there can ever be a moral form of capitalism, or any other political system, and whether self-interest almost invariably trumps the ethical choice. After all, it is the rare person - one willing to stand alone and be branded as "an enemy of the people" - who is willing to make the necessary sacrifices for that.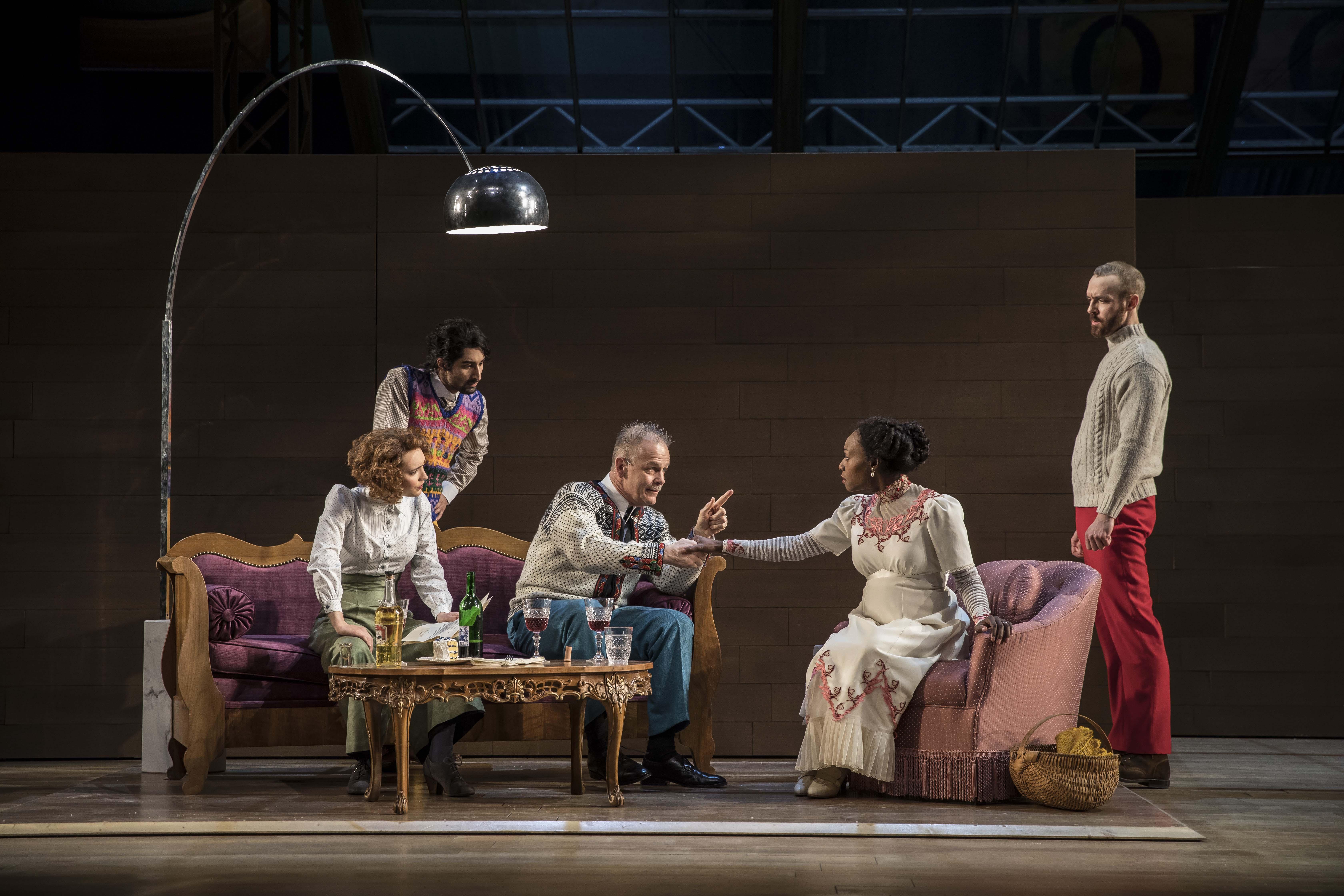 Rebecca Hurd (Petra), Jesse Bhamrah (Billing), Philip Earl Johnson (Thomas Stockmann), Lanise Antoine Shelley (Katherine), and Aubrey Deeker Hernandez (Hovstad) in "An Enemy of the People" by Henrik Ibsen, adapted and directed by Robert Falls at Goodman Theatre. (Credit: Liz Lauren)
Bringing a touch of comic genius to the all-important town hall meeting attended by a large contingent of townspeople (all dressed in black as an emblem of mass thinking), is Larry Neumann, Jr.
As always with a production by Falls, design is a vital and spectacular element. Here, Todd Rosenthal's monumental, slanting glass skylight (with expert lighting by Robert Wierzel) is a perfect metaphor for transparency, or the lack of it, with scene changes suggesting an upending of order.
And Ana Kuzmanic's exquisite, densely hued costumes are a superb mix of period style with modern flair. In addition, her stunning costume sketches for the show have been turned into a gorgeous mural-like screen/curtain for the show - a work of art that should be preserved and displayed.
It was, of all people, Barry Goldwater, the conservative Republican candidate for president in 1964, who famously proclaimed that "Extremism in defense of liberty is no vice." What he didn't say was that extremists at both ends of the spectrum end up banging heads against each other, with "the public good" frequently becoming the casualty.

"An Enemy of the People" runs through April 15 at the Goodman Theatre, 170 N. Dearborn St.. For tickets ($25 - $80) call (312) 443-3800 or visit www.GoodmanTheatre.org. Running time: 2 hours and 20 minutes with one intermission.
---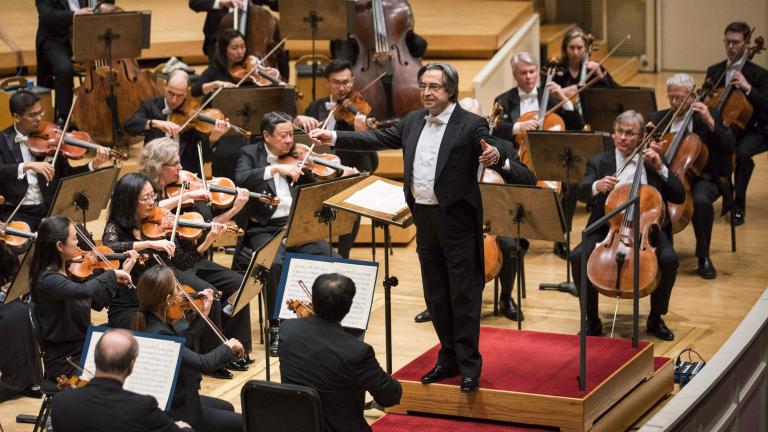 CSO, Muti and Soloists In Eloquent Conversation with Mozart
March 19: A memorable moment from the film version of Peter Shaffer's play, "Amadeus," came rushing back to mind as I listened to this weekend's glorious, spirit-altering concert by the Chicago Symphony Orchestra, which opened with Haydn's "Symphony No. 89" and was followed by two works by his younger contemporary, Mozart.
---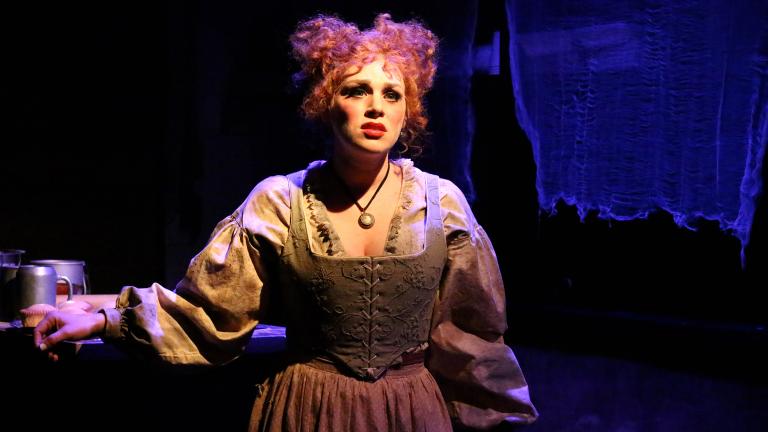 Blistering Grand Opera 'Sweeney Todd' at Theo Ubique's Tiny Storefront
March 13: This is a scorching production that is all the more potent for its extreme, immersive intimacy. Read the full review.
---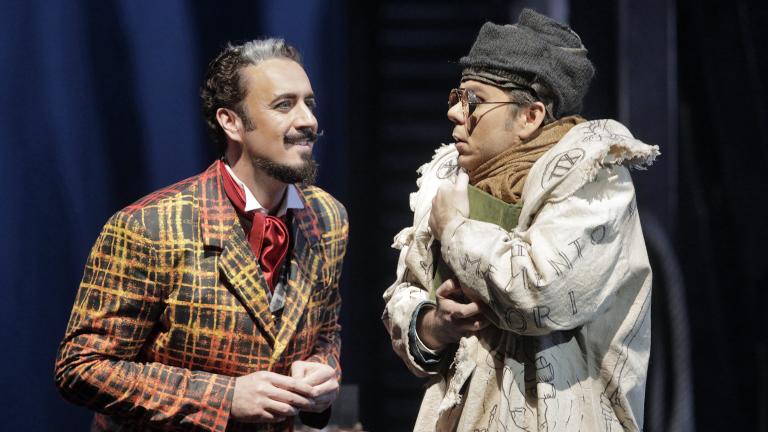 In Gounod's 'Faust,' a Slew of Mixed Messages
March 9: Despite a lush score, excellent voices and several memorable characterizations, the story often loses its focus in a new production of "Faust" at Lyric Opera of Chicago.
---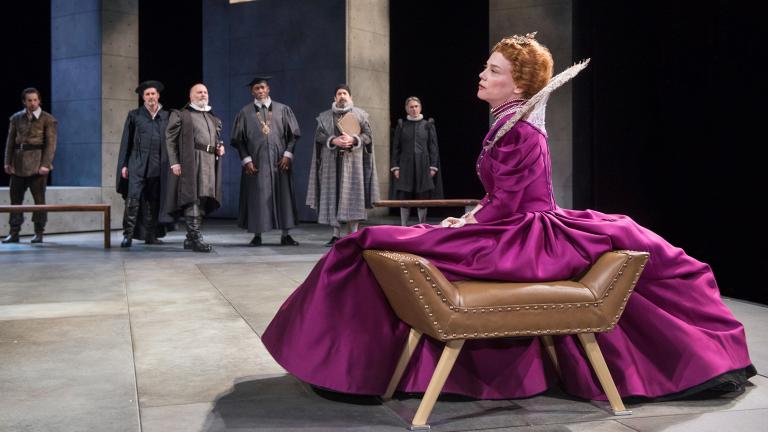 Powerful Women at Odds With Each Other and the Nature of Power
March 2: A vivid production of "Schiller's Mary Stuart" at the Chicago Shakespeare Theater is fresh and modern, but never artificially tricked up.
---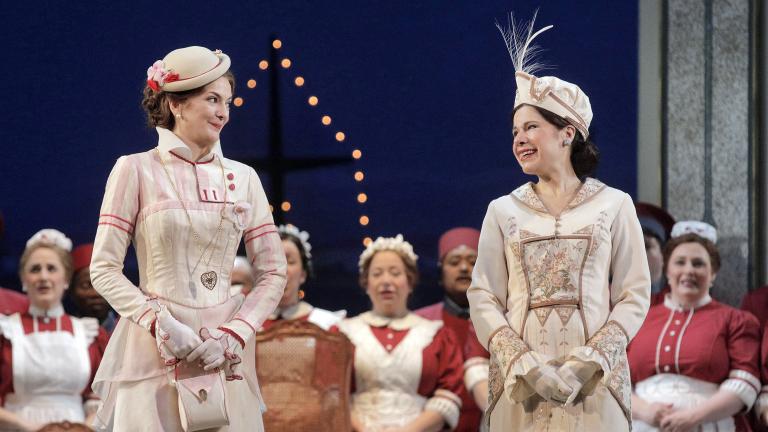 In Lyric's 'Cosi,' a Spirited Toast to the Imperfections of the Heart
Feb. 20: The production of "Cosi fan tutte" now at Lyric Opera of Chicago is a beauty. And in its playful but unquestionably bittersweet exploration of love, fidelity, betrayal and the unreliable nature of both men and women, it could easily have been written yesterday.
---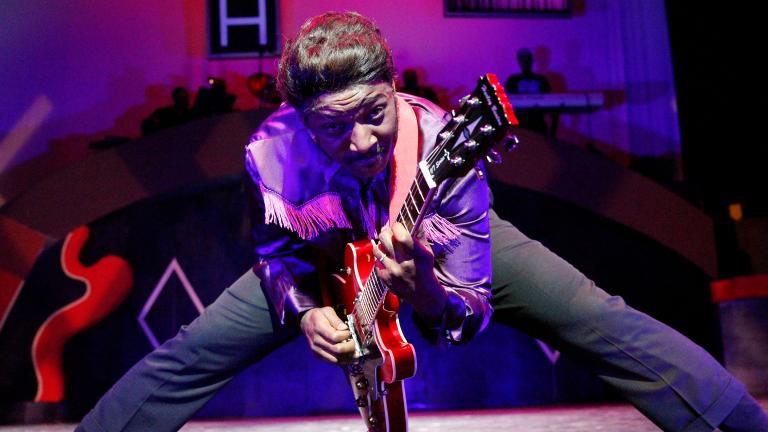 Black Ensemble Pays Rollicking Homage to Rock 'N' Roll Pioneer Chuck Berry
Feb. 26: Long before Chuck Berry died in March 2017 at the ripe old age of 90, he was revered as the granddaddy of rock 'n' roll. Black Ensemble Theater tells the story in "Hail, Hail Chuck: A Tribute to Chuck Berry."
---