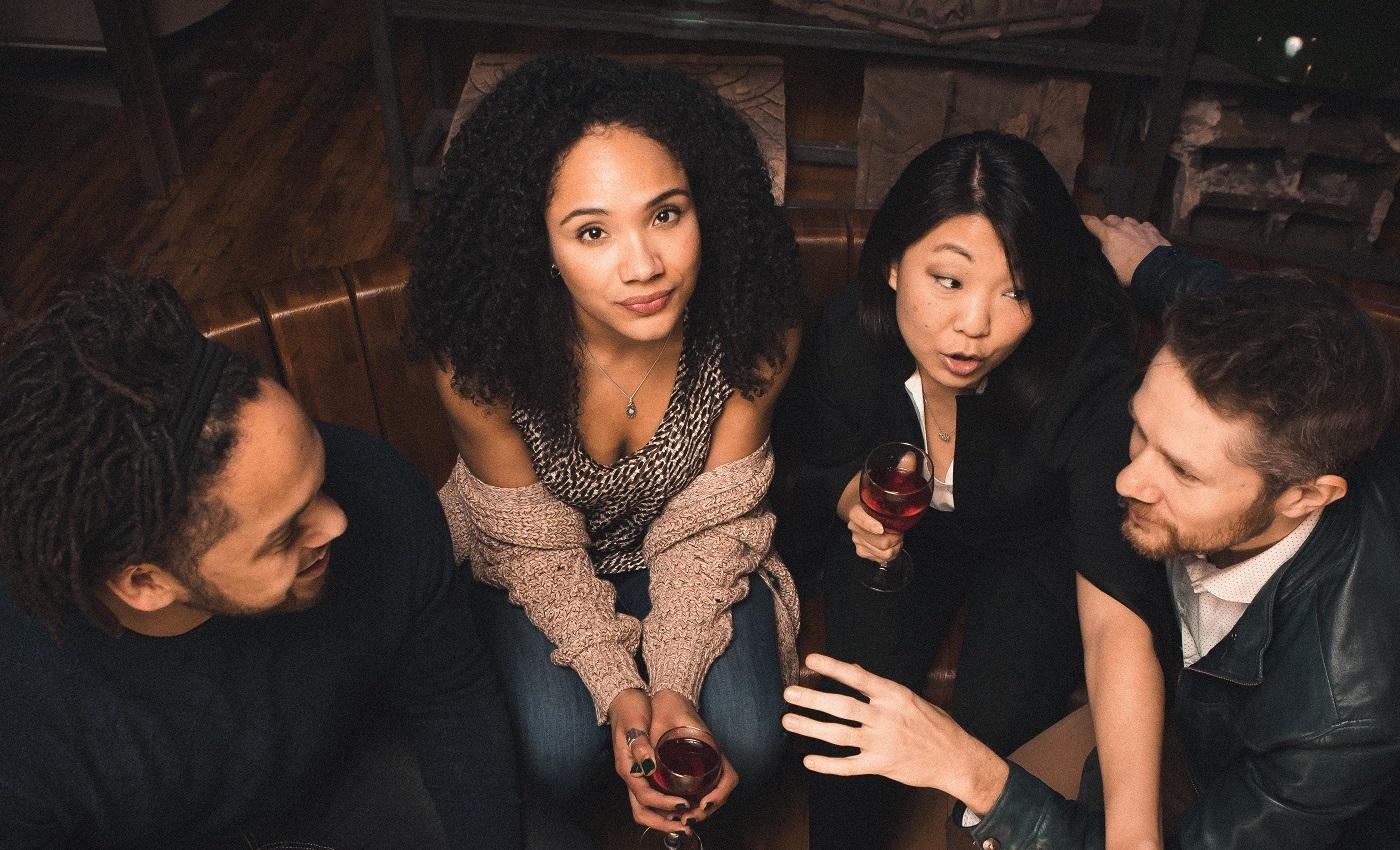 From left: Julian Parker, Kayla Carter, Deanna Myers and Erik Hellman in "Smart People" at Writers Theatre.
Not only is it a certain bet that you will walk (or perhaps stagger) away from Lydia R. Diamond's brilliant play, "Smart People," with your brain on fire. But, as the four sensational actors who ignite the blaze – Kayla Carter, Erik Hellman, Deanna Myers and Julian Parker – take their bows, you might very well find yourself wondering about just what sort of cerebral realignment they have undergone since first entering the impossibly thorny and twisted verbal, emotional and intellectual maze of race, sex and "super-achieverdom" with which Diamond has challenged them.
But first, the specifics. The time is between 2007 and 2009, and yes, one Barack Obama is in the process of becoming president. The place is Cambridge, Massachusetts – that seething hub of academia that is home to Harvard, the prestigious Massachusetts General Hospital, a couple of fine regional theaters, and more. Not surprisingly, it also is a hotbed of competitiveness, resentment, insecurity, neurotic defensiveness, magnified political correctness and incorrectness, fragile but formidable egos, and a love/hate attitude about the MacArthur Foundation's "genius grants."
Now, the introductions.
Valerie Johnston (Carter, a young beauty who is making a formidable splash in this role) is an African-American actress from a middle-class family whose parents would have preferred she had pursued a law degree rather than an MFA in acting. She has already nabbed some major roles in Shakespeare productions, but cleans houses to pay her bills and canvases for Obama when she can. At auditions she finds herself either "not black enough" for some of the roles she pursues, or simply not white.
Brian White (Hellman, wiry, high-wired and sharp) is a hotshot neuro-psychiatrist and Harvard professor who freely vents his contempt for his undergraduate students' lack of rigor, and who has yet to be given tenure despite the fact that his research brings in impressive sums of money to the school. A self-flagellating but egotistical white liberal with a combative personality, he is the target of serious blow-back for his controversial study that is designed to electronically measure the physiological aspects of racism in the brains of white people.
Ginny Yang (an aptly relentless and comic Myers), who is Asian-American, with both Chinese and Japanese roots, is a compulsively aggressive, motor-mouthed tenured psychology professor at Harvard who is currently engaged in mentoring Asian women who she believes suffer from depression and other ills as a result of societal stereotyping. She also is a serious shopaholic with a gift for sabotaging relationships with men.
And finally there is Jackson Moore (Parker, an actor of imploding intensity and easy charisma who can shift from rage to easy flirtatiousness in the blink of an eye). A confident surgical intern at Mass General, he believes he is being treated differently from his white colleagues and will not let things slide. He quickly bridles at Johnston's description of him as "articulate," which he takes as a subtly racist comment, even if it is coming from an African-American woman whose forehead he is stitching up, and with whom he clearly shares a certain attraction. He also engages in his own form of racial stereotyping when he asks her if she was the victim of physical abuse, so clearly every raw nerve is exposed in this play. (In the briefest and most subtle of ways Diamond also suggests that Moore has a brother who may have been incarcerated.)
In a riff on the "six degrees of separation from Kevin Bacon" notion, all four of these characters end up connecting in sexual and/or professional ways. But their inability to let go of their monumental defensiveness and sense of victimization (paired with their obvious exceptionalism) rarely fails to undo any possibility for happiness or calm.
Diamond captures the tragicomic mess they make of their romantic lives with her own special brand of bristling brilliance. And through a nonstop series of rapid-fire scenes she reveals all sides of her characters, whether in their uneasy mating dances, the tension between the two men as they argue over a basketball game at the gym, an audition scene by Johnstone, or the Jekyll and Hyde-like encounter between Yang and both a saleswoman in a posh shop and a suicidal patient.
Hallie Gordon's spotless direction (and inspired casting) are in perfect synch with Diamond's writing, as is Collette Pollard's minimalist modular set design and the collage-like projections by Deidre Searcy.
As for the play's perfectly conceived ending – well, I will not give it away here except to say it would be fascinating to see Diamond catch up with these characters in a similar scene set another decade or two down the road.

"Smart People" runs through June 10 at Writers Theatre, 325 Tudor Court, Glencoe. For tickets ($35 - $80) call (847) 242-6000 or visit www.writerstheatre.org.
Follow Hedy Weiss on Twitter: @HedyWeissCritic
---
'Pretty Woman: The Musical' Puts High-Gloss Spin on a Prostitute's Life
'Guess Who's Coming to Dinner' Sets the Table for Truths About Love and Race
'An Enemy of the People' a Tragic, Comical Political Farce of Our Times
Blistering Grand Opera 'Sweeney Todd' at Theo Ubique's Tiny Storefront
Black Ensemble Pays Rollicking Homage to Rock 'N' Roll Pioneer Chuck Berry
---