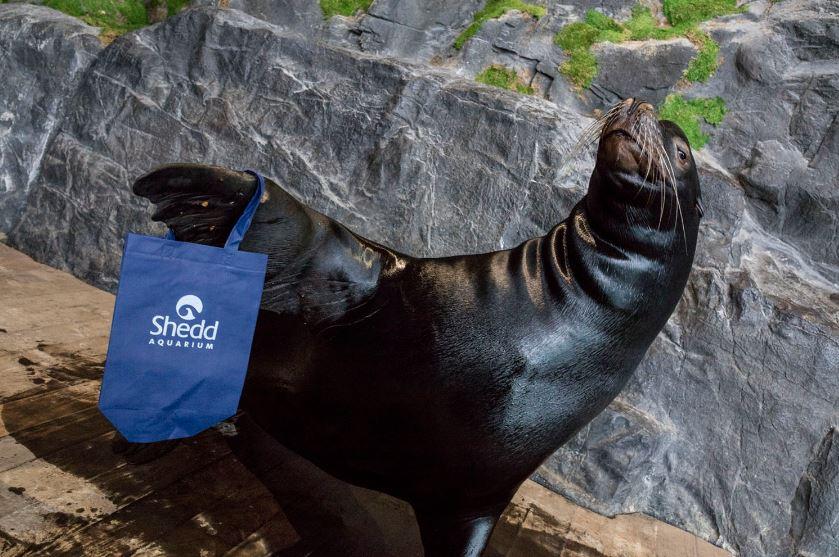 Ty, a sea lion at Shedd Aquarium, shows off one of the aquarium's reusable bags. (Courtesy Shedd Aquarium)
Shedd Aquarium will for the first time host a full week of events leading up to Earth Day on April 22.
"Earth Week at Shedd" runs from April 14-22 and includes a range of activities at the aquarium and at sites throughout the Chicago area.
Shedd says its expanded celebration is part of its effort to inspire people of all ages and interests to play a role in protecting the environment.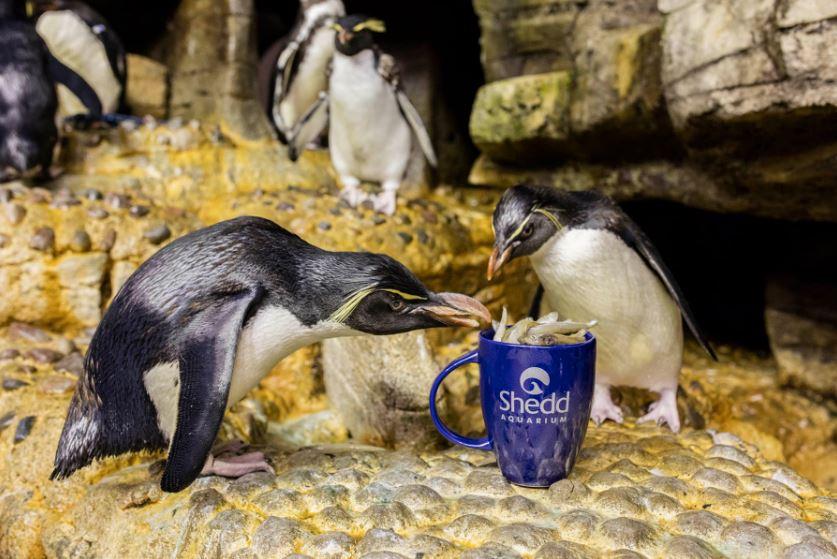 Penguins eat from a mug at Shedd Aquarium. (Courtesy Shedd Aquarium)
Last year, the aquarium used Earth Day to kick off its #SheddTheStraw initiative, which encourages people to switch from single-use plastic straws to reusable or biodegradable alternatives.
Below, Shedd describes the full schedule of events for "Earth Week at Shedd."

Celebrating Science at Shedd Aquarium
Saturday, April 14, 10 a.m. to 4 p.m.
Location: Shedd Aquarium
As people around the country "March for Science" on April 14, discover how science happens every day and all around you. At "Curiosity Stations" around the aquarium, visitors will learn how they can be a naturalist, horticulturist, ecologist, marine biologist and science champion, while also discovering ways they are already immersed in science every day. They can also meet some of Shedd's scientists throughout the day and spark a new curiosity for aquatic science.
A staff member analyzes X-ray images of a salamander at Shedd Aquarium. (Courtesy Shedd Aquarium)
Living Without Waste: Bea Johnson's Tips for a Zero-Waste Home
Monday, April 16, 5:30 p.m. to 8 p.m.
Location: Phelps Auditorium at Shedd Aquarium
Americans create 258 million tons of trash every year. But where does all that trash go, and what are its impacts on the environment? In a free, after-hours event, Zero Waste Chicago and Shedd Aquarium are coming together to host Bea Johnson, author of "Zero Waste Home." As a public speaker, Johnson is an advocate of waste-free living, sharing her story of successfully containing her family's annual waste to just one glass jar. Through a presentation by Johnson, a panel discussion and an "action expo" of local organizations and businesses, guests can learn ways they can reduce their landfill waste at home.

"The Ark & Beyond" Book Launch Party
Thursday, April 19, 5:30 p.m. to 8 p.m.
Location: Phelps Auditorium at Shedd Aquarium
As scores of wild species and ecosystems around the world face a variety of human-caused threats, from habitat destruction and fragmentation to rapid climate change, a new book published by the University of Chicago Press illuminates the growing significance zoos and aquariums play as conservation engines for the preservation of global biodiversity in this century.
Titled "The Ark and Beyond: The Evolution of Zoo and Aquarium Conservation," the book – published this month – is written by a collection of authors from zoos and aquariums, including Shedd Aquarium's Vice President of Conservation Research Dr. Chuck Knapp, as well as an impressive roster of university-based historians, biologists, ethicists and social scientists.
In an after-hours event at Shedd Aquarium, guests can discuss the book's conclusions and hear from a handful of its authors during a panel discussion, which will include Knapp. At the event, visiting bookworms can purchase "The Ark and Beyond" and learn about the role scientific research and conservation initiatives play in protecting Earth's wildlife.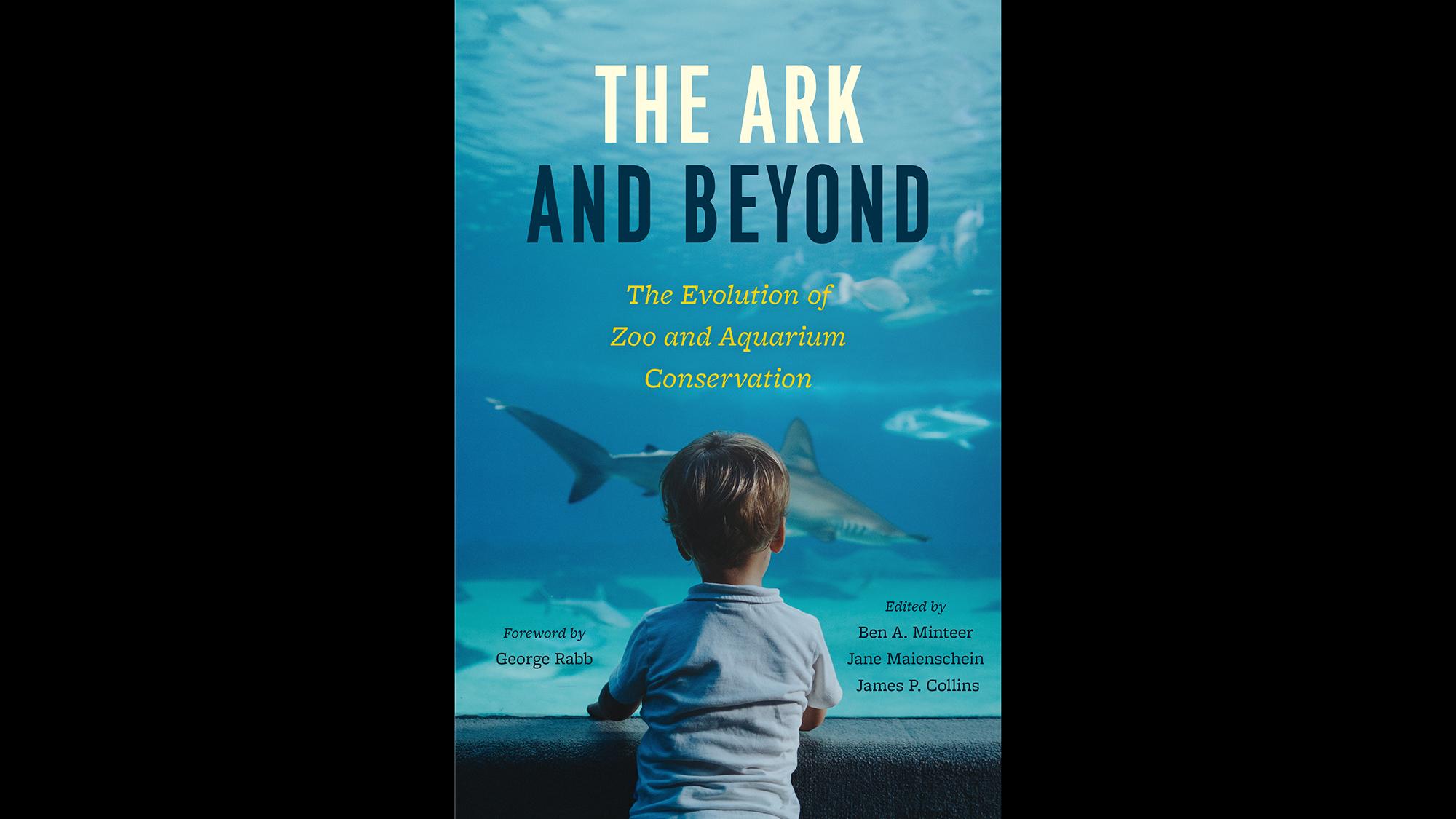 (Courtesy Shedd Aquarium)
Washed Ashore: Art to Save the Sea Goes Outdoors
Friday, April 20 through September 2018
Location: Museum Campus
The four final, and largest, aquatic animal sculptures made of marine debris will land at Shedd on April 20. Located outside Shedd's four walls, Museum Campus visitors will have the opportunity to see a 14-foot-long triggerfish, a 9-foot-tall octopus, 11-foot-long shark and 1,000-pound penguin in the form of a larger-than-life sculpture. Running through September 2018, the exhibit's 19 art pieces continues to draw attention to the issue with plastic pollution as guests come face-to-face with both the obscure and common everyday items – from a car bumper to flip flops to water bottles and more – that were collected on beaches, then transformed into the sculptures.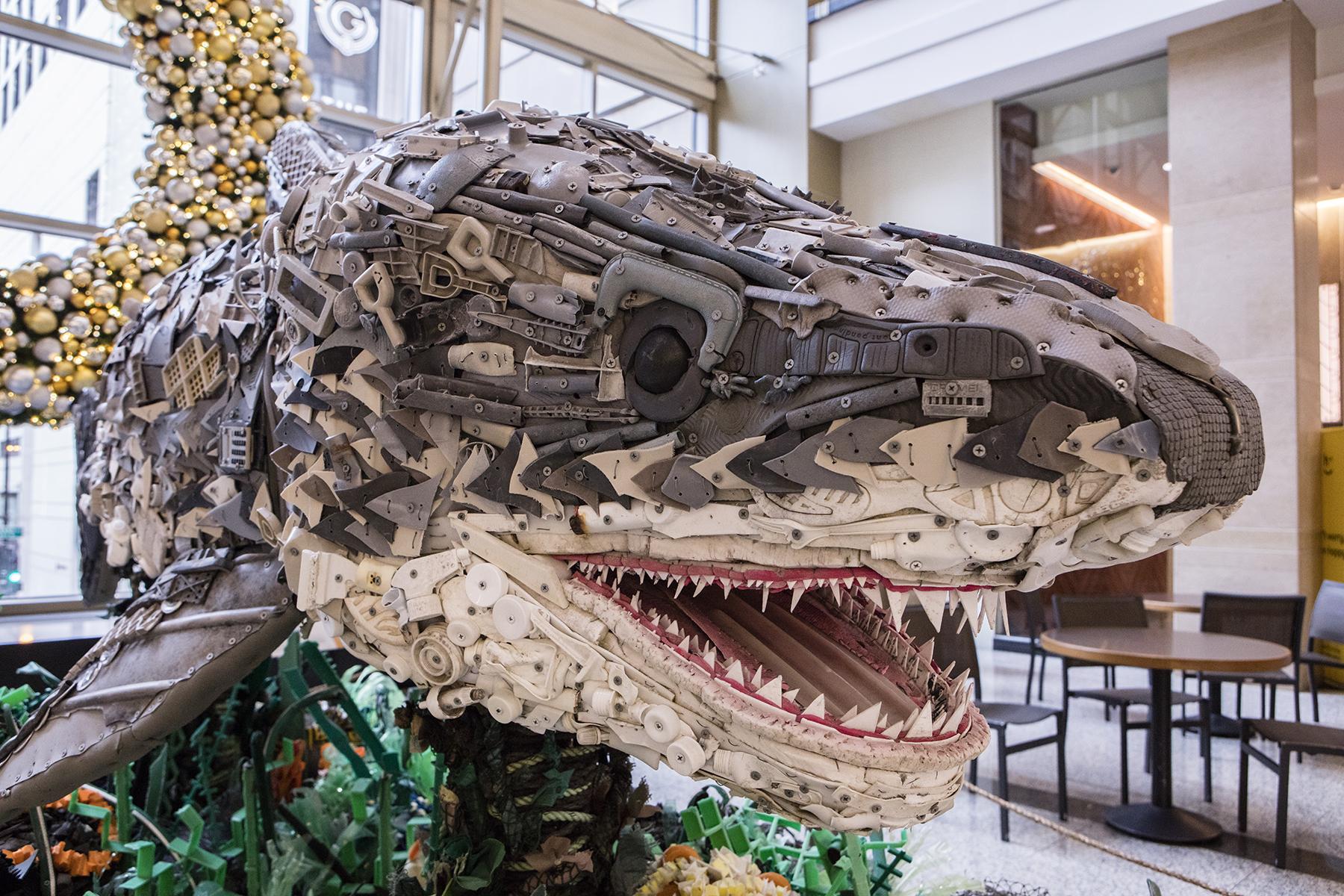 Chompers the shark (Courtesy Shedd Aquarium)
Elected Officials Cohost Community Beach Clean-Ups
Saturday, April 21, 10:30 a.m. to noon
Locations: 63rd Street Beach, 12th Street Beach, Montrose Beach, Kathy Osterman Beach
From the North Side to the South Side and neighborhoods in between, Shedd Aquarium is partnering with local elected officials during Earth Week to host four, simultaneous Great Lakes Action Days to pick up litter, like plastic, on local beaches. No matter what neighborhood you call home, you can help protect local waterways during Earth Week.
RSVP to [email protected].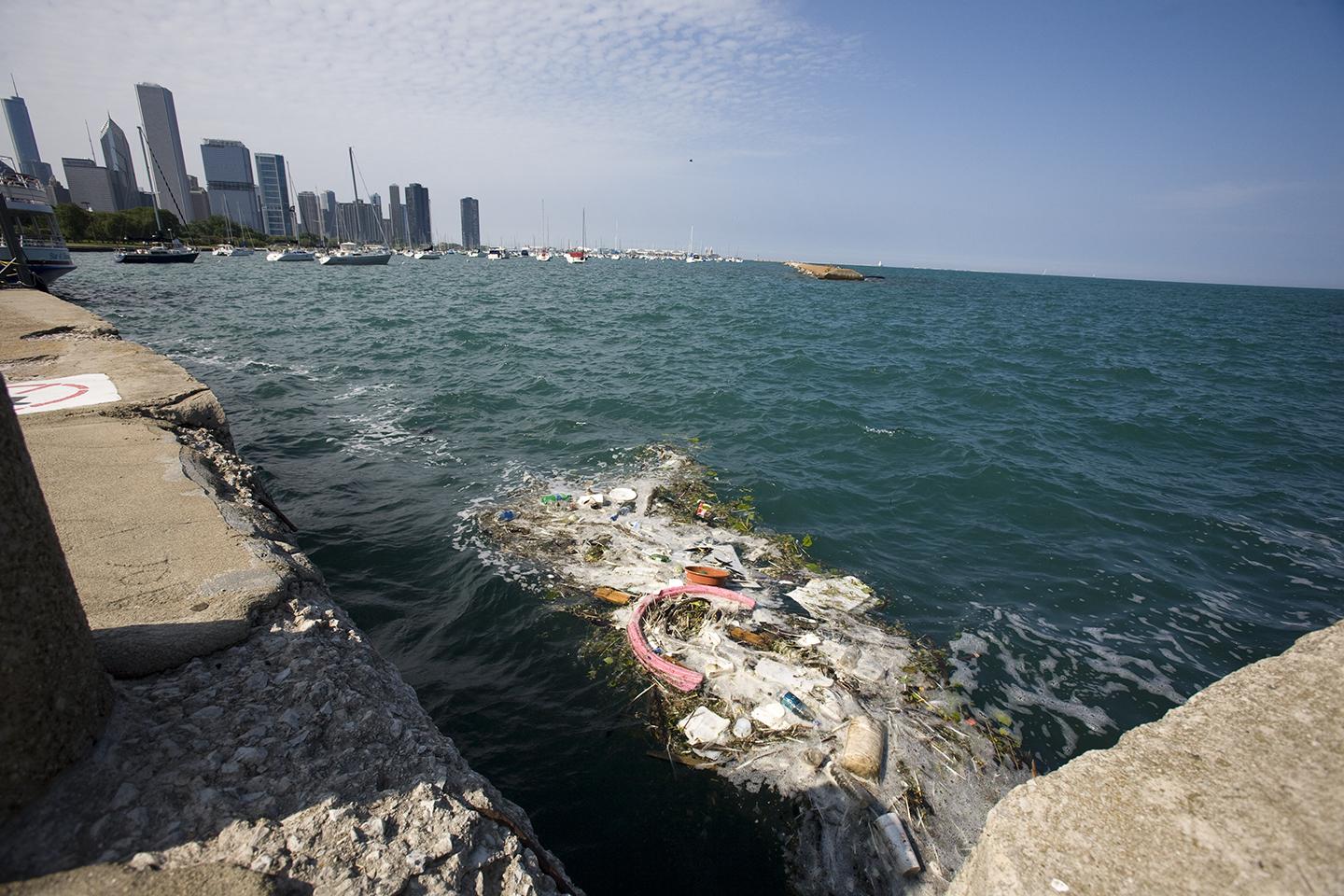 (Courtesy Shedd Aquarium)
World Fish Migration Day at Shedd
Saturday, April 21, 9 a.m. to 5 p.m.
Location: Shedd Aquarium
When most people think of animal migrations, they tend to think of birds or large mammals, but in our waterways, we have many migratory fishes. Migratory fishes such as catfish, sturgeon, eel and salmon support the diets and livelihoods of millions of people worldwide. However, these fishes face a number of threats, one of the most widespread being physical barriers like dams and culverts.
To raise awareness about these important fishes of the world, Shedd Aquarium will celebrate World Fish Migration Day. During the day-long celebration, visitors can make like a fish and migrate through the aquarium with a "passport" to the freshwater migratory fishes of the world.
Learn more about World Fish Migration Day by going to worldfishmigrationday.com.
Contact Alex Ruppenthal: @arupp | [email protected] | (773) 509-5623
---
Related stories:
How Does an Aquarium Cut Water Use by 50 Percent in 5 Years?
Sept. 28: Since embarking on a new sustainability initiative, Shedd Aquarium has cut annual water use by more than half, from 60 million gallons in 2012 to 28 million gallons today.
---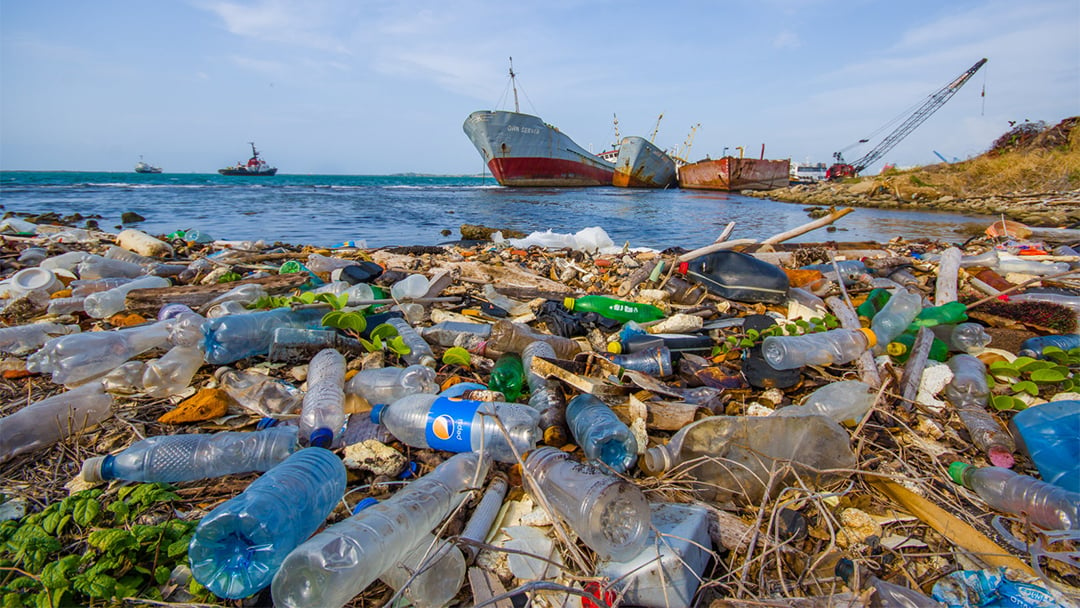 Shedd Takes Aim at Plastic Bottles in New US Effort to Cut Pollution
July 10: First went the plastic bags, then the plastic straws. Now they're coming for more. The Shedd Aquarium announces a new initiative to significantly reduce or eliminate the use of disposable plastic bottles by 2020.
---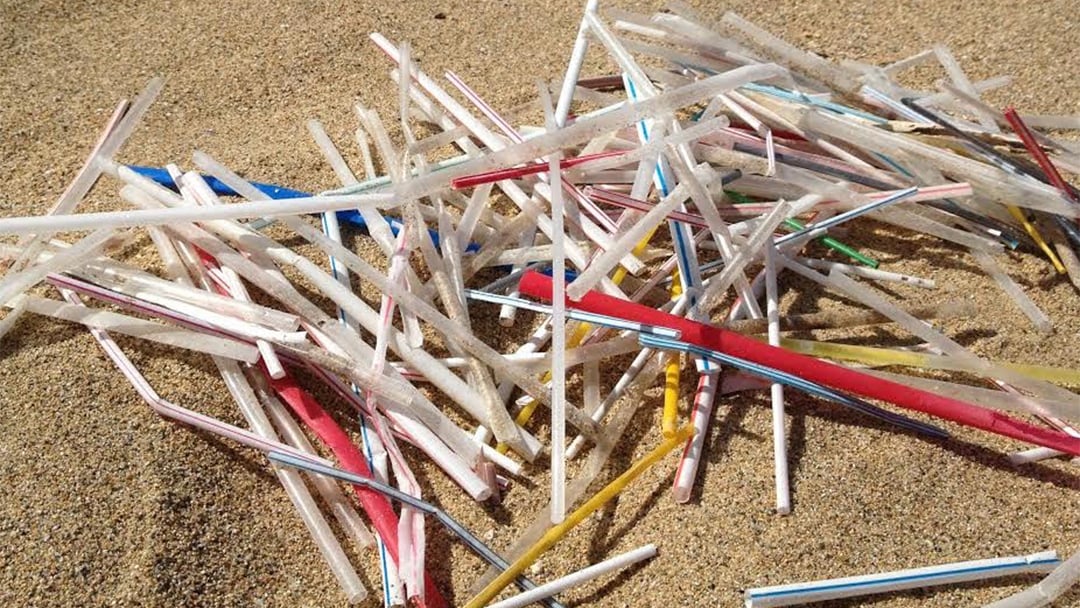 Shedd Aquarium Wants You to #SheddTheStraw for Earth Day
April 12, 2017: With an eye toward Earth Day, Shedd Aquarium has launched a campaign encouraging people to switch from single-use plastic straws to reusable or biodegradable alternatives.
---