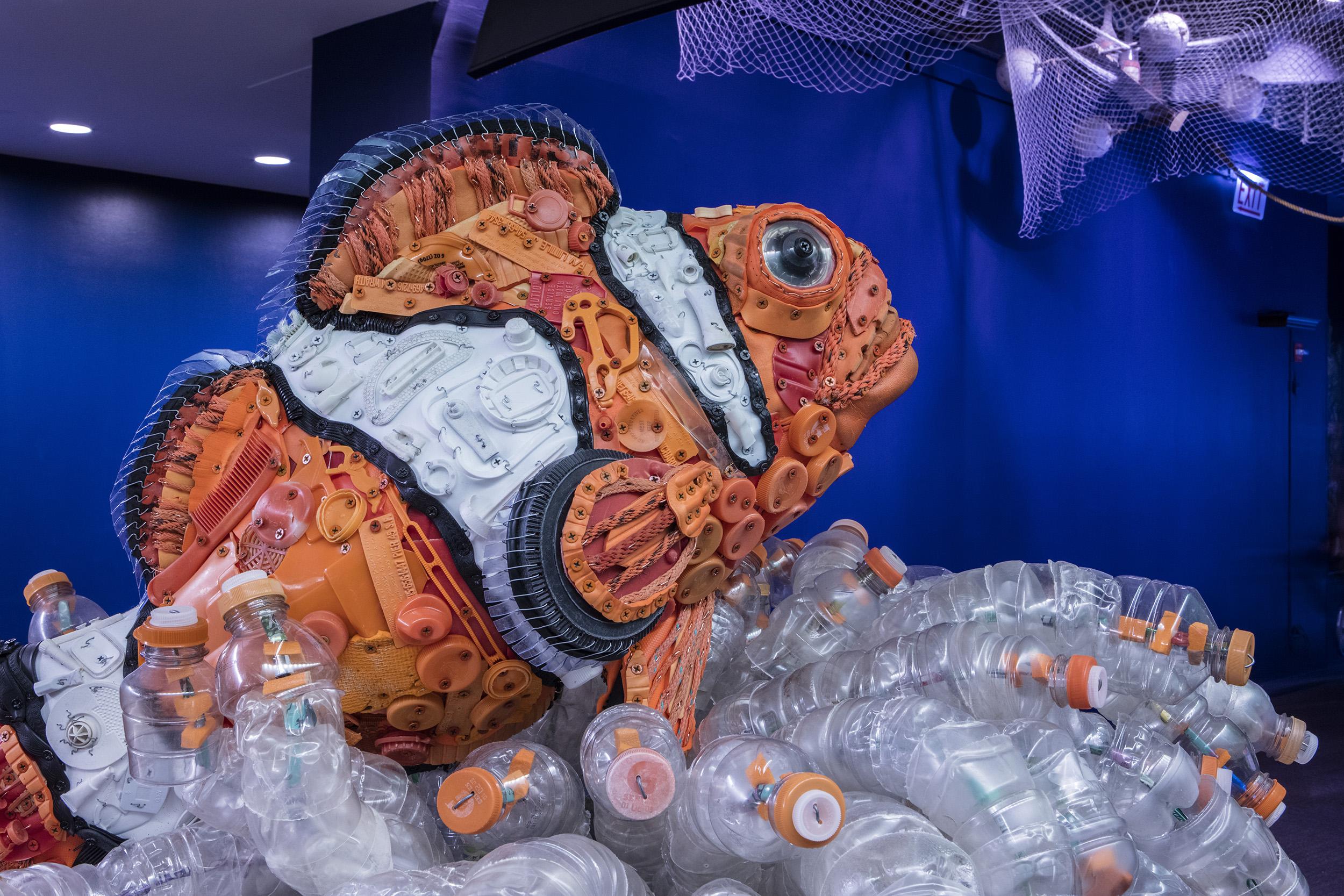 Cleo the Clownfish (Photos Courtesy Shedd Aquarium)
After unveiling Stella the Seahorse – a 1,600-pound sculpture made entirely of plastic ocean debris – earlier this summer, Shedd Aquarium will add 10 new giant sculptures to an exhibit that offers a powerful reminder of the widespread pollution in the world's waterways.
On Saturday, Shedd will unveil another set of sea creatures featured in "Washed Ashore: Art to Save the Sea," a collection of 19 sculptures representing marine animals made from all sorts of plastic waste: beach toys, bottles, flip-flops, hairbrushes, brooms, baby pacifiers and more. The traveling exhibit will spend a year at Shedd, its first stop in the Great Lakes region, with a second installment of sculptures arriving in November and a third set next April.
The aquarium recently launched an initiative to reduce plastic waste, noting that about 8.8 million tons of plastic enter the ocean each year, or roughly a dump truck full of plastic every minute.
"The colorful and dramatic sculptures are meant to be a wake-up call, showcasing the devastating effects of plastic to aquatic life," said Angela Haseltine Pozzi, the artist behind "Washed Ashore," in a press release.
Pozzi founded "Washed Ashore" as a nonprofit community art project in 2010 after first recognizing the amount of plastic washing up on beaches near Bandon, Oregon, where the nonprofit is based.
"Over the past six years, we have processed tons of plastic pollution from Pacific beaches to create monumental art that is awakening the hearts and minds of viewers to the global marine debris crisis," she said.
On Saturday, visitors can pick up a "Washed Ashore" passport booklet and get it stamped at each sculpture. Completed passports can then be turned in for a chance to win ocean-friendly prizes. 
Learn more about the "Washed Ashore" exhibit on Shedd's website. Also, admission to Shedd for Illinois residents is free through Sept. 30.
Below: some of Shedd's new sea life sculptures.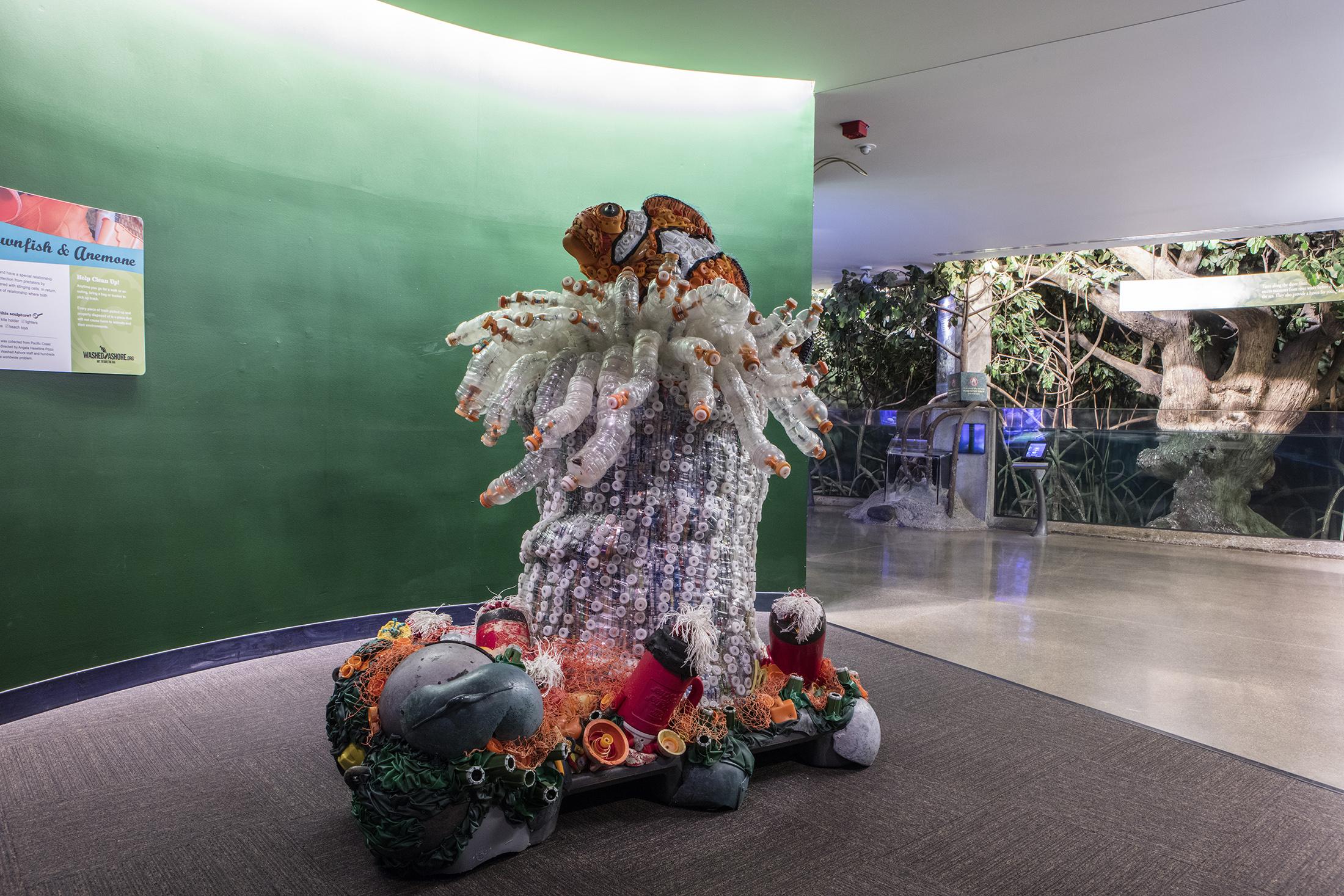 Cleo the Clownfish and her Anemone are about 6 feet tall, 5 feet wide and weigh 200 pounds. Cleo is made from items like toothbrushes, cans, lighters, beach toys, water bottles, bottle caps and the toe of an orange boot. The anemone was primarily constructed with washed-up tires, buoys and shoes. The other layers of the anemone include a blue curtain, soda and beer cans and water bottle caps on top.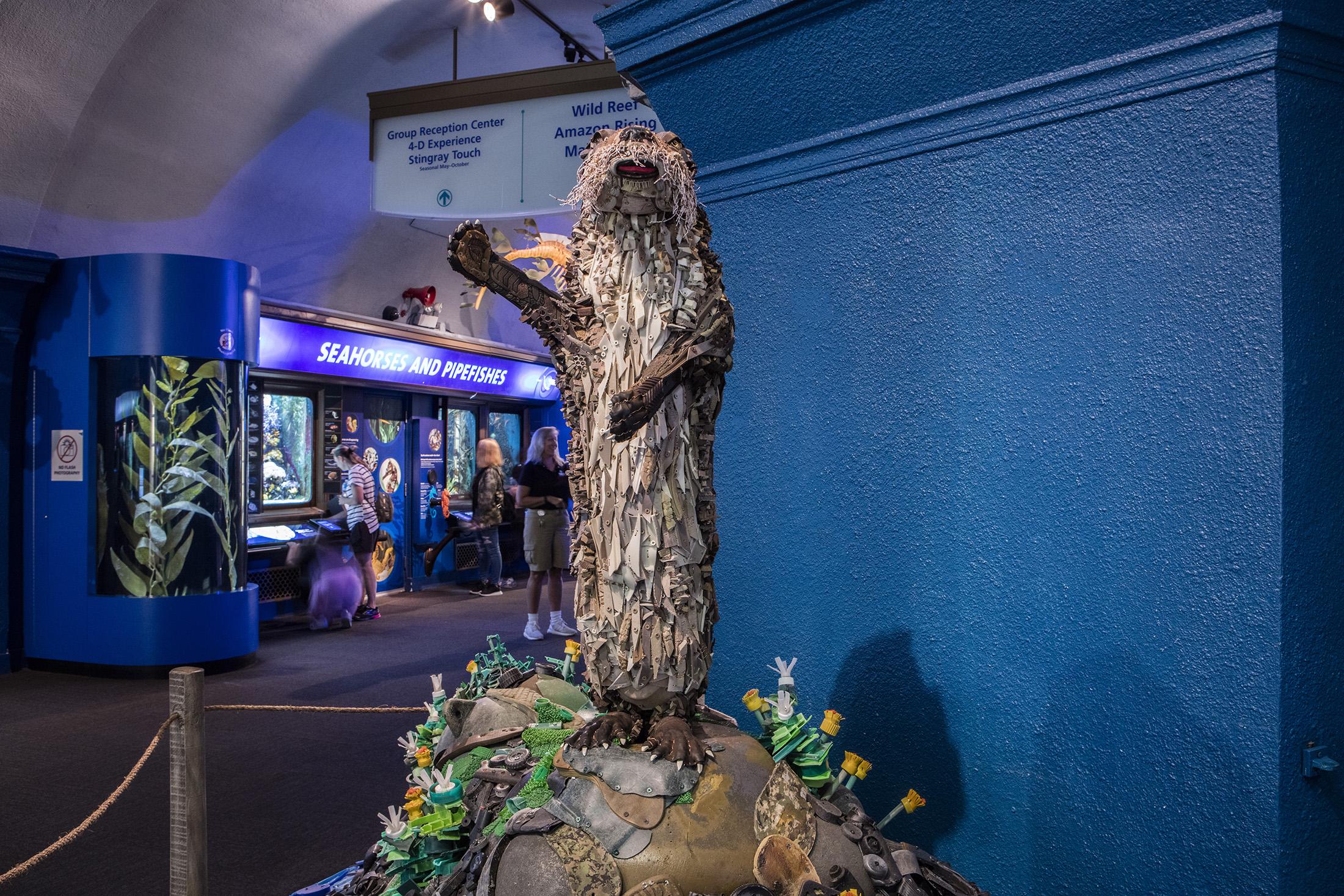 Giacometti the River Otter is 8 feet long, 7 feet tall and weighs 600 pounds. He is made from pipes, aqua-culture buoys, shotgun shell wads, duck decoy, artificial turf, wheels, an umbrella handle, shoes and other debris.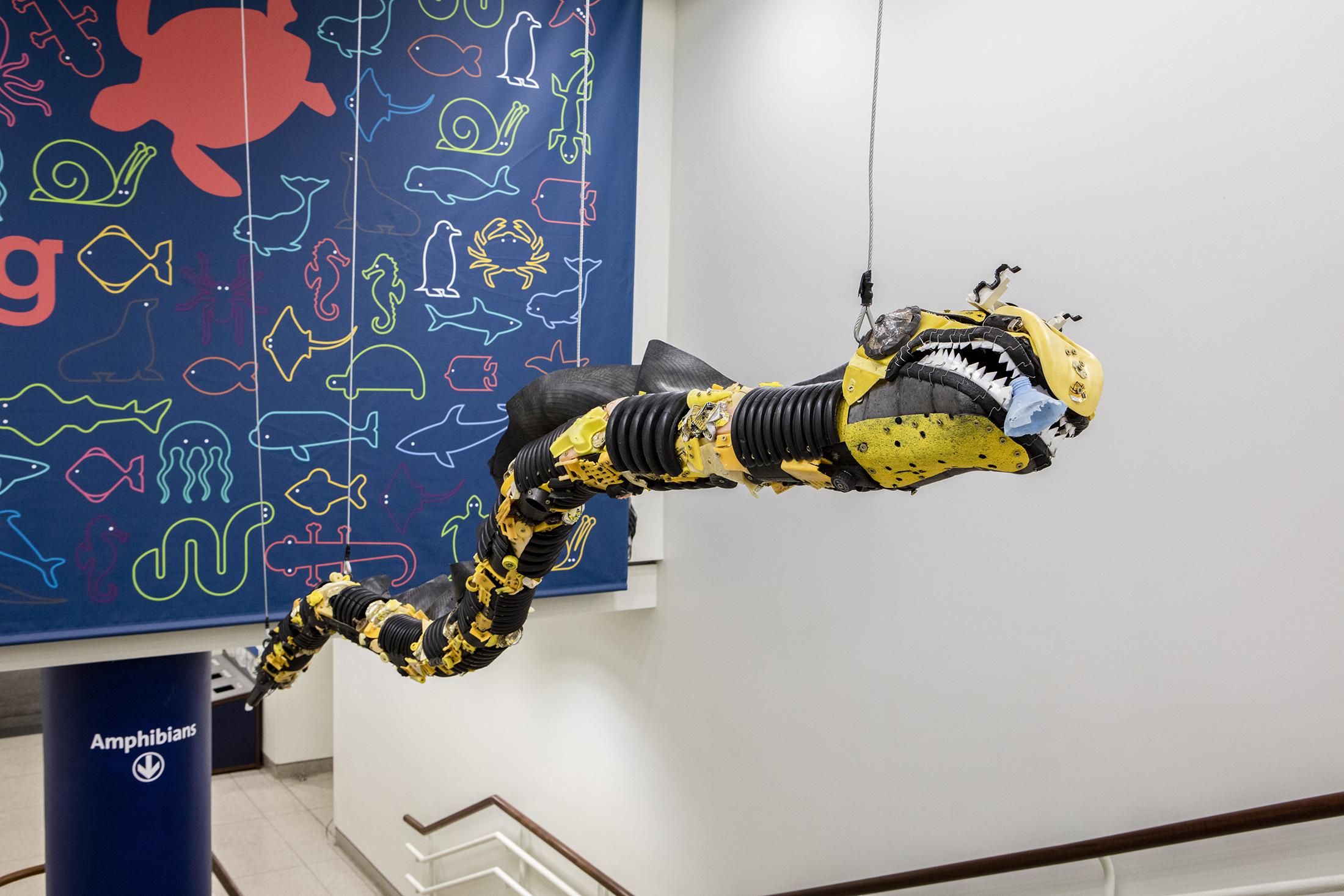 Eli the Eel is 13 feet long and weighs 150 pounds. Eli's core is a 12-foot-long rubber dock bumper found on an ocean beach. 
Flip-Flop Fish is almost 8 feet long, more than 5 feet wide and weighs 60 pounds. The fish is made entirely of flip-flops and shoe soles, many of which display bite marks and bird peck marks. 
The Houston Sea Jelly is more than 6 feet in diameter, 10 feet tall and weighs about 200 pounds. The sculpture is made of nylon rope, water bottles, buoys and stitched water bottle bottoms. 
---
Related stories: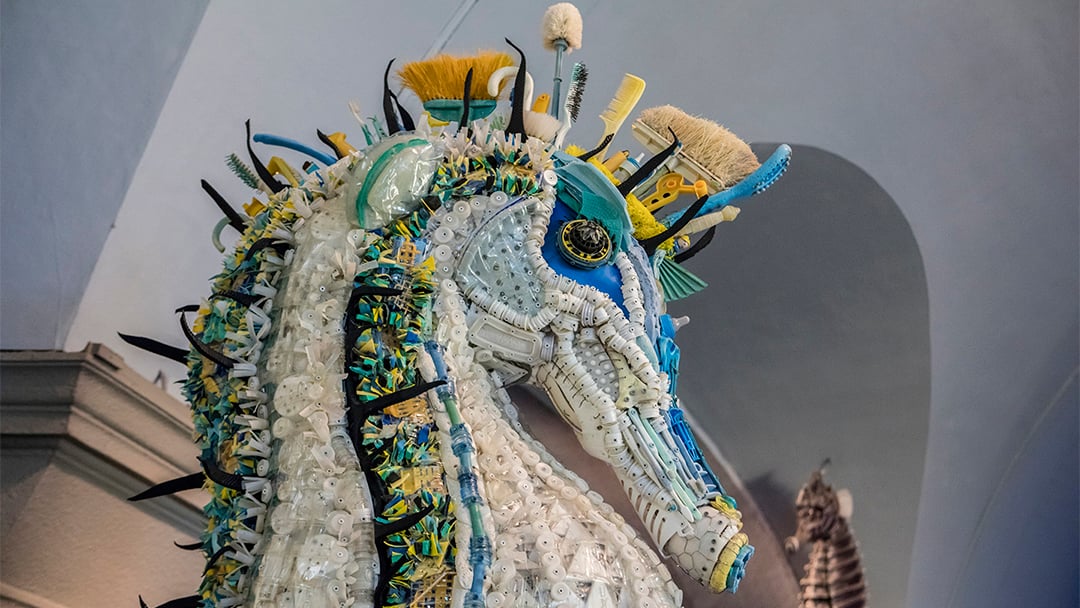 Shedd Unveils 1,600-Pound Seahorse Sculpture Made From Ocean Garbage
July 24: Stella the Seahorse is the first of 19 marine animal sculptures made from plastic debris on display at Shedd Aquarium.
---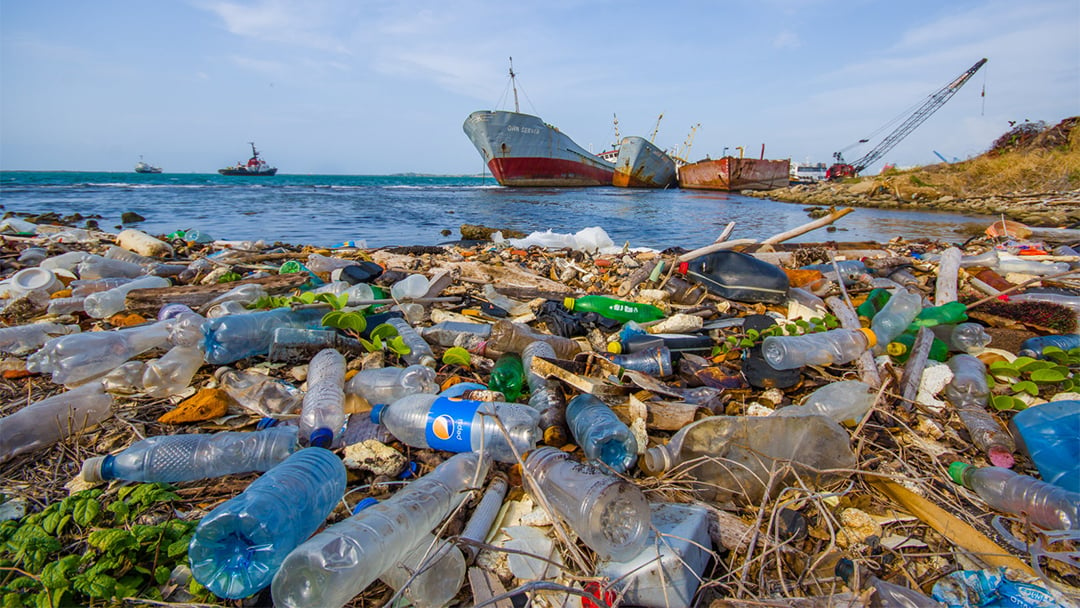 Shedd Takes Aim at Plastic Bottles in New US Effort to Cut Pollution
July 10: First went the plastic bags, then the plastic straws. Now they're coming for more. The Shedd Aquarium announces a new initiative to significantly reduce or eliminate the use of disposable plastic bottles by 2020.
---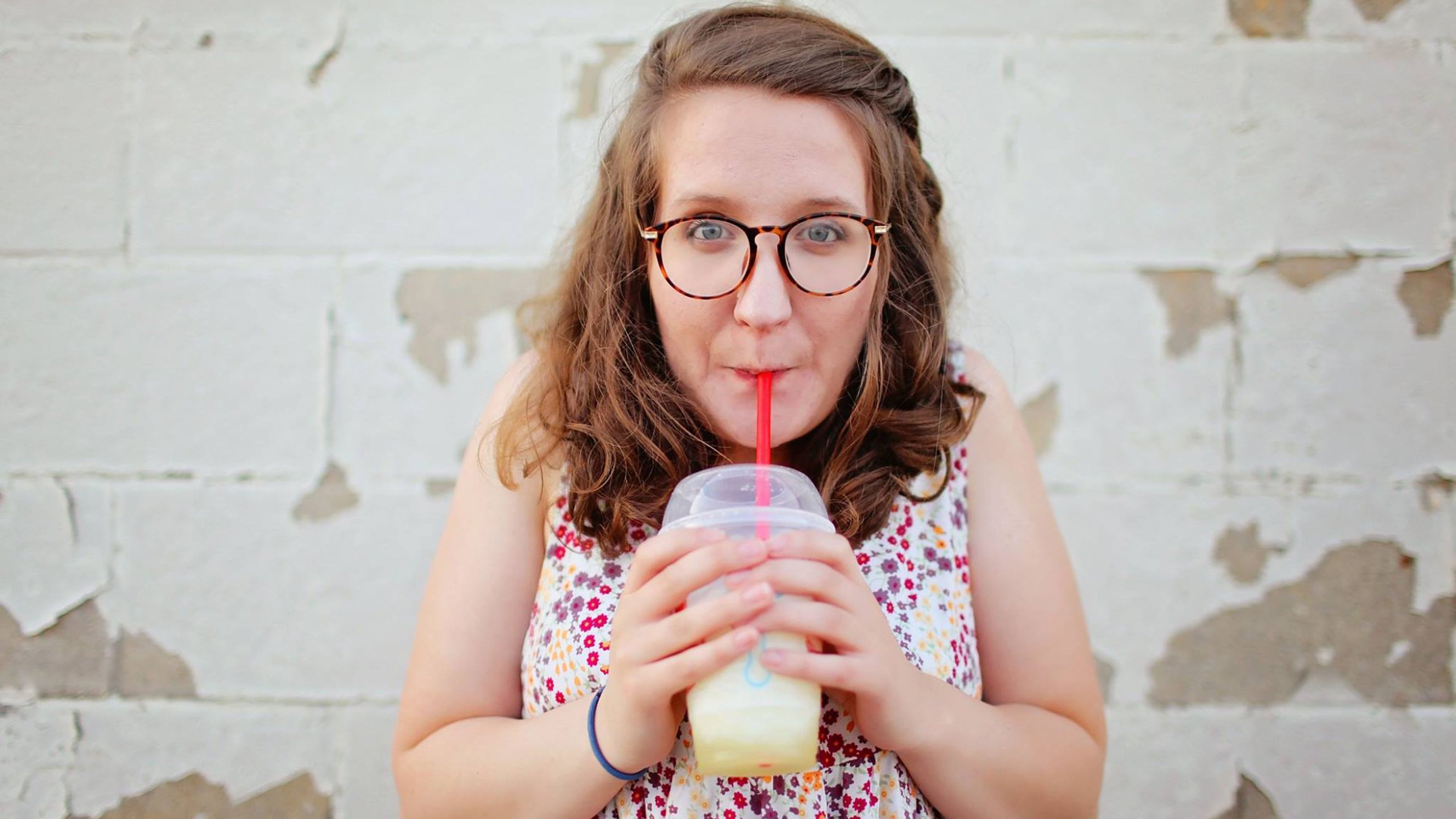 Chicago Restaurants Ditch Disposable Straws for a Day to Cut Plastic Waste
June 15: Americans use an estimated 500 million straws each day, but a Shedd Aquarium initiative is trying to put a dent in that figure. Last week, nearly two dozen restaurants joined the effort.
---